News that excited jewellery aficionados was that Bhagat Jewellers of Mumbai will be debuting at TEFAF Maastricht, and he will be the first Indian jeweller to have his own salon at the fair. Bhagat is known as a master jeweller, one of very few who works with truly important gemstones and creates jewelled artworks with such revered materials. The centrepiece of his display at the exhibition will be Bhagat's one-of-a-kind Burmese sapphire and diamond ring, set in platinum. The architecture of this astonishing jewel is sure to draw crowds of jewellery and art fans alike.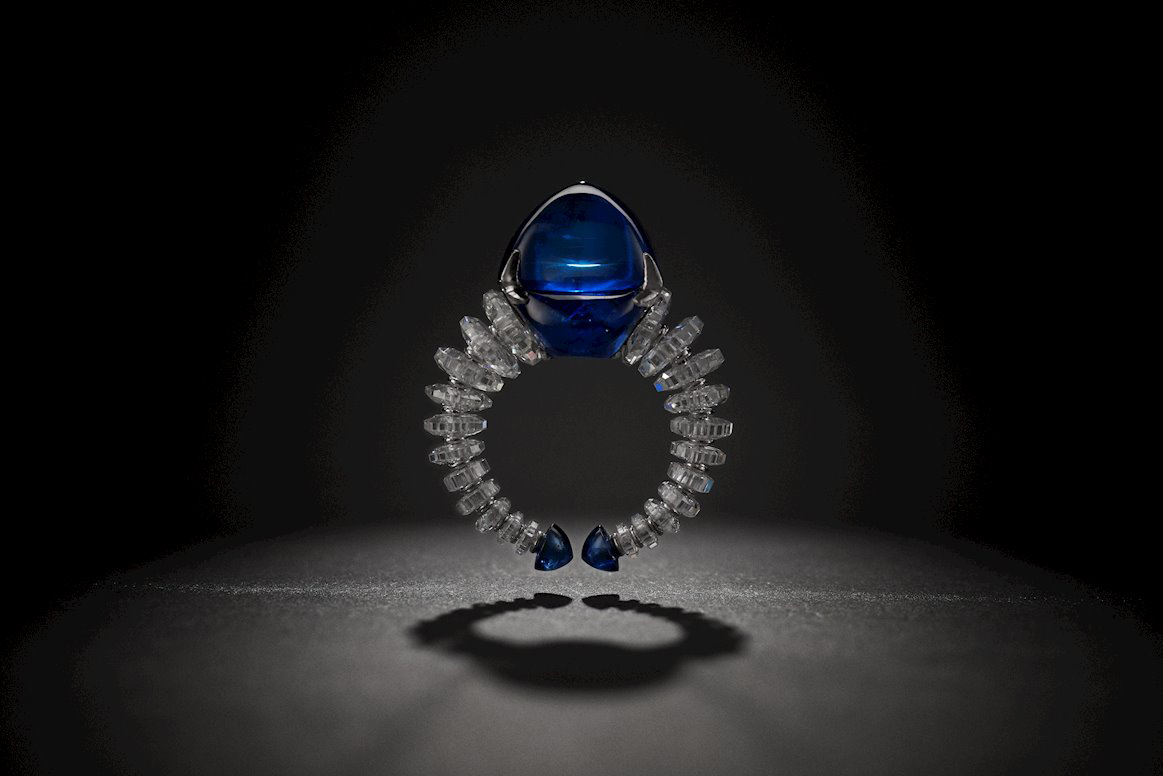 Van Cleef & Arpels has become a mainstay at TEFAF, and this year the famous maison will present a selection of vintage and contemporary pieces. As a taste of the themes which have earned Van Cleef & Arpels their acclaim, the jewellery house will be exhibiting a selection of their iconic designs: ballerina brooches, Zip necklaces, classic examples of the savoir faire of their craftsmen and some pieces from throughout the 20th Century. One such piece is the bracelet with three square cut Colombian emeralds totaling 13.20 carats in platinum and white gold from the Heritage collection, created in 1956.
A true testament to the level of esteem of the jewellers at TEFAF 2020 - amongst their number is Taiwanese jewellery artist Cindy Chao. Capturing the hearts of every jewellery fan, Cindy occupies a very specific niche within fine jewellery; creating a few pieces a year, and releasing an annual butterfly based design. The 2019 Black Label Masterpiece I 'Aurora Butterfly Brooch' features 6,023 stones including triangular rose cut diamonds, 8.48 carats of bright pigeon's blood Burmese rubies, and gradating blue sapphires layered with yellow diamonds set within a light framework of titanium and aluminium.
Hemmerle is no stranger to TEFAF Maastricht, with this fair being one of only two art exhibitions where the jewellery house displays their jewels outside of the Munich-based atelier. The designs which they have selected to bring to this year's edition convey the visual codes which have become Hemmerle signatures: uncommon organic materials, painstakingly hand-crafted technical elements and tonal precious metals and gemstones. Whether examining the bronze set melo pearl, orange sapphire, conch pearl and rare Sri Lankan padparadscha sapphire earrings; the necklace incorporating a significant old aquamarine with Hemmerle's signature revived Austrian knitted beading technique; or the ring showcasing an enormous old mine diamond set in lattice patterned iron - Hemmerle's aesthetic has become unmistakable and made their designs highly desirable.
One of the first names that springs to mind when we are in the realm of master jewellers is Wallace Chan, and the inimitable artist will be displaying his recent works at TEFAF 2020. Several of his latest creations feature his patented, original material invention 'The Wallace Chan Porcelain' - including the Cosmic Destiny, Mind Puzzle, Garden of Dreams and the Keeper of Time Necklace - will all be exhibited at TEFAF. The Windows to the Universe Parure is a typically elaborate, flamboyant symphony of vivid materials in abstract, surreal, and even fantastical forms. The necklace of the parure contains pearls, diamonds, pink sapphires, green tourmalines, tsavorite garnets, white agate, lapis lazuli and titanium to name but a few precious materials with which this artist creates.
Otto Jakob is one of TEFAF's regular exhibitors, showing his works exclusively at his atelier and the Maastricht and New York editions of the fair - having participated in TEFAF Maastricht since 2008. One of the stand-out creations he will be showcasing this March are the Tettix earrings formed by nature cast wings of a giant Malaysian katydids. This creature's wings emulate the shape and shade of leaves for camouflage, and this is reflected in the green vitreous enamel and plique-à-jour enamel in light pink which Jakob has employed in this design. With dappled yellow gold highlights, the design also features a complex articulated suspension, which is delightfully set with green tsavorites, as well as yellow and light brown diamonds.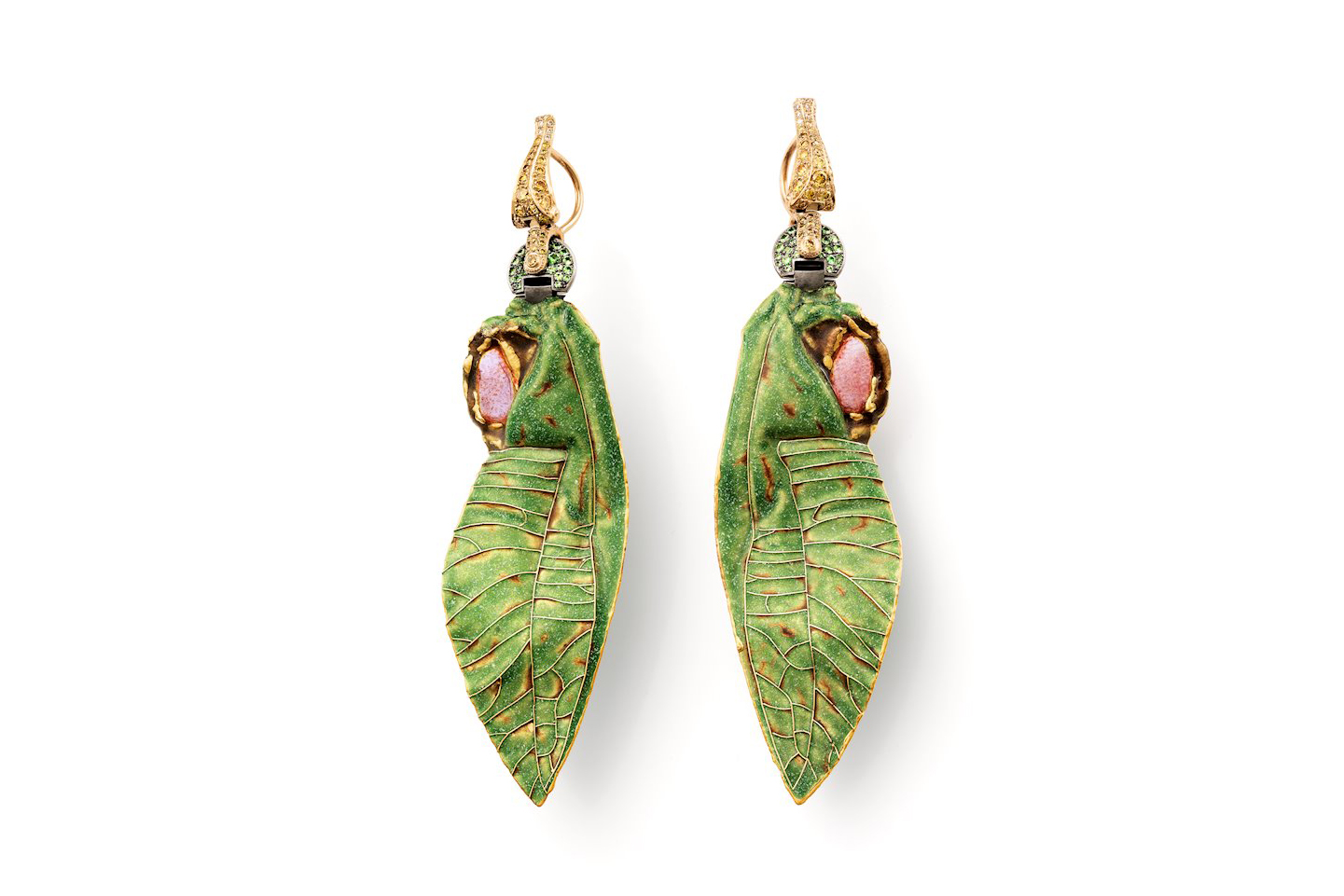 To my mind, a trip to TEFAF Maastricht in March to witness incredible jewellery by today's best living artists in the field is not only justifiable, but an unmissable event.