It's always an exciting prospect to discover high jewellery maisons that are young in years but imbued with many generations of passion and experience. The story behind House of Geneva starts in the late 19th century in Gujarat, India, where the first generation of the Hiralal family joined the gemstone trade and became some of the first to venture to Burma, now Myanmar, in search of its world-renowned rubies. They settled in Mogok, in the famous 'Valley of Rubies,' where they mined, cut, polished and faceted corundum. As anyone who is a keen traveller knows, once the spirit of adventure takes you it's hard to settle down. The family eventually travelled far and wide to Sri Lanka, London, Paris and eventually to Geneva, where they settled in the mid-20th century.
From that moment on, a passion for high jewellery was passed from one generation to the next until, in 2017, four generations of history were encapsulated in House of Geneva – a haute joaillerie maison with a classic, paired-down and sophisticated style. Its pieces have pure lines and shapes that are elevated with discreet details and thoughtful decision-making, like only using ethical gold and traceable, natural and unheated gemstones. I am especially fond of the house's motto – "Luxury that makes sense" – as it manages to convey so much in just four little words: beautiful, ageless designs; less wasteful and more socially and environmentally conscious creativity; and, of course, it really does make sense for a new business to emerge from such remarkable family heritage!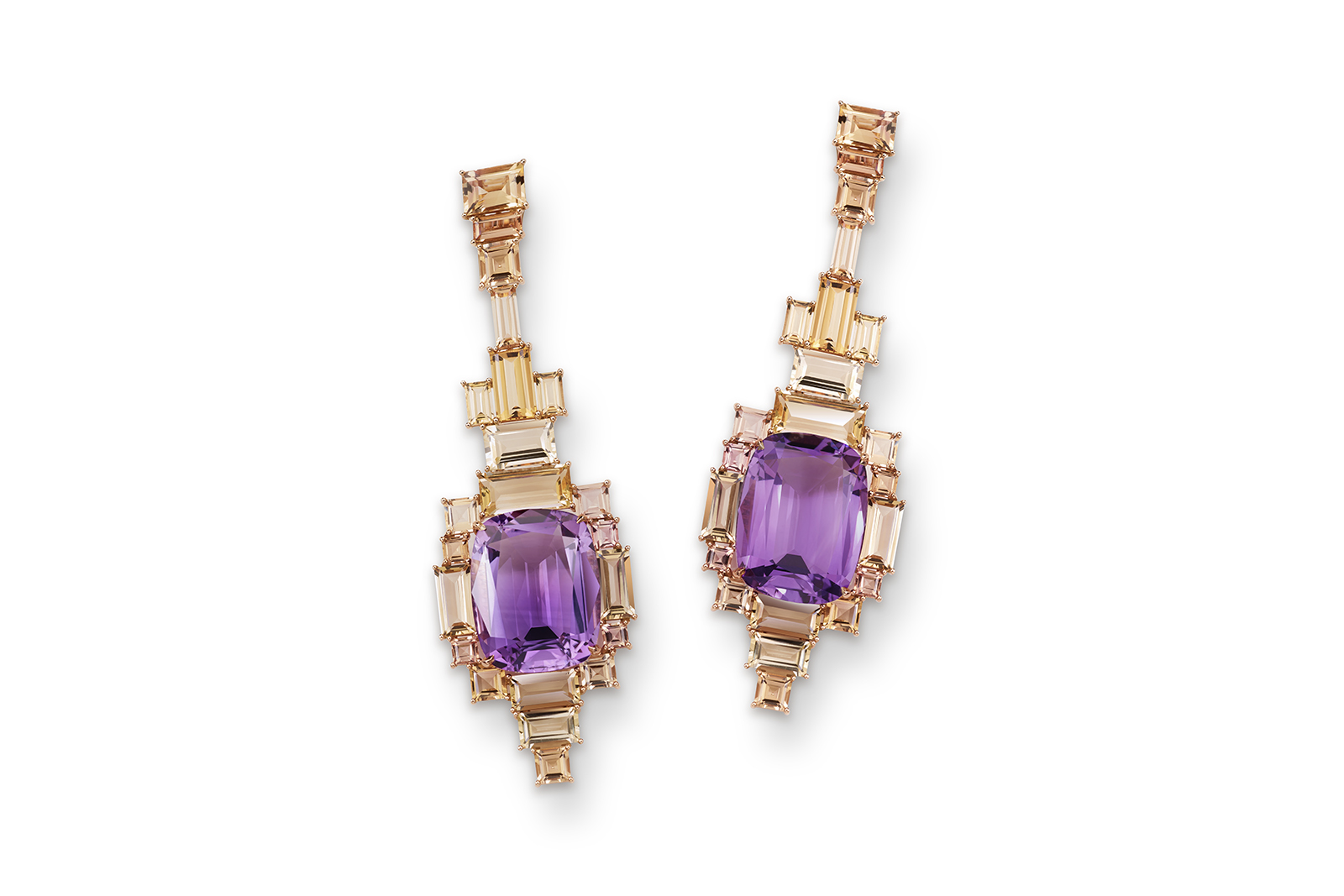 And don't be fooled readers; House of Geneva may describe its pieces as "paired-down," but its gemstones are anything but shy and retiring! Dilip and Meera Hiralal, the founders of House of Geneva, search for "unordinary gems," including unheated sapphires, hexagonal portrait- and shield-cut diamonds, matching pear-shaped rose-cut diamonds of significant size and unheated pigeon's blood rubies to name a few. The maison has three core collections inspired by symbols of Geneva's culture and history: Jet d'Eau with exclusively Type IIa diamonds; Horloge Fleurie with vibrant gems like amethysts and topazes; and Vieille-Ville with its rarest offering of sapphires and rubies with coveted origins.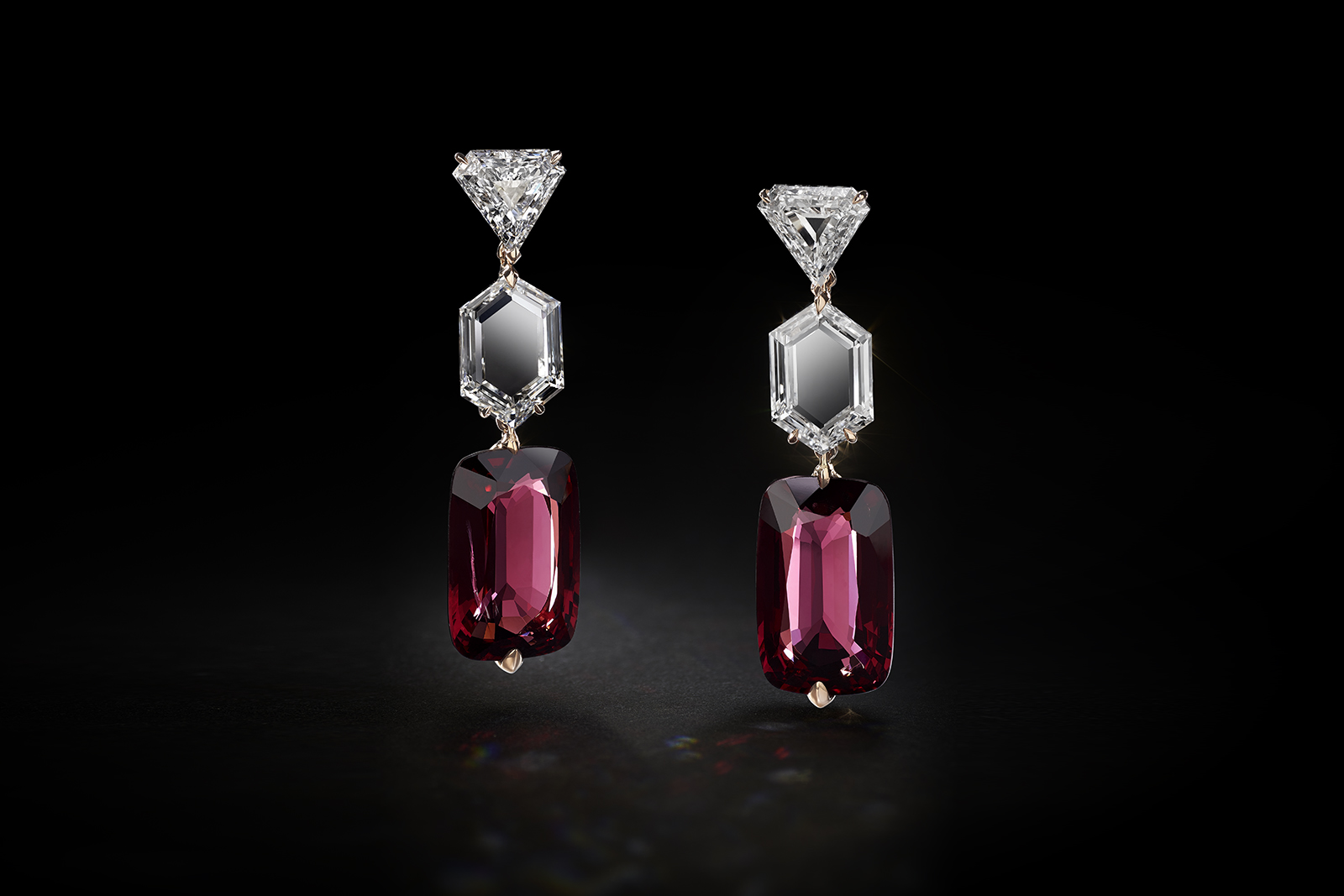 I am sure, like me, you would love to see these pieces in person and assess their Genevan craftsmanship from all angles. From May 6 to June 5, 2021, House of Geneva will present an exhibition in Singapore entitled 'Timeless Beauty,' organized by The Advocators & Co. and supported by JeweLuxe. The message of the presentation is captured in a wonderful quote:
"Time is very slow for those who wait, very fast for those who are scared; very long for those who lament, very short for those who celebrate. But for those who love, time is eternal." – William Shakespeare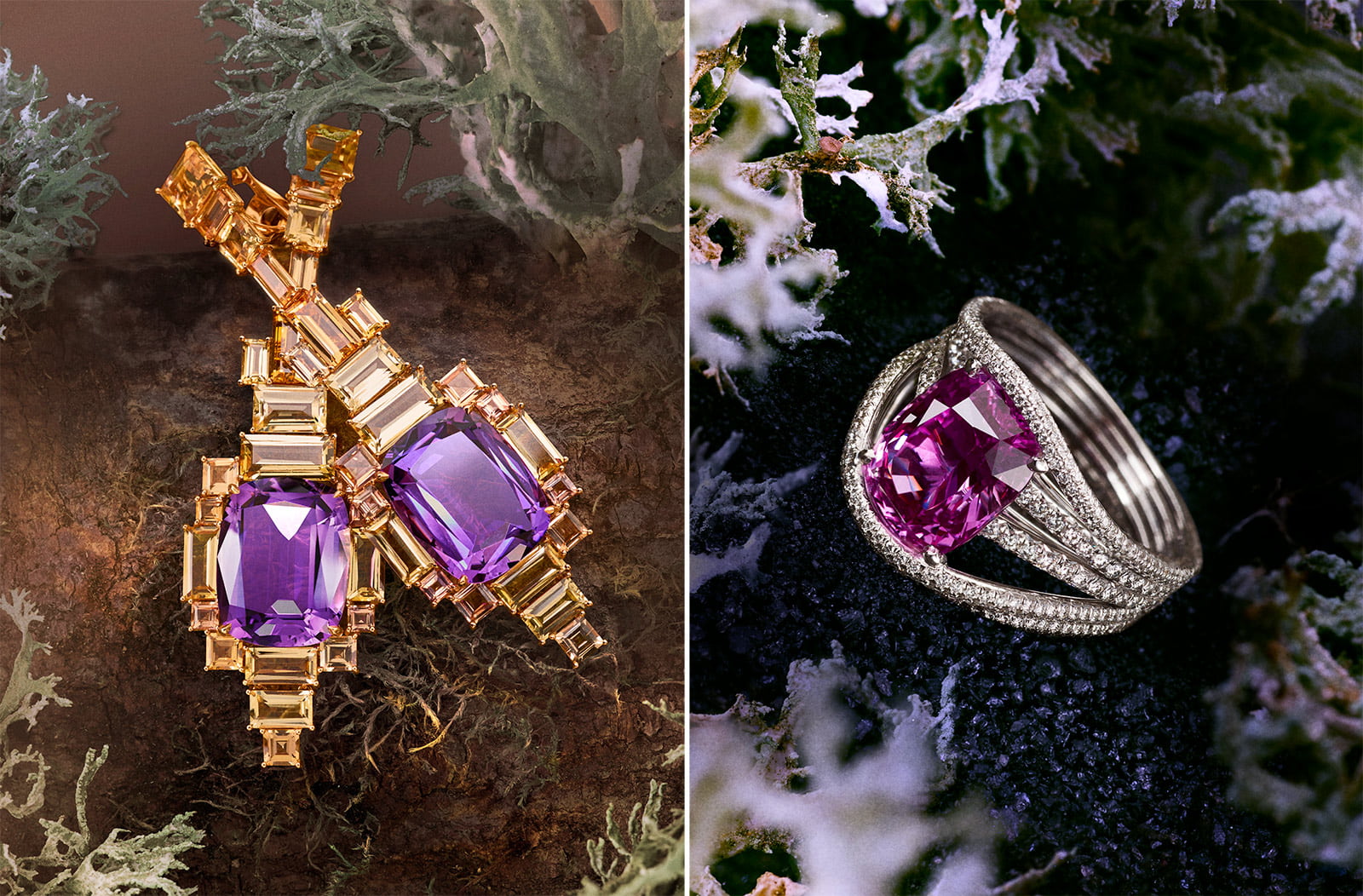 And isn't it true that we must wait millions of years for a single sapphire to be created and even longer still to discover one with the right chemistry to require no-heating or enhancements? As House of Geneva says: "The allure of haute joaillerie is in the timeless beauty of precious gems that transcend time – and love captured for eternity." The maison's unwavering respect for gemstones is demonstrated through its signature creations, some of which I would like to share with you here ahead of the exhibition. Firstly, there's the Jet d'Eau Numéro 1 earrings that combine antique, pear-shaped Type IIa 'Golconda' Indian diamonds with design codes inspired by Lake Geneva's iconic water fountain. The diamonds in these earrings are 4.02 and 4.18 carats respectively, set in white gold, and crowned with pavé diamond ribbons. Next there's the Jet d'Eau Numéro 2 ring with a Type IIa cushion-cut diamond of 3.75 carats and the Jet d'Eau Numéro 5 earrings with rose-cut Type IIa 'Golconda' Indian diamonds of 5.08 carats and 5.51 carats, topped with two unheated pigeon's blood oval-shaped rubies totalling 2.26 carats.
Moving on to the Vieille-Ville collection, the architecture of Geneva's old town is reflected in designs containing sapphires from legendary locales. The Vielle-Ville Numéro 4 and Numéro 9 rings, for example, contain unheated Burmese double cabochon sapphires of 25.62 carats and 31.93 carats, respectively. Smaller but no less impressive is the Numéro 6 ring with an oval-shaped unheated Ceylon sapphire of 6.18 carats. If you are able to tear your attention away from these pieces at the 'Timeless Beauty' exhibition, you'll also see creations from the Horloge Fleurie collection, which draws from Geneva's outdoor 'flower clock' landmark – quite literally a living, petal-strewn clock face! I would like to draw your attention to two notable pairs of earrings, starting with Numéro 3 that radiate with antique cushion-cut Burmese spinels of 6.69 and 7.26 carats, descended from two shield-cut diamonds of 0.9 and 0.99 carats and two portrait-cut diamonds of 2.03 and 2.08 carats. Next, there's the Numéro 7 pair with a geometric design – a slight departure for the house – with natural cushion cut amethysts, both over 14 carats each, and natural topazes totalling 14.09 and 15.12 carats on each ear. As all of my long-time readers will note, the words 'natural', 'unheated' and 'untreated' make the ears of true gem collectors prick up slightly… these pieces are certainly worthy of greater exploration.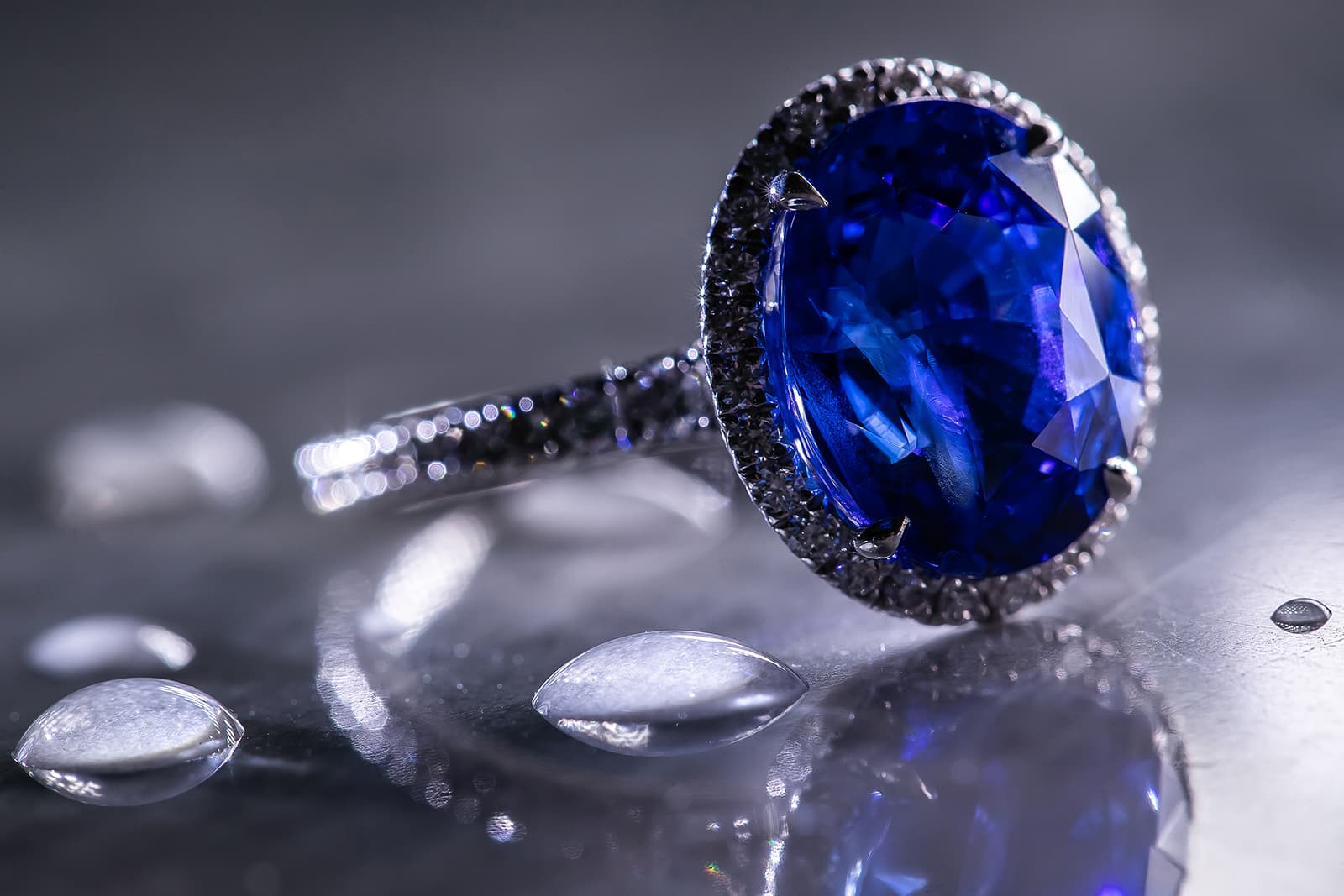 House of Geneva's 'Timeless Beauty' will take place at Scotts Square, Orchard Road, in Singapore from May 6 to June 5, 2021. I hope you will be fortunate enough to see the maison's jewels for yourself, but also remember that haute joaillerie is a craft that is rooted in patience, whether demonstrated by four generations of the same family or the million-year journey of a single sapphire with the perfect unheated and untreated colour. Nothing can compete with time, as House of Geneva can attest.