From full diamond pavé dials to revolutionary gem-set bezels and even transformable pieces, the word 'fashionable' is one you can associate with some of the luxury timepieces hitting the market today. After assessing the latest watch novelties to come out of Watches & Wonders 2022, we have curated the top models that we feel are the epitome of luxury fashion in the watch industry. Any of the below pieces would be an absolute asset to a stylish wardrobe. Let's take a look!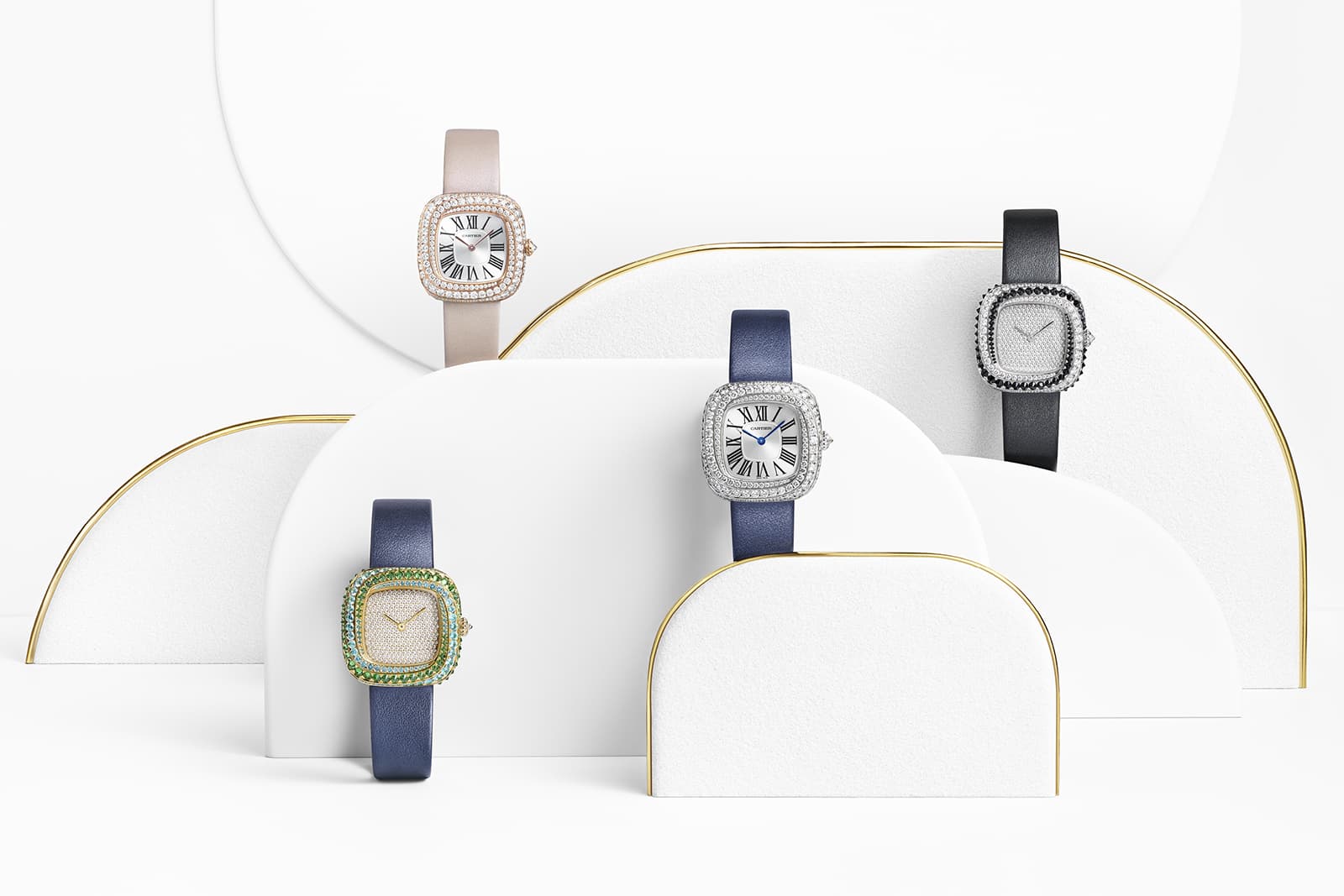 Chanel J12 Calibre 5 Watches
Chanel's J12 model is one of its all-time best-seller timepieces. A sporty yet elegant watch, it's an easy piece to invest in, thanks to the effortless day to night aesthetic. This year the design team added a few sparkling updates to this model. The J12 Baguette Diamond Star takes inspiration from its predecessor, swapping out its original little black ceramic dress for a full diamond ensemble. Featuring 905 baguette-cut diamonds, roughly 35.57 carats, this full diamond facade combines the best of both sporty and elegant. For those of you that enjoy a pop of colour, the new J12 X-Ray Red Edition might be the perfect timepiece for you. Mademoiselle Chanel saw power and passion in using red as an accent detail in her creations. She would add red to accentuate the lining of a handbag or even to highlight a structured jacket as a weapon to boost the wearer's confidence. For the daring and not so faint-hearted, Arnaud Chastaingt, Director of the Chanel Watchmaking Creation Studio has designed a J12 model featuring 34 baguette-cut rubies to honour Gabrielle's love of red. Last, but most certainly not least, there's the Mademoiselle J12 XS, which brings to life the style of Gabrielle Chanel as she explores the French Riviera in a classic marinière top and sailors' hat. This picture is set within a precious diamond frame, while her outstretched arms indicate the time.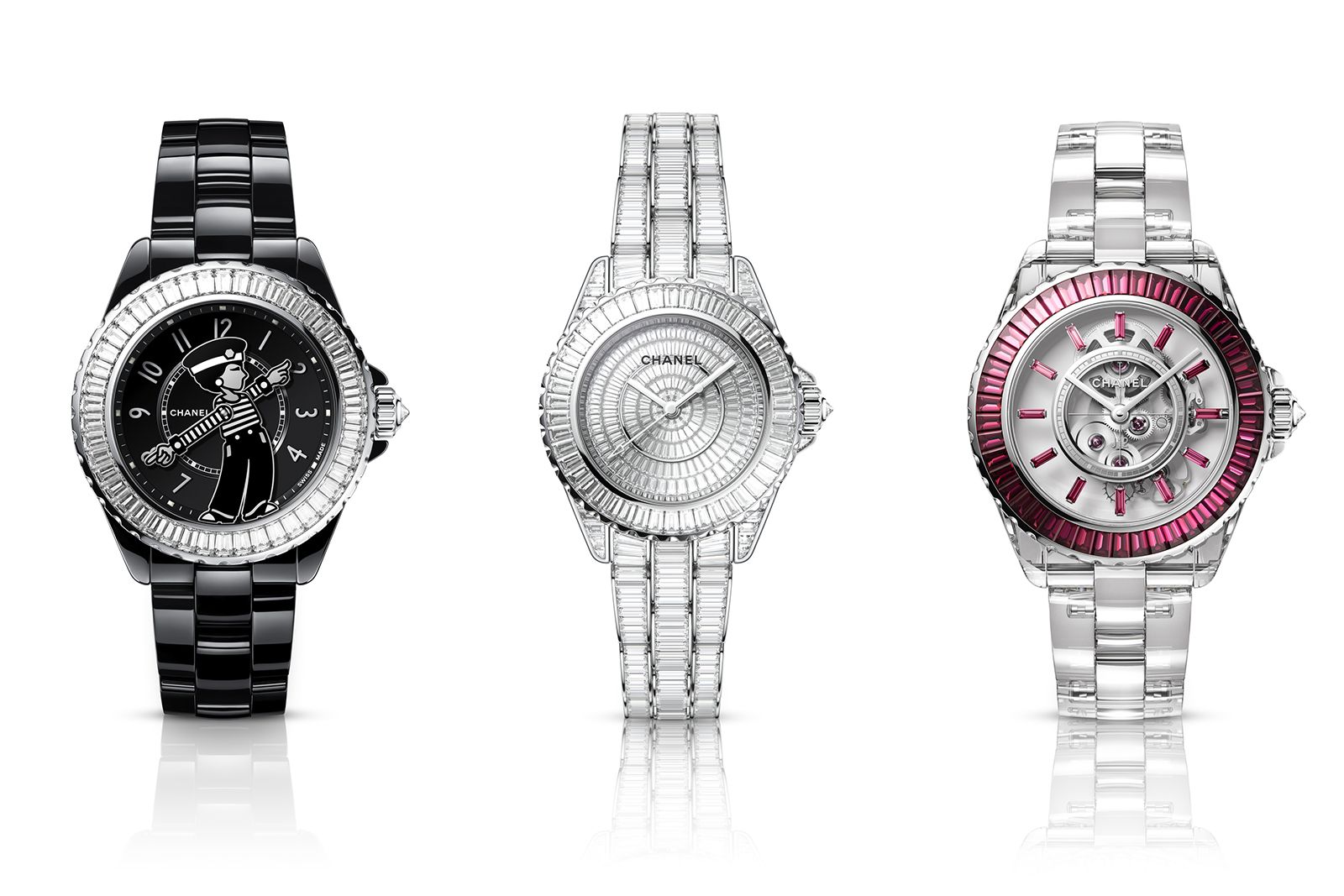 Coussin de Cartier
The Coussin de Cartier is the evening watch to wear when you want to cause a sensation. Now, we can witness a brand new padded-shaped dial for Cartier, which is inspired by the squidgy contours of a pillow. Of course, only Cartier could make such a common household object so chic by calling it by its French name and setting it with a rainbow of diamonds and coloured gemstones. The range of designs for this model varies from classic diamonds to more experimental concoctions, including the brand's first-ever woven gold mesh casing. Set with emeralds, sapphires and tourmalines, this material was developed in house by the Cartier manufacture research and innovation laboratory. The two limited-edition models are a sensory experience on all levels, featuring form and asymmetry at every angle.
Gucci G-Timeless Planetarium
There was much to celebrate at the
Gucci
Watches & Wonders event this year, notably a champagne toast to 50 years of Swiss watchmaking. The fashion brand brought fun and flair to its latest watch novelties by drawing inspiration from a traditional amusement park filled with colours, shapes and sparkle. The G-Timeless Planetarium is available with a choice of either green tsavorite, blue tanzanite or yellow beryl gemstones. Each turn of the dial allows the gems to scintillate in their unique way… a reminder that keeping time can be as fun and fashionable as any accessory can be.
The New Kelly by Hermès
Multi-facetted, different, daring and playful are just a few words to describe the New Kelly watch by the iconic fashion brand Hermès. Available in simple gold, steel or full diamond pavé, this model plays with form, allowing you to wear it as you wish. The watch itself can be worn as a bracelet or it can be detached and reattached onto a leather sautoir. A light-hearted take on timekeeping, the design is reminiscent of the origins of the secret watch, invented to be worn by women so that they could keep track of time in a discreet and ladylike manner. The transformability of this watch brings a feisty and mischievous feel to the collection.
Rolex Oyster Perpetual Yacht-Master 40
Watch lovers around the globe no matter their aesthetic want to know what's new with Rolex. The new Oyster Perpetual Yacht-Master 40 seeks to immortalise one of nature's most colourful moments when the sky meets the ocean, and the sun comes up over the water. The brand has created a symmetrical pattern of five gemstones, varying in colour, to pay homage to the aurora borealis and the glow of dawn. Pink sapphires, light blue sapphires, diamonds, purple sapphires, and
dark blue sapphires
are set one after the other in a consistent pattern to recreate the colours that emerge from these natural landscapes. Each stone is set in an exact order to make the most of the gem's full radiance, creating a clean and harmonious colour gradient.
Each one of the timepieces shared above is a testament to the high esteem that watches enjoy in the luxury fashion industry. Wearing a watch can be just as much about making a style statement as it is about tracking the minutes.