Has there ever been an animal more emblematic of a house than Cartier's panther? This year, the Maison has introduced new women's timepieces in the Pasha de Cartier line with an openwork panther's head outlined in geometric lines of pavé diamonds and finished with marquise-shaped emerald eyes. 'While it invoked the name of the Pasha of Marrakesh, who had commissioned a water-resistant watch from Cartier in 1943, in reality, its name was chosen because Cartier realized that the word "Pasha" was immensely powerful. It resonated with onomatopoeic cool in all languages and conjured up images of exotic locales and mysterious, glamorous individuals,' writes Wei Koh in the article for Revolution magazine. Continuing with the panther theme, there are new Panthère Songeuse high jewellery watches that use the pavé setting on three-dimensional forms. Here, pavé diamonds are combined with custom-cut sapphires or smooth slices of black onyx to evoke the texture of a panther's coat, alongside more diamonds for the case, dial and buckle.
The technique of pavé setting is most commonly associated with round brilliant diamonds but, of course, it's not exclusively for that type of cut. Take the new Chanel Electro watch which has an 18k white gold case set with 22 baguette-cut diamonds and 55 baguette-cut rainbow sapphires, as well as 46 baguette-cut diamonds on the bezel, a diamond-set crown, and a dial set with 168 baguette-cut diamonds. The strap boasts 342 diamonds of around 21.15 carats and 160 baguette-cut rainbow sapphires that add another 8.69 carats to the wrist. Overall, the watch has a total weight of approximately 32.55 carats, in addition to a 70-hour power reserve and water resistance to 50 metres (although I personally would not want to risk swimming in such treasure!).
Sometimes pavements aren't uniform, and neither is pavé. The Chopard Esperanza high jewellery watch from the 2021 Red Carpet Collection is a perfect example of this with multi-cut diamonds in a pavé setting. The dial alone has 6.38 carats of pear- and round brilliant-cut diamonds sprinkled across its surface. Radiating outwards from this central feature are the real stars of the show – 41.89 carats of Zambian emeralds in a mixture of pear and round cuts. The thoughtful placement of each stone (it took the Maison's artisans more than 515 hours to complete) and the saturation of emeralds is no doubt what inspired Caroline Scheufele to launch this as the Maison's inaugural Red Carpet Collection piece of the year. A further 73 pieces will follow in its wake in the lead-up to the Cannes Film Festival in July 2021.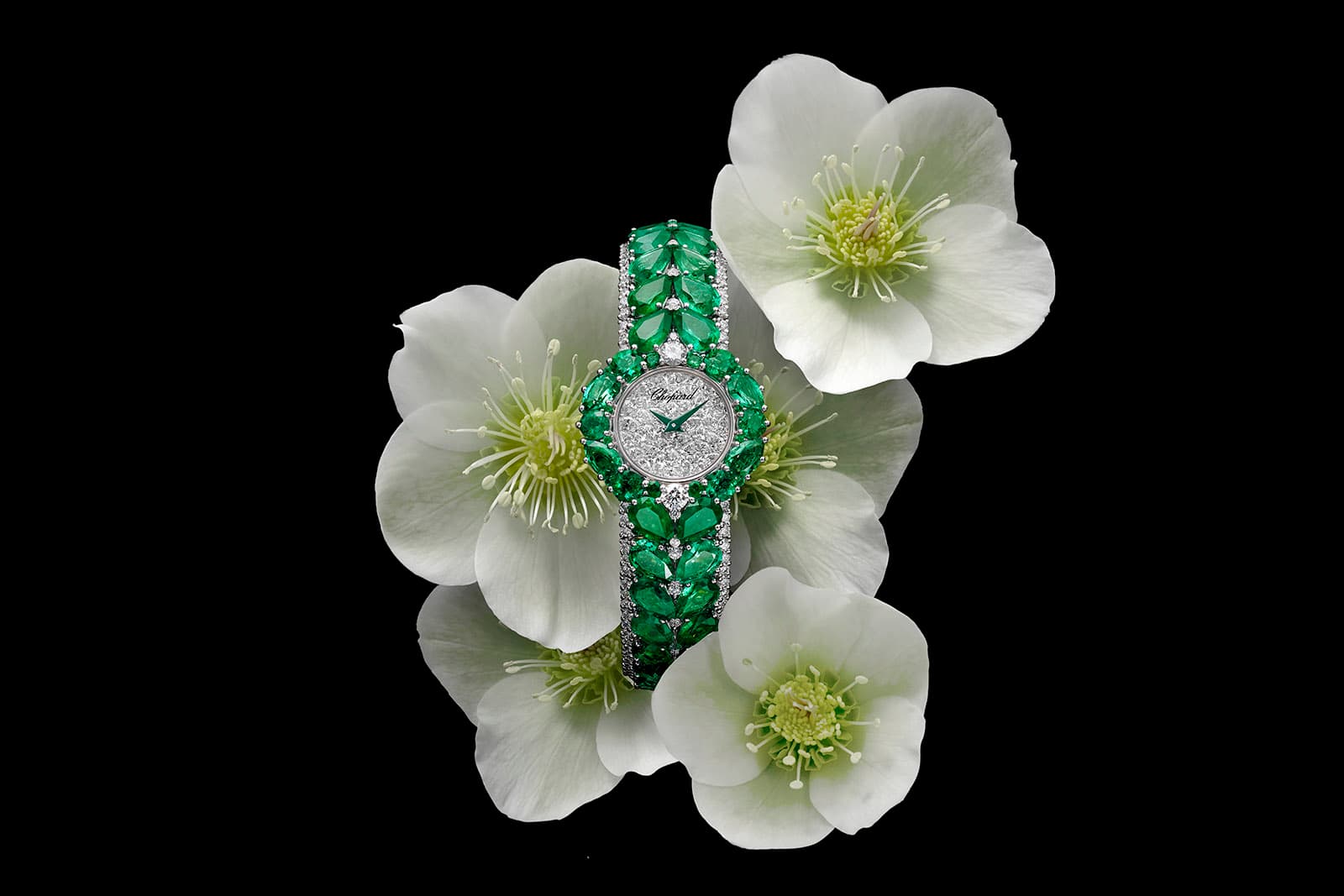 Did you know that Louis Vuitton's iconic four-petal flower motif is actually a mascot called Vivienne? I will admit secretly to you, readers, that I was only alerted to her presence thanks to the new Vivienne Bijou Secret Watch! Gaston Louis Vuitton himself was a keen collector of toys, which is why 'Vivienne' has a quirky childlike quality. Of course, when she's crafted in gold and adorned with diamonds, she swiftly becomes an item only for adults. In my quest to find out more, I discovered she also has her own home within the 'Malle Maison Vivienne' – a collector's Louis Vuitton dollhouse. It is in this context that I present to you the Vivienne Bijoux Secret Watch – a fully pavé diamond timepiece with a moveable Vivienne motif that swings aside to reveal a mother-of-pearl-set and 'LV' monogrammed dial. This is the first time Vivienne has appeared in a timepiece.
My eye was immediately drawn to the Piaget Limelight Gala Precious Zenith watch, even though it was launched within a sea of high jewellery wonders this year. There's just something about its inspiration – the sun at its midday peak – as well as the combination of yellow sapphires and diamonds that makes to be both bright and subdued all at the same time. Of course, this gradient effect is achieved through a carefully selected palette of sapphires that range from palest yellow to almost orange in tone. This high jewellery timepiece is a good example of how the pavé setting can create a sort of canvas for other colours and textures to live within.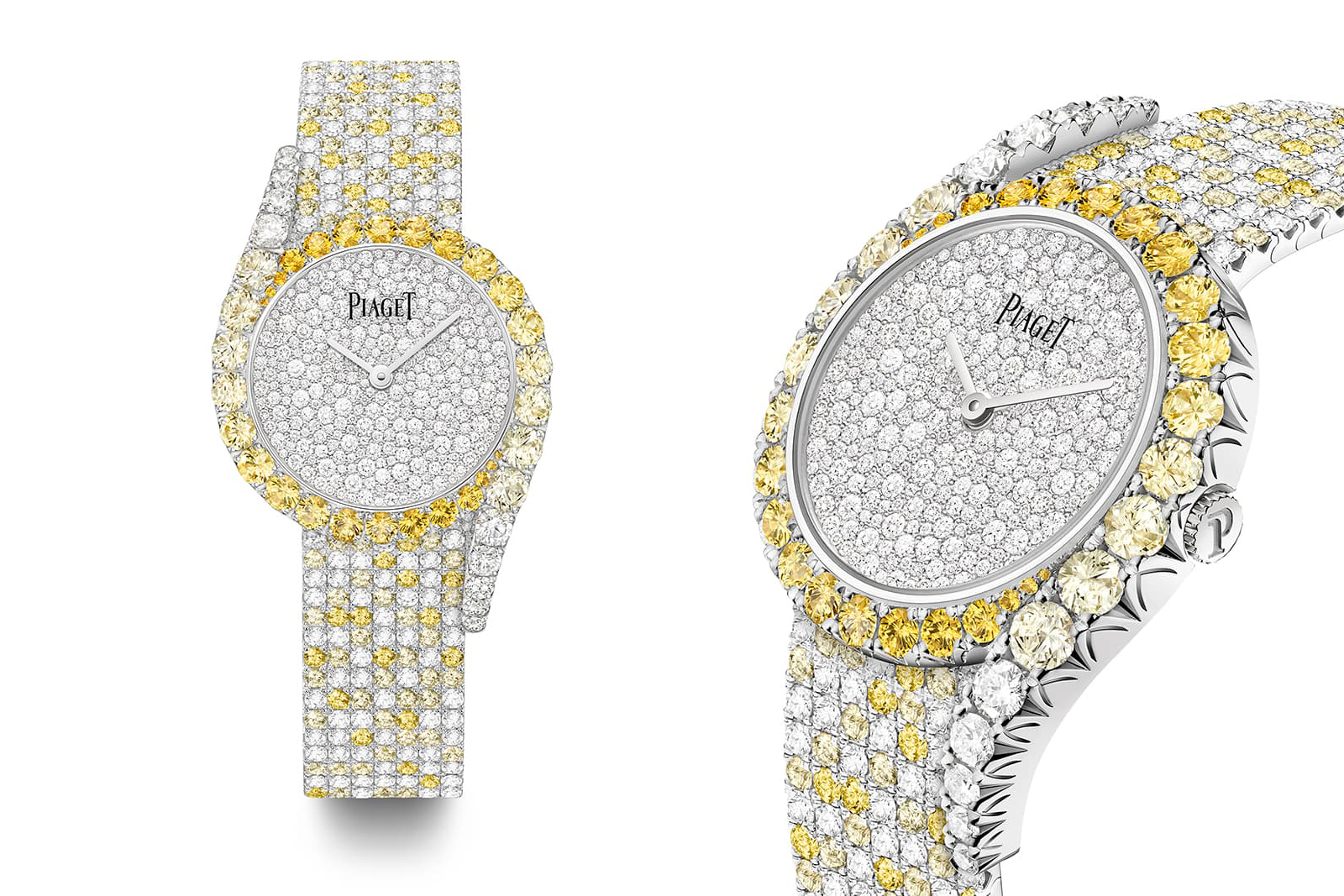 Watches and Wonders 2021 proved the ideal opportunity for Rolex to unveil some new diamond-encrusted version of two iconic timepieces: The Oyster Perpetual Day-Date 36 and the Oyster Perpetual Lady-Datejust. Let's start with the most colourful of the two – the Day-Date 36 – which has alligator leather straps and enamel hour markers in either coral orange, burgundy red or a bright Paraiba-like sky blue. Each piece is set with 817 diamonds, including an entirely pavé set dial (that's 450 diamonds), bezel, lugs and clasp. Just as a little side note readers, the Day-Date was actually the first-ever watch to include the day of the week spelt out in full on a dial when it was launched in 1956. The Oyster Perpetual Lady-Datejust relies on the classic pairing of diamonds and yellow gold with some interesting additions, most notably the roman numerals with a black PVD coating. There's barely a millimetre of this watch that doesn't benefit from pavé, which has led to a grand total of 1,089 diamonds including 596 on the President style bracelet and 291 on the dial.
Two new versions of the Vacheron Constantin Égérie Self-Winding watch are exactly what one would imagine a diamond-set timepiece from this esteemed maker would look like: sophisticated, elegant, refined and clever. What makes these 35 mm pieces different are the pavé diamond dial, bezel, lugs and clasp, which contain a total of 912 round-cut stones for a total weight of 4.10 carats. There are two colourways – white gold or rose gold – with a choice of two straps in alligator leather or satin (in shades of midnight blue or 'candied' chestnut). It really doesn't matter from which angle you gaze upon this watch as there are diamonds adorning the small space between the case and the strap, diamonds on the outer edges of the lugs and diamonds trimming the outer edges of the case.
I am sure you will agree with me reader that these timepieces demonstrate the collective might of many small diamonds and the beauty they can possess when used artfully and liberally. Their much grander cousins – large carat weight solitaires – are undoubtedly beautiful, but can they produce such seamless surfaces of light that wrap around the wrist? Herein lies the majesty of diamonds: their surprising versatility.