The Grand Prix d'Horlogerie de Genève (GPHG) Awards are judged annually by a team of 30 industry experts, led by historian, author and journalist Nick Foulkes. They gathered to evaluate a range of masterful pieces and crown the most impressive creations with a 'GPHG Award Winning' title. Let's take a closer look at a few of the well-deserved winners.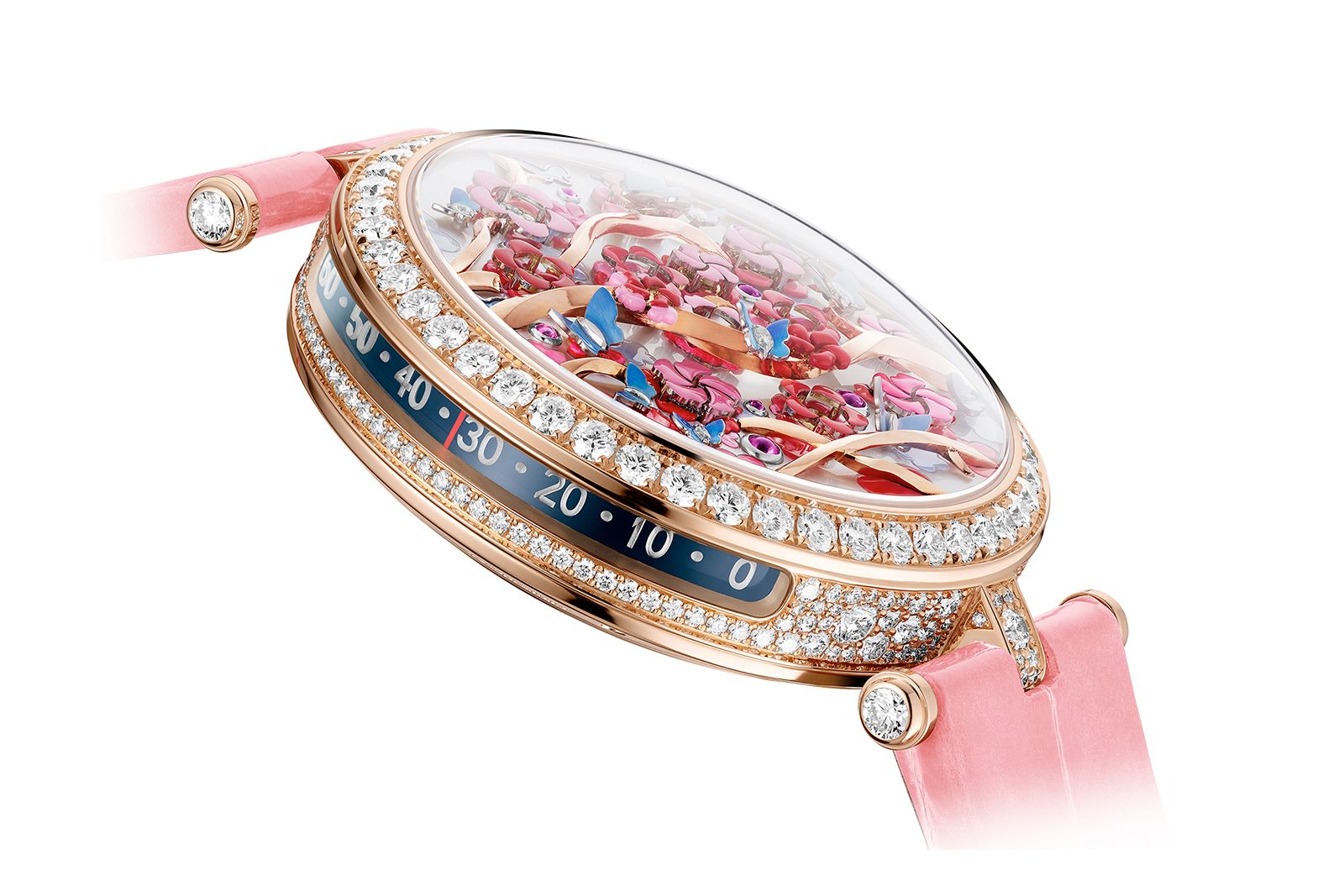 Ladies' Watch Award Winner
Criteria: Women's watches are judged on the following features - hours, minutes, seconds, simple date, power reserve, classic moon phases - and potentially adorned with a maximum 9-ct gem setting.
Winner: Parmigiani Fleurier Tonda PF Automatic
Swiss watchmaker Parmigiani Fleurier was the recipient of this year's Ladies' Watch Award. The judges were impressed with the classic, functional yet feminine aesthetic of the Maison's Tonda PF Automatic. A true embodiment of the brand's spirit, this watch features a wide dial opening, subtle chromatic variations, and sleek finishes. Our favourite design element is the 12 baguette-cut diamonds set at each hour.
Ladies' Complication Watch Award Winner
Criteria: Women's watches are assessed on their mechanical creativity and complexity in this category. Watches may feature all kinds of classic and/or innovative complications and indications and do not fit the definition of the traditional ladies' category.
Winner: Hermès Arceau Le Temps Voyageur
Available in three designs (black, deep blue or white mother-of-pearl), the dial of the Hermès Arceau Le Temps Voyageur watch displays a truly creative mechanical movement. Humorously nicknamed the Travelling Time watch, its mechanism was developed exclusively for Hermès to display hours, minutes, 24 time zones, and a dual time display with city indication. This complex piece is paired with an elegant alligator strap.
Jewellery Watch Award Winner
Criteria: Watches demonstrating exceptional mastery of the art of jewellery and gem setting, distinguished by the choice of stones.
Winner: Bulgari Serpenti Misteriosi High Jewellery Watch
Jewellery watches - our most anticipated category! We saw an exceptional selection of precious pieces at
Watches & Wonders
earlier this year, so we were excited to see which would dazzle the judges most. Bulgari's
Serpenti Misteriosi
High Jewellery watch debuts a new in-house micro-movement while maintaining the characteristic snake motif that has been so popular for the Roman brand since the 1950s. In fact, the BVI100 calibre revives the small mechanical motors used in most women's watches until the early 1970s. The diminutive timepiece is revealed when pressing the snake's tongue, which holds the very small mechanism in its jaws. The watch has a winding body of rose gold set with
turquoise and diamond scales
leading to the hand-carved head of the snake, where two pear-cut rubellites add fire to the reptile's eyes.
Mechanical Clock Award Winner
Criteria: Watches featuring a special mechanism, such as an innovative or sophisticated display, an automaton, a striking or any other acoustic function, a special escapement, a belt-driven movement or any other original and/or exceptional horological concept.
Winner: Van Cleef & Arpels Fontaine Aux Oiseaux automaton
This was a particularly exciting moment at the GPHG ceremony as it was the first time a category was presented to spotlight time-measuring instruments other than wristwatches. Van Cleef & Arpels' Fontaine Aux Oiseaux Automaton had the honour of being the first prize winner. The piece recreates a garden fountain filled with still water and visited by animals such as birds and dragonflies. When activated, the fountain comes to life, revealing waves where the water's surface starts to ripple as if moved by a light breeze. An enamel and gem-set water lily floating on the surface slowly blooms whilst the still dragonfly rises by beating its wings. The birds perched on either edge of the basin move towards each other as they chirp and sing; bells and beechwood create the sound from within the clock. Crafted in gold and decorated with various forms of enamel applique, diamonds and coloured gemstones, this timepiece displays Van Cleef & Arpels' craftsmanship.
Innovation Prize Award Winner
Criteria: This prize rewards the best watch offering an innovative vision of time measurement and opening new development pathways for the watchmaking industry. This prize is discretionary each year, and the Jury will decide whether there are grounds for awarding it.
Winner: Van Cleef & Arpels Lady Arpels Heures Florales Cerisier watch
Taking home a second trophy, Van Cleef & Arpels created emotion through mechanical movement in its The Lady Arpels Heures Florales Cerisier watch. With nature a constant source of inspiration for the Maison since 1906, this timepiece pays tribute to the floral clock concept developed by the Swedish botanist Carl Von Linné. In his 1751 book Philosophia Botanica, the scientist outlines a garden filled with various plants that open and close according to a specific time of day. The skilled watchmakers and craftsmen of Van Cleef & Arpels brought Linné's vision to life through a three-dimensional dial that sees 12 pink and yellow flowers open and close as time passes.
In the words of the President and CEO of Van Cleef & Arpels, Nicolas Bos: "When we work on watchmaking projects, our goal is to use mechanisms to capture the poetry of the passage of time. And what could be more poetic than measuring time with the opening and closing of flowers?" We could not agree more!
As you can see, these prize winners were more than worthy of their titles. Each includes beautiful design elements, intricate mechanical features and outstanding gem-set details. The bar has certainly been set high for next year's competitors; we are sure they will be up for the challenge.