We all know that success is a journey, so it is always a rewarding experience to revisit conversations and catch up with people when they reach special milestones. In the case of gemhype, I first wrote about this emerging digital business in April 2021. It was founded by siblings Isaline and Carl-Philip Arnoldi, whose family are behind the world-renowned, Idar-Oberstein gemstone supplier, HC Arnoldi. Now, the business is celebrating three successful years and is reflecting on some of the learning curves that have shaped its growth. It's also undergone a significant rebrand, and it's clear that lots of work has gone on behind the scenes to make the dream of quickly, safely and reliably buying gemstones online even better for designers and brands.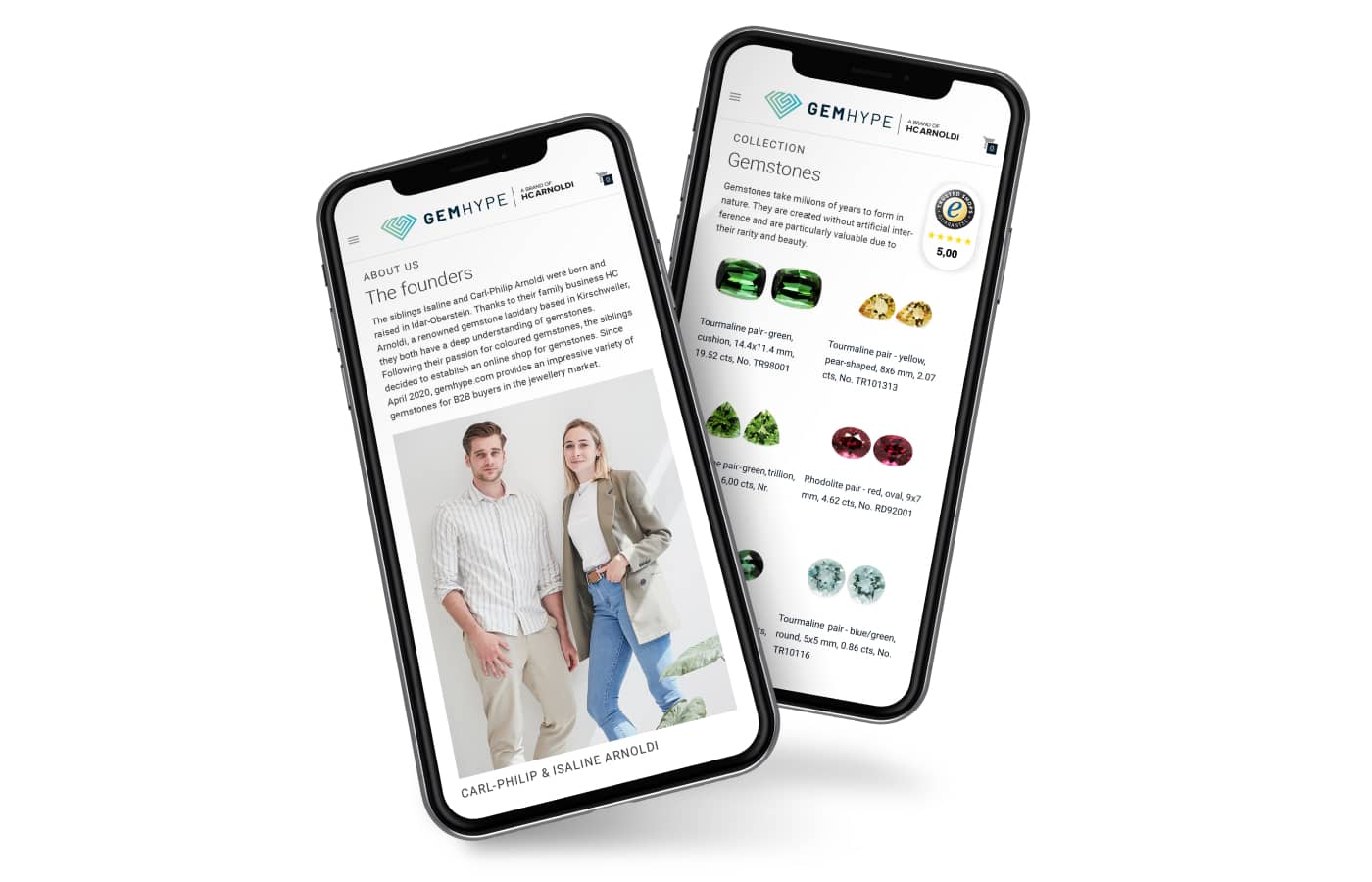 Below, I'd like to share the highlights from my recent conversation with Isaline Arnoldi, in which we discussed inspiring designers, trending gemstone colours, and her goals for the future.
Katerina Perez: What has the journey of gemhype.com been like over the past three years, and what have you learnt along the way?
Isaline Arnoldi: It's been an exciting journey since we founded gemhype three years ago. We've experienced consistent growth year after year, and 2022 was particularly successful for us as we sold over 5,300 gemstones! People are increasingly buying gems online, and we're grateful they're choosing to trust us with their purchases. We're excited to continue growing and improving, and we're thankful for all our customers who have supported us along the way.
KP: Why did you decide to rebrand the business?
IA: In 2022, we went through a rebranding process to strengthen our brand. My brother and I founded gemhype because we wanted to make decisions quickly and be independent. As one of the first modern online shops for gemstones in Idar-Oberstein, we had expectations for how our entry into the market would go, but it was still a challenge that we wanted to overcome on our own in the first step. However, we recognised the expertise and reputation of HC Arnoldi, which is a well-known name in the industry. As a result, we decided to work closely with our mother company. Their knowledge, experience, and established reputation have been incredibly beneficial to gemhype, especially for higher-priced gemstones. But gemhype has also had a very positive impact on HC Arnoldi. It is now being integrated into the digital age! It shows customers that HC Arnoldi is continuously evolving and keeping up with the times.
KP: Do you think the industry is now more accepting of digital methods when purchasing gemstones?
IA: Yes, we can definitely say that. This has been evident, in part, through the rise of Instagram. We often hear that Instagram is not as important for B2B companies like us, but even B2B professionals are active on social media platforms. Especially in 2020, when Covid-19 made travelling difficult, we reached international customers through social media and were able to showcase our gems and sell them. However, it is also quite clear to us that the combination of digital and traditional sales methods is crucial, especially when it comes to high-quality and specialised products such as gemstones. That is why we conduct sales trips with HC Arnoldi and continue to participate in international trade fairs in order to serve our customers in the traditional way. This is how you can find HC Arnoldi and thus also gemhype at events such as IJT International Jewellery Tokyo, VicenzaOro, Inhorgenta Munich, and GemGenève.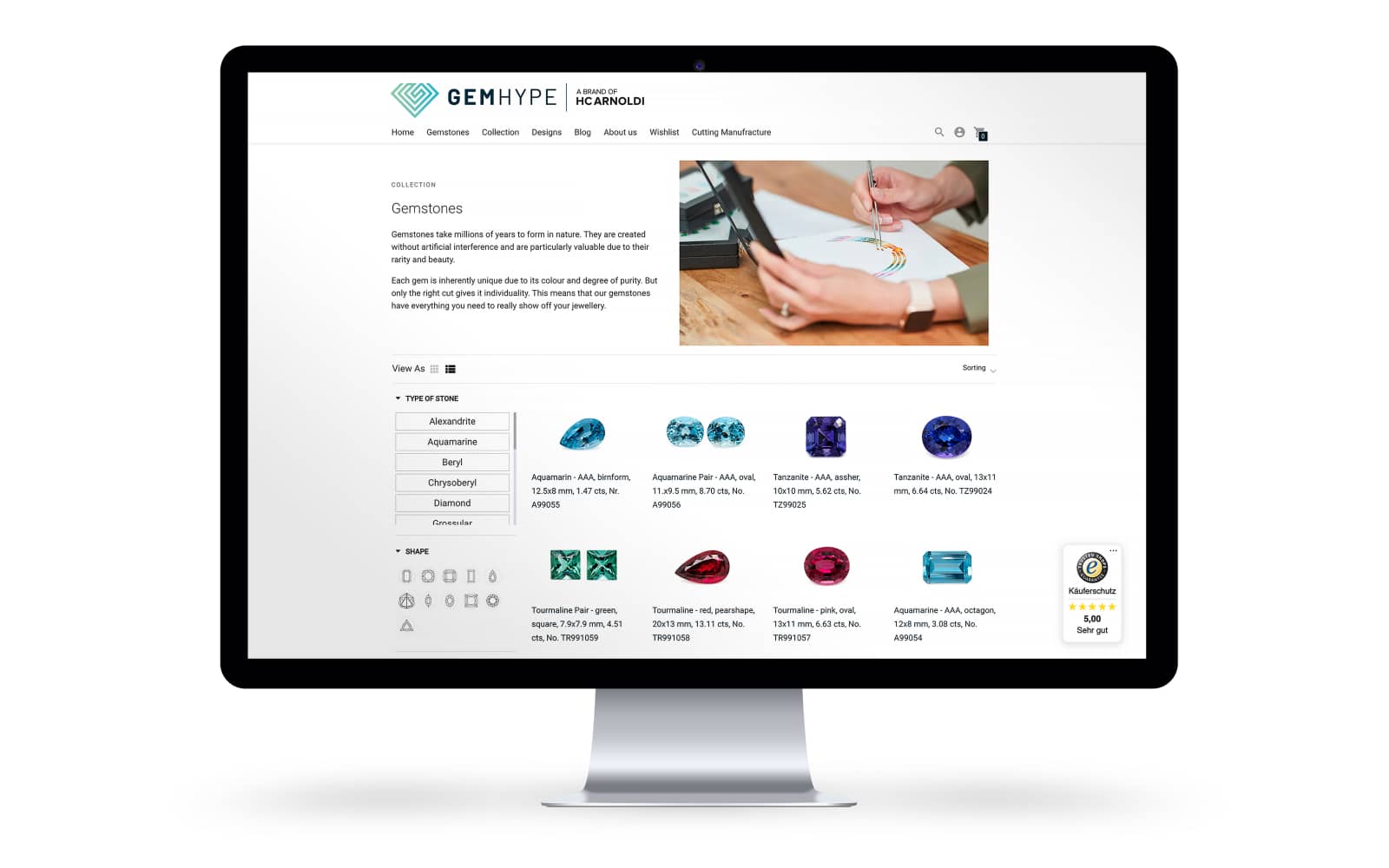 KP: How have you improved your digital platform in recent years?
IA: We have made significant improvements, particularly by expanding our offerings. We now offer 28 different types of gemstones and add new collections every month. For instance, we recently added stunning grey spinel from Mahenge, Tanzania to our online store. We have expanded our inventory to include diamonds and are continuously working on expanding this category. We have also made significant updates to our sapphire collection. Moreover, we have expanded our entire range of gemstones online, and currently, we have 1431 gemstones available on our digital platform. Additionally, in 2023, we have added the US Dollar and Pound currencies to our online store to facilitate purchases for our international customers.
KP: Your website's 'Designs' section showcases inspiring layouts and gemstone sets for designers. Is it important to you to develop this type of relationship with your customer?
IA: Yes, absolutely. Through our parent company HC Arnoldi, we have gained a lot of experience in nurturing relationships with jewellery designers and creatives. We transfer this knowledge to gemhype to make it easy for customers to select and purchase fully coordinated sets of gemstones and designs from our Design page. We take care to ensure that the gemstones selected for each set complement each other in terms of quality, colour, cut, and type of gemstone. Our aim is to provide customers with ready-made sets and inspire goldsmiths and jewellers to create new and exciting designs using our gemstones.
KP: What gemstones are trending among your customers right now?
IA: Our grey tourmalines, which we launched in 2022, have been very well received. We are excited to see how our grey spinels from Tanzania will do, as they have already received a lot of interest from HC Arnoldi's customers. Pastel variations of gemstones such as tourmaline, morganite, aquamarine, and paraiba tourmaline are also in high demand.
KP: What are your new goals for gemhype.com over the next 12 months?
IA: Our main goal for gemhype is to significantly expand our product offerings and tailor them even more precisely to our customers' wishes. We aim to add at least 400 new individual gemstones to our online store by the end of 2023, including more gemstone pairs and sets. Additionally, we plan to continue growing in the categories of diamonds and sapphires, which are a top priority for us. We also plan to produce more videos for individual stones and work more closely with our customers to learn how we can make the process of buying gemstones as simple as possible. Customers can expect a wider range of products and an even better shopping experience from gemhype in 2023 and beyond.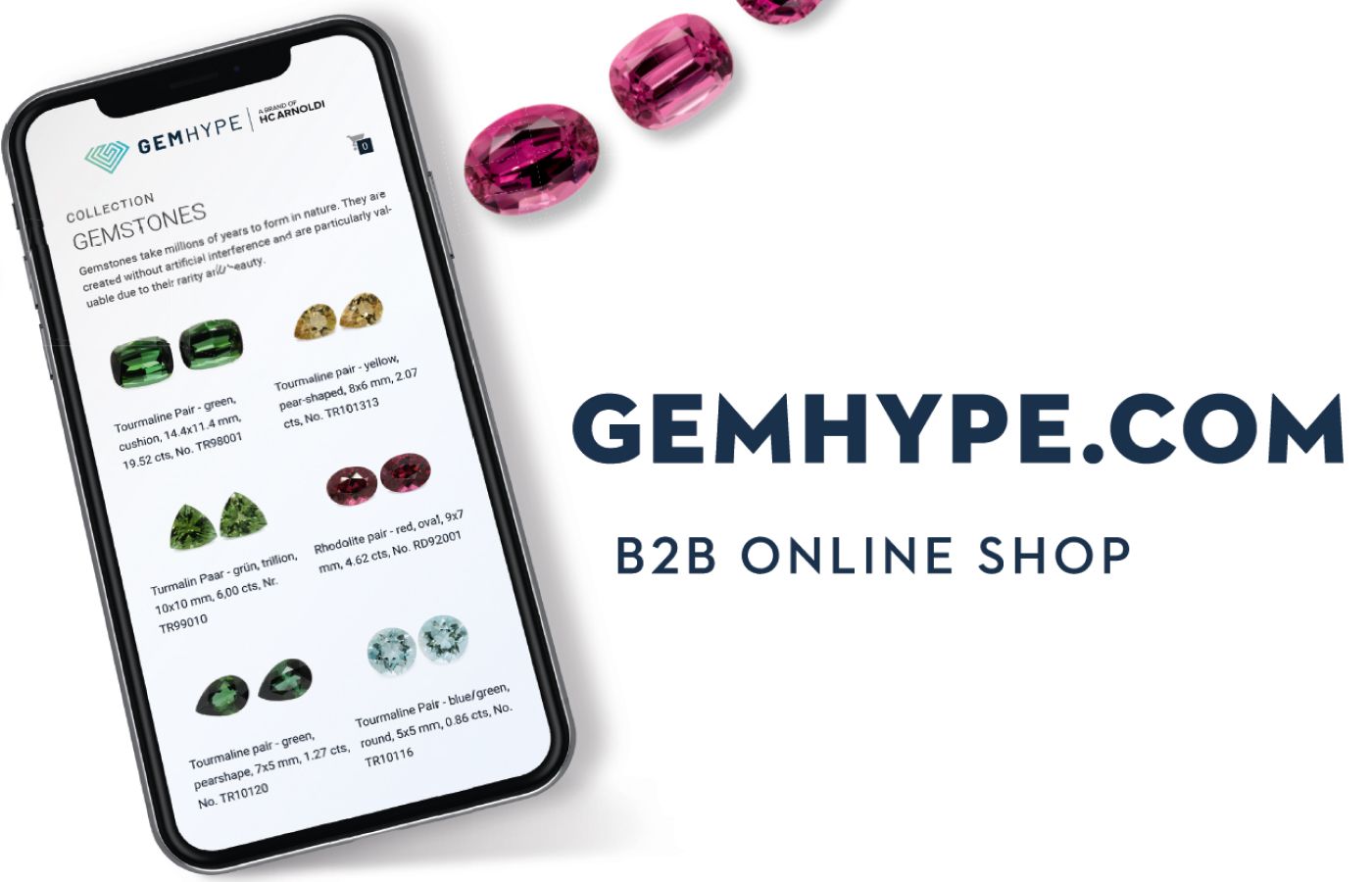 The fates have aligned for gemhype in its third year of existence. By aligning closely with its parent company, improving its online platform, and keeping a close eye on trends, it is setting a pathway that others will no doubt follow! Buying gemstones online isn't just about having the right inventory – it's also about confidence and trust. I am sure you will agree that gemhype has nurtured both attributes in just a few years. Who knows where it will be in another three? I look forward to finding out.