There are moments when I look at a piece of high jewellery and simply must know the story that inspired it. The fantastical element behind it is so strong that I know there must be a complex idea, theme, motif, or meaning at its heart. This is exactly the emotion I feel when browsing jewels by Austy Lee during the Jewellery & Gem WORLD Hong Kong fair in September. The Hong Kong-born artist jeweller established his eponymous brand back in 2017 and I have followed his journey pretty much from the very beginning. His flamboyant, bright and opulent signature style is a clear reflection of who he is as a designer but also as a unique individual; colourful, expressive, eclectic, bold, adventurous and so on.
His pieces are remarkably varied in form, with both angular and organic shapes, and utilising a melting pot of gemstones, metals, enamel and even some artifacts. What unites them, however, is a wonderful playfulness – clashing and contrasting colours, matte and shiny surfaces, textural and smooth finishes – and a sense of volume that adds depth and dimension from every angle. The expressiveness of Austy Lee jewels suits a similarly effusive wearer. Why seek convention when a cool, quirky and audacious Austy Lee creation exists to inject some eclecticism into your jewellery box?!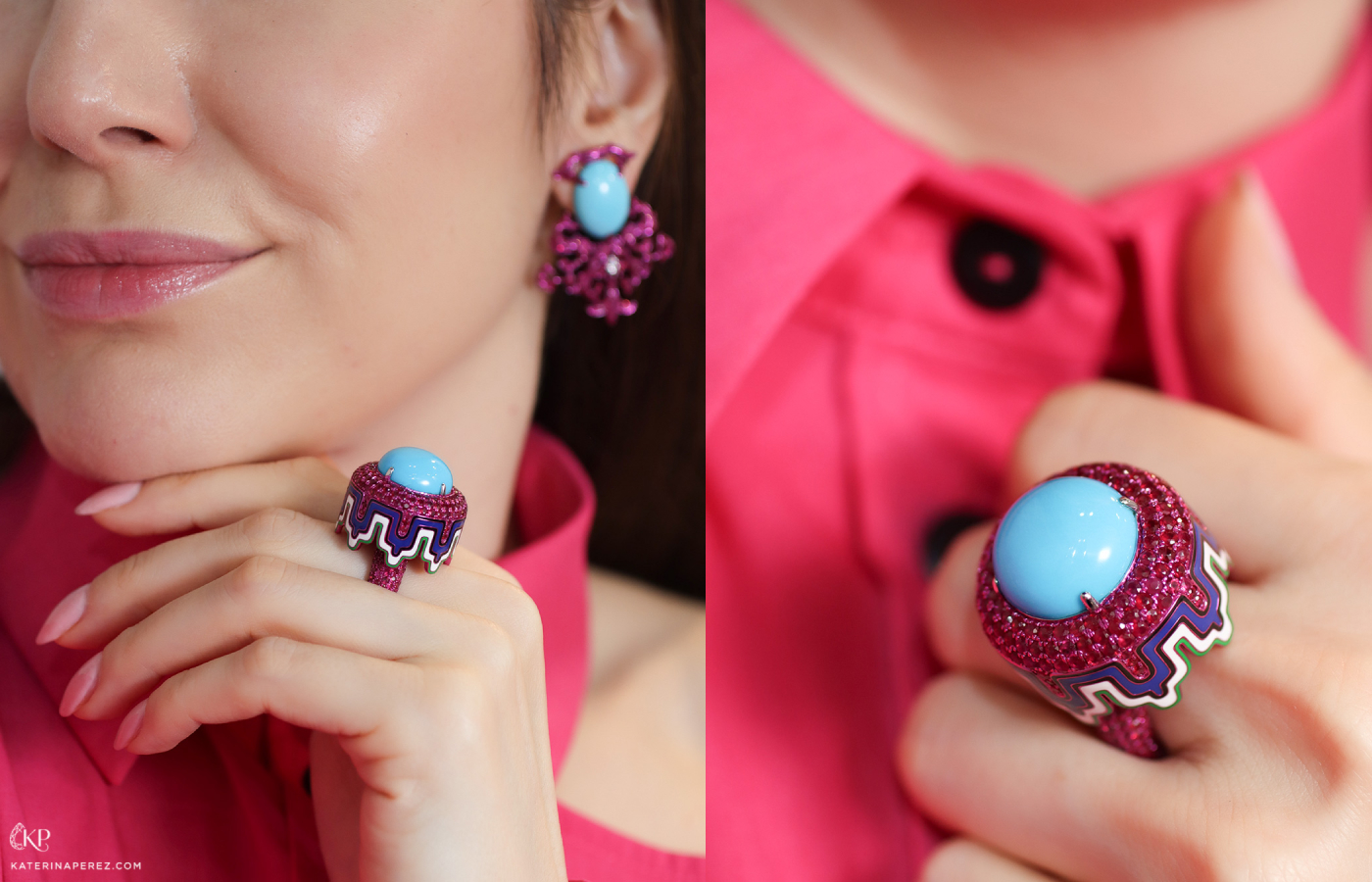 When I first met Austy in person at GemGeneve back in May, we were able to connect through a shared love of art jewellery. I was so excited to see his jewellery in real life, try the pieces on, and appreciate their 'personality' that we didn't leave enough time for a conversation about Austy Lee's journey. This time coming to Hong Kong, I had a clear goal to understand Austy's designs and vision better, and as always, I am excited to share what I have learned with you. Below, you will find highlights from our conversation and evidence of a humble artisan whose creativity is seemingly limitless.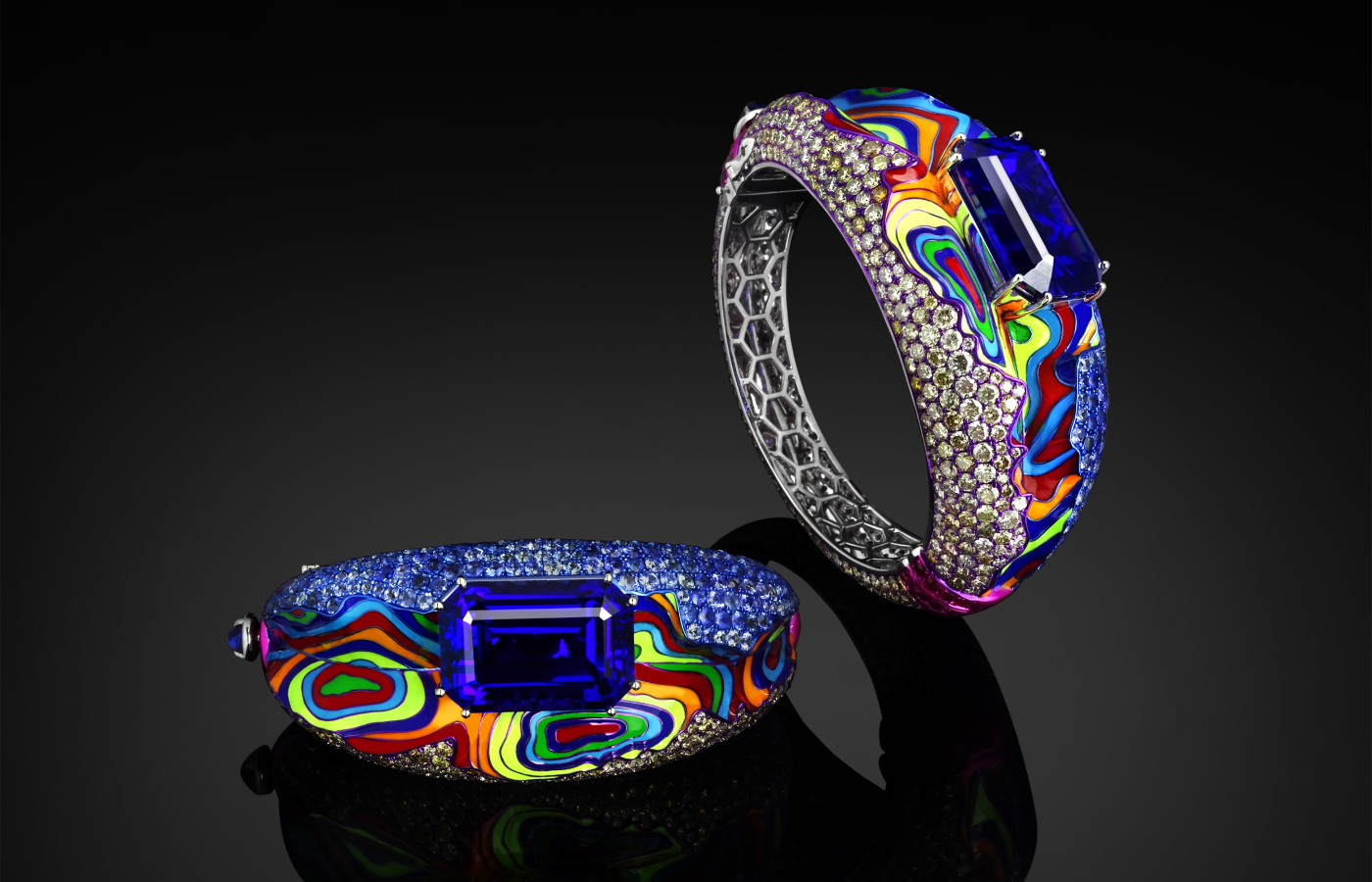 Katerina Perez: How would you define your unique signature high jewellery style?
Austy Lee: When I launched my brand, "When Jewellery is Psychedelic Art" immediately came up in my mind as I want my jewellery to be as mesmerising and as hypnotising as possible. My design style is playful, edgy and otherworldly. In other words, I create fun wearable pieces which one has never seen before. I describe myself as a person who [has the] courage to innovate and dares to challenge, especially in my designs. I am always trying to bring forth new ideas and new techniques to create jewellery pieces that are not commonly seen in the market. People say I am taking risks, but those are the designs that I like and I, personally, would very much love to wear them.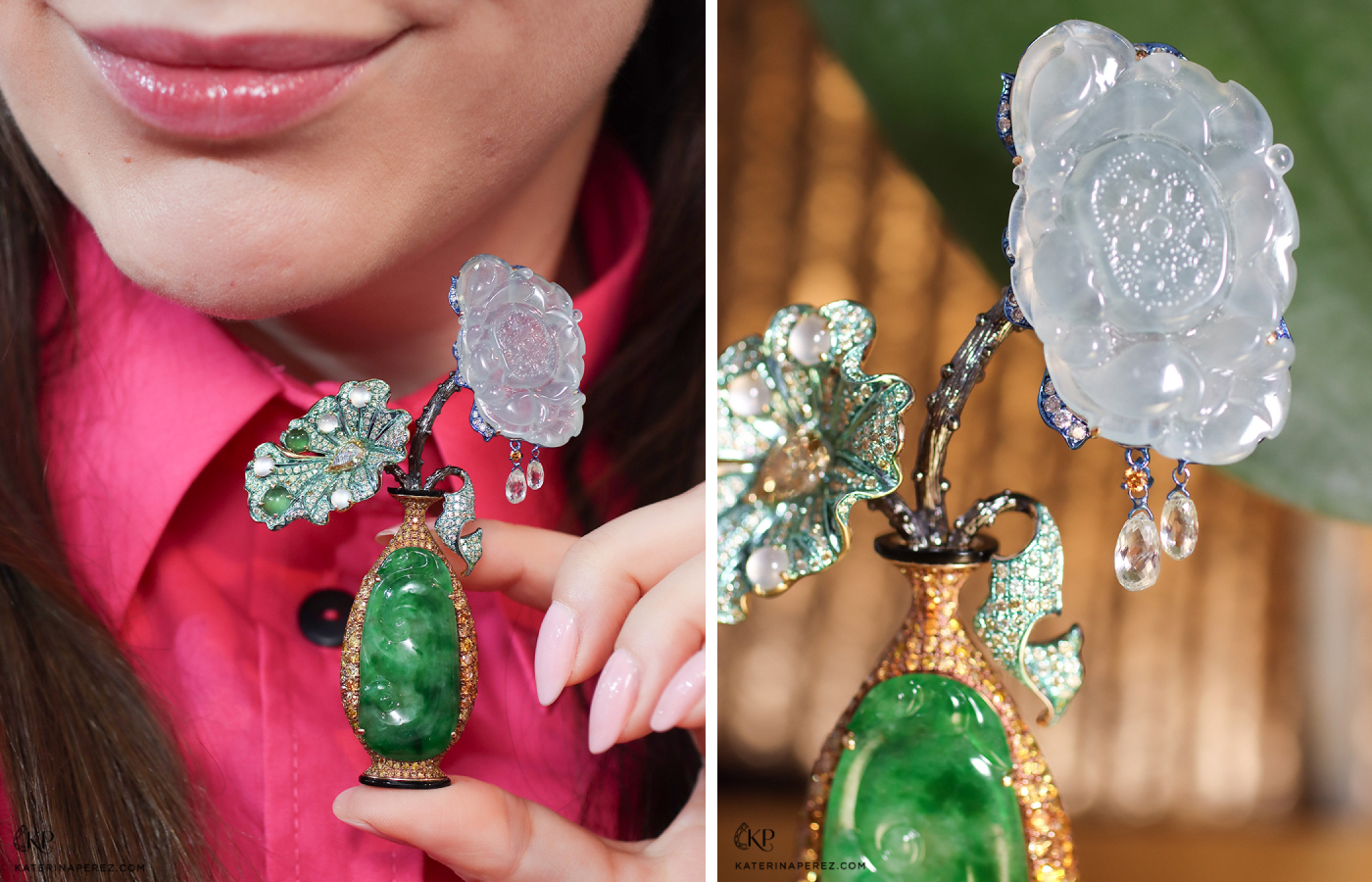 KP: 'Psychedelic Art' is part of your identity as a jewellery designer. How did this emerge and what was your route into jewellery design?
AL: I did not want to be a jewellery designer in the beginning. When I was pursuing education, I wanted to be a fashion designer, but due to the competitiveness of fashion design courses, I was not able to get into one. I ended up attending gemstone setting courses and, eventually, attained a product design diploma. One of the mentors in product design really liked by drawings and, coincidentally, he referred me to work as a jewellery design intern in UJDC (Universal Jewellery Design Center Limited), which paved my way in becoming a jewellery designer.
Before launching my own brand, I worked as a designer for a few brands like Adler and Wendy Yue, equipping myself with various experiences in buying gemstones, dealing with high-end customers, getting to know a lot about marketing and business operations. It's about the right timing; I decided to start up my own design studio, creating jewellery with no boundaries and as extraordinary as possible.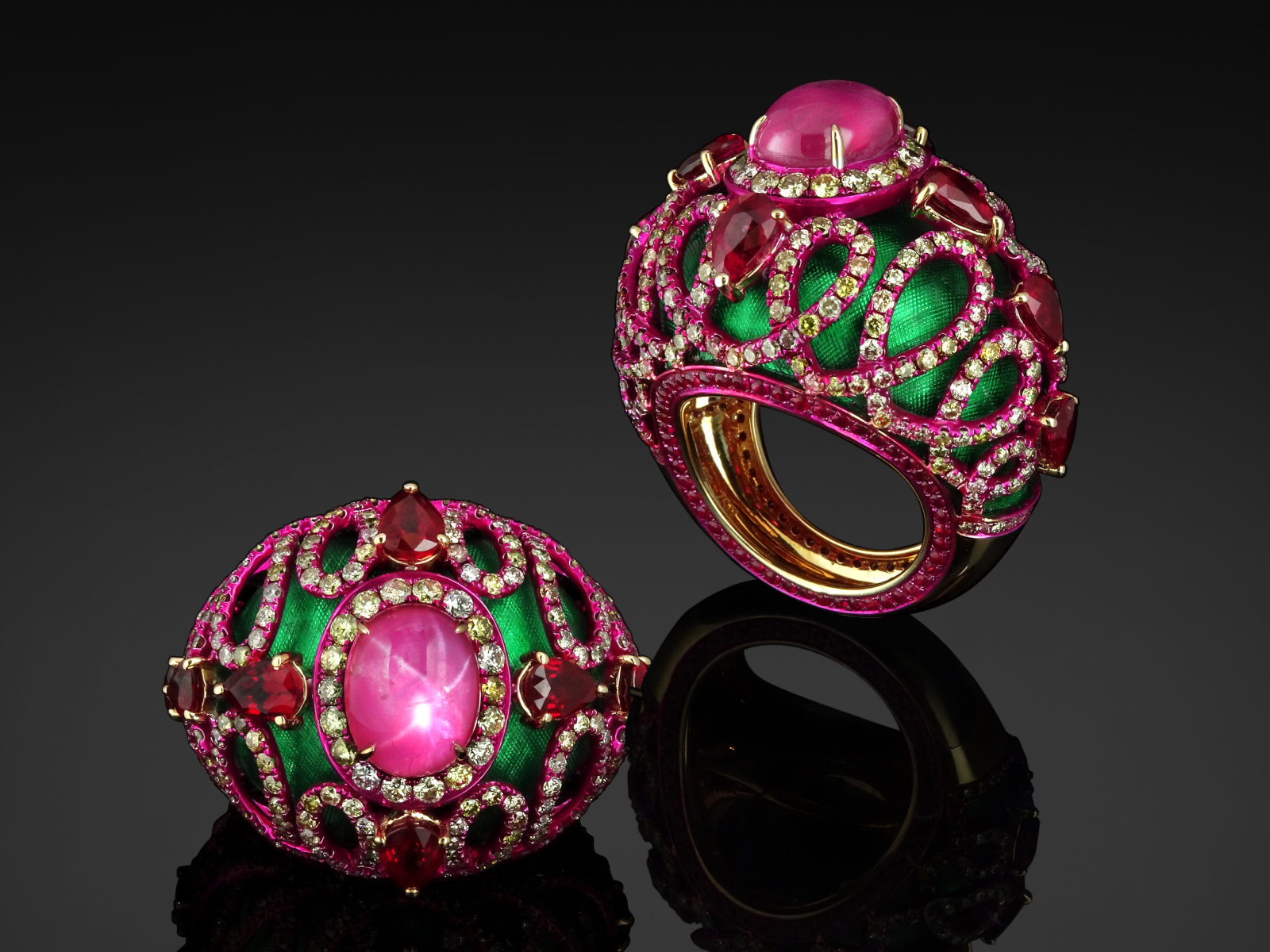 My first series was Psychedelic Light because I like colourful metallics, including coloured gold plating and buried titanium. My first collection relates to my own beliefs and personal preferences. Something [is] really 'Austy' [if it's] unique, colourful, fun, and wearable.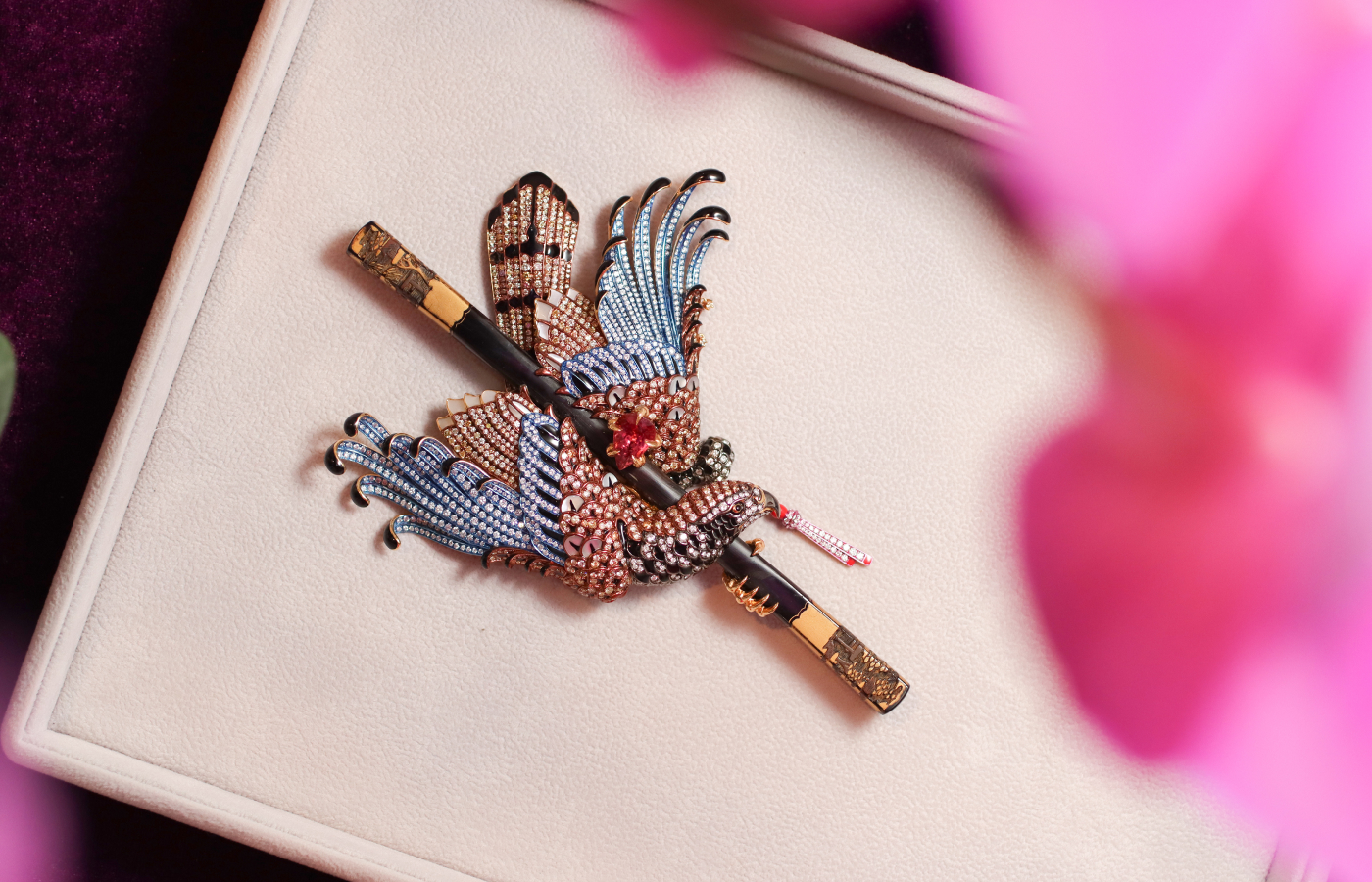 KP: Do you have any recurring motifs or themes in your work or perhaps some specific shapes or silhouettes that define your signature style?
AL: My designs are all related to and about my daily life. I wish people who collect my pieces to discover my little world and see 'Austy' in it. I do not want to restrain myself with themes, so that I create without boundaries. However, my inspirations are mainly from culture, religion and natural creations. I believe in Tibetan Buddhism. Its Thangkas and Mandalas are the main inspirations for those psychedelic patterns. I also love reading books related to these topics, and I used to teach jewellery design and culture in an institution in Hong Kong. By incorporating elements of culture into my designs, I create a storytelling to the art pieces and make the jewellery even more special and meaningful.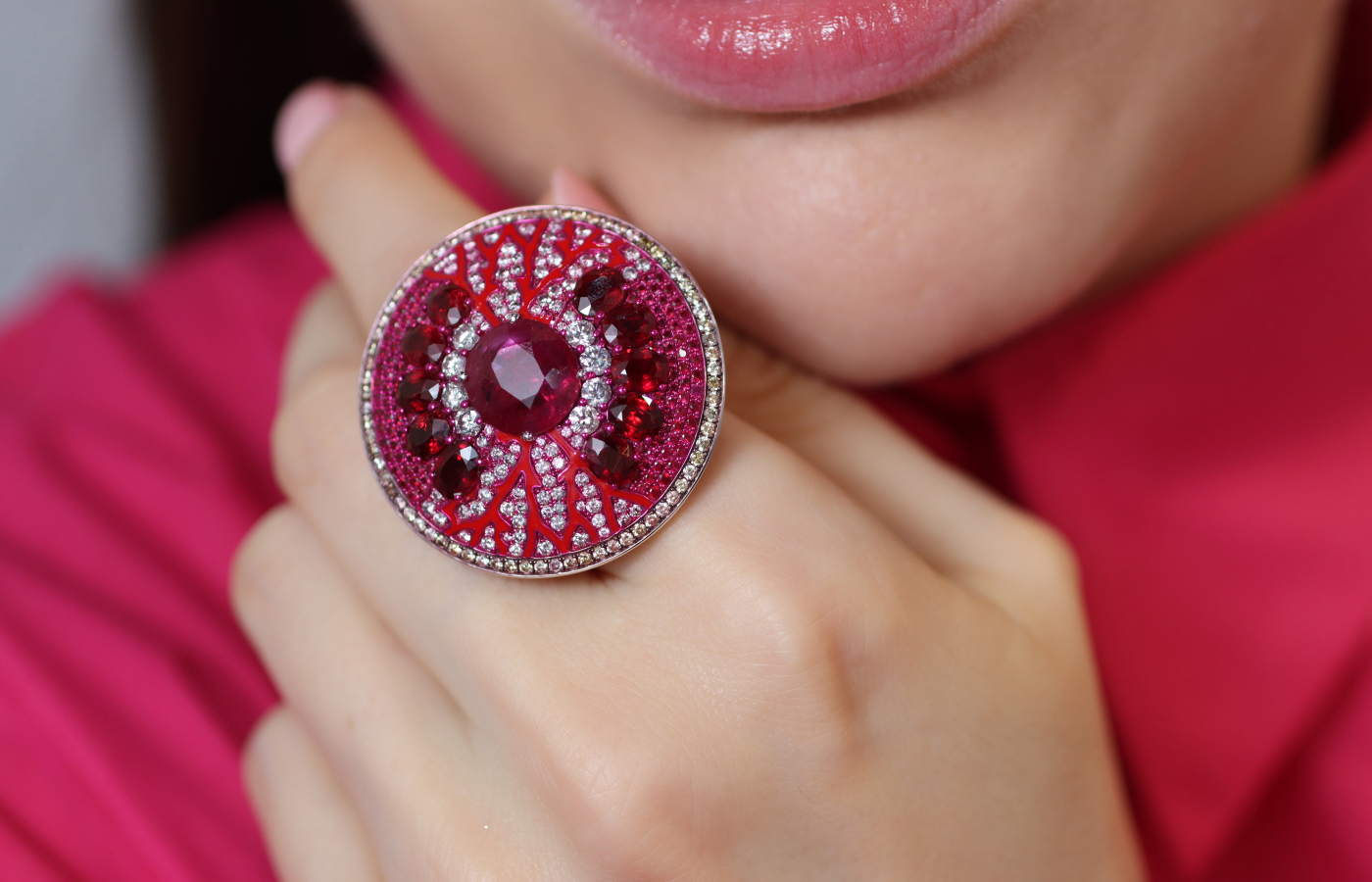 KP: Do you have any favourite materials to work with?
AL: I like to apply a lot of mother-of-pearl and abalone shells into my pieces because of their iridescence, which is very psychedelic and hallucinating. I particularly like the blue lagoon tourmaline, which is the colour of Iceland's blue lagoon; it sparkles like the aurora with the reflection of peacock feather blue. I am really into the colour indigo, and I collect a lot of [stones in this hue].
KP: You have a passion for jade. What does this material mean to you and how do you choose to present it in your designs?
AL: I like collecting jades. My mother gave me a jade pendant when I was nine. I always kept it with me as protection and treated it as the medium of contact with my family. I like to wear jade as a talisman and a sense of family inheritance. My reverence for jade's place in Asian culture inspired me to create the Jade Dynasty Collection. I don't want to be too old-fashioned [with the] Asian style when I apply jade in my designs and therefore, I have been trying to use many new methods in creating jade jewellery. I hope to contemporise jadeite and demonstrate how the gemstone can be fashionable and appreciated by a broader clientele.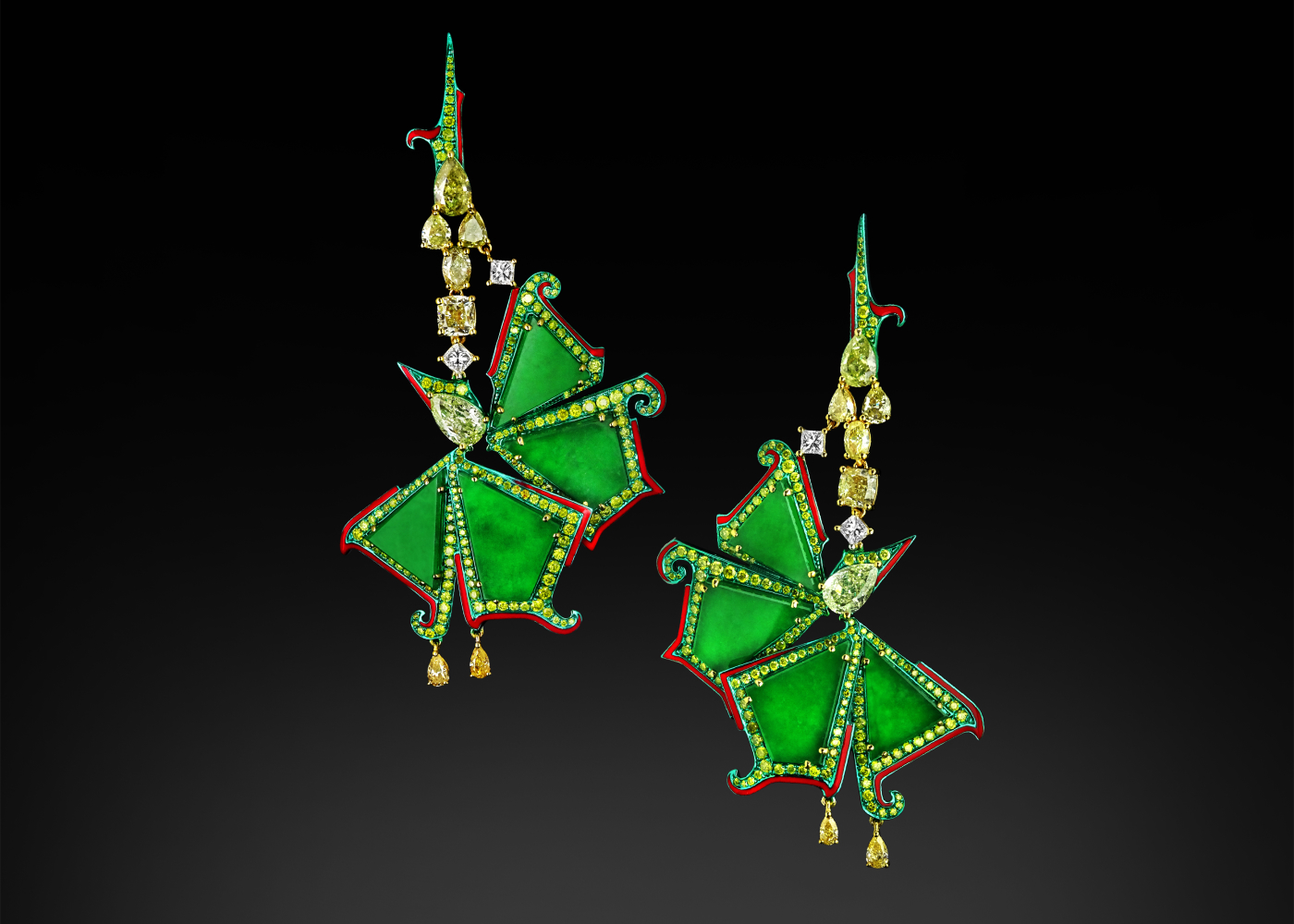 KP: How would you describe your creative process? How does each piece of jewellery start life?
AL: It all starts with drawing (in case you wonder, I draw all my pieces by hand), simultaneously looking for matching gemstones. After the sketch, I will be sorting stones for the pieces, followed by wax carving. Then I will send them to my goldsmiths for gold casting, polishing, and stone-setting. I also oversee and quality control all my pieces to ensure they are all up to my expectations. I love to see people wearing and admiring my pieces, and this is the motivation to keep creating.
KP: How has your eponymous brand evolved since it was founded in 2017?
AL: I would say my jewellery pieces are getting bolder and even 'crazier'. I am trying to bring to the world the most extravagant and avant-garde pieces as possible. Also, previously the inspirations for my designs were mostly from religions, cultures, thus forming a whole collection like The Jade Dynasty, The Garden of Myth etc. Recently, I've looked more into the concept of the designs, like The Or-En-Noir collection focusing on the use of 18K gold and black rhodium, or The Kymatismos collection showcasing pieces made with blue enamel to create wave-like patterns.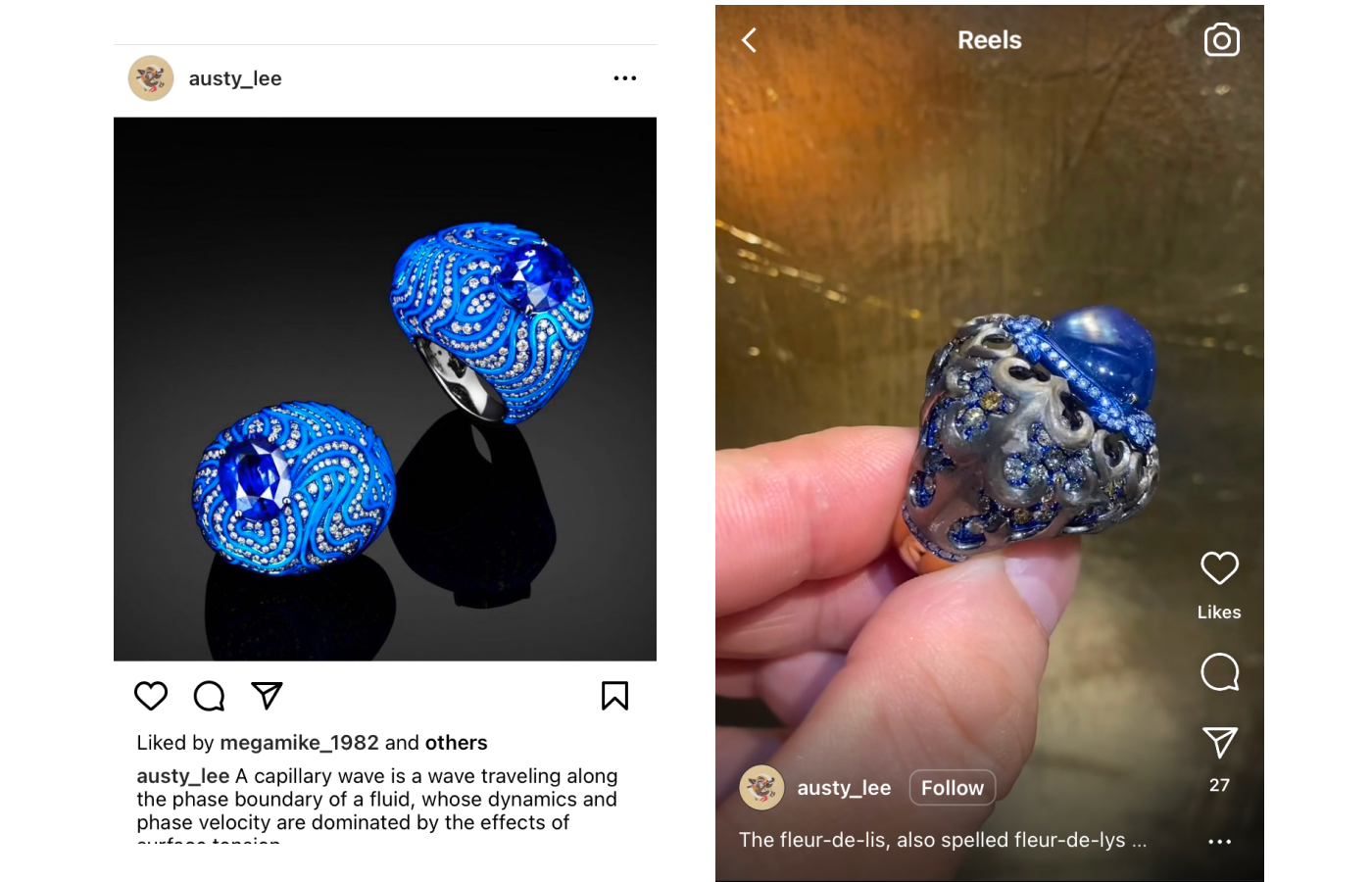 KP: Finally, can you tell us about any pieces you have launched recently?
AL: The latest collection I have been working on is 'The Sanctus-cubus' featuring house/box-shaped rings. It's actually just a collection for fun. Another one is 'The Fūrinkazan,' which showcases the elements of wind, forest, fire and mountain. The Sandādoragonbōru brooches are the first in the collection, which embody the element of fire, made of 18K rose gold with Tahitian pearl, red and blue enamel, mother-of-pearl, onyx, abalone shells and white diamonds.
It is refreshing to speak to a designer so unencumbered by boundaries and self-imposed rules. Instead, Austy Lee is free to let his imagination run wild… and just look at the cosmic, mystical and adventurous results. I will be keeping a close eye on 'The Fūrinkazan' to witness how this collection evolves. If the Sandādoragonbōru brooches are an indicator of the high jewellery art to come, I am very excited indeed!