The world of high jewellery today is full of beautiful, out-of-the-box, precious creations that surprise and delight aficionados the world over. From Boucheron's magnesium bow brooch to Fabio Salini's masterful manipulation of carbon, forward-thinking high jewellery designers are constantly seeking new materials and pushing design boundaries. Jean Schlumberger was one such designer whose visionary aesthetic paved the way for the curious and talented designers of today. It was one afternoon in 1965 that the Tiffany & Co. creative director displayed his first Bird on a Rock design - a sweet little diamond bird perched atop a large light brown topaz. Inspired by a yellow cockatoo he had encountered during his travels, this piece was the onset of one of Tiffany & Co.'s most treasured icons. Let us journey through the history of this epic creation and see how its design has inspired the Maison's new releases.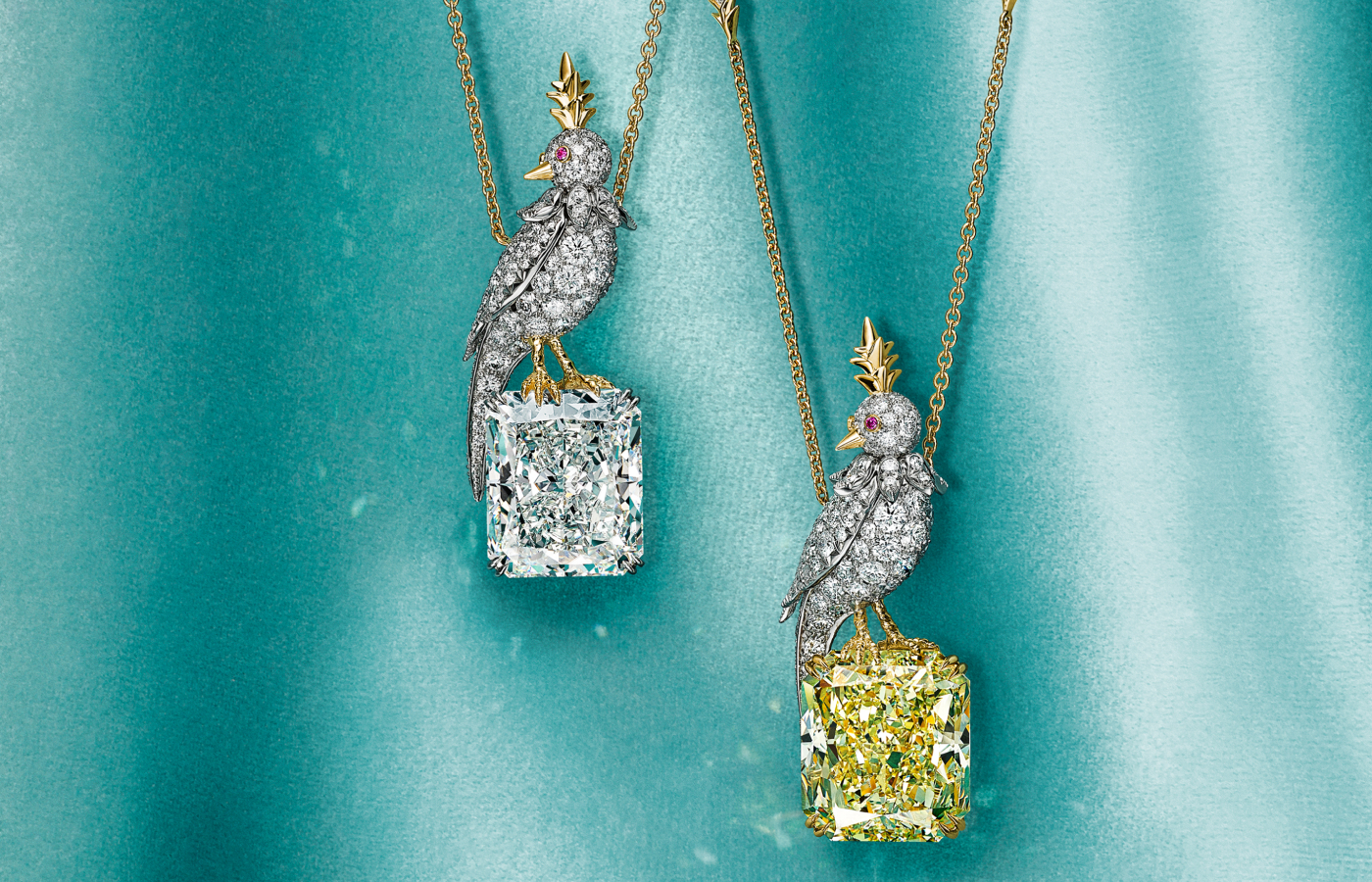 The diamond-encrusted bird of Jean Schlumberger's Bird on a Rock design is a symbol of joy, optimism and wonder in the world of high jewellery. He was known for his precious fantastical pieces infused with bold colours and shapes, often inspired by the vibrant flora and fauna he saw along his travels through Bali, Southeast Asia and the Caribbean. His witty and curious spirit is what drove his artistry and inspired him to elevate some of the most beautiful gemstones seen in history, including the legendary 128.54-carat yellow Tiffany Diamond, which was the focal point of one of Schlumberger's first designs for the Maison - The Ribbon Rosette necklace, famously worn by actress Audrey Hepburn in the promotional images for her film Breakfast at Tiffany's. This was the second time, out of four to date, that the Tiffany Diamond was set in a piece of high jewellery. It was first displayed in a necklace in 1957, suspended in a pendant of 20 diamonds from a rivière necklace of 61 diamonds.
The Tiffany Diamond was reset into a Bird on a Rock setting in 1995 for a Jean Schlumberger retrospective at the Musée des Arts Décoratifs in Paris. This extraordinary display of yellow and white diamonds is what has inspired the latest releases for the Bird on a Rock collection. These recent designs feature birds whose perspective changes to engage with all who admire them, spreading their wings, caught in flight and perched atop a series of jaw-dropping white and intense yellow diamonds. The position of each diamond pavé bird is tailored to highlight the unique gemstone it crowns, the two largest of which weigh over 22 and 28 carats.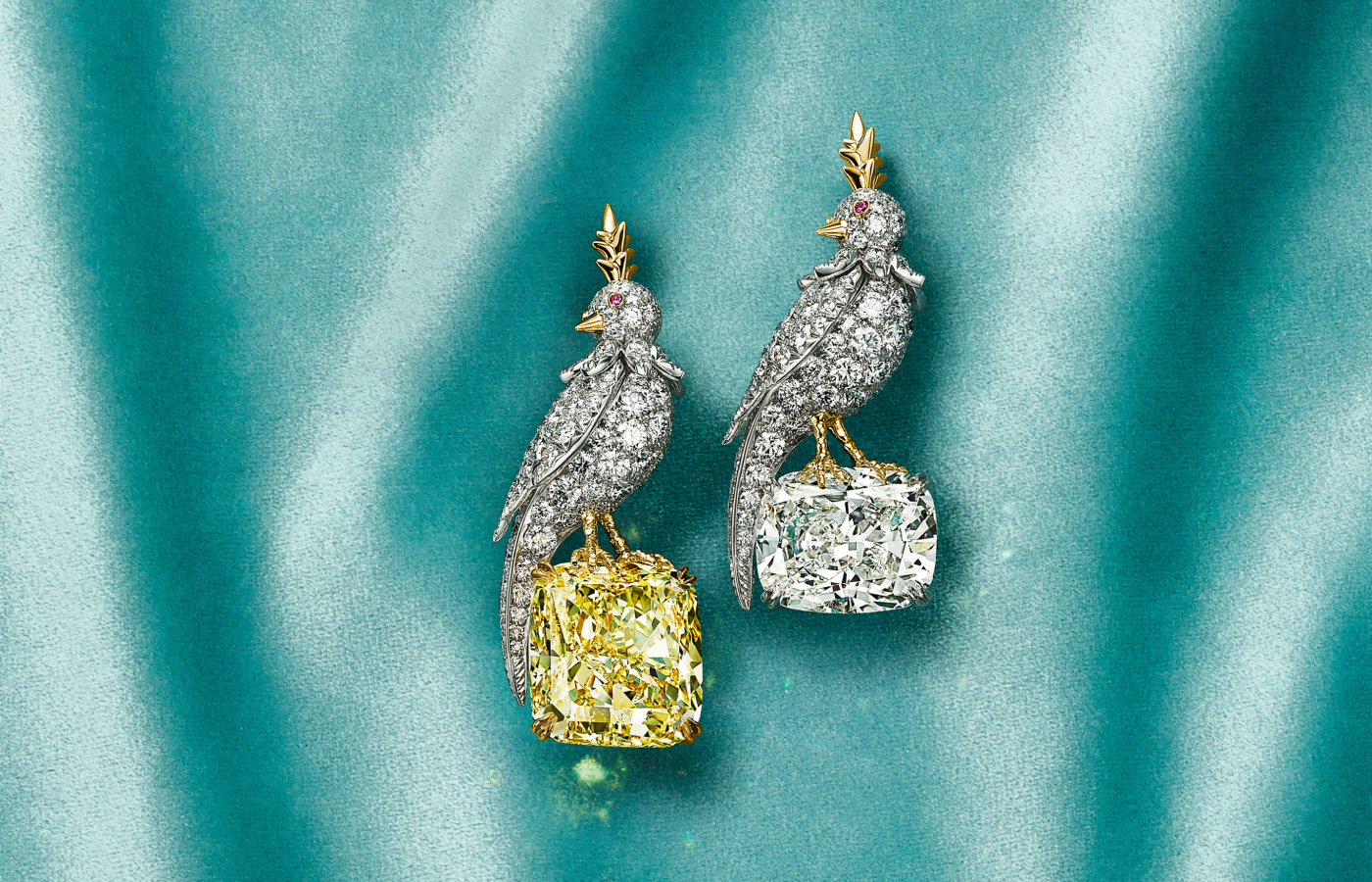 Furthermore, Tiffany & Co. has plans to add two new 39mm Bird on a Rock timepieces to the collection for the first time. These platinum, yellow and white gold creations will also feature an array of beautiful precious stones, one decked in clear blue aquamarines and the other in a seamless gradient of sapphires, emeralds and blue topaz.
Jean Schlumberger's Bird on a Rock design holds great importance in the history of Tiffany & Co. high jewellery and continues to inspire. We cannot wait to see what the Maison's next iteration of this famous design will bring.