Idar-Oberstein is so rich in history and tradition that it is easy to forget about the digital innovation and thoroughly modern business practices going on 'behind closed doors'. The art of gemstone sourcing, cutting, polishing and trading is an age-old pursuit, but businesses can't rest on their laurels and ignore the need for contemporary marketing and attention-grabbing social media images. Recently, gemstone specialist Constantin Wild told me of his latest project to blend the latest AI-fuelled digital artwork with his own stock of gemstones and minerals to create a refreshed brand identity… it's safe to say I was intrigued! Back in January 2023, I had the pleasure of attending the business' 175th anniversary party, which was all about celebrating the centuries gone by. 'Cyber Gem World', on the other hand, is all about embracing the future.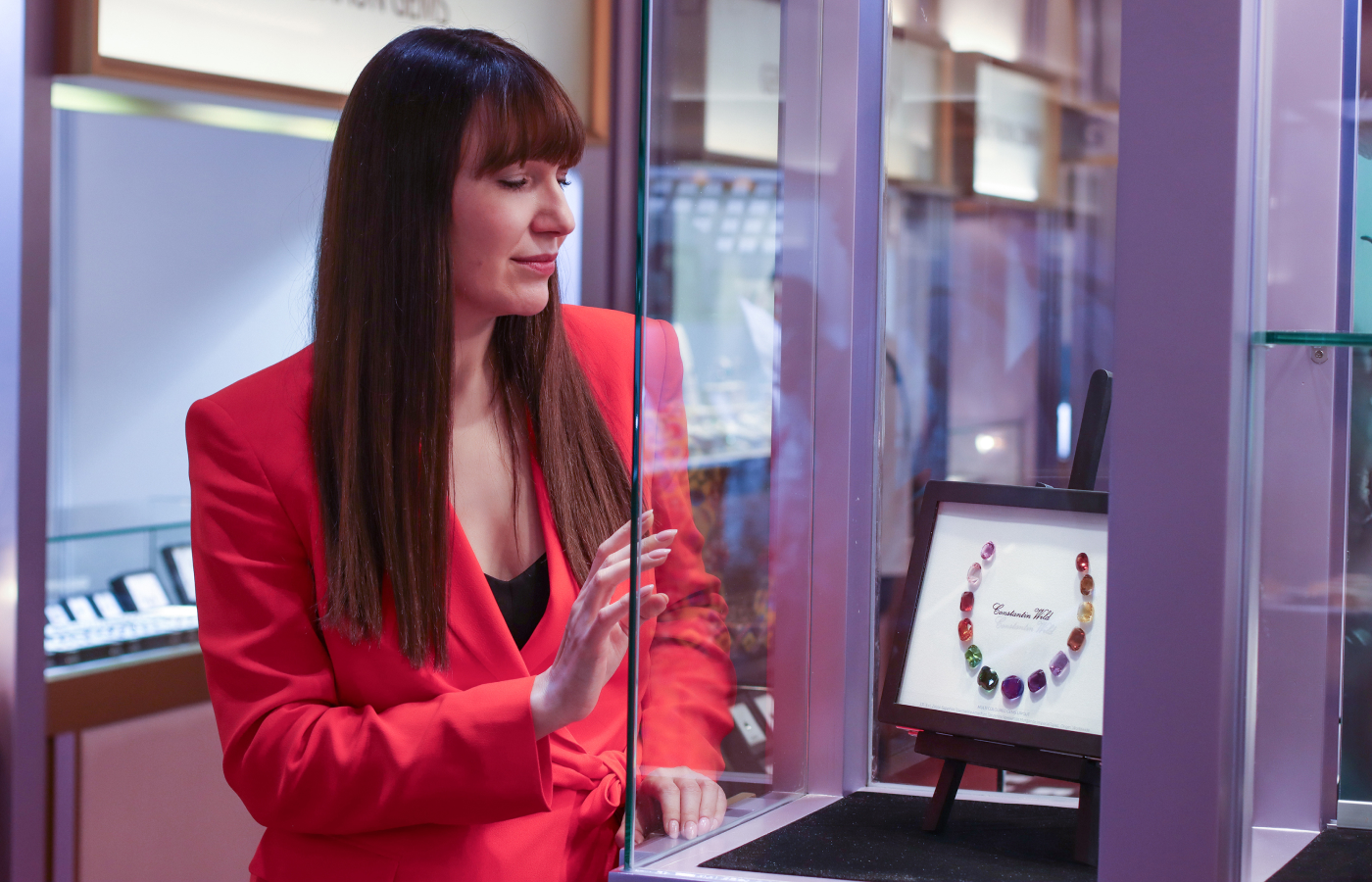 Of late, whenever artificial intelligence or machine learning is mentioned in conversation, it is typically focused on transparency in supply chains, techniques in laboratory-grown diamond detection, or futuristic diamond grading methods. It was refreshing to hear that Constantin Wild is embracing AI with a whole different purpose – to create colourful, ostentatious and attention-grabbing artwork featuring gemstones. "Technology with artificial intelligence is the most powerful tool to create future designs," Constantin tells me. "We are 'romancing the stone' and inspiring our partners and their designers to create the luxury of the future. Like Walt Disney once said: if you can dream it, you can do it."
Of course, AI can't do everything. A human touch must be applied to ensure the outcome is in keeping with Constantin's vision for his family business, using the ideal balance of colours, themes, and minerals! Looking at the images that have been born in this 'Cyber Gem World', I see a universe of elegance, regal forms, and sleek refinement. Perhaps it's the digital characters who are wearing suits, shirts and cravats like they are off to a lavish garden party. Or maybe it's the bold use of colour – pink, deep green, lavender and pastel blue – that creates a stylish 'home' for oval, cushion and emerald-cut gemstones. "AI-generated images were used to create stories or artwork based on the mystique and beauty of gemstones," Constantin explains. "These stories are set in fictional, often historical looking worlds where gemstones have a special meaning: Fantasy worlds - that combine million-year-old stones with a special new, future-oriented world of technology."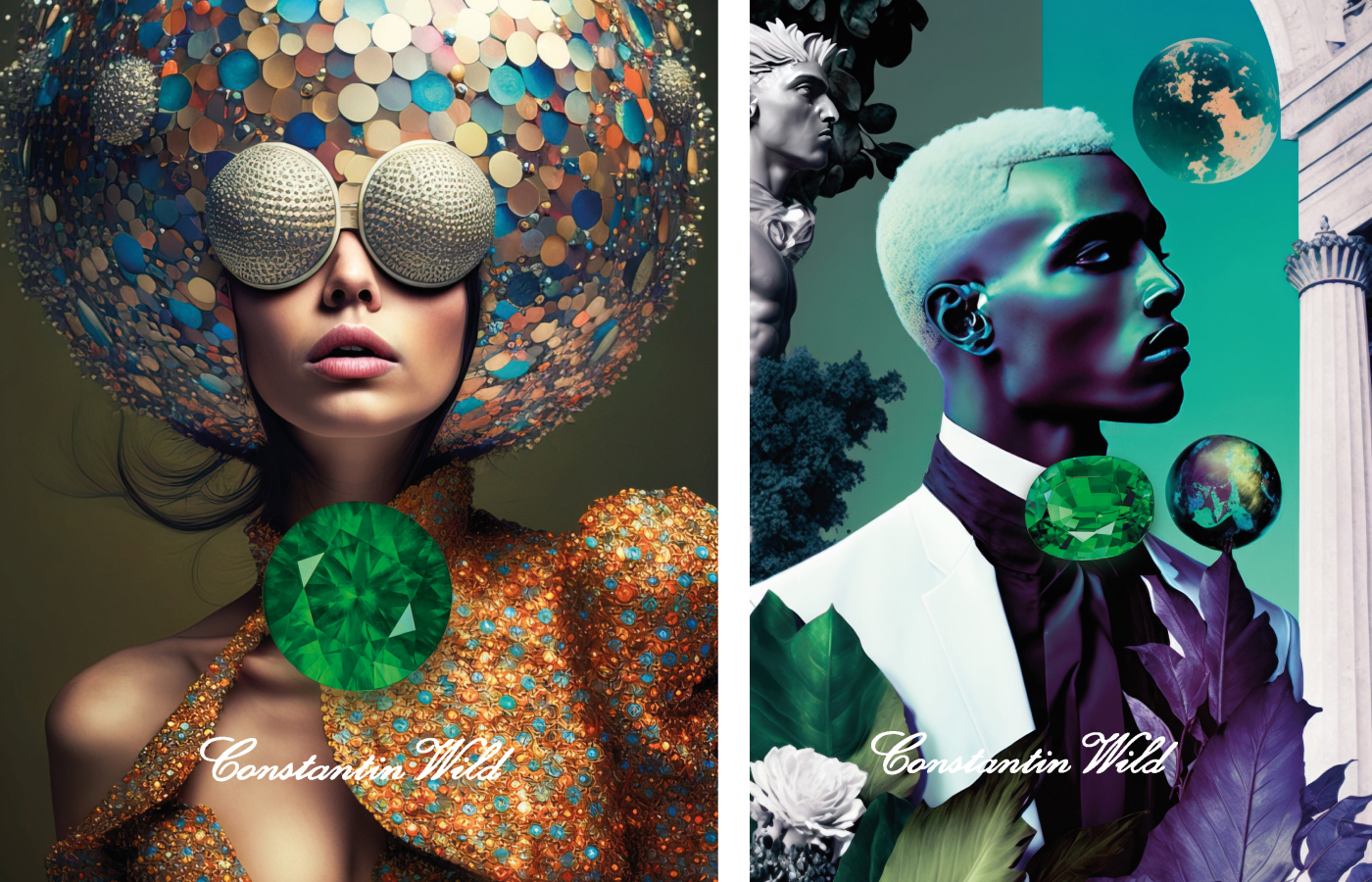 As a brand, Constantin Wild unveiled its new AI universe at Jewellery & Gem WORLD Hong Kong in September 2023. Visitors with an eye for detail will have noticed that one of the company's show highlights – a large oval-shaped yellow sapphire from Sri Lanka – is also integrated into the floral jacket of a digital gentleman in one of the new campaign images. If I had to pick a favourite, however, it would be a suite of purple and pink gemstones composed of amethyst, danburite, kunzite and morganite that swirl around a contoured model, complete with a headdress like a scorpion's tail. I am reliably informed that visitors to Hong Kong were most spellbound by a layout featuring aquamarines, a pink flamingo, and a female form with perfectly platinum hair.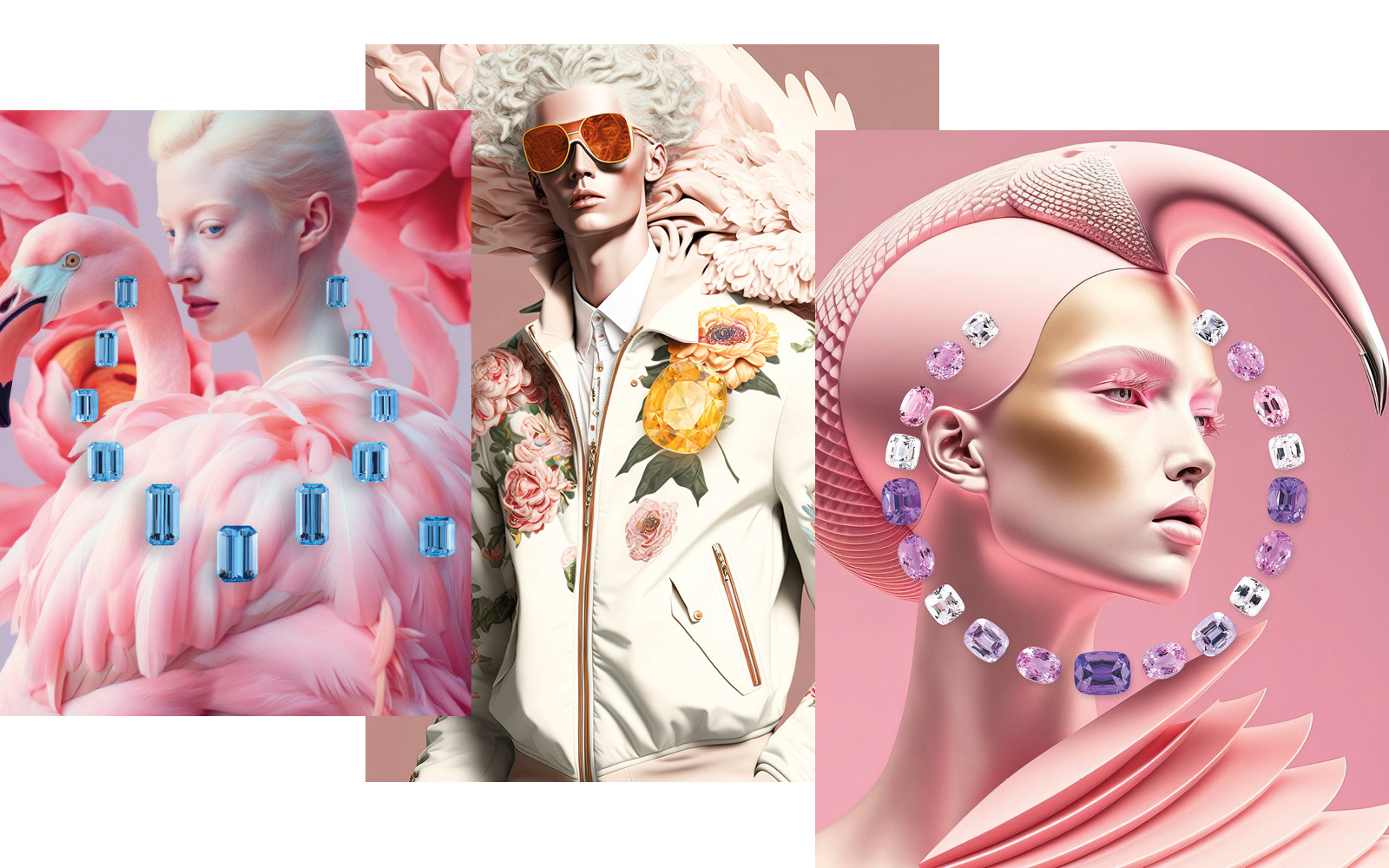 When I asked Constantin to share his favourite, he admitted that his top choice is yet to be published! There are many more AI and gemstone images in the pipeline. He explains: "Our customers and friends will receive them in our New Gem World 2024 calendar, which we will send to around 1,000 clients at Christmas."
Finally, we returned to our original topic – whether businesses with generations of tradition like Constantin Wild should be nervous about new technologies or excited by the prospect of trying something wholly new. "The definitions of luxury and luxurious design are constantly changing, or should we say progressing. AI will add a turbo charge to that. Our goal is that our products, which are made of natural minerals many millions of years old, are polished into gems to accompany mankind for thousands of years as something beautiful, rare, desirable and thus valuable."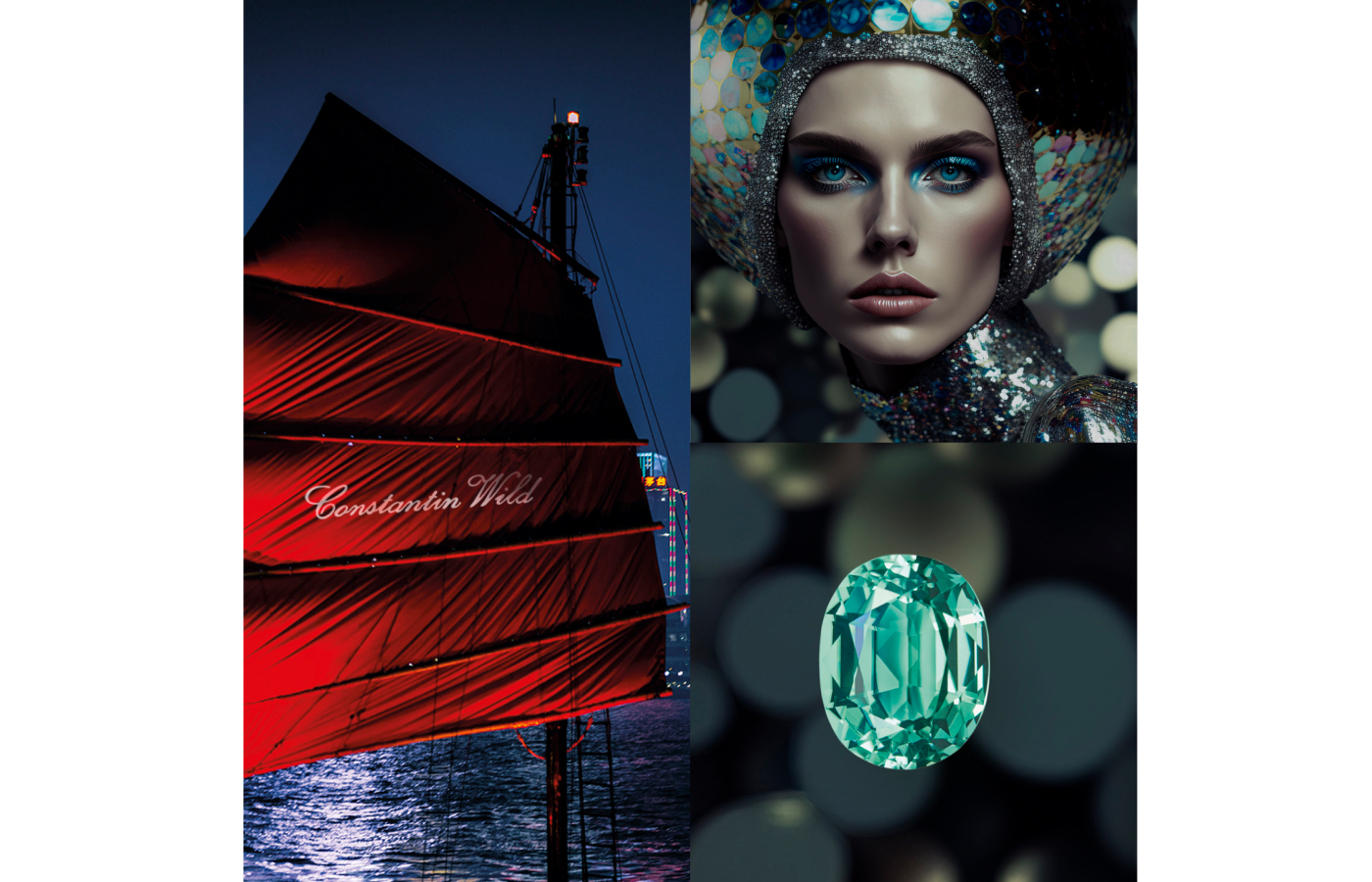 He continues: "Gems in ancient times were regarded as desirable because of their colours, so different from the muddy grey world. Today, paints can be bought in any imaginable colour – digital monitors simulate millions of colours. Gems need to keep their voice in this orchestra." In this context, I can't think of a better way to let minerals sing than by placing them in the context of colour, creativity, and contemporary art. Bravo Constantin Wild!