Historically, watches were exclusively a man's accessory. Although women were encouraged to deck themselves in lavish jewels to show off their societal status and wealth, wearing a timepiece was considered vulgar and unfeminine. Why should a woman need to know the time? This old-fashioned way of thinking has thankfully gone with the wind, and now the most prestigious horological brands and houses are creating timepieces for women that are every bit as elegant and extravagant as the pieces made for men. Many jewellery brands have also jumped on the women's watch bandwagon, creating pieces of high jewellery fashioned with a watch mechanism to create high jewellery watches. The pieces below illustrate the combined creativity and mastery of jewellery and watchmaking by some of the world's most sought-after brands. Let's admire a few of their best bejewelled timepieces launching this fall.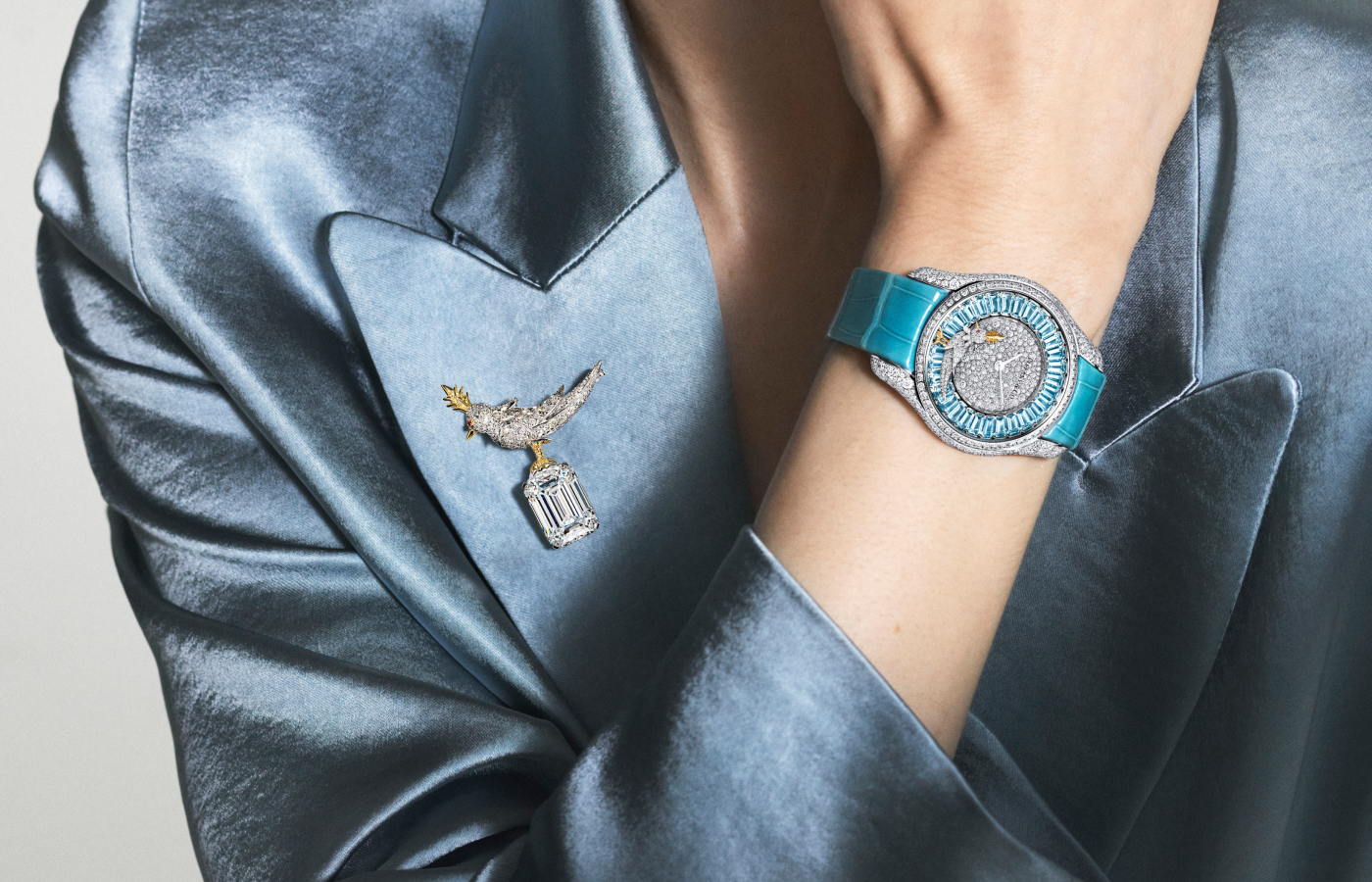 Bucherer Exclusives Endeavour Concept Minute Repeater Tourbillon
Founded in Lucerne, Switzerland, in 1888, the Bucherer brand holds one of the world's most distinguished places and reputations in the watch and jewellery industry. In collaboration with the Swiss luxury watch manufacturer. H. Moser & Cie, this Swiss luxury retailer, brings to its clients a Bucherer Exclusive series timepiece that combines the best of fine watchmaking and high jewellery. The Endeavour Concept Minute Repeater Tourbillon Aventurine & Diamonds timepiece is a one-of-a-kind jewellery watch that combines the highly complex mechanism of the horological sciences in a sparkling package of diamonds and precious gems. The white gold case is adorned with eighty-five baguette-cut diamonds, totalling 4.95 carats and the crown is also fully set with a diamond pave, adding further sparkle to the piece. However, what catches the eye most is the aventurine dial of the watch. There has been a resurgence of aventurine dials in women's timepieces as of late, a material that at first glance appears to be a hard stone dial but is, in fact, heated crushed glass with added metallic specs, which cools down to replicate the pattern and sparkle of a starry night sky. Sleek, elegant and sophisticated, this unique timepiece is guaranteed to draw attention.
Bulgari Cameo Imperiale Secret Watch Necklace
The iconic Roman luxury brand Bulgari has paid homage to one of the brand's most important signature design motifs in its latest series of jewellery watch releases. The Cameo Imperiale Secret Watch Necklace takes the brand's iconic Greek and Roman coin design, a recognizable motif of the brand since the 1960s, and brings it centre stage, creating cameos of the legendary Cleopatra, queen of Egypt and the first Roman Emperor Augusto Ottaviano, on an amulet watch necklace created from rose gold, brilliant-cut rubies, diamonds and sapphires. These historical figures are carved using the ancient technique of cameo carving, where a small scene or figure is sculpted by hand in relief within an item such as a precious gemstone. This artistic technique dates as far back as the fifth century BC, when dignitaries and nobility would commission engraved busts of themselves onto family rings and other precious ornaments. Today, only a handful of artisans can create cameo carvings using the techniques which were used all those centuries ago. To ensure the authenticity of these carvings, Bulgari chose to work with the world-famous Torre del Greco-based artisans, who have been passing down these rare techniques for over two hundred years.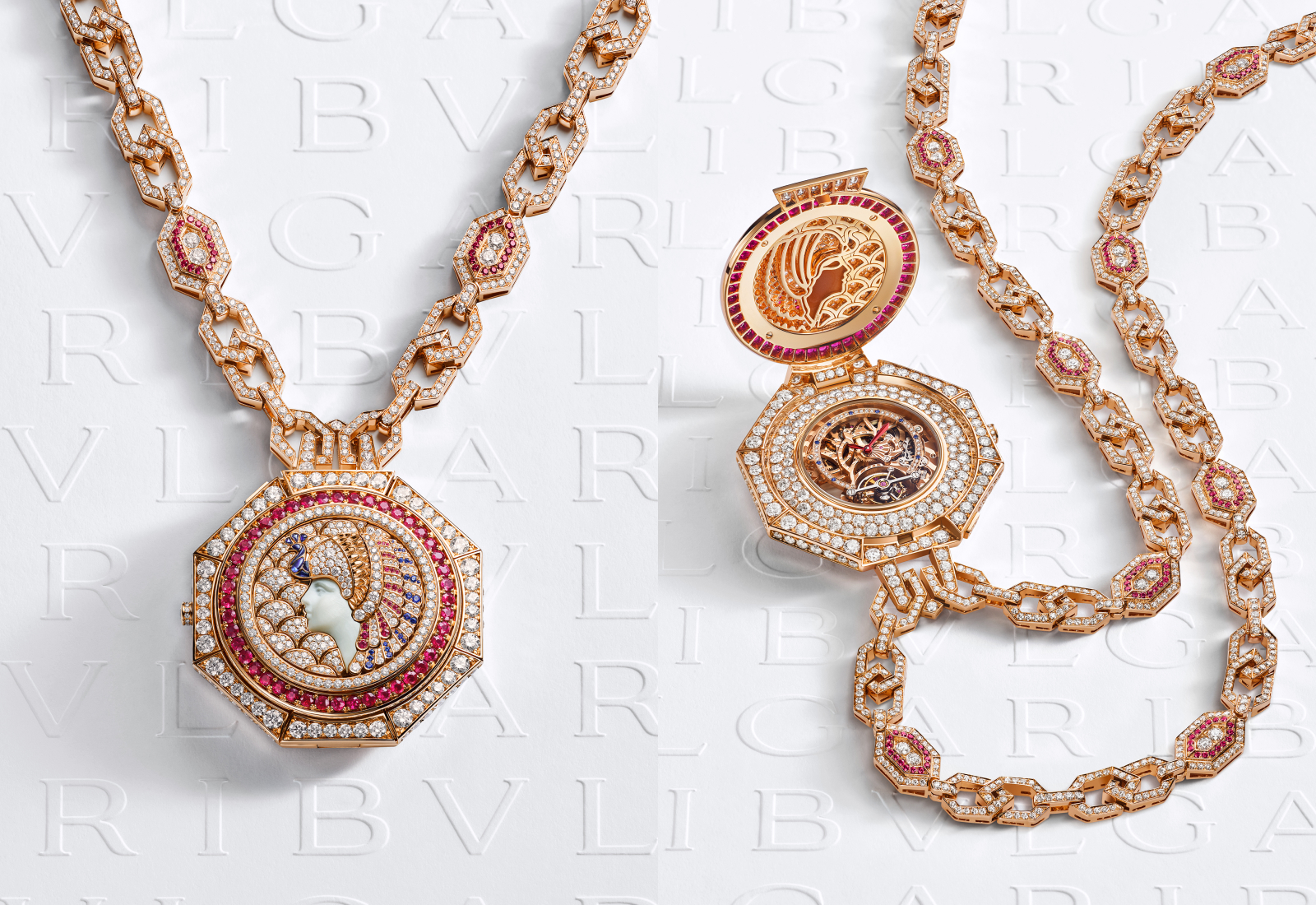 Dior Grand Soir Papillon
The Dior Grand Soir timepiece series has been a highlight of Maison Dior's watchmaking capabilities since 2010. It is through these one-of-a-kind and sometimes reproducible timepieces that Dior pays tribute to its heritage and rich fashion history. In the Dior Grand Soir Papillon timepiece, the Maison celebrates Monsieur Dior's passion for the bold and lively colours of nature and all its flora and fauna, using the colour pallet of his famous childhood garden in Granville that has often been a source of inspiration for the Dior brand across all its luxury products. At the heart of the dial sits a vibrant, colourful, engraved butterfly created from brilliant-cut diamonds, sapphires, spinels and a Mexican opal. The insect's wings are made of tinted mother-of-pearl and painted Gallus gallus bird feathers. The butterfly is then surrounded by a snow-set dial with eight hundred and forty-four brilliant-cut diamonds, further accentuating the colours of the majestic creature's wings. The final effect is a lifelike representation of the insect as if it had lightly landed on the centre of the watch dial.
Jaeger-LeCoultre 101 Secret Bangle Watch
Jaeger-LeCoultre has been at the helm of Swiss watchmaking since its onset in 1833. Famed for its Reverso model, 'secret' watches are nothing new for this brand, as the entire premise of their most famous model is that the dial can be hidden by a simple steel cover or one with a more opulent design, depending on the Reverso timepiece chosen. In the 101 Secret Bangle High Jewellery Watch, Jaeger-LeCoultre uses its vast experience in secret watchmaking to elevate the concept into an entirely new 'secret watch' design for the brand. Created in pink gold and set with over one thousand diamonds, totalling just under 27 carats, the 101 Secret Bangle High Jewellery Watch seamlessly transforms from an elegant jewellery watch into a full diamond rivière style bracelet at the click of a well-disguised diamond button. When pressed, the diamond-studded case of the watch opens to reveal a white mother-of-pearl dial. This is by far the most precious calibre 101 timepiece the brand has produced to date, taking over one hundred and eighty-two hours of meticulous gem-setting to create, all being crafted in Jaeger-LeCoultre's own Metier Rares workshop.
Tiffany & Co Bird on a Rock Timepieces
If you haven't read our article on the return of Schlumberger's Bird on a Rock design, then get ready for a wonderful surprise! The House of Tiffany & Co. has brought back to life this iconic motif in a select few high-jewellery pieces, including three new 39mm high-jewellery watches. These brand-new pieces crafted in white and yellow gold feature a myriad of precious gemstones, including diamonds, gradient sapphires, emeralds, topaz, aquamarine and more. Moreover, each dial is completed with a fully diamond-encrusted finish to further accentuate the Bird on a rock motif that features at the heart of every dial. What's more, the bird motif spins around the dial as the wearer's wrist moves, adding an air of whimsy to this beautiful jewellery timepiece.
All the incredible designs mentioned above have a unique take on the wearable jewellery watch. Whether it's around your wrist or neck, decked in diamonds or coloured gemstones, each one makes a one-of-a-kind stylistic statement. Which one will you choose?