Just when one fears Dior Joaillerie's creative director Victoire de Castellane will run out of archival themes to interpret for her annual collections, the summer season rolls around and brings with it another fabulous High Jewellery offering. The Les Jardins de la Couture (Couture Gardens) High Jewellery collection pays tribute to Monsieur Christian Dior's love of gardens, including Dior's childhood favourites at Granville, Milly-la-Forêt, and La Colle Noire in Montauroux. That undercurrent of childhood whimsy and innocence is brought to life in the colourful and feminine high jewels that de Castellane has created for 2023.
At the official unveiling of the 170-piece collection (including three secret watches) at Lake Como, Italy, in early June, models had a subtle undone quality with pretty pastel hues, crinkled fabrics, scooped regal necklines and shapely silhouettes. I was instantly transported to actresses like Audrey Hepburn and Grace Kelly with their simple, slicked-back hair and demure makeup. Rather than dominating the models, the Couture Garden high jewels were the perfect feminine accompaniment to the couture fashion looks on display.
It's true that during her 28-year tenure as creative director of Dior Joaillerie, Victoire de Castellane has developed her own recognisable signature style. Monochromatism is too simple a description for how she blends shades and hues, although it is fair to say that her pieces are often dominated by a single colour, like blue, pink or yellow. There's also a vintage flair to some of the new Couture Gardens pieces, especially in flower petal-shaped drop earrings and clusters. Some give off a Georgian air, but perhaps the Bridgerton version of Georgian and Regency glamour rather than true-to-life styles! Many pieces are far more abstract, especially a suite of yellow sunshine-inspired jewels, including a necklace, earrings and a ring. Pearls are also woven through the collection as accents, in addition to precious white opals with fantastical orange, green, blue and pink play of colour.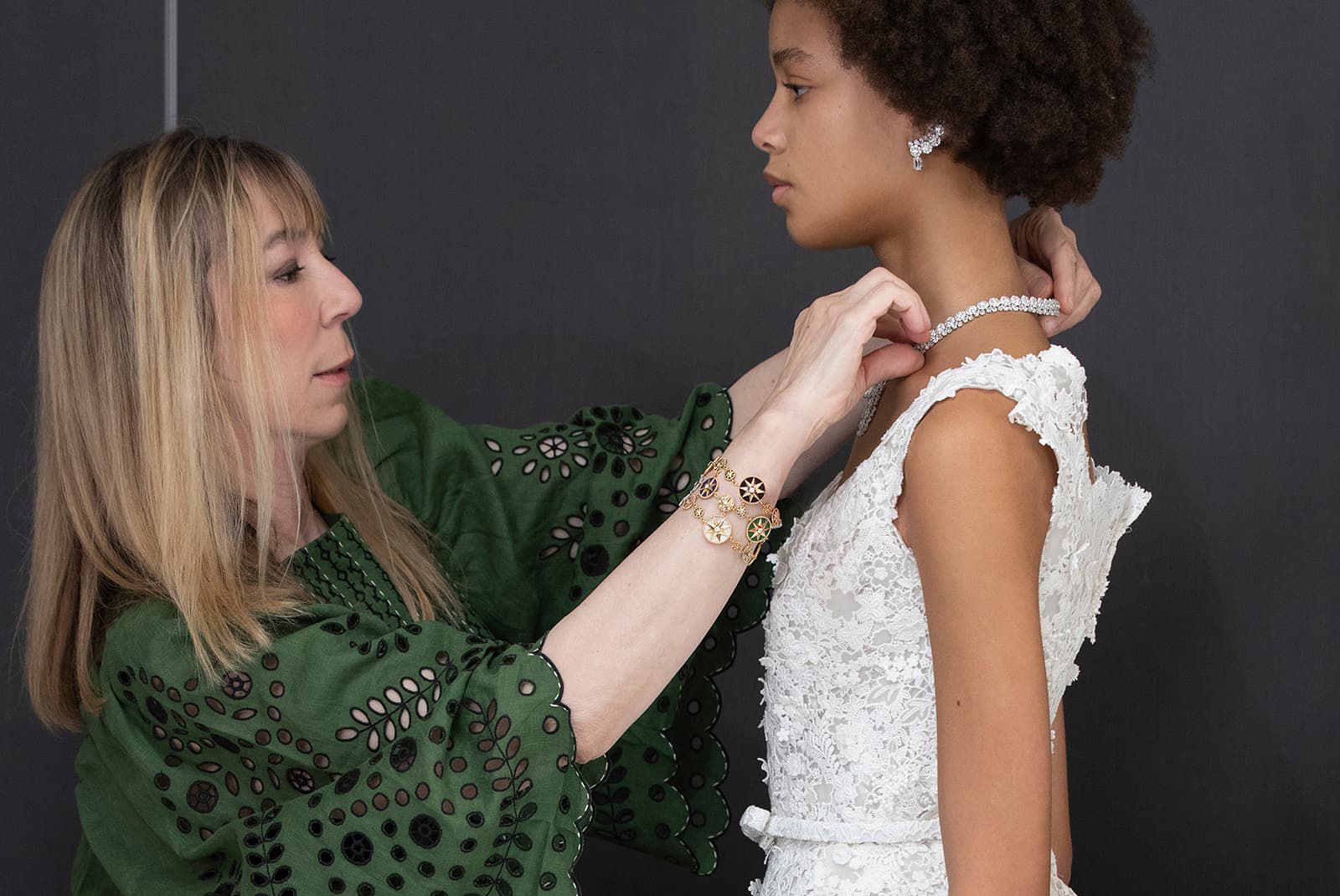 According to Dior, the collection contains "flowers assembled stone by stone as delicately as if petals" to produce "bouquets of country blooms, or shimmering flowerbeds" to conjure up springtime delights in nature. This is all very airy and romantic, which belies the construction underneath. Gemstones are set on different levels to add volume and dimension to earrings, necklaces and rings. Pinks combine with reds and blues with greens to create (often asymmetric) gradients, set in designs that toe the line between architectural and abstract. Personally, I like how the floral inspiration hasn't been religiously applied to each jewel… it's almost like a garden being viewed through the haze of memory. It is the colours and shapes that preserve and not the individual petals, stems and stamens.
Only a small portion of the 170 jewels have been revealed to date. However, we are reliably informed (through beautiful 'making of' images) that rainbows, butterflies, flowers and miniature bumble bees appear on mother-of-pearl tableaus that wrap around the neck and sit atop the finger. Significant stones are present throughout, including Paraiba tourmalines, deep green tsavorites and emeralds, and emerald-cut diamonds with eye-catching proportions. Other pieces explode with cherry blossom-like arrays of pink, white and red gemstones, drawing the eye to a deep green mineral heart. At the Lake Como presentation, models wore many of these creations in tonal layers: pink with pink, opals with opals, and sapphires with sapphires. It is nice to see High Jewellery presented as coherent suites of jewels, often layered together and with matching silhouettes. It is hard to imagine purchasing a tsavorite, pearl and Paraiba necklace, for example, without desperately desiring the matching earrings!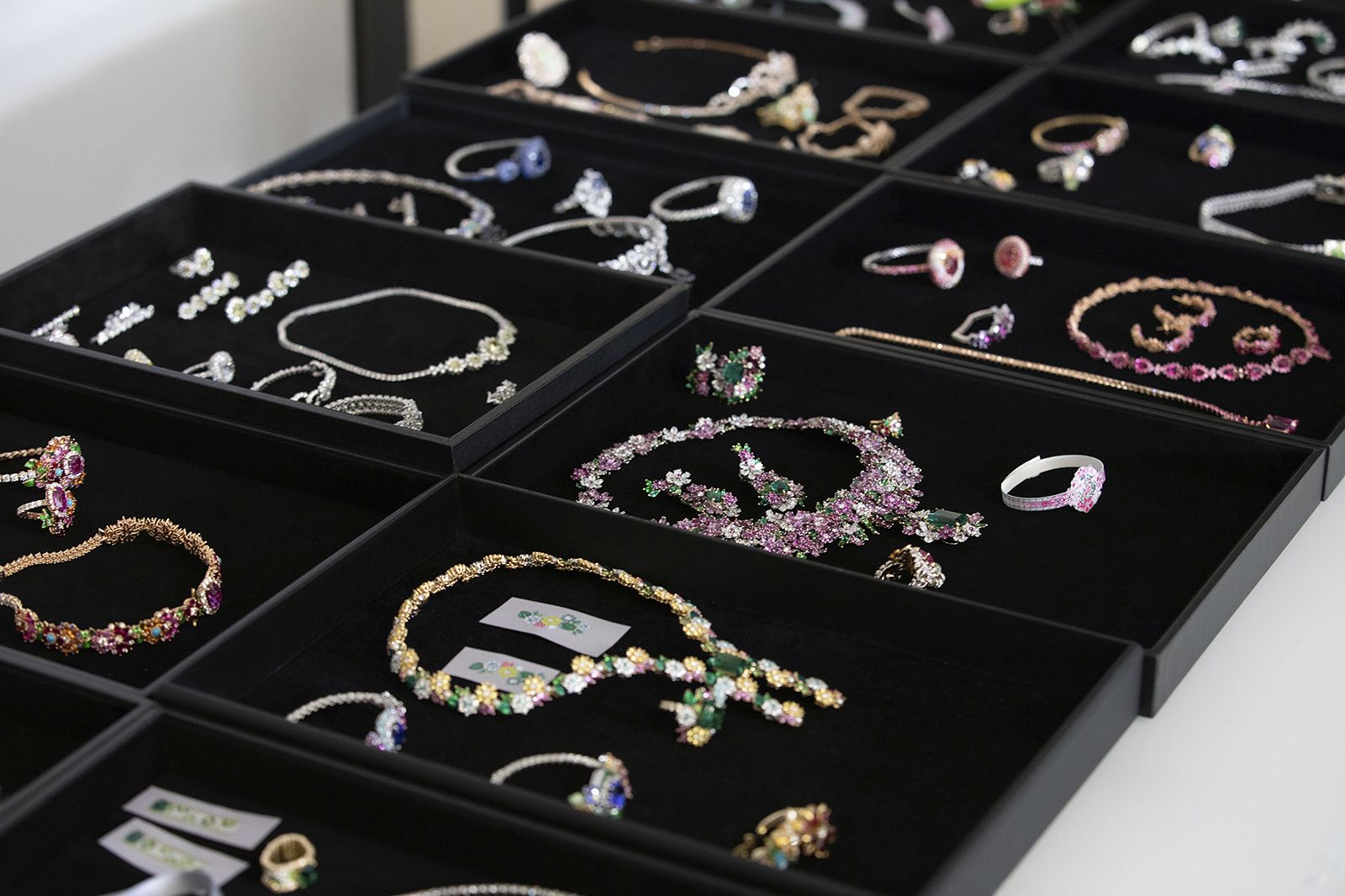 And speaking of earrings, the behind-the-scenes images of models being fitted with jewels reveal ear cuffs and ear climbers, often worn in addition to drop earrings. Plus, there are diamond sautoirs worn as belts and two or more necklaces layered together to sit both above and below the collarbone. Finally, I'd like to highlight the most obvious trend in my eyes: the placement of necklaces. They sit just above the collarbone but are definitely not chokers. The focal point tends to sit in the hollow at the base of the throat, leaving the rest of the decolletage fuss-free.
So, what do you think of the Dior Joaillerie Couture Gardens High Jewellery collection? Although pieces are perhaps not to everyone's taste, I admire the definitive style that Victoire de Castellane has developed for the Maison and her confident use of colour and dimension to make feminine but not diminutive jewels. We look forward to seeing what unfolds next year.