It is said that women have been wearing watches to add flair and sparkle to their outfits since 1810, when the Queen of Naples commissioned a pocket watch that could also be connected to a bracelet and worn on the wrist. Back then, it was considered crass for women to be seen keeping time, and so when they did wear watches, they were kept small and hidden. Thankfully, times have changed, with the world's most important horological houses making both men's and women's timepieces in an array of styles. The most influential women today can be seen wearing fun and eye-catching watches as often on the red carpet as they do at the grocery store! Let's look at some designs that will bring that same panache and edge to your everyday wardrobe.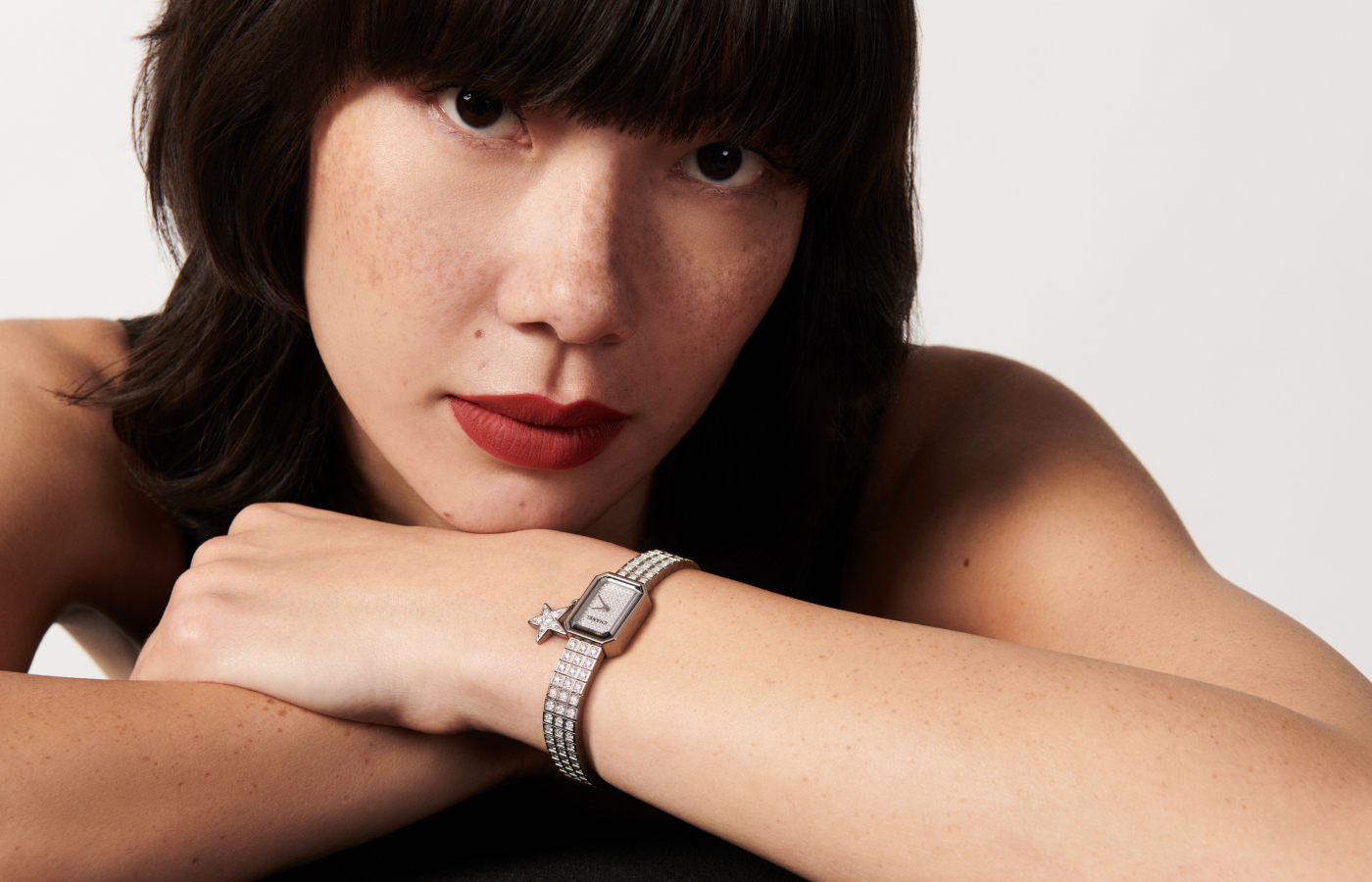 Bulgari Serpenti Tubogas Infinity Watch
First on the list is Bulgari's dazzling new snake design, the Serpenti Tubogas Infinity. This sensual and seductive timepiece is the result of the joining of two iconic Bulgari designs - the Serpenti watch case and the Tubogas bracelet. This patented bracelet design has been a key feature of Bulgari watches since 1948. The wrap-around structure is the result of a complex technique that involves coiling several metres of gold or steel wire into a single piece, mimicking the sinuously elegant curves of the snake. The mystical snake creature with its talisman-like allure has always fascinated Bulgari, featuring prominently in the brand's timepieces since the late 1950s. Together, these two key Bulgari ingredients are joined to create a timepiece that is simultaneously elegant and visually stimulating. The Serpenti Tubogas Infinity watch is available in all three individual metal colourways, as well as a combination of yellow and white gold for a very on-trend casual mixed metal look. Each style features sprays of diamond details and sensually coils around the wearer's wrist up to three times, depending on which design you choose fits your everyday look.
Hermès Heure H Watch
Few watches are as playful and contemporary as the Hermès Heure H timepiece. This distinctive creation was first developed in 1996 under the creative direction of designer Philippe Mouquet, who decided to play with the codes of Hermès' identity with diamond pave and precious gem dials. He did this by capturing time inside a letter, creating a watch case that takes the shape of the brand's iconic 'H' logo. The distinctive humour and elegance of the Hermès Heure H case make a subtle statement, perfect for everyday wear, and is available in simple steel all the way through to enamel outline and diamond details. The dials also come in an array of material options, including coloured stones such as malachite, aventurine and mother of pearl. This lends itself to a multitude of possibilities to choose from, ensuring that everyone will find the perfect piece to match their style. Another fun feature of this watch is that the bracelets, available in eight colourways, come in various lengths. The Simple Tour wraps once around the wrist and the Double Tour twice for more personalisation.
Interstellar de Chanel Première Lucky Star Watch
Each year, Chanel releases a new collection of beautifully crafted watches that bring to life a theme near and dear to the Maison's heart. This year, the design team chose to anchor the capsule collection for 2023 in the universe of science fiction, space, and time travel. Full of colour contrasts and varying plays on shapes and charms, one model in particular caught our eye: the Première Lucky Star Watch. This piece is small in size, making it perfect for everyday wear, whilst its edgy-geometric design packs a dramatic punch of glitter. This timepiece features an elongated rectangular dial, which gives a robotic feel to the watch, almost reminiscent of a circuit board. Its most arresting design element, however, is the presence of a little sparkling star charm that hangs from the crown. These steel comets are set with six brilliant-cut diamonds, creating the illusion that the star is bursting with energy and shine. The Première Lucky Star timepiece comes in two colourways: a full diamond pave model set with 278 diamonds or an aventurine effect black-lacquered dial surrounded by a steel case set with 52 brilliant-cut diamonds. Whether you prefer a sprinkling of diamonds or full-on gemstone drama, that's up to you!
Jaeger-LeCoultre Reverso Classic Small Duetto Watch
The Jaeger-LeCoultre Reverso watch is perhaps the brand's most iconic design to date and has remained at the top of the charts since its launch in 1931. Originally made for polo players to wear, this small yet resilient watch was revolutionary at the time of its creation, as it was the first timepiece to feature a rectangular case that could be turned over to protect its dial. Since its launch, Jaeger-LeCoultre has diversified this design into men's and women's pieces, varying case sizes and even allowing the ability to personalise certain models. For 2023, this Swiss pillar of watchmaking has released new expressions of its Reverso One designs - The Reverso One Duetto Jewellery models present the back-to-back dial concept that has been present in-house since 1997 in new colours, taking jewellery watches to the next level for the Maison. On one side, a white dial with guilloché decoration serves as an easy daytime look. On the other, a dramatic contrasting glossy black dial takes centre stage for a quick and easy swap to an evening look. Both dials come in a pink gold case entirely set with diamonds and are available on either a simple black leather strap or a pink gold and diamond bracelet. This full-diamond bracelet is a true feat of mastery for Jaeger-LeCoultre metiers d'art, as the jewellery bracelet is set using the grain-setting technique. This time-consuming method pins the diamonds with gold beads that are invisible to the naked eye, creating unparalleled and obstruction-free diamond sparkle.
Stenzhorn Bouquet Watch
Finally, one hot summer, Klaus Stenzhorn was invited to visit an emerald mine, where he fell in love with coloured gemstones and never looked back. He created the Stenzhorn House of Jewellery in 1979 and has been manufacturing colourful jewels and watch creations for women ever since. The house's latest collection includes the new Bouquet bracelets – a selection of adjustable leather wristbands that come in a variety of colours, onto which you can slide a selection of precious accessories, including a watch case. Each timepiece design is available in a full diamond pave case or a more subtle version with only the dial decked in diamonds. You can also change your look from day to night, with dials available in black or white mother-of-pearl. You can further highlight the beauty of your watch by adding some of Stenzhorn's iconic motif pendants, such as yellow gold bees, white gold and diamond flower charms, or even your initials.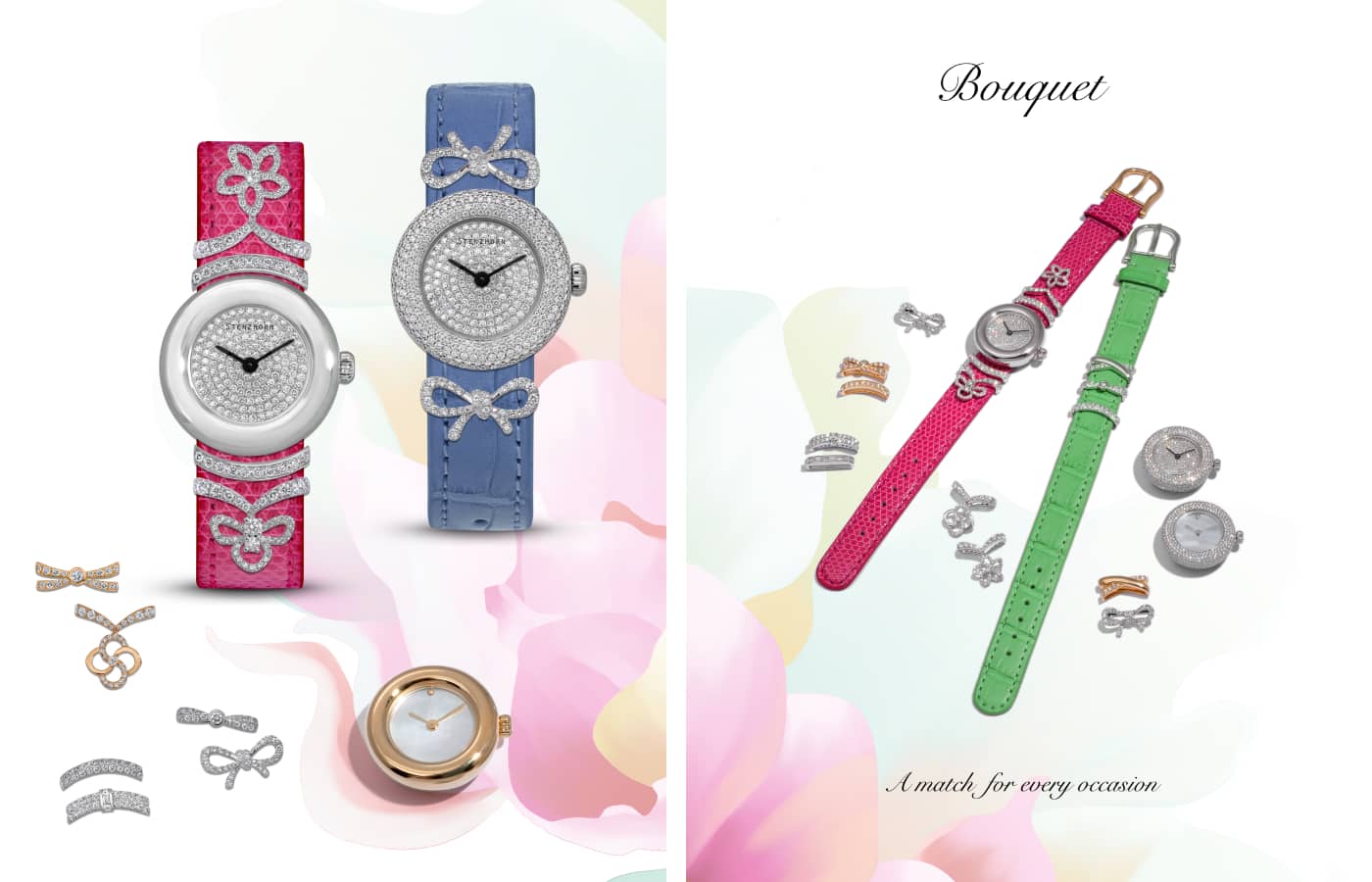 As you can see, an everyday watch is not necessarily simple or boring. The designs above come in various materials, shapes and gemstones that will allow you to create a watch that truly fits your unique style, all whilst being delicate enough to wear with ease without feeling encumbered. Take your pick!