The dial is often where the character and charisma of a watch stems from. Although diminutive in size, it typically defines the overall aesthetics of a finished timepiece through shape, colour, decoration and adornment. As the following watches demonstrate, the dial is where brands can imprint their design DNA onto a watch and truly make the category their own. Let's look at some of the best from Watches and Wonders 2023.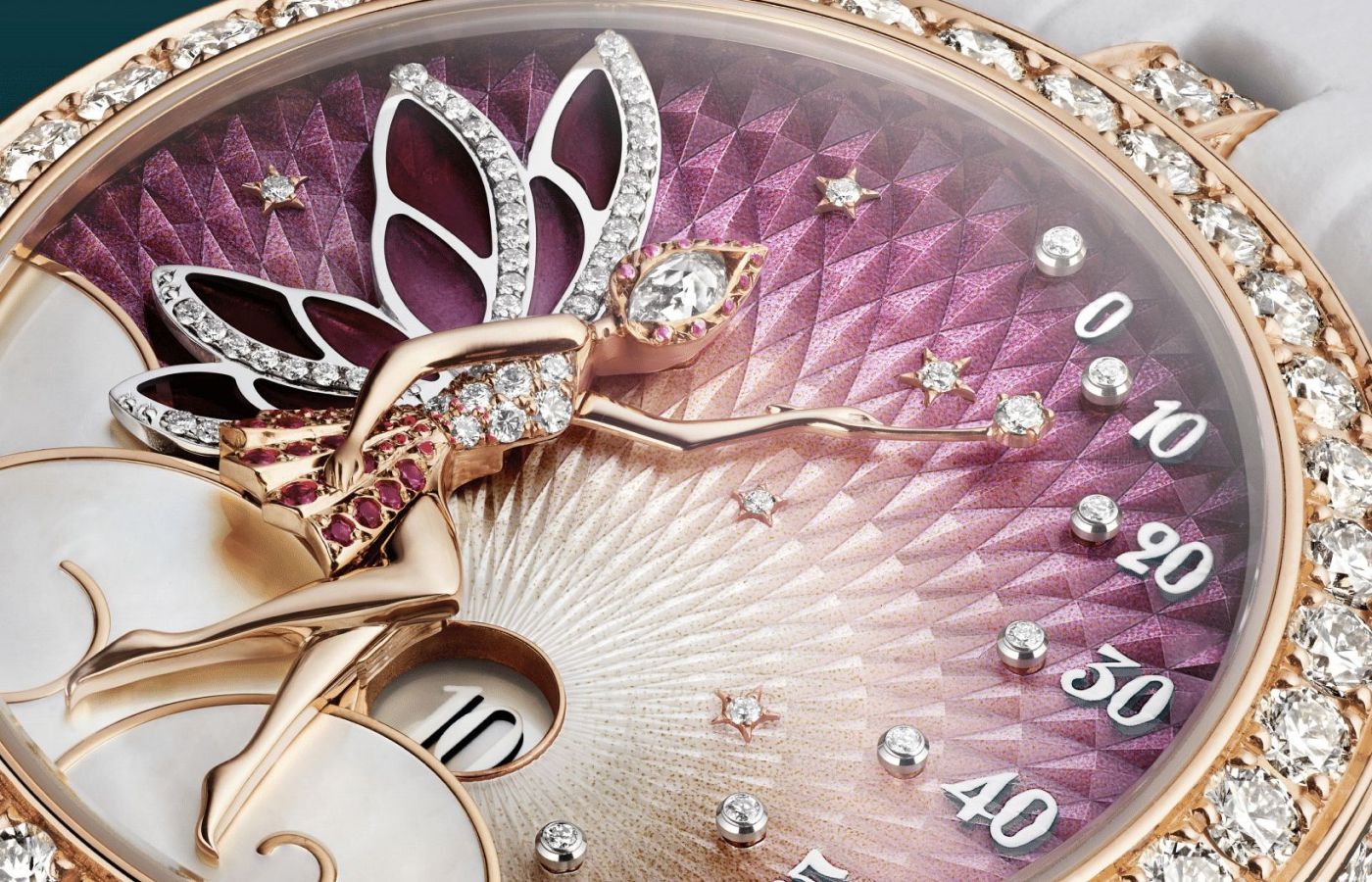 Jaeger-LeCoultre Reverso One Precious Colour
The Reverso watch by the Swiss watch brand Jaeger-LeCoultre is its most iconic design. It was first created in 1931 as a timepiece for polo players to wear on the field. It was a near-instant success among the fashionable set and, over time, became recognisable as a high-end watch model amongst admirers and collectors. This year at Watches and Wonders, the brand released a model inspired by the Art Deco era. With a more feminine design expression, the new Jaeger-LeCoultre Reverso One Precious Colour in blue presents a geometric design case of mosaic-styled enamel. Created by the brand's in-house artisans of Métiers Rares, the mother-of-pearl dial is encased in a detailed rose gold case set with blue and black enamel. The geometric pattern is executed through miniature-painted grand-feu enamel with accents of diamonds.
Creating this micro design is a time-consuming feat of artistry. The case must first be sealed with fondant or transparent enamel and then covered in layers of opaque white enamel that then is dried and fired between each layer to create a pristine canvas upon which designers create the geometric patterns. After that phase, the design is hand-drawn onto the surface, and coloured enamel is applied using a fine-tipped brush. Each colour block must go through the firing process between every application. A Reverso One Precious Colours case requires up to 15 firings and multiple phases of drying at 200 degrees. The final step, known as the "Geneva technique", is where the design is coated and preserved in a layer of transparent fondant. The result is worth the wait.
Hermès Arceau Petite Lune
The dial of the Arceau Petite Lune watch is an impressive work created by talented gem setters in the Hermes Ateliers. The dial space depicts an astral world of planets, moons and stars created in hard stones. The dark blue background results from sculpted aventurine resting on a mother-of-pearl background. This creates a natural shimmer that evokes the Northern Lights. To obtain this aesthetic, the aventurine must be refined until it is translucent, allowing the iridescence of the mother-of-pearl to shine through. This delicate process requires the artisan to monitor and check the stone throughout the refining process. The planets themselves are crafted from aragonite, the almost eclipsed moon from freshwater mother-of-pearl and the constellation of stars in the night sky is fashioned from opal and diamond. A total of 70 natural diamonds can be found on the white gold case for the perfect celestial finishing touch.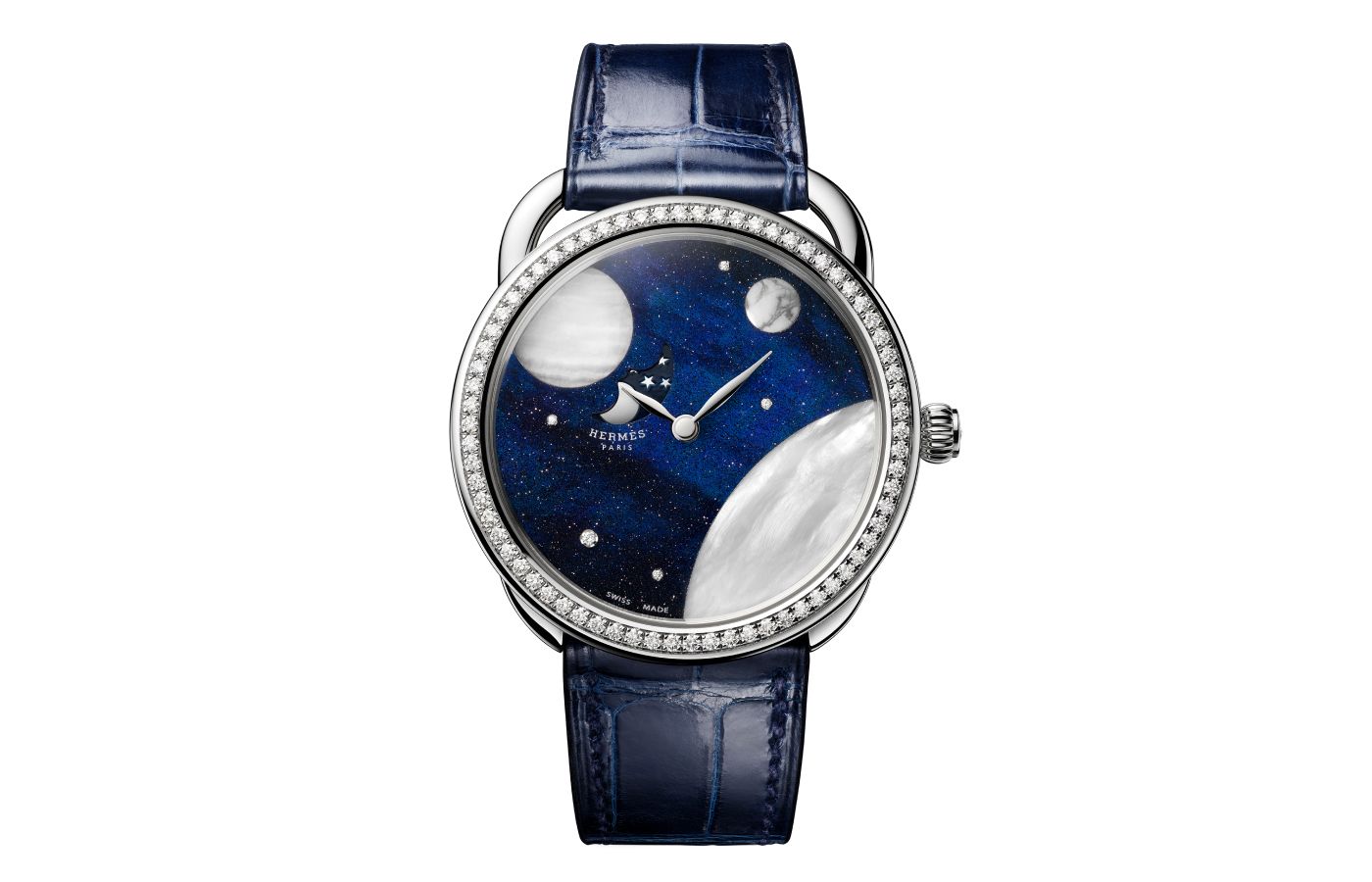 Cartier Métiers d'Art Baignoire Allongée
Cartier's Métiers d'Art Baignoire Allongée watch is all about geometry and colour contrasts, featuring an abstract motif in black, white, silver and gold shades. Cartier is always looking to develop and intensify its core aesthetic, which the Allongée achieves by further exaggerating the recognisable characteristics of the Baignoire dial. By creating a larger and more curved shape, the design constraints become greater, making it more difficult to innovate on such a tricky surface.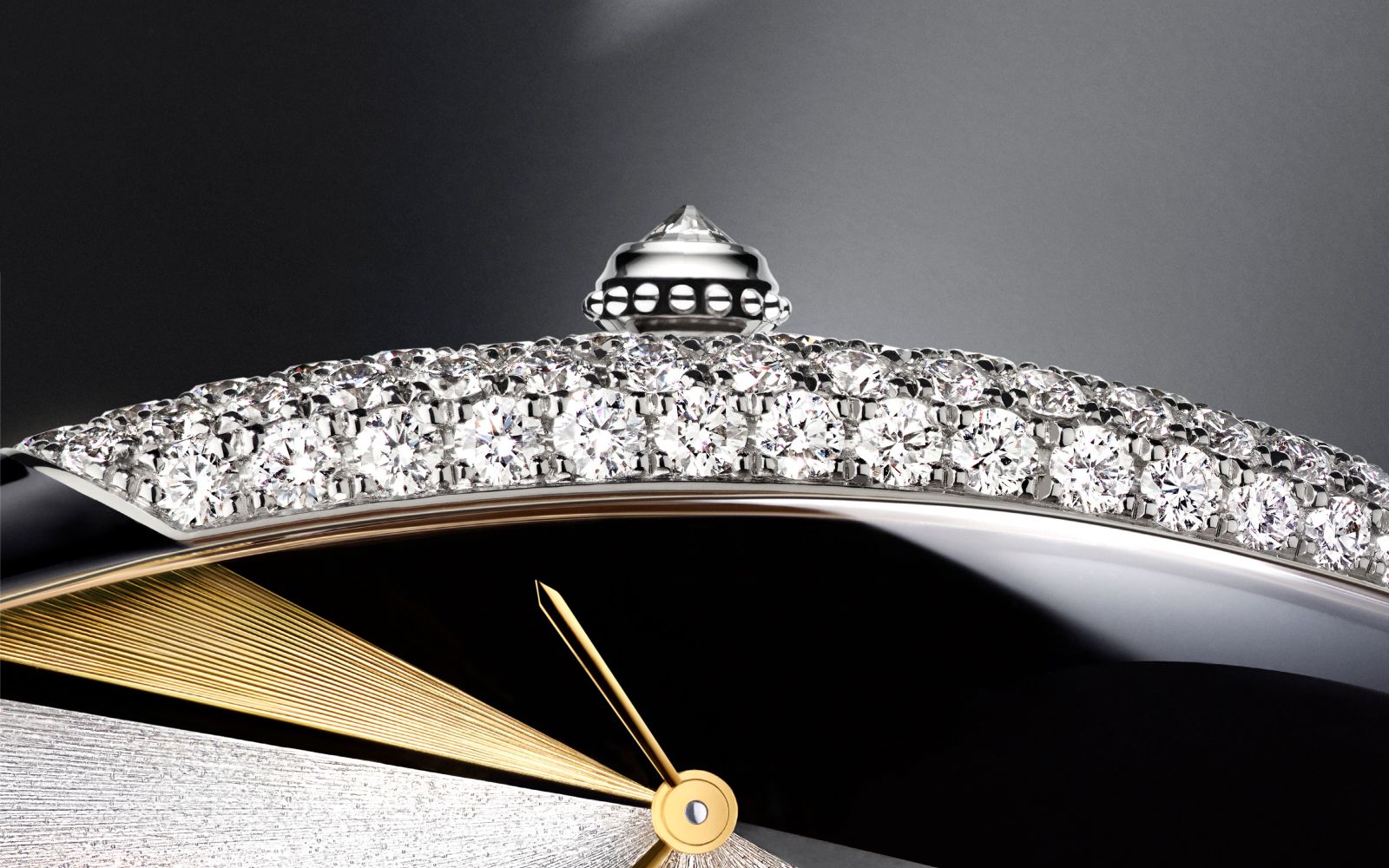 This watch is particularly impressive because its case is designed in both yellow and white gold. Combining them is a technical challenge that Cartier's watchmakers overcame by using a micro-welding tool. The welding is concealed using a subtle line of lacquer. Once assembled, the entire dial is divided into sections of varying sizes. Some sections are covered with black lacquer or enamel, whilst others are covered with polished gold or a sunray motif made by hand.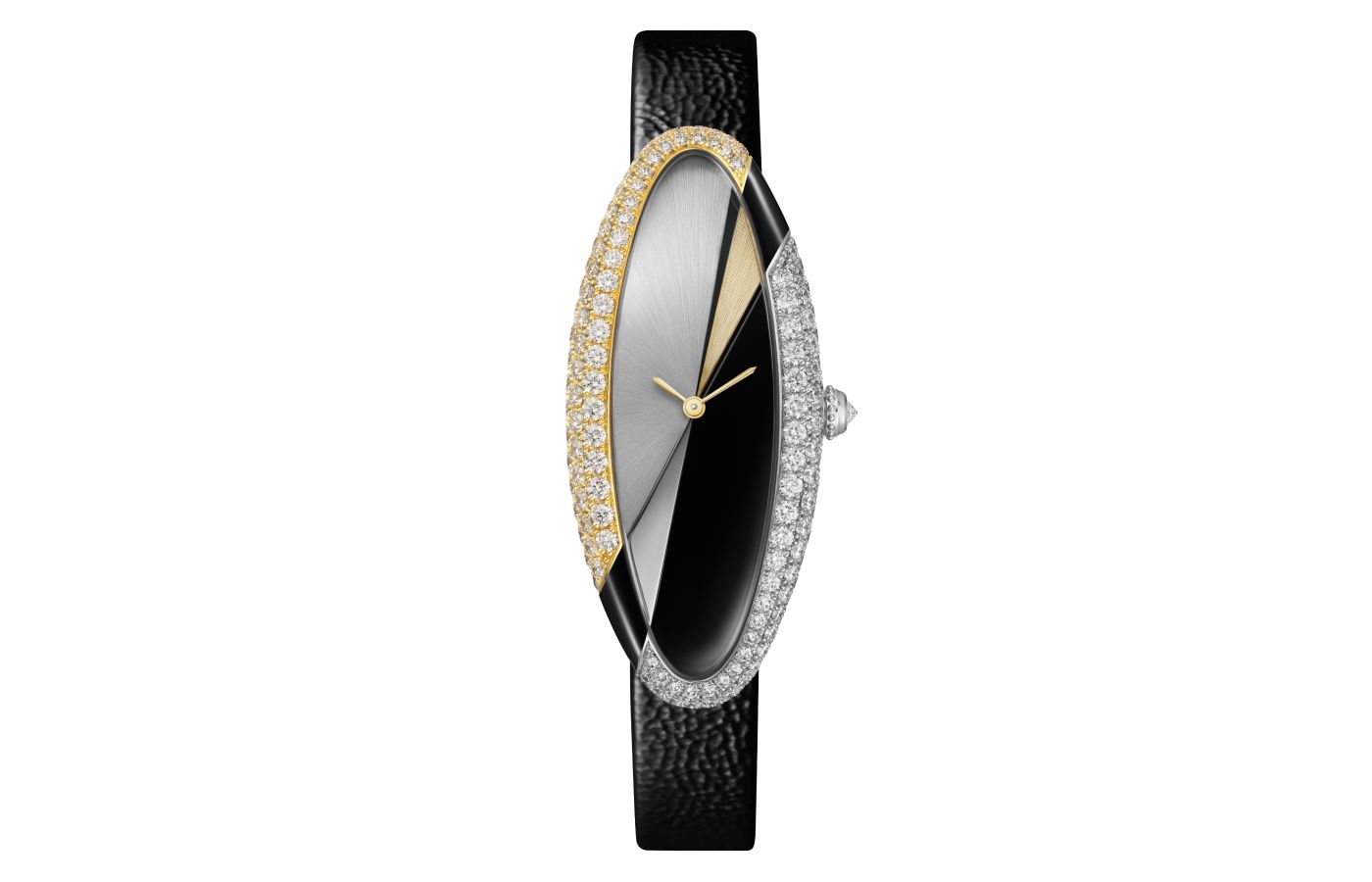 No matter which piece you choose, you can be sure they have all been meticulously designed and crafted, taking many hours of specialist labour to create. The black lacquer, in particular, poses a significant challenge as creating a smooth coat on a curved surface seems to defy the laws of nature, at least to this admirer's eye. From machining to enamel, lacquering to jewellery making, nine different areas of expertise are involved in creating each piece. In total, it took more than 24 months to create this watch.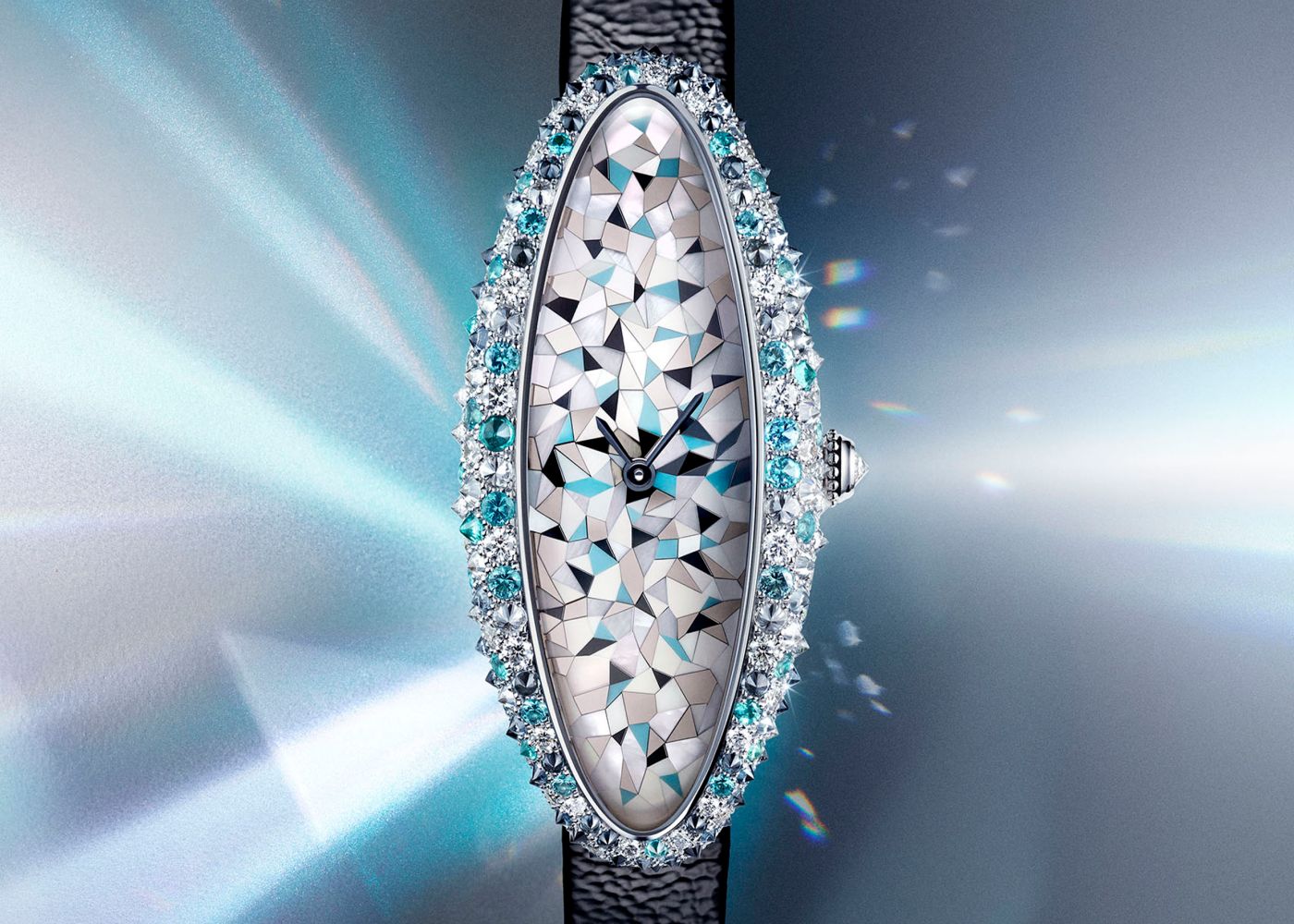 Rolex Puzzle Oyster Perpetual Day-Date 36
The Brand-new Rolex Puzzle Oyster Perpetual is one of the most fun and happy designs to come out of Watches and Wonders this year. Bursting with joy and life, its purpose is to bring happiness and positivity to the wearer. Its dial brings the best of social media and technology to your wrist, with an exciting surprise every hour. In the arc-shaped aperture at 12 o'clock, there is a calendar with seven inspirational keywords instead of days of the week: 'Happy', 'Eternity', 'Gratitude', 'Peace', 'Faith', 'Love' and 'Hope'. Moving down to 3 o'clock, 31 emojis rotate, replacing the classic date window. The rest of the hours are marked by ten baguette-cut sapphires of varying colours, including fuchsia, orange, blue, yellow, light blue and green.
Don't get too distracted by these small details, though, because the true technical feat is the background of the dial itself. The puzzle motif is made entirely using the champlevé 'grand feu' enamelling method. Depending on what metal shade you choose, turquoise blue, red, fuchsia, orange, green and yellow puzzle pieces are laid against an 18K gold dial base. The champlevé enamelling technique is one of the most prestigious forms of decoration. A mix of silica, kaolin and water and various metal oxide powders helps produce the desired colour. The colour is then applied by hand using a very fine brush to create the pattern. The dial is then heated in a kiln to over 800°C to melt the mixture, which then vitrifies as it cools. This process is repeated four or five times until each space is filled. With these versions of the Day-Date 36, Rolex brings an unexpected creative twist to one of its iconic models.
Van Cleef & Arpels Lady Féerie
Finally, Van Cleef & Arpels' latest Lady Féerie creation draws us into a fantastical dream world inspired by the 'Poetry of Time' through various complex artistic techniques. A celebrated Maison emblem since the 1940s, the brand has reimagined this time-honoured figure in new hues through enamelling and minute painting. This particular watch features a self-winding mechanism, jumping hours and retrograde minutes that come to life through an engraved mother-of-pearl background painted with four colours, ranging from pearly white to deep plum. The Maison's craftsmen required more than ten attempts to achieve the final soft colour gradient. The iconic fairy is featured prominently on the dial, seated on a cloud of white mother-of-pearl, wearing a dress made of diamonds, pink sapphires, and miniature gold paintings. Her face is fashioned from a single marquise-cut diamond. Her wings are created with the plique-à-jour enamel technique using a special shade of pink crafted in-house to harmoniously match the colour gradation of the dial. Her magic wand points out the minutes whilst the setting sun at the bottom of the dial shows the hour of the day in a mother-of-pearl window surrounded by glowing yellow gold.
These five watches are not only showstoppers but feats of artistic mastery and craftsmanship of the highest level. Each dial is visually intriguing, technically complex and luxuriously beautiful. How will they top these? We cannot wait to see what the brands will release next!