We know that Gabrielle Chanel had a passion for Venice (note the Chanel Escale à Venise High jewellery collection of 2021), but her interest in Scotland's rolling hills and valleys is perhaps a lesser-known inspiration. During an affair with the Duke of Westminster in the 1920s, Chanel spent her time as an aristocrat, encountering green landscapes and Scottish tweeds in abundance. She interpreted these traditional fabrics in her collections, and today, tweed is one of the fashion giant's most significant materials.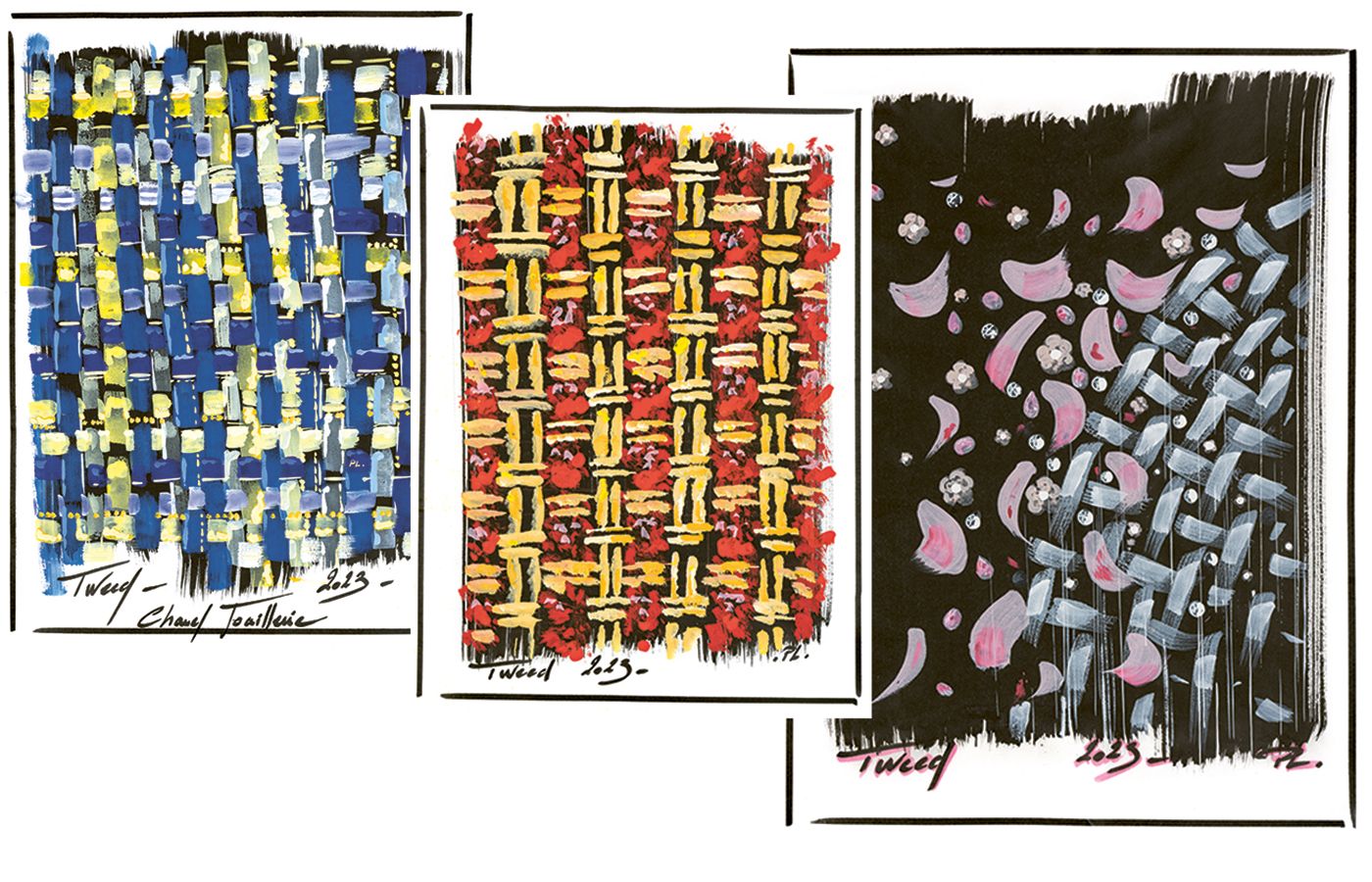 "Tweed owes its name to the River Tweed in the Scottish Borders. Gabrielle Chanel took it and made it her own, gifting its comfort to her elegant and sporty female clients. One of the most essential features in the Chanel style vocabulary was born."
In 2020, tweed made its first foray into the world of Chanel jewellery thanks to a 45-piece collection. Today, the concept is back with 63 new High Jewellery pieces dedicated to the "magic of tweed" and set with diamonds and coloured gemstones. Of course, we have Patrice Leguéreau, Director of the Chanel Fine Jewellery Creation Studio, to thank for this! His creations interpret hand-crafted supple yarns, embroidery, fringing and checkerboard patterns and play on the idea of monochromatic and polychromatic weaves to create the impression of depth and movement. Elsewhere, there are lace-like openwork structures and flashes of iconic Chanel motifs: the lion's head, camellia flowers, white ribbons, fiery comments and vibrant yellow suns.
"For this new High Jewellery collection dedicated to Tweed, I wanted to go further in the interpretation by creating a veritable fabric of precious stones that is light and supple," Patrice Leguéreau, Director of the Chanel Fine Jewellery Creation Studio.
Tweed de Chanel is split into five chapters, each dedicated to its own 'weave': Soleil, Lion, Étoile, Ruban and Camélia. Among them are plastrons, necklaces, sautoirs, bracelets, brooches, rings and earrings in named sets. There's also a stand-out necklace – the Tweed Royal – that is explained below. Before I dive into each chapter, the craftsmanship on display here is worth mentioning. Miniature and minuscule hinges, rings and articulations in gold and platinum threads add suppleness to the materials, allowing them to behave more like fabrics. The brand explains: "The interweaving of the gold, pearls and precious stones, the variety in the sizes of the stones, and the play of the openwork together re-create the fleecy, textured thickness of tweed. Its comfort and softness, meanwhile, are echoed in the work carried out specifically on the back of each piece."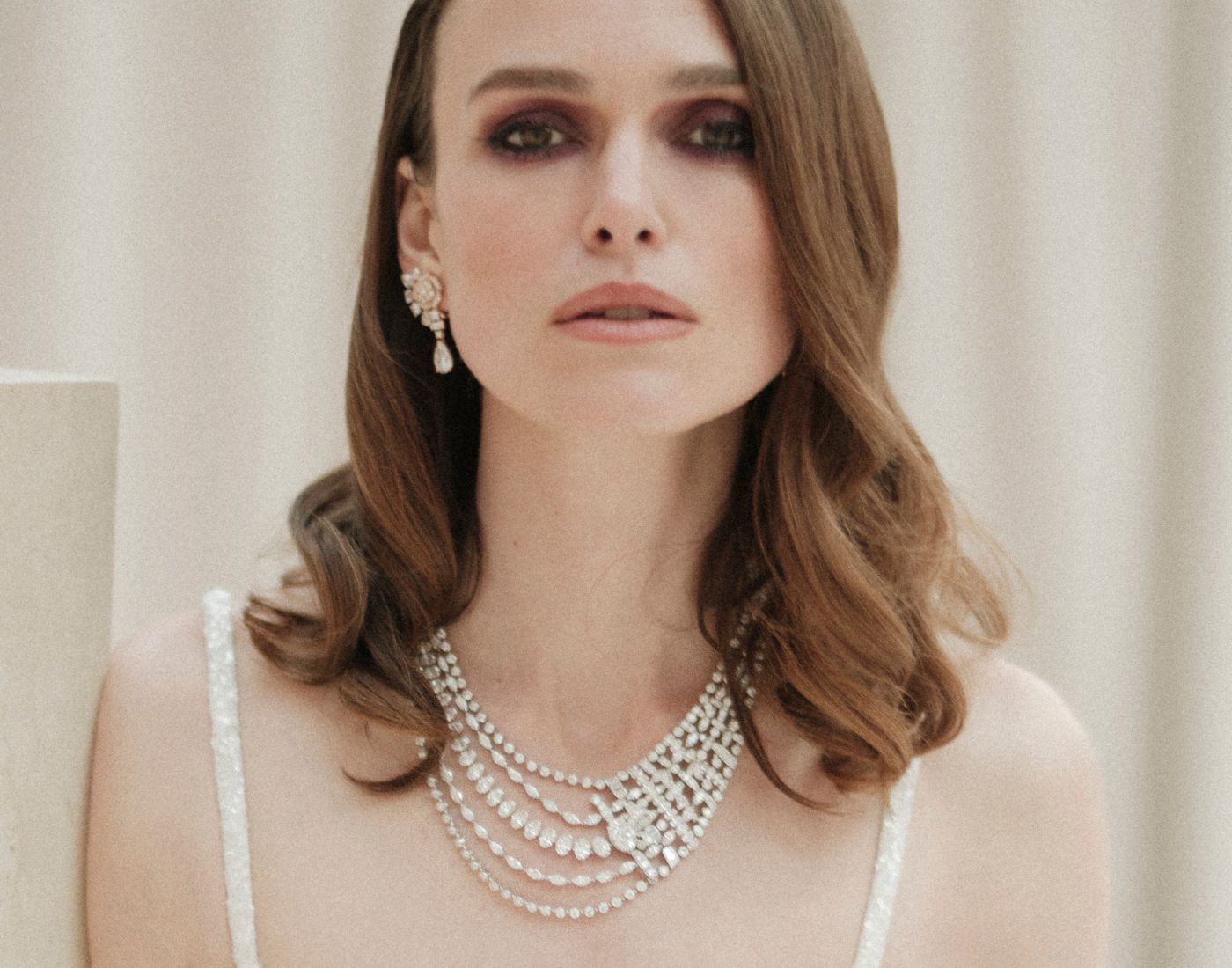 Tweed Soleil
The sun has long been a motif in the Chanel universe, and the presence of vibrant yellow gemstones is almost to be expected in its high jewels. Here, we see the collision of tweed and "Byzantine and Venetian magnificence" in three sets: Tweed Cambon, Tweed Byzance, and Tweet Soliare. There's also a Tweed Icône ring of note (a signature piece of each set in the Tweed de Chanel collection). A pair of Cambon earrings combine building blocks of diamonds, set in yellow gold, with sun rays of diamonds in platinum, leading to kite-shaped rock crystal drops. In Tweed Byzance, we find a brooch, ring, bracelet and earrings with intoxicating, mixed-cut yellow beryls and bezel-set round brilliant-cut diamonds in woven patterns. Another highlight in Tweed Solaire is a brilliant Imperial topaz choker and matching ring with further yellow beryls and diamonds.
Tweed Lion
As a Leo by birth, the lion always appealed to Gabrielle Chanel and proved to be a consistent theme – an emblem – in her life and works. The Tweed Lion chapter bursts with red, orange and yellow hues across three sets – Tweed Gabrielle, Tweed Lion and Tweed Royal. The latter is described as the "centrepiece" of the entire Tweed de Chanel collection, notably the Tweed Royal Necklace – a woven plastron masterpiece of diamonds, 37 rubies, and a three-dimensional lion's head, trimmed around the neck with a golden chain. At its heart, a 10.17-carat D-colour, Type IIa pear-shaped diamond drop takes centre stage (this stone can be detached and worn as a ring, while the lion's head can be worn as a brooch). The remainder of this set includes a bracelet that can be worn as one piece or two, an asymmetric ring, and drop earrings with fabulous tassels of ruby beads.
Let's not forget Tweed Gabrielle, which includes a necklace and bracelet with large spessartite garnets and yellow sapphires woven in yellow gold and platinum, and the Tweed Lion set with rubies, spessartite garnets, yellow sapphires, spinel and diamonds across a brooch, asymmetric lion's head earrings and a ring.
Tweed Étoile
An emblem of "Bijoux de Diamants", the first and only High Jewellery collection created by Gabrielle Chanel in 1932, the comet motif is well-known among Chanel High Jewellery fans. The Tweed Étoile chapter is an ode to these cosmic travellers, with black and blue shades, yellow diamonds and sapphires to evoke the night sky. The Tweed Astral set contains a ring with a large central blue sapphire, polished black onyx, and yellow diamond stars, all with woven diamond shoulders and an emerald-cut yellow diamond necklace. The namesake Tweed Étoilé pieces are snappy and contemporary, featuring layers of sapphires, black onyx, diamonds, and yellow gemstones, most pronounced in an incredible sautoir beaded necklace. And finally, Tweed Céleste follows suit with sapphires, black onyx, yellow stars, and round brilliant-cut diamonds, all leading the eye to a pear-shaped diamond drop in a statement necklace paired with matching earrings and a ring.
Tweed Ruban
The fourth chapter in Tweed de Chanel translates to 'Tweed Ribbon' and uses the idea of interlacing these tassels with fabric as a creative starting point. This entire presentation of jewels is set with just colourless diamonds in light, openwork settings, accented with cultured pearls in white gold. The Tweed Pastel set contains a feminine trio of a necklace, ring and bracelet with oval-shaped diamonds, round brilliant cuts and pearls, while the Tweed Ruban takes a more graphic approach with similar cuts and materials. In Tweed Perlé, we see tumbling waterfall-like lines of diamonds and cultured pearls across a brooch/pendant, earrings and a necklace, which can be transformed into a bracelet. Finally, Tweed Mademoiselle radiates with mixed diamonds, including marquise, round, oval and baguette cuts that sweep across the neck, hug the finger or scoop around the wrist.
Tweed Camélia
The concluding chapter in the Tweed de Chanel collection captures the ultimate Chanel icon – the camellia flower. Here we find five sets, each in shades of powder-pink and fuchsia sapphires, contrasted with 18k rose gold and white metals. In Tweed Pétale, we are presented with a quartet of jewels, including a plastron necklace, bracelet, earrings and ring in tonal pink, rose and white hues. Tweed Poudré is denser in its colour combinations, with less open space and more concentrated pink in a brooch, necklace, ring and climber earrings. It's hard not to be enticed by the Tweed Dentelle earrings with large pear-shaped diamond drops, plus round, marquise, oval and baguette-cut diamonds in an asymmetric setting (one has a camelia flower, the other a tweed latticework of gems). However, in our opinion, the piece de resistance is the namesake Tweed Camélia necklace featuring a woven rose gold and diamond framework, interspersed with oval, pear and round shaped pink sapphires, rose gold camellia flower, and topped with a "diamond lace" camellia bloom that can be removed and worn as a brooch.
We would be hard-pushed to pick a favourite piece from this latest Chanel High Jewellery collection, so we will let you decide! The transformability of its necklaces, the femininity of the designs, and their three-dimensional construction all add up to a beautiful and well-rounded offering for the summer of 2023.