One of the first things you read on the website of eponymous fine jewellery brand Elizabeth Gage is "not governed by tradition," and yet Elizabeth Gage is an important part of British jewellery-making tradition for those who seek to follow in her successful footsteps. She's an inspiration to many and an example of how marching to the beat of your own drum can lead to a decades-long career as a designer. When I met Elizabeth at her showroom in London, I was struck by an independent spirit, someone for whom jewellery design is not just a passion but a calling. And how do you describe her pieces? They're bold but never gaudy, antique but never old-fashioned, and strongly proportioned but never out of balance. She wholly embraces colour – a rainbow of monochromatic hues – for striking images that adorn her website and Instagram. And this extends to the mineralogical spectrum in her pieces, including chunky cabochons, carved gemstones, and faceted stones set in 18ct yellow gold and decorated with enamel, engravings and studded with diamonds.
Since establishing in 1963, Elizabeth has made her mark on the world of jewellery design with high levels of craftsmanship and a clear vision of what elegant, refined and exciting adornment means to her. Just five years later, in 1968, she secured a significant commission from Cartier, which kickstarted a series of award wins, including the De Beers Diamond Award for her Agincourt ring and the Queen's Award for Export Achievement. Elizabeth emerged as a designer during an important period of British jewellery history – the mid-20th century - when the likes of John Donald, Andrew Grima and David Thomas were innovating and experimenting throughout the 'Swinging Sixties'. As a woman in this mix, Elizabeth was in the minority, and so her six decades of success is a testament to her talent, tenacity and determination.
"A fearless visionary, Elizabeth founded the brand singlehandedly at a time when women making jewellery was a rarity and has consistently pushed the boundaries of traditional jewellery design, transforming precious metals, gemstones and enamel into wearable works of art that tell captivating stories."
If any further evidence of Elizabeth's significance in the annals of jewellery history is required, there's the small matter of an honour from Her Late Majesty Queen Elizabeth II! She was presented with an MBE (Member of the Most Excellent Order of the British Empire) in 2017 after finding herself on the Queen's iconic Birthday Honours List. Next, there's the inclusion of two Elizabeth Gage originals in the permanent collection of the Victoria and Albert Museum: a Kiss pin with tourmalines, aquamarines, rubies and cultured pearls (1972), which the V&A describes as an illustration of Elizabeth's "particular ability to create modern jewels infused with echoes of past centuries", and an Agincourt ring with tourmalines and rubies (1967), held by a woven golden chain.
Both exemplify the treasure-like quality that all Elizabeth Gage jewels have, notably the subtly tapered Templar rings and the textural Agincourt ring. The latter is especially important for the brand due to its clever engineering, whereby a solid piece of gold is cut into interlinking sections and set with stones. Think of a basketweave effect, with metal threaded together element by element until a finger-hugging loop is achieved. Her other distinguished masterpieces include the Charlemagne and, more recently, the Ottoman ring designs, which have been celebrated for their fusion of classical and modern sensibilities. From my perspective, this combination of finishes, including twisted rope-like borders of gold, hammered touches, rub-over settings, and enamel accents, all combine to produce something feminine and ageless. Detailed goldwork is an Elizabeth Gage signature, true, but we can't underestimate the transitional day-to-night quality, which was basically unheard of before Elizabeth coined the concept. This is where the feminine touch – a woman designing for other women – was so important in the late 1960s and into the 1980s.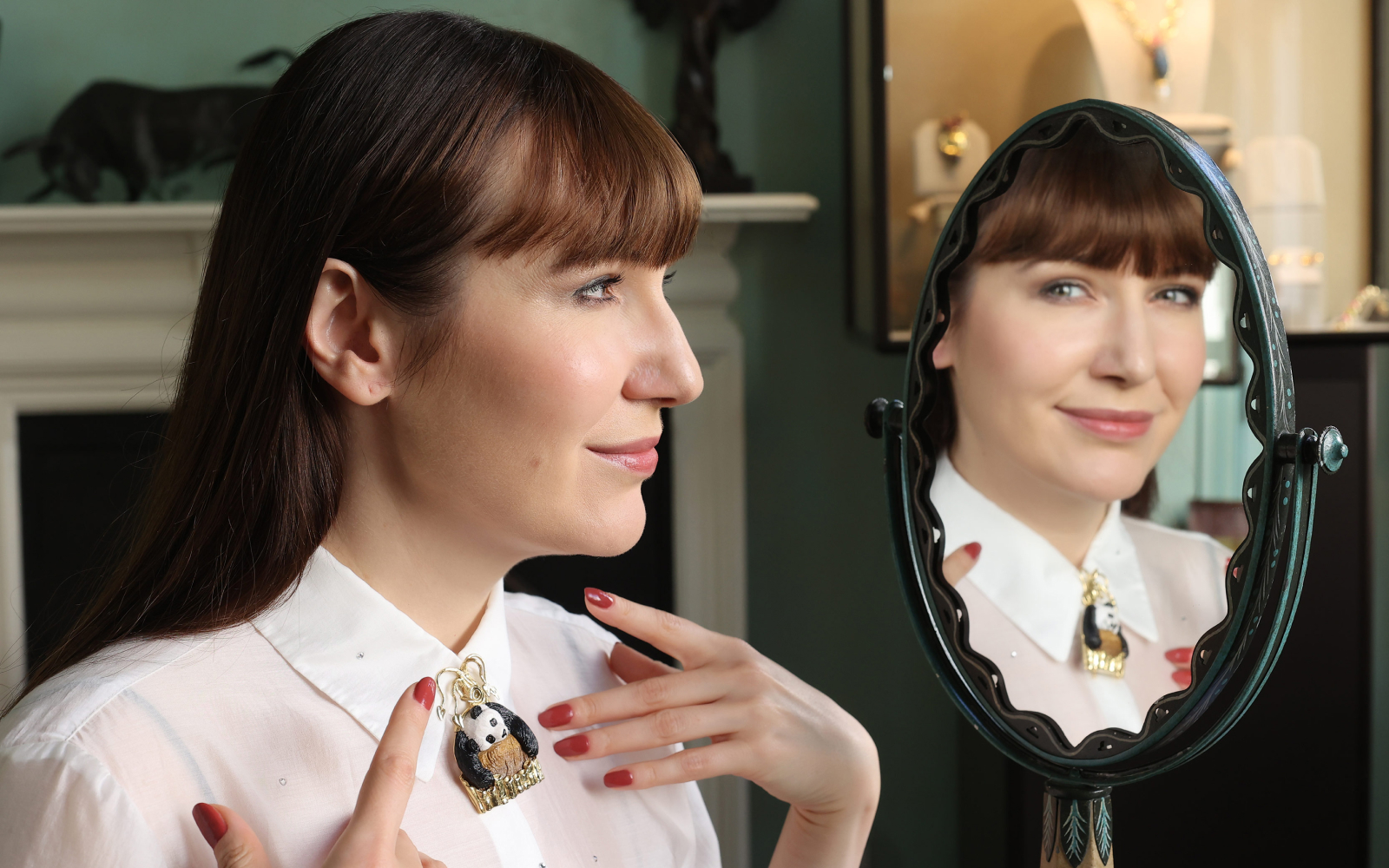 Jump forward to 2023, and Elizabeth Gage is now celebrating its 60th anniversary as a brand. Although she no longer works at the bench, instead employing a team of exceptional goldsmiths, Elizabeth still designs each of her pieces personally and is the best person to speak to regarding the brand, its identity and its output. When I met Elizabeth in London earlier this year, we discussed this milestone moment in her career and the one-off anniversary collection that she has launched to mark the occasion. The range traces her design journey from 1963 to 2023 and includes the motifs, goldwork techniques, details and gemstone combinations that she's most famous for. "When you do what you love, you will always succeed," she says. "I broke away from what was expected of me and went into jewellery design because that was my calling. I don't know why or how it happened; it was just instinctive. Being able to create unique beauty that transcends time and brings the past into the present and making it wearable is what I have always striven for. This milestone is a testament to the unwavering dedication of my team, our skilled team of craftsmen and the unwavering support of our clients."
As well as having the opportunity to photograph some striking pieces, including a cheerful panda brooch and a sensational parrot necklace composed of carved gems and pearls, I was also given a rundown of events that Elizabeth Gage will host to celebrate 60 wonderful years. The brand's first show will be a Club Colette in Palm Beach, Florida, from November 8-10, 2023, with more dates on the horizon. If you are State-side and wish to attend, you can do so by emailing sales@elizabeth-gage.com.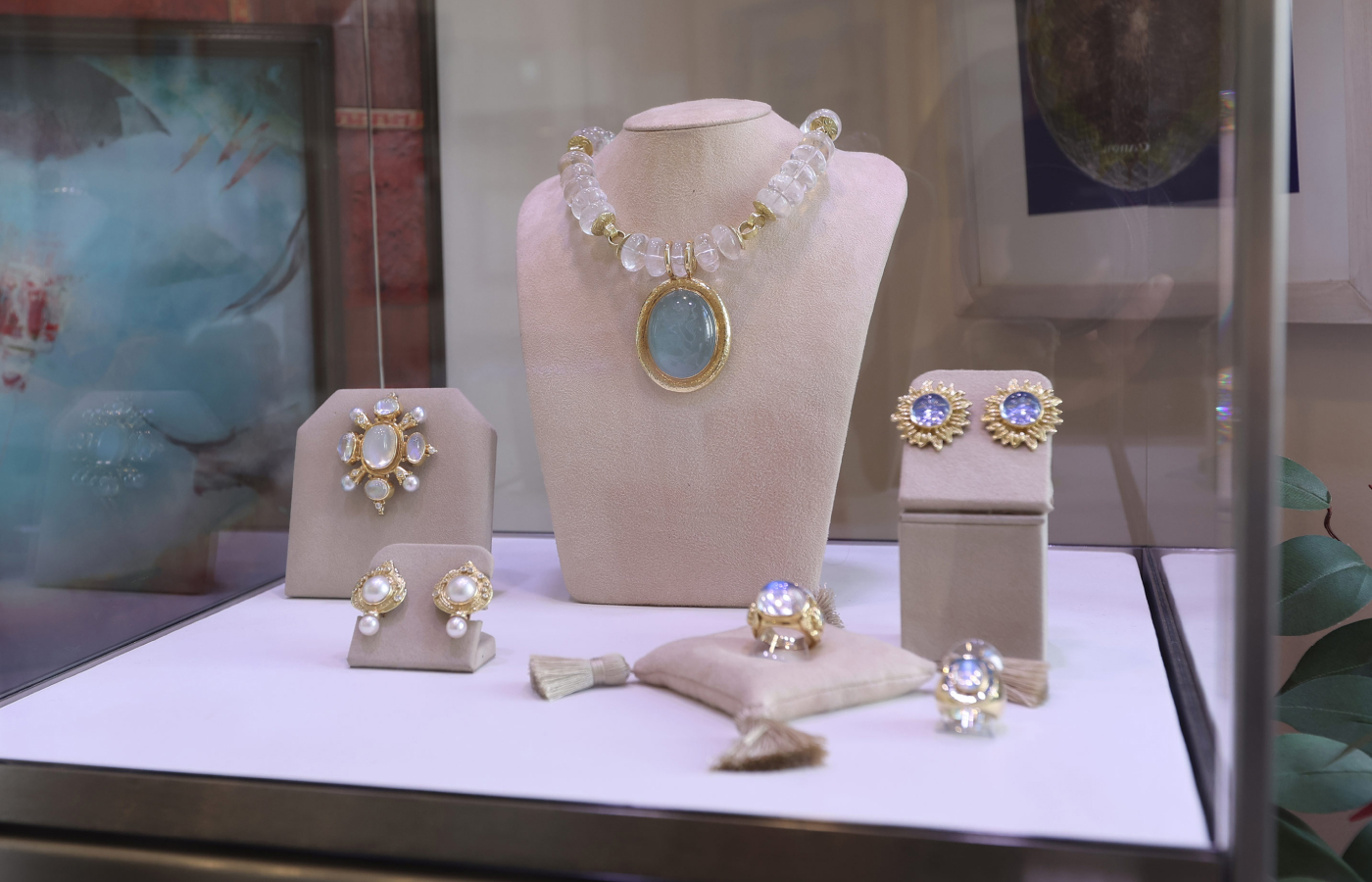 I greatly admire Elizabeth Gage and all she has achieved as a woman, designer, brand leader and business owner. Arriving at one's 60th anniversary in business with such remarkable influence over both the past – the history of British jewellery design – and the present as a continuous creator of modern, unique heirlooms is no mean feat. Long may her "fearless visionary" spirit continue, and long may we see jewels with her immediately recognisable stamp.