If you are partial to a spot of luxury shopping, you will have no doubt visited (or dreamed of visiting) Bahnhofstrasse – a downtown avenue in Zurich that's home to a who's who of international high jewellers, watchmakers and fashion brands. Now, Bucherer Fine Jewellery can add itself to this list of businesses with a pin in the Bahnhofstrasse map. Its debut high jewellery salon, part of its flagship store in the city, is sleek, stylish, light and airy with a subtle palette of creams, grey, mint green, pale wood and inky black accents. From the moment you step inside, you're cocooned in a soothing environment that ensures the Bucherer Fine Jewellery flagship has a surprise around every corner… whether that's a piece from the Pastello Confetti High Jewellery set or a never-before-seen toi et moi ring, although more on that later!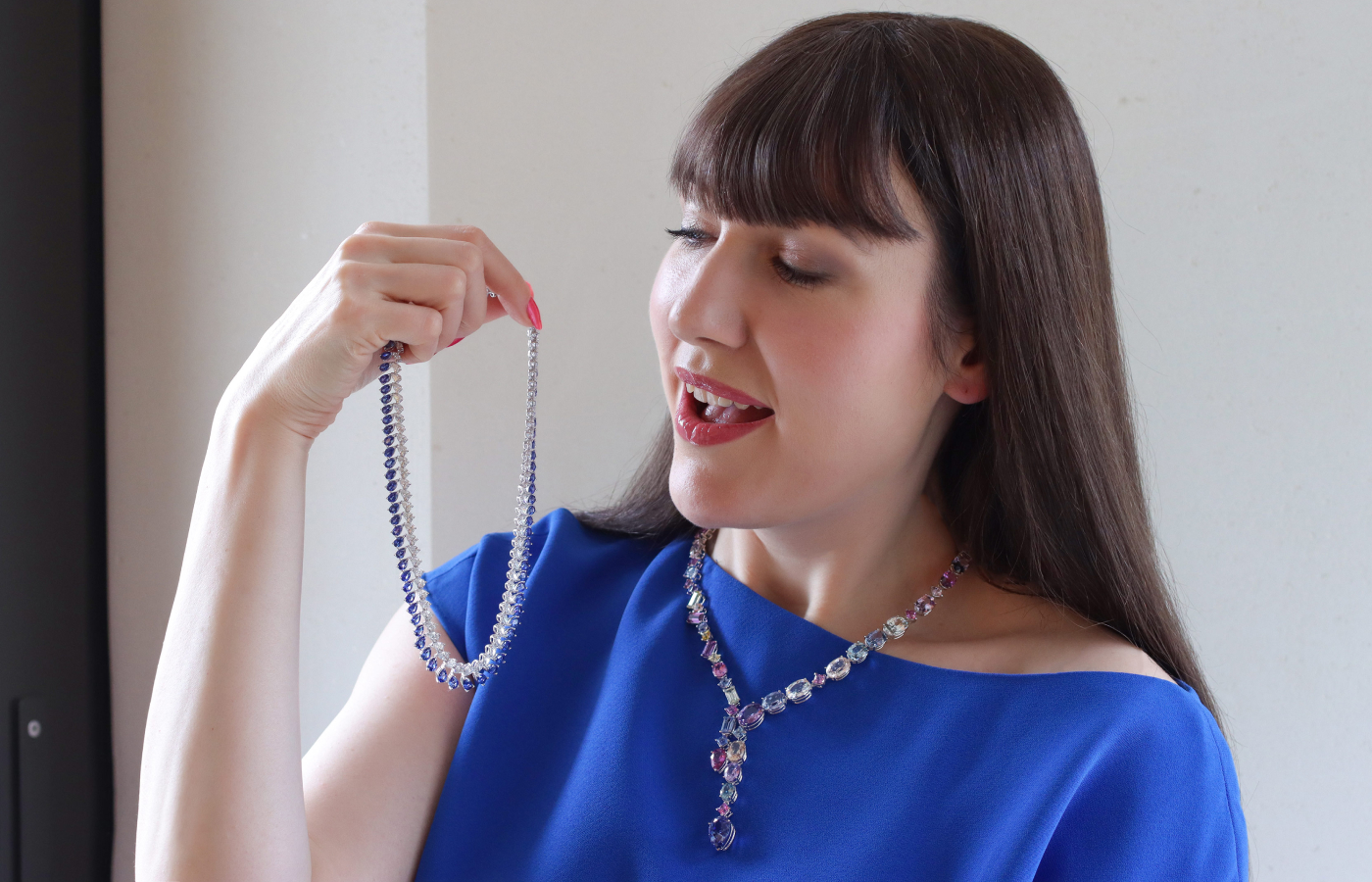 Bucherer's Zurich flagship is described as an "oasis of calm", and that's exactly how I would want to feel when shopping for pieces of significant value. There's no rush, no pressure, and no distracting elements to draw one's gaze away from the brand's creations. This ties in with the vibe of its jewels, too, notably the Inner Fire High capsule collection of eight masterpieces and the Rock Diamonds collection with trapezoid-shaped diamonds. Both are deceptively simple and understated, even though it's clear an extraordinary amount of work has gone into making them appear as such.
In planning and designing the Zurich salon, a team of architects envisioned a space that would make the absolute most of 90m2. The goal was to evoke the quintessential European loft space, with three zoned areas to create an apartment-like ambience. This home-away-from-home atmosphere is achieved with decorative details, flowers, photo frames, mirrors, vases, a bar trolley, and a large dining room table that had me imagining a beautiful dinner party!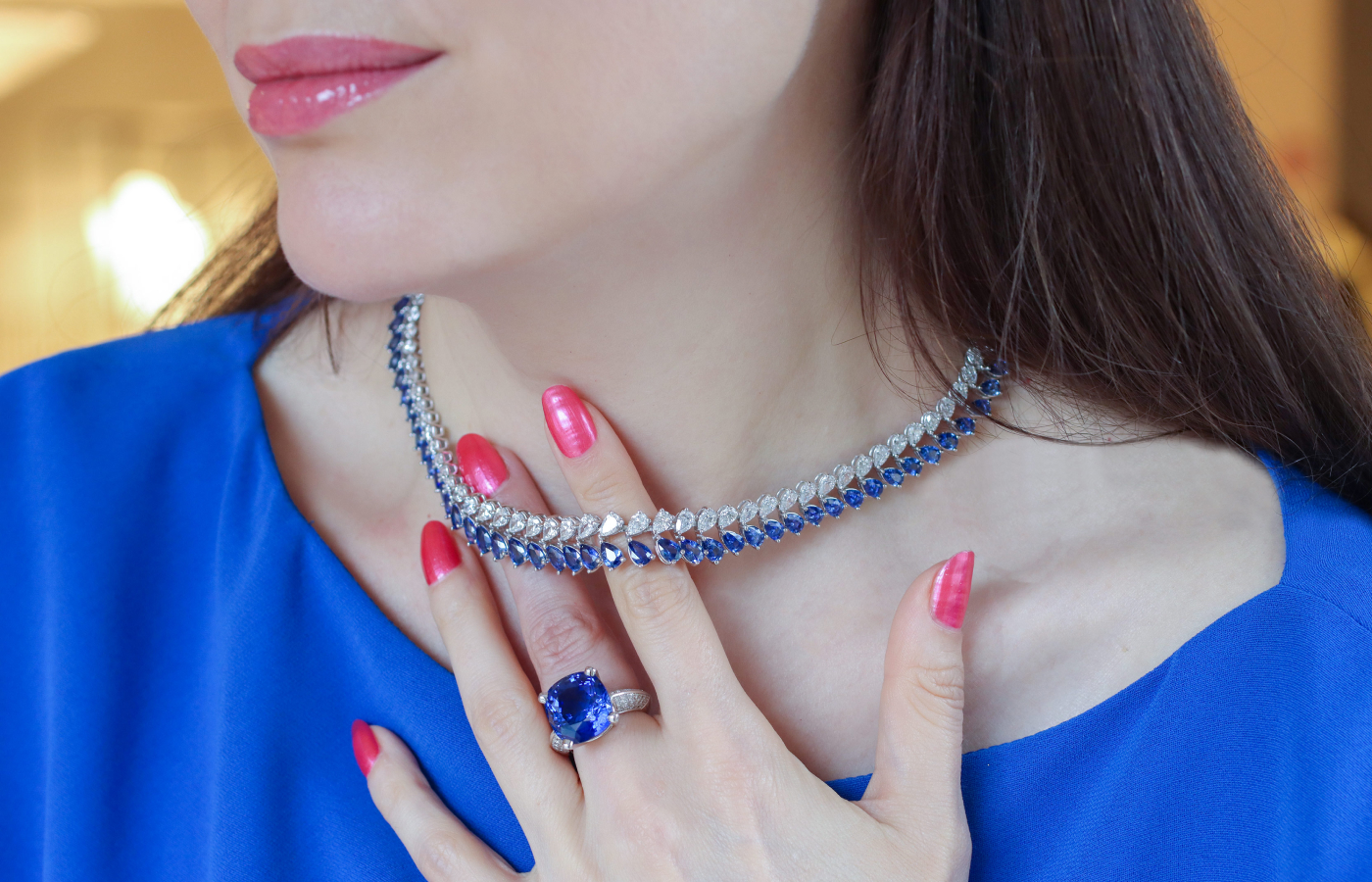 Once I had finished looking around (and witnessed the view of the old town from the rooftop), it was time to explore some of the new high jewellery creations that can only be found in this Bucherer Fine Jewellery destination. Fans of the Pastello collection, which is known for its candy-coloured pastel sapphires, will appreciate the playful Pastello Confetti set consisting of a necklace, a toi et moi-style ring and a pair of earrings. The necklace contains natural fancy-colour sapphires in shades of pink, peach, lilac, violet, orange, red, and sky blue in a variety of cuts. For example, there are 15 baguette-cut sapphires weighing 23.91 carats, 26 princess-cuts for a further 15.2 carats, and 24 oval-faceted sapphires for 71.63 carats. These form a dancing line of shape and colour that leads the eye to a 2.84-carat pink sapphire and a 10.34-carat cornflower blue sapphire, both with a pear cut. To complete this Pastello chapter, there's a pair of asymmetrical earrings with pear-cut sapphires for a total of 5.1 carats and an extraordinary ring with a pear-shaped orange-yellow sapphire of 7.54 carats and a lavender sapphire of 6.05 carats. These gems are poised between curved lines of round brilliant-cut diamonds and dotted with princess-cut sapphires in contrasting Barbie pink and deep raspberry tones.
Aside from this suite, there are other jewels to discover in Zurich. Bucherer's laser focus on high jewellery has come to fruition in a series of one-of-a-kind masterpieces, including a necklace with an 18.88-carat emerald-cut deep blue Burmese sapphire to celebrate the year the Maison was founded. This piece also contains 214 baguette-cut diamonds, 1,451 brilliant-cut diamonds and 1,076 round-cut sapphires, so you won't be surprised to hear it took over 1,250 hours of workmanship to bring to life!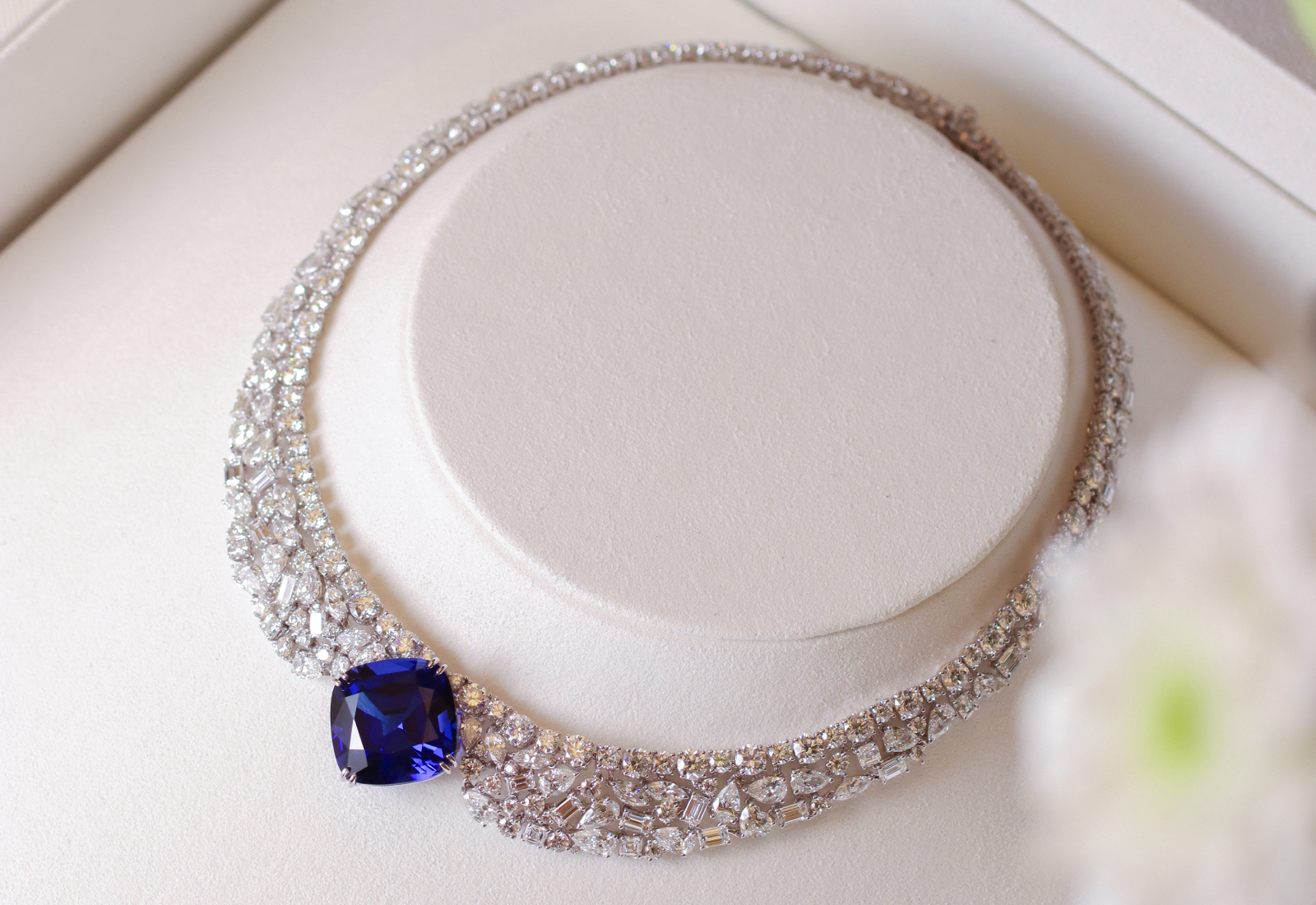 There are also some stunning emeralds to be found in the High Jewellery collections of Bucherer Fine Jewellery, including a necklace with nine Colombian octagon-cut stones, 275 princess-cut diamonds and 458 brilliant-cut diamonds. I have a particular love for a 4.16-carat octagonal emerald ring, also with diamonds, because of its streamlined bezel setting and the placement of diamonds in unexpected places throughout. And what would a conversation about Bucherer High Jewellery be without a pair of futuristic diamond earrings, this time set with rhombus-cut diamonds and 80 baguette-cut diamonds in platinum.
Finally, Bucherer Fine Jewellery has launched a new toi et moi ring to celebrate its Zurich salon's grand opening. It has serpent-style swirling lines of diamonds (307 brilliant-cuts in total) that surround two pear-shaped stones – a 1.32-carat fancy intense pink diamond, haloed by rose gold, and a 1.17-carat colourless diamond. It's a fantastic demonstration of Bucherer Fine Jewellery's sleek and streamlined signature style, which is quickly becoming a one-to-watch, in my opinion. I can't wait to see what comes next!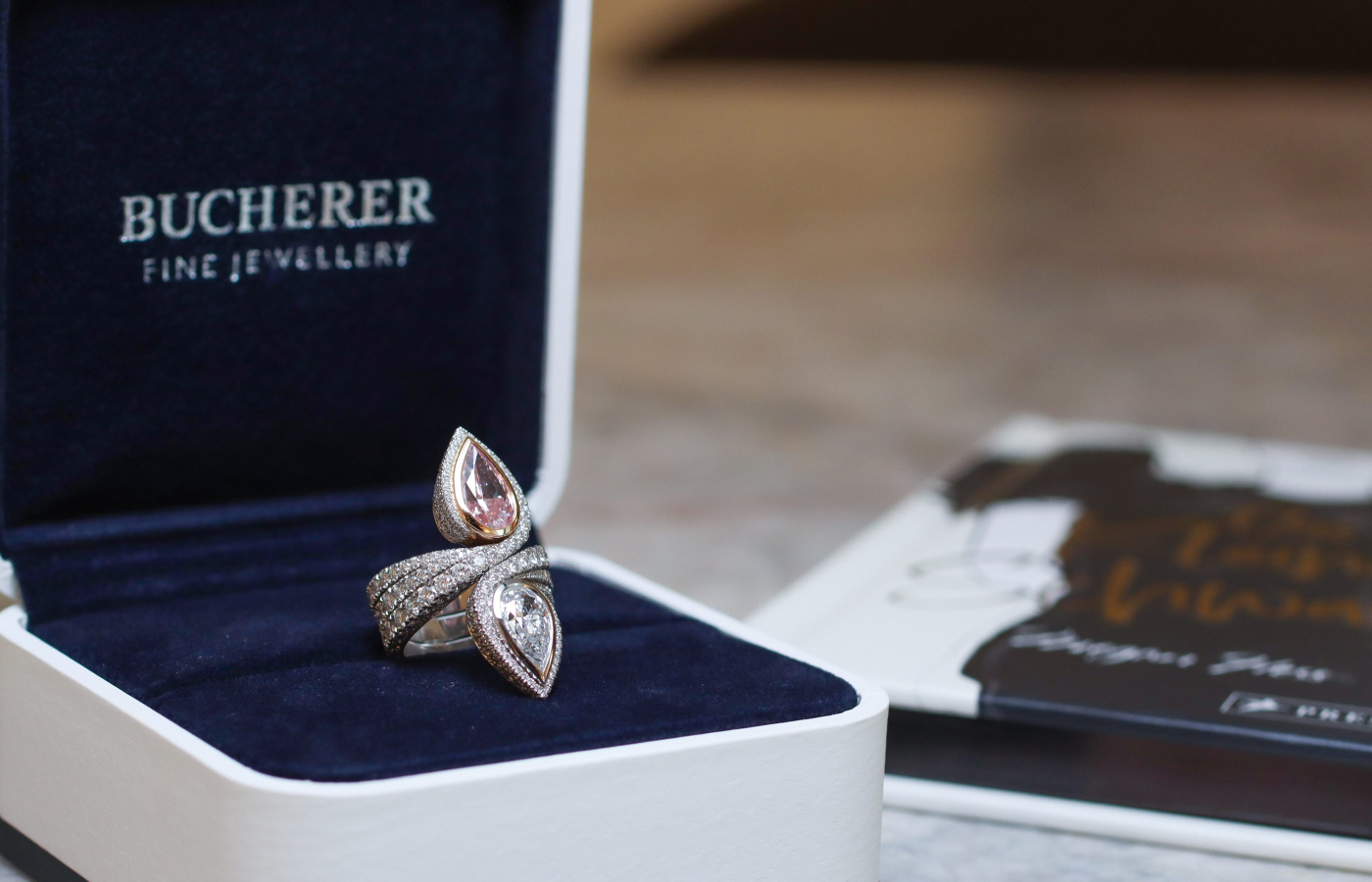 The next time you are visiting Zurich, do step inside Bucherer's contemporary and calming oasis to explore its high and fine jewels for yourself. Personally, I can imagine myself sitting at its beautiful table, reading a book, and discussing its next suite of diamond-centric high jewels, perhaps with a large sapphire or emerald for company. A girl can dream.
Address and opening hours:
Bucherer, Bahnhofstrasse 50, 8001 Zurich
Monday to Friday: 10:00 AM to 7:00 PM
Saturday: 9:00 AM to 5:00 PM.
Sunday: Closed