All pieces are created for women, who love comfortable and colourful jewellery and wear it to express their uniqueness. Sold at auctions, spotted on many celebrities and aristocrats, IVY jewellery has an appeal that is hard to resist. In this interview, I talk to Vladyslav about the distinctive style of his creations, his love for gemstones and the new everyday line of jewellery that has just been introduced.
KP: Initially a gemstone hunter, you shifted to jewellery design. When and how did that happen?
VY: From 1987, I have been visiting gemstone mines to dig for crystals in my attempt to find beautiful gems. In 1993, I found myself at a jeweller's bench and started experimenting with various designs – from classic pieces to art deco and art nouveau. I attended many design schools and used my knowledge to design and manufacture jewels. Then, I launched my own brand.
KP: IVY jewels have very distinctive look with its double pave frame, kaleidoscope like patterns and certain types of gemstones. How did this signature look shape up over the years?
VY: Having explored various approaches, I realised how elegant an important gemstone looks when surrounded by a rim of pave gems; I doubled it up and made both rims slightly different. The inner line is normally set with diamonds less than 1mm in diameter, while the outer one is thicker with diamonds of over 1mm in size for a bolder look and extra sparkle.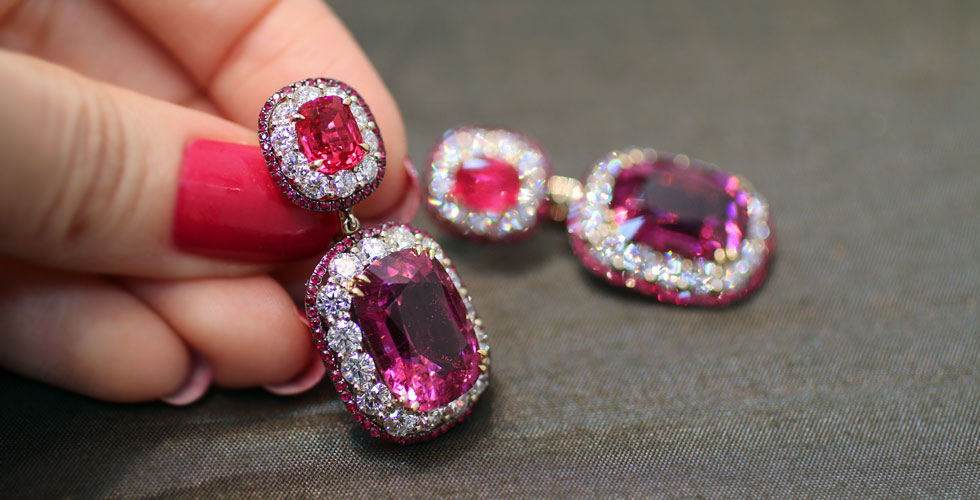 KP: You are giving away all your secrets!
VY: The secret of IVY's signature style lies in the rich selection of gemstones, precise cuts, excellent proportions, including the size of table facet and thickness of girdle. As for the signature little spikes, they provide certain asymmetry and make the jewels with perfectly symmetrical stones look a lot more organic.
KP: Tsavorites, spinels, garnets and moonstones often crown the geometric interpretations of floral motifs. What dictates the design?
VY: Every single design and jewel starts with gemstones, never the other way around. Stones are unique and precious – they are the ultimate source of inspiration. It can take anywhere from a few days to a few months for me to come up with a design idea. I make alterations to the pieces all the time. Sometimes, it takes up to five years to find a matching stone for a pair of earrings and, at other times, I scrap the manufacturing even if it had been designed two years ago.
KP: IVY jewellery features coloured stones like the mandarin garnets or tsavorites. Do your clients lean towards traditional gems or do they value the important garnets?
VY: Rubies and sapphires are always in demand; they are good investment gems. However, IVY jewellery is unique and I am able to expose the beauty, rarity and preciousness of tsavorites, mandarin garnets, tourmalines and other stones that are less traditional but are also very appealing to our clients.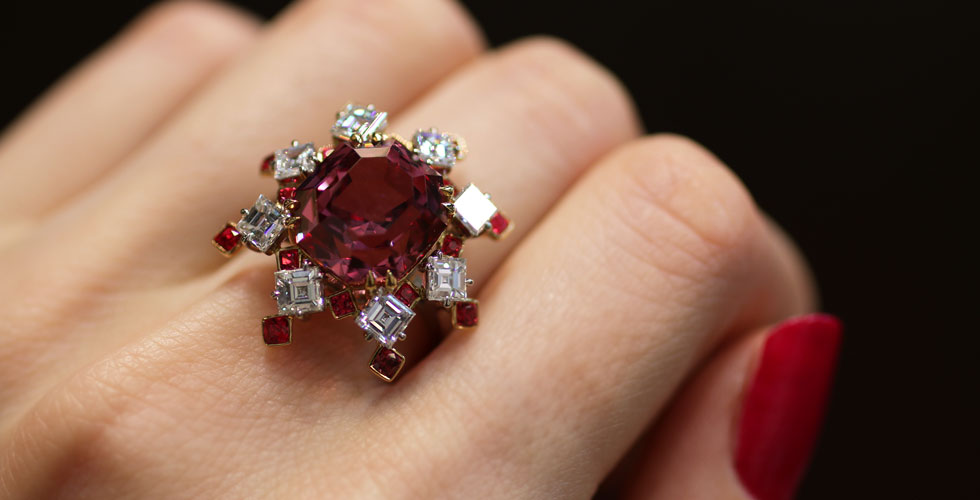 KP: What important gems do you have in your collection right now?
VY: Some Colombian emeralds, unheated Burmese rubies, Kashmir and Sri-Lankan sapphires. I usually choose a combination of two colours: green emeralds, red rubies or blue sapphires mixed with white diamonds. This makes the jewels refined and elegant. Rather than mixing colours, I achieve distinctive look of each piece through working on the cuts of gemstone and the shape of the diamonds that surround the main stone.
KP: How about the rare Paraiba tourmalines or spinels that you are famed for?
VY: I use them a lot. They represent the IVY style best of all: their vibrant and neon colours expand the horizons of my imagination. I combine them with rose-cut diamonds and play with volume of the piece. I often toy with shapes and sizes and use an abundance of diamonds to create an impressive, organic and exquisite look.
KP: You have just come up with a simpler jewellery line. Why?
VY: This line is more for trendy women and girls. The advantage is that rings of various gems and sizes can be stacked together in various combinations. Earrings and rings are very well-priced to break the misconception that IVY creates only highly expensive jewellery.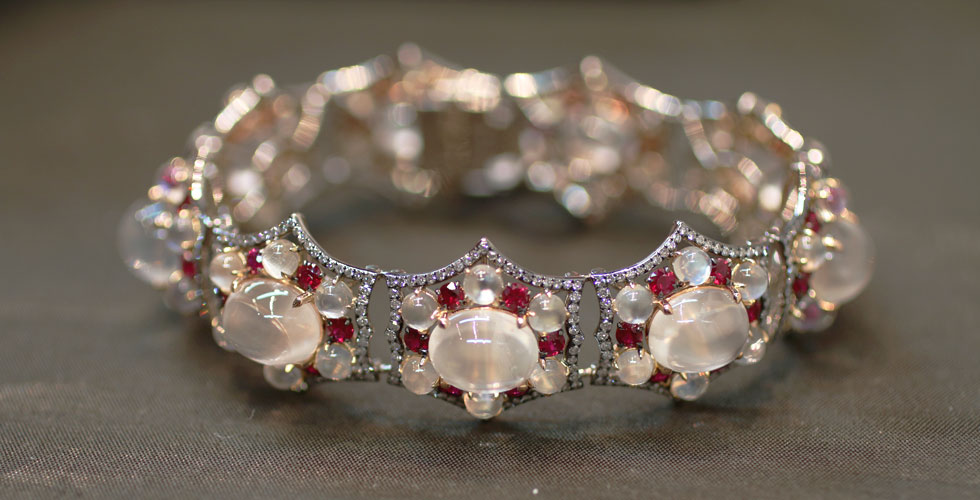 KP: You not only design jewellery but also 'design' cuts for your gemstones – like the Yavorskyy cut. What is this special cut?
VY: The Yavorskyy cut was formed gradually over the past 25 years. I built my own cutting machine at an old-style military plant in Kiev. As I worked with different gems, I realised that different materials have different properties and require varied attention. I study the spirit of the rough and capture it in a perfect gem. I always take particular care of pre-shaping the major gems. My favourite shapes are antique styles of cushions and eggy shapes inspired by the 19th century Belle-Epoque era. The Yavorskyy cut features a medium-high top diamond crown and very simple four step large facets well-proportioned on the pavilion.
KP: I remember the numerous occasions when you showed me the newly acquired gems you could not help buying. Tell me about some recent stones that you bought.
VY: For me, the most important thing is the first feeling I get when I see a right gem. It is as striking as a child seeing a natural miracle – like the Moon coming together with the Sunduring an early sunset. Above all though, the gem has to be 100% natural and should never be enhanced. I bought the most recent stone at the Hong Kong September show. It did not have the nicest cut, but the material, colour, size and crystallisation were pristine. It was a pure vivid pink sapphire that resembled the ones mined at the old Ratnapura area in Sri Lanka.
KP: What is the next big plan for IVY?
VY: I am working with the most beautiful natural gemstones and complementing them with harmonious and well-proportioned settings. IVY will soon expand in Asia, besides which we will focus on creating even stronger brand awareness in the U.S.