Having viewed a dozen new collections during Paris Fashion week, I could not help but notice the trend for pieces crafted with rare methods. As with any form of art, designers of jewellery constantly strive to broaden the horizons of the new looks that can be achieved, no matter how unattainable their designs might initially seem.
Boucheron's creative director Claire Chinoise had an idea which seemed exactly that – unattainable. She wanted to blend delicate flowers with precious metals and gemstones in order to create something truly unique – floral design rings that combine all the mentioned elements. As a result, nine one-of-a-kind creations named 'Fleurs Éternelles' were included in the 'Nature Triomphante' collection, dedicated to Boucheron's 160th anniversary. Their designs are incredibly realistic interpretations of various flowers, made using an innovative preserving and stabilising technique with no chemicals or pigments. Boucheron masters actually employed real flower petals to decorate precious metal, alongside Paraiba tourmaline, Padparadscha sapphire, spessartite garnet and a host of other precious gems.
For Paris Haute Couture week 2018, Piaget chose to continue their long-standing creative partnership between themselves and Nelly Saunier - a feather artist who has been collaborating with the Swiss brand since 2015. Within the new extensive 'Sunlight Escape' collection, four unique jewels with feather marquetry were introduced: two variations of cuff bracelets and another two sets of drop earrings. All of them displayed an intriguing combination of feather and gold marquetry alternating in palettes of vivid blue tones or all white. The earrings with detachable drops and matching cuffs, one of which featured an impressive 24.36 carat tanzanite, gave the impression of unidentifiable texture and delicacy.
The Italian house of Buccellati is known for specialising in decorative gold techniques such as engraving and open work. With the latest collection of high jewellery being no exception, Andrea Buccellati chose a fine honeycomb pattern to adorn his pieces. This is the antithesis of the complex techniques employed by other brands; with Buccellati referring back to traditional crafts, whilst still presenting a modern look for their visually arresting jewellery.
Choosing to combine bright pink and purple sapphires, mandarin garnet, indicolite and other vibrant gems with black lacquer, Lorenz Baumer's 'Black Magic' collection represented an intriguing mix of colours juxtaposed with black settings. Inspired by artists such as Soulages and Hartung, the black lacquer petals of the 'Rayonnement' ring, bracelet and earrings were textured to achieve a 'satin' (matte) finish and engraved with lateral lines. This design technique provides an interplay between the different surfaces; drawing the eye's attention and creating the impression of a multitude of layers.
Chopard's 'The Song of the Bluebird' earrings in lapis lazuli and jadeite represent a milestone for the luxury house in terms of technical innovations, utilising an obscure version of the grand feu enamelling technique. The blue leaf motifs have been designed in white gold, on top of which creased silver sheet has been added to create more texture. Finally, several layers of enamel powder are placed on top before the component is heated to around 1000 degrees.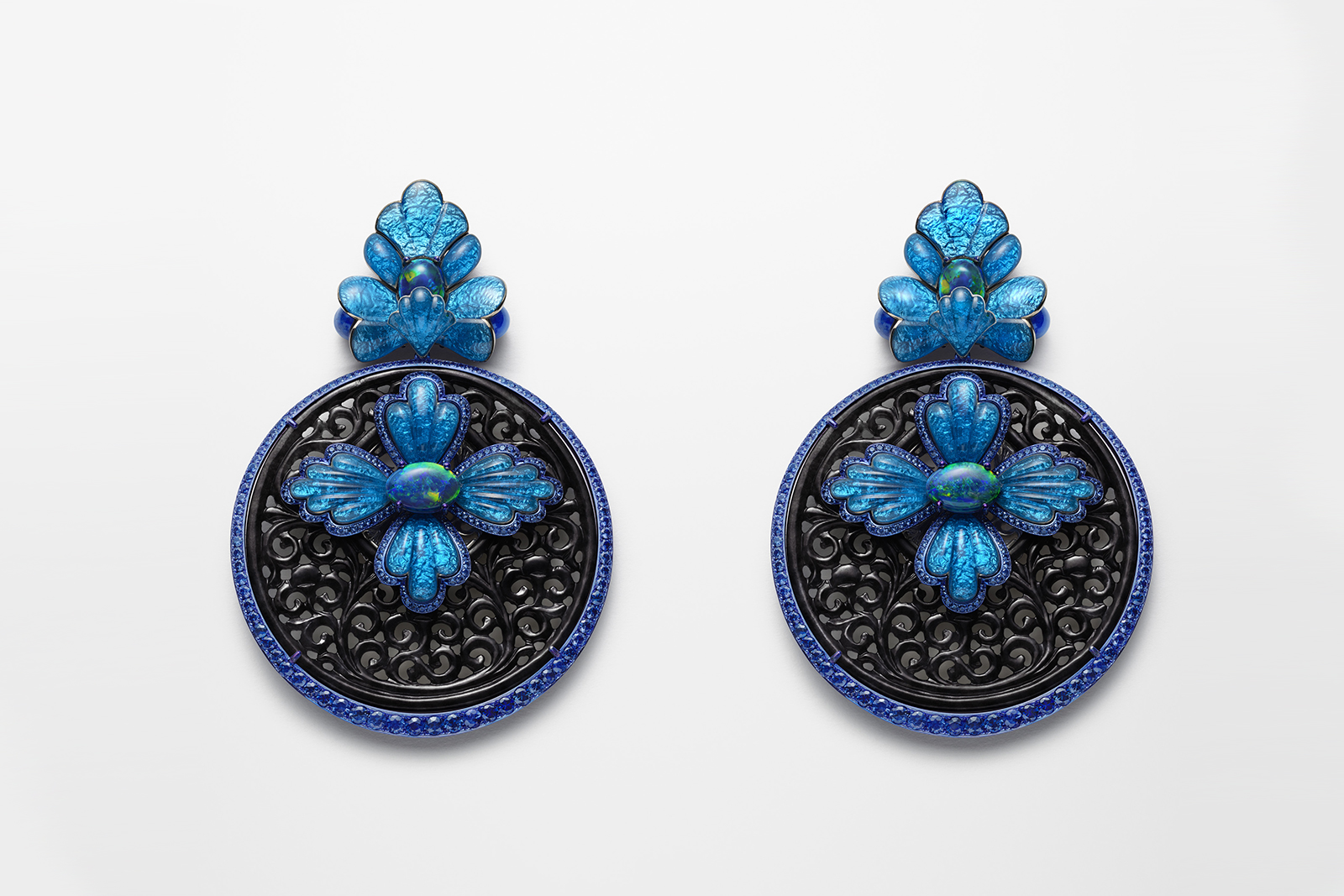 The scope of the jewellery making techniques used to create the pieces from the latest haute joaillerie collections is incredible. This constant reaching to create new designs in unexpected ways is one of the reasons why fine jewellery is so exciting, entrancing, and enigmatic.