Inspired by an adoration for the natural world and the great power of the creative imagination, this collection depicts a wide range of exotic flowers, keys to hidden doors, and a menagerie of creatures that inhabit Tessa's imaginary green spaces: crabs, turtles and beetles, all in a jeweled form.
The pieces that make up 'Once Upon a Time in My Secret Garden' are pendants, stud and drop earrings, delicate and cocktail rings, as well as cufflinks made from white, yellow and black rhodium gold, silver and (particularly unique from a jewellery perspective) brass with a greenish surface called 'verdigris brass'. The rustic green of its patina is intended to represent plant life through both its colour and texture – seeing it in person, it inarguably does convey the effect of organic moss growing on a fallen log or an ancient wall of dried stone.
The sophisticated and sculptural nature of the pieces from Packard's new collection are immediately eye-catching. It is interesting to witness the transparent and opaque gemstones taking a backseat in the majority of designs, and complementing the overall mood that the 'gardener' has imbued them with. Yellow citrine and sapphires, onyx, white and yellow agate: as you see from this list, it is not a traditional choice for a jewellery collection, and yet somehow Tessa Packard is able to draw these disparate elements together to create a visually harmonious line.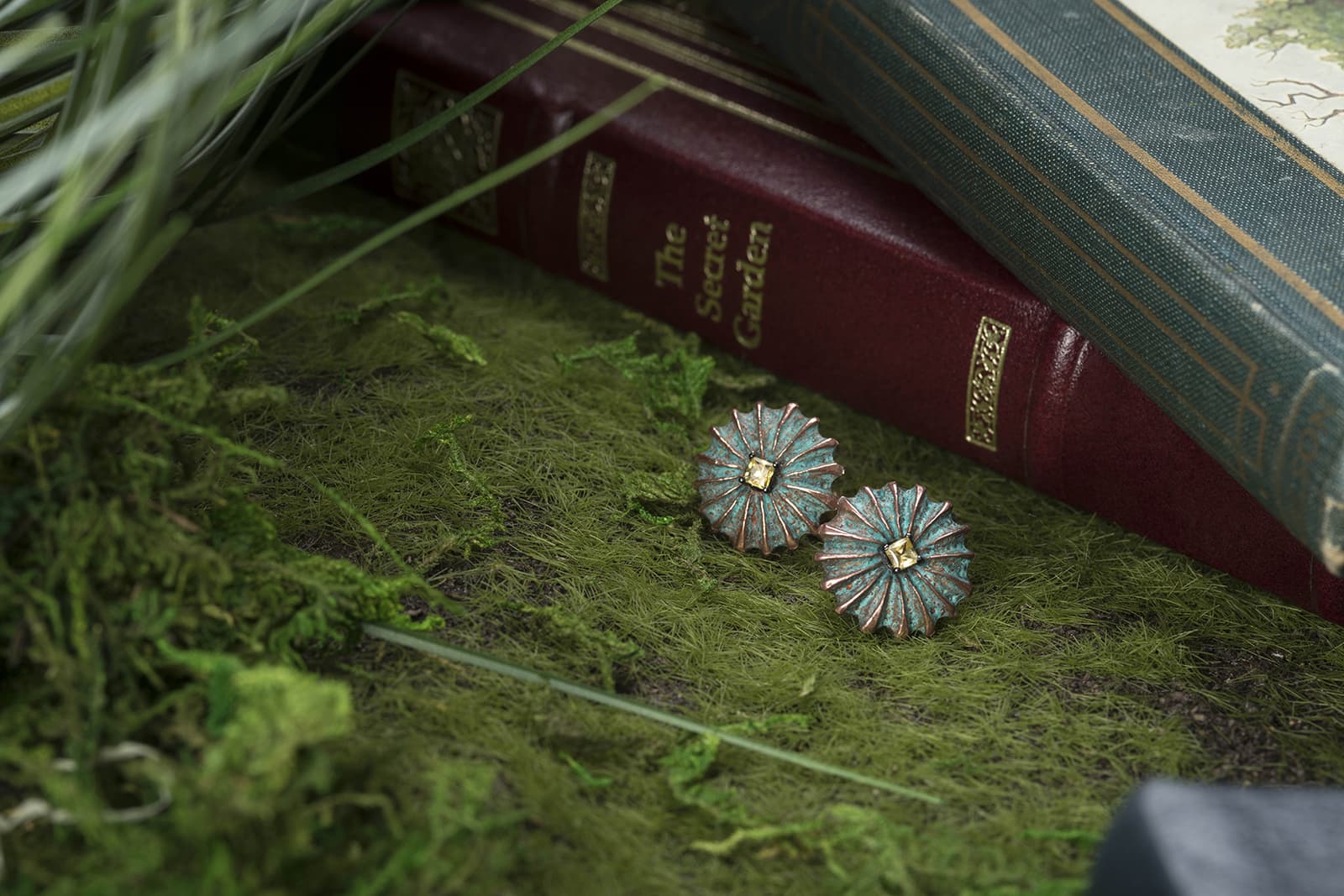 "I was a child who spent most of my time outdoors, creating magical fairy kingdoms from the leaves and branches I saw around me. It is no wonder that the influence of the great, Romantic dreamers captured my imagination. Great landscape architects like Capability Brown sought to recreate the English countryside within the garden. For me, this collection is an interpretation of an imaginary garden in a miniature, wearable form," confided the designer herself.
Tessa also drew inspiration from the landscaped gardens of William Kent, the exotic animals of George Stubbs and Jacques Laurent Agass, as well as elements from the literary work of William Shakespeare, Philip Pullman, Lewis Carroll and Francis Hodgson Burnett. 'Once Upon a Time in My Secret Garden' represents a truly unique stylistic decision which echoes the central qualities of the aforementioned 18th century English landscape architecture: a symphonic restraint in styling and form that encompasses all of the elements of the design.
It is noteworthy that the statement and most detailed jewels are all one-of-a-kind. Among them, we find the 'Midsummer' ring that takes the form of a blooming flower with yellow sapphire at its heart; 'In the Greenhouse' drop earrings shaped as leaves with yellow citrine; and the large 'Canopy' studs adorned with a yellow agate. Despite the exclusivity of these unique pieces, they are surprisingly affordable at only a few thousand pounds.
A strong supporter of the 'made in Britain' initiative, Tessa Packard produces all of her jewellery by hand in UK based workshops, and this collection is no exception. As of May 2019, 'Once Upon a Time in My Secret Garden' will be available for purchase online.