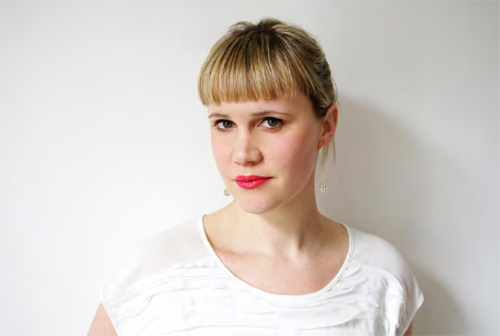 Melanie Georgacopoulos, today's answer to the redefinition of classic pearl jewellery, spoke to me about her work and her company which she set up in 2010.
"The philosophy of the brand in general," she tells me, "is to reinvent pearl jewellery and to show that pearl really is a stone which can be worn not only at weddings or by women of a certain age. It's now time to move on from just having twin sets."
"I want to put a little bit more life into pearls and make younger women wear them. I believe there is a distinct lack of pearls nowadays so I want to explore the designs of the future. At the moment they just make everyone think of Coco Chanel!"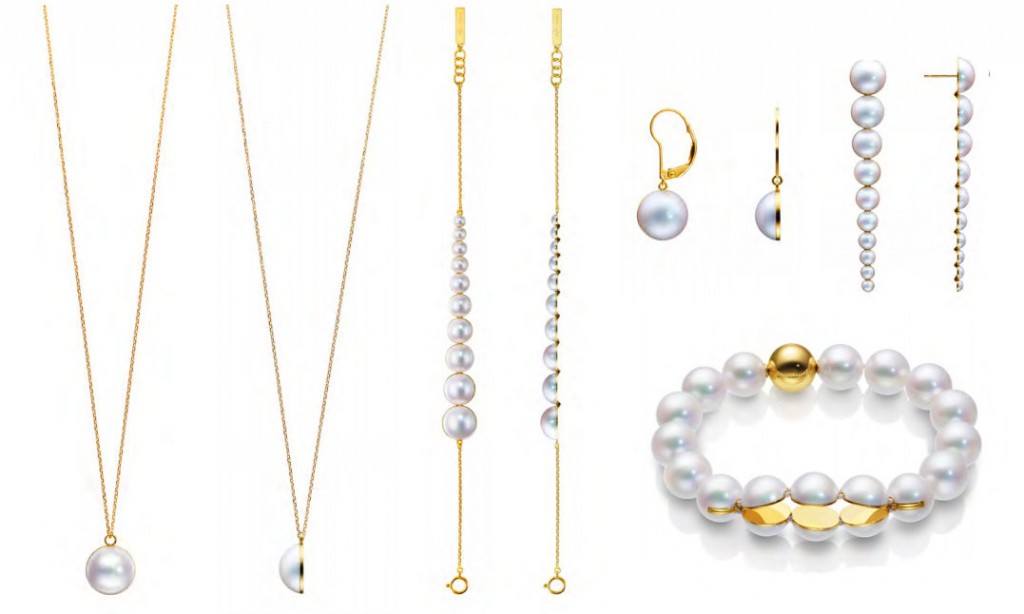 Melanie Georgacopoulos for Tasaki. 18K Yellow Gold and Cultured Pearls
I asked Melanie where her fascination with pearls comes from: "I started working with pearls out of curiosity while I was studying at the Royal College of Art. One day I sliced a pearl in half to see what was on the inside. Simple curiosity quickly developed into a deep fascination with the pearl as a material as well as a carrier of so many symbolisms. There is this aura around pearls which I love and I am still trying to understand it through my work."
Pearls are not just material the designer works with, they are of something sentimental for Melanie as her grandmother wore a pearl necklace every day and that must have been embedded at the back of Melanie's mind when she started working with pearls.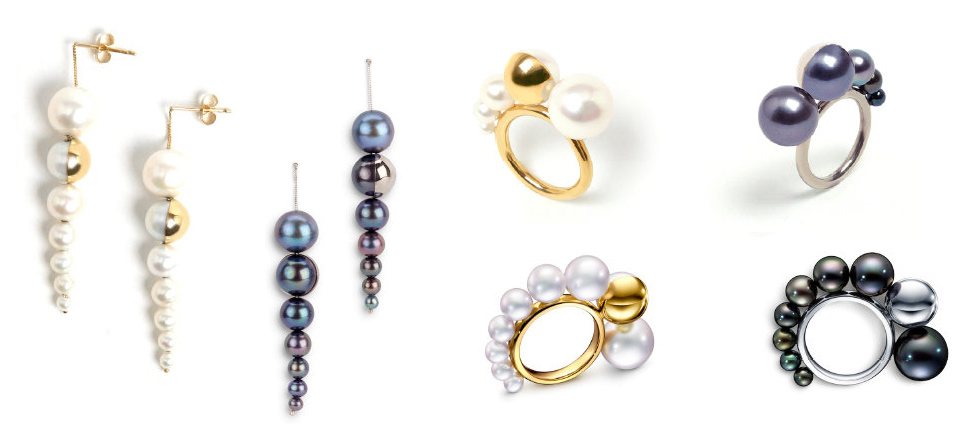 Melanie Georgacopoulos for Tasaki. Shell collection
Melanie usually develops two lines at once: her own jewellery collection M/G and a collaboration collection. This is the third season that the designer is working with a Japanese fine jewellery company called Tasaki that celebrates its Diamond Jubilee in 2014. The designer was particularly inspired to create a group of collections reflecting the history of Tasaki through its 60 year existence. She has created a collection that consists of several "capsule" collections because that's how the Japanese like to work. Clients are offered a taste of the pearl jewellery from different angles to give them a flavour of the various designs and prices.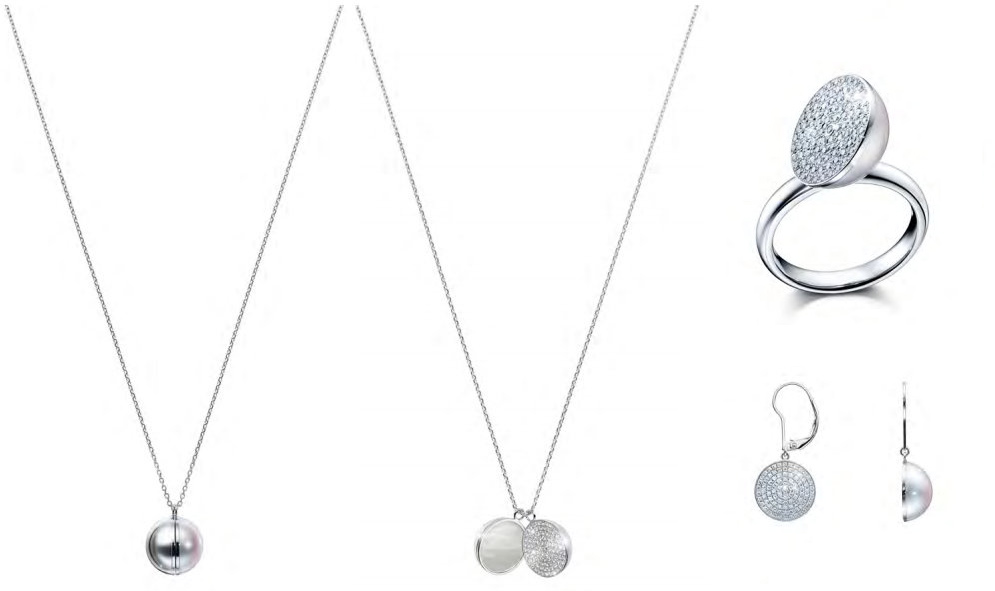 Melanie Georgacopoulos for Tasaki. Diamond Sliced collection for Tasaki's diamond jubilee
"Working with Tasaki is a great honour," she says, "because it's the second biggest company in Japan which is associated with pearls and fine jewellery. The Japanese are so closely connected with their pearls and they allowed me to design a collection. The DNA of Tasaki is quite similar and it feeds back into my work, but I still see the difference between the two brands."
Melanie works with cultured freshwater pearls which are sourced from Hong Kong. In fact, in one of the collections, the hollow pearls are drilled so many times with holes of different sizes that the interior comes out in the form of dust. These pearls are very, very light but still quite strong because there are two layers that hold everything together.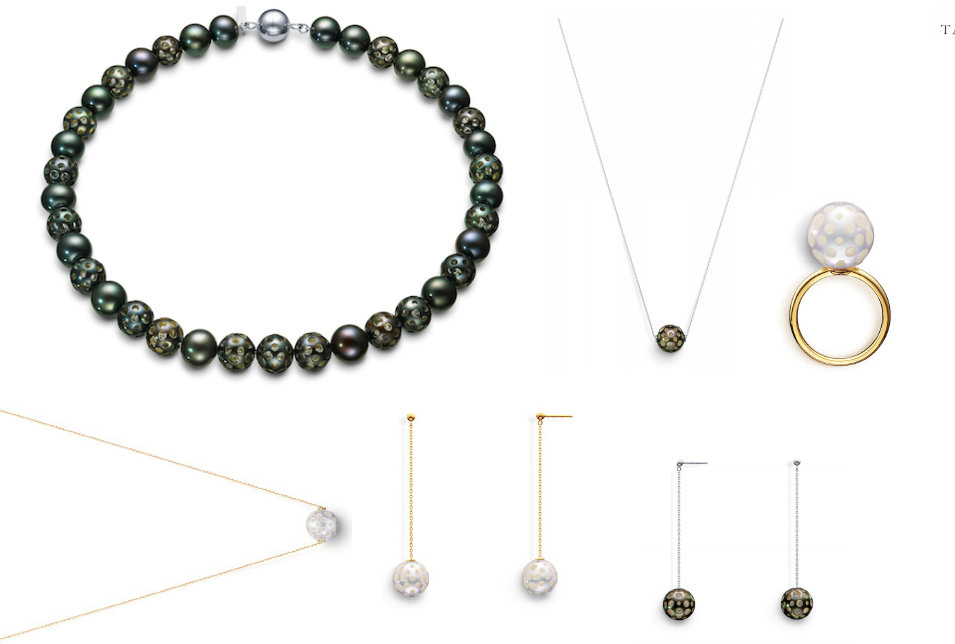 Drilled pearl collection
It's clear that Melanie puts a lot of thought into making her work appeal to a larger audience. "There quite a gap between fine jewellery and fashion jewellery which uses fine materials such as pearls, gold and diamonds, but with a fashion mentality. I play with different shapes and try to approach a fairly young audience who like all the classics, who want something different but still want to invest in a piece. This is what I've been exploring with Tasaki, but it's also what I've been exploring by myself." KP