If you love jewellery with pearls, you are probably already familiar with the name Melanie Georgacopoulos. Jewellery using this rare marine minerals in the most unexpected forms is her strong point. What hasn't she done with them? Cut them in half? Emptied their core? But this time she has decided to go ahead and use not pearls but mother-of-pearl. This mineral is formed on the inner layer of marine mollusks as well as on the outer coating of pearls.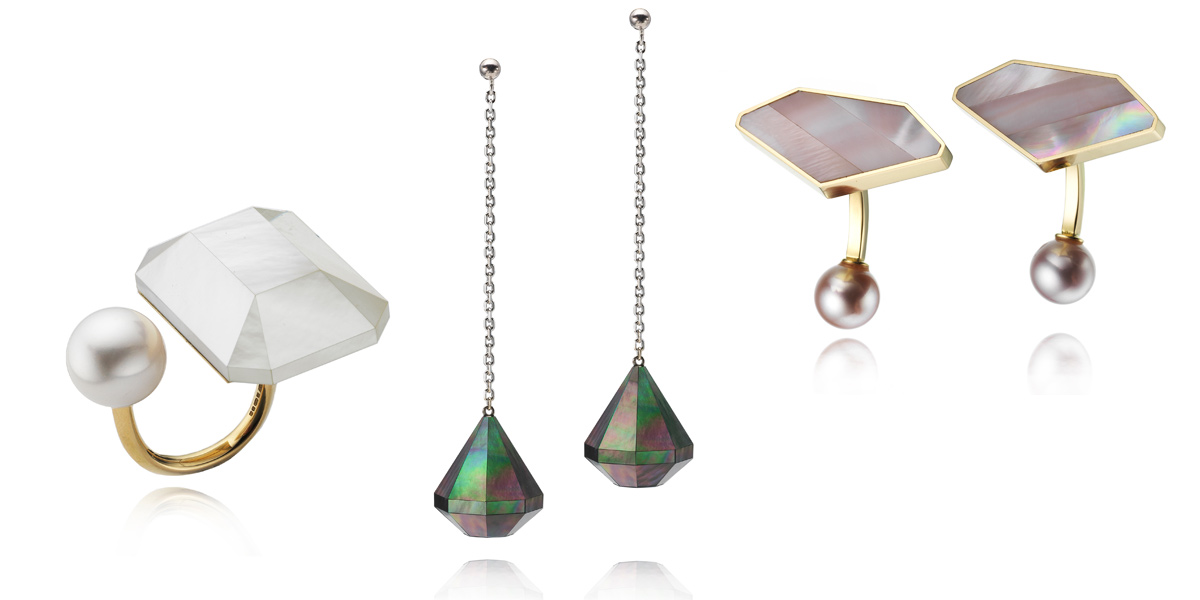 This strong, iridescent material has been used for thousands of years, mainly to create the inlay effect. Examples of this can be found in jewelled and conventional items from around the world, as well as countries in Asia, the Middle East, China and Europe. These include domestic items such as the handles of cutlery, buttons, game pieces, and so on and so forth.
Mother-of-pearls is a material used much more frequently than pearl, but it has not achieved the same popularity. In the Mop Shell collection, Melanie Georgacopoulos has decided to unleash mother-of-pearl to its full potential, highlighting its diverse and rich colour palette. The jewels are made of soft pink, golden, and dark blue pieces of shimmering mother-of-pearl on white and yellow 18K gold.
Either in jest of in paying homage to gemstones, or even in emphasis of the equal importance and value of this natural gift, Melanie recreates the voluminous and perfect forms of diamonds and emeralds from the flat surface of mother-of-pear. They decorate pendants, bangles, long earrings, studs, and two-finger rings. And Melanie doesn't forget about men, making them several cufflinks.
Despite the minimalism of the designs, the duet between the form and the material achieves a strikingly unusual finish. Hasn't Melanie outdone herself (again) in the new Mop Shell collection?