The first works of Oscar Claude Monet, the creator of Impressionism, were, to put it mildly, poorly received by critics. His unusual manner of applying paint to canvas, the fusion of man with nature and the depiction of the movement of air – all of this was new and incomprehensible. With the passage of time, everything has settled in its rightful place: the works of Claude Monet are now valuable exhibits in museums that inspire contemporary experimentalists to create new masterpieces. I have compiled the works of completely different jewellers who have embodied the basic principles of Impressionism using precious materials. These are unique creations, entirely different from each other, something I invite you to see for yourselves.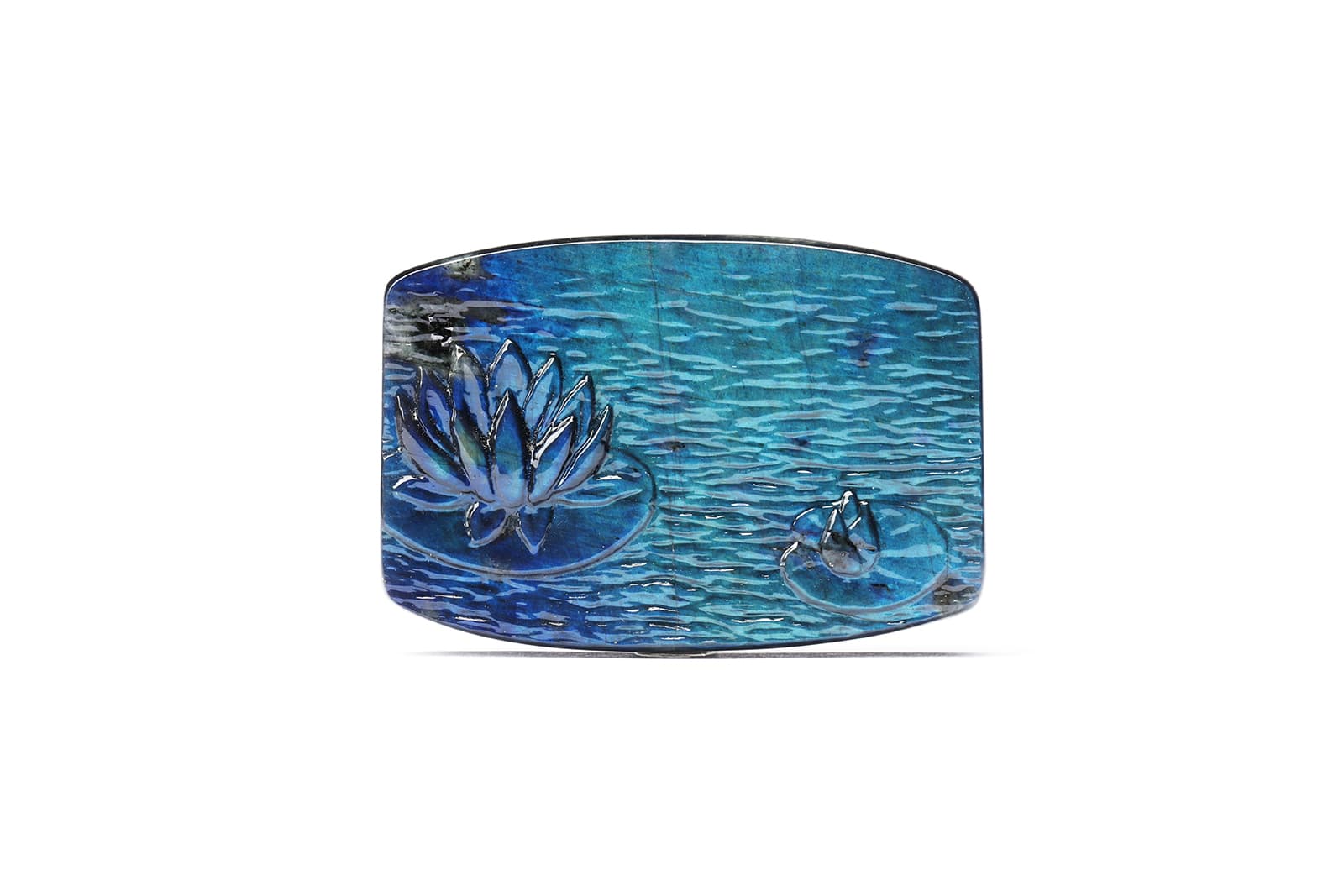 This Anna Hu necklace is inspired by a canvas from Claude Monet's Water Lilies series, painted during his late period in 1914. All his life, the artist observed landscapes created by nature itself and later, settling in Giverny, he created a pond of his own where he planted delightful water lilies so that he could capture them on his canvases. The Taiwanese jeweller also worked from scratch and by-hand to draw up a sketch of this necklace, which has been fashioned with gold, a 5.22-carat tanzanite cabochon, 11 sapphires weighing 41.5 carats in total, as well as tsavorites, morganites, alexandrites, Paraiba tourmalines, pastel-coloured sapphires and diamonds. A total of 1,590 stones with a total weight of 630.17 carats were used and the necklace took two years to make. Incidentally, it has never been put up for sale and is in the designer's personal collection.
In March 2015, the Buccellati family invited guests to their flagship boutique in New York to celebrate its opening and present a collection of five new impressionist and post-impressionist-inspired jewels. Claude Monet, Pierre Bonnard, Winslow Homer, Mikhail Larionov and Odilon Redon inspired Andrea and Lucrezia Buccellati to carry out this creative experiment. One of their creations, a pair of earrings that resemble raging waves, was inspired by Storm off the Belle-Ile Coast, painted by Claude Monet in 1886. As in the artist's painting, the light is captured by the honeycomb surface of the white gold earrings and then amplified by Paraiba tourmalines and diamonds. The sophisticated design, in keeping with the most traditional and charming style of Buccellati, encapsulates the power of the sea, the beauty of simple colour combinations and the perfection of nature.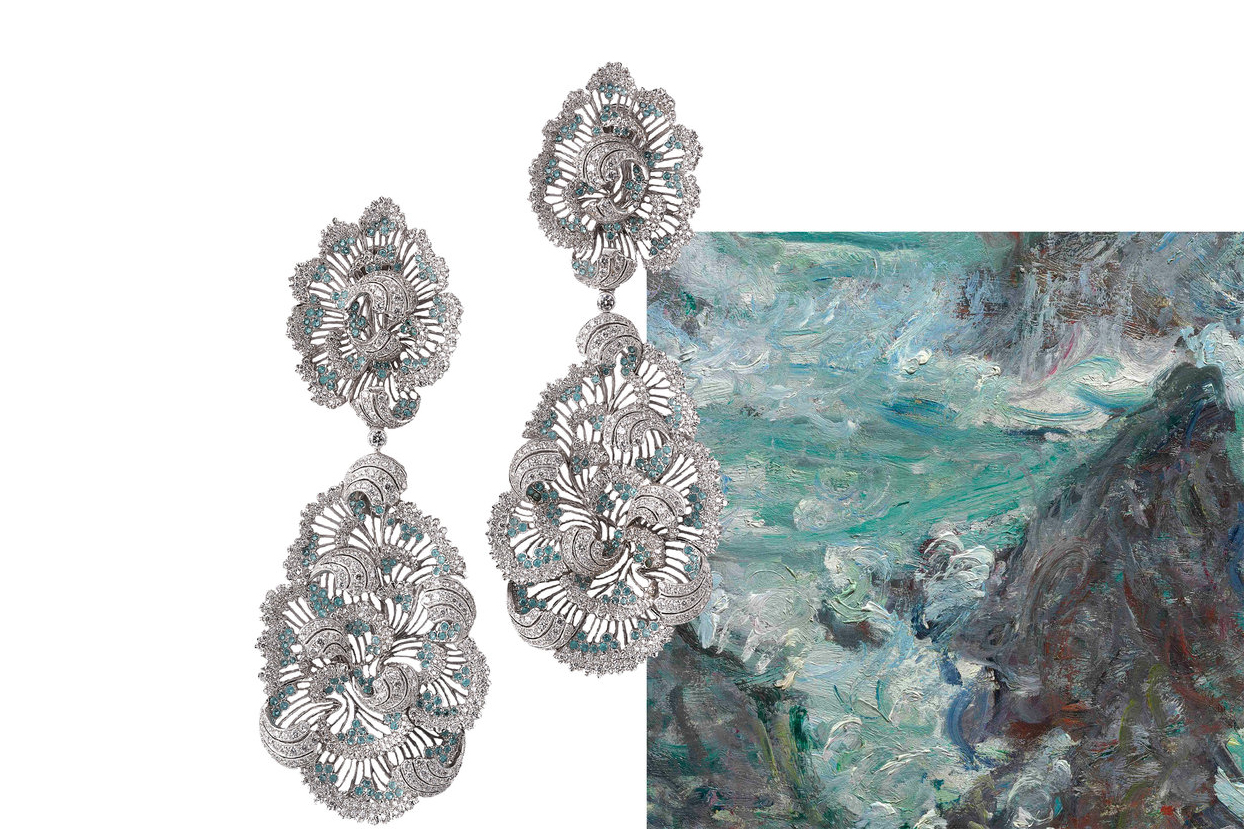 The late Frédéric Zaavy was an outstanding Parisian jeweller who took jewellery to the next level by combining exquisite colour combinations with the superb craftsmanship of a Parisian atelier. In 2005, together with Fabergé, he created a limited collection of high jewellery that also includes the Les Nymphéas cuff bracelet, a tribute to Claude Monet's Water Lilies. Its manufacture required silver, platinum, yellow and white gold, as well as thousands of precious stones of various sizes, fixed using the pavé technique. Fancy-colour diamonds weighing 11.93 carats are punctuated by rubies, aquamarines, amethysts, fire opals, moonstones, tsavorites, spinels, Paraiba tourmalines and sapphires of various colours to convey paint strokes on Zaavy's jewellery 'canvas'.
"Impressionism was a breath of fresh air in the visual arts. Everyone wanted to breathe this fresh air, including me. I wanted to plunge into it and learn how my consciousness can improvise nature in a new way," Ilgiz Fazulzyanov admits. Remaining faithful to his signature hot enamel technique, Ilgiz created five rings inspired by the paintings of Claude Monet. 'Water Lilies' and 'Irises by the Pond' are positioned around opals that imitate the surface of the pond as depicted by the artist. The fact that Ilgiz was originally trained as a painter explains his excellent sense of colour and his ability to perfectly combine different shades of gemstone and enamel in his works.
Award-winning designer Zeemou Zeng has released a new impressionist collection inspired by the works of Renoir, Seurat, Manet and of course Monet. He dedicated five pairs of earrings with beads made of opaque chalcedony, lapis lazuli, amethysts, aquamarines and aventurines to Monet, tempering them with faceted peridots obtained by the Fuli company. Zeemou Zeng chose gemstones for this collection that reflect the impressionist colour palette and created shapes and textures in white, rose and yellow gold with elaborate geometric precision. The 'cherry on the cake' is a trademark shared by all the pieces: a mechanism that allows stones to move and slide, an imitation of the movement of light, colour and texture which completes the picture.
Claude Monet's work has even touched the hearts of the stone carving specialists at Pauly Carvings. At their workshop, a collection of Old Masters jewellery was made that became a tribute to such master painters as Van Gogh, Klimt, Casper David Friedrich, Monet and many others. To decorate the stones, the craftsmen used the technique of recessed engraving and painting of rock crystal in the most modern way. The paintings or parts of them are engraved on rock crystal and then painted with gold, pigments and paints. The background is made of a thin opal plate. It is a rare craft, almost as rare as the materials used by the fifth generation of this family-owned company.
Remarkable creative and often challenging work is a great reminder of the artistry of art! Were you surprised by how these works – often based on the same paintings of water lilies – are completely different from each other? Imbued with the same concept, each bears their creator's signature and a unique vision of jewellery design.