Beauty and deep emotions always inspire jewellers that stay loyal to the naturalistic traditions and enable them to embody the symbols of winter in precious materials. Remember, for example, Chaumet's Lumières d'Eau high jewellery collaction, dedicated to water in all its forms. In it, creative director Claire Deve-Rakoff captured subtle springs, torrential rains, the mists of sunny lakes and unique frost beauties. An extensive line incorporating several kinds of necklaces, rings, bracelets and earrings was dedicated to the winter manifestations of water with one of the most extraordinary pieces being a secret watch, Stalactites, with features crafted from platinum and diamonds.
Jewellery house Boucheron has gone a step further this year and had dedicated an entire collection of unique pieces, L'Hiver Impérial, to the winter. The beauty of the northern women, the geometric harmony of snowflakes, frozen waterfalls, wild animals with frost-covered fur, snow-covered roofs – all are embodied in diamonds, pearls, mother-of-pearl and other gemstones.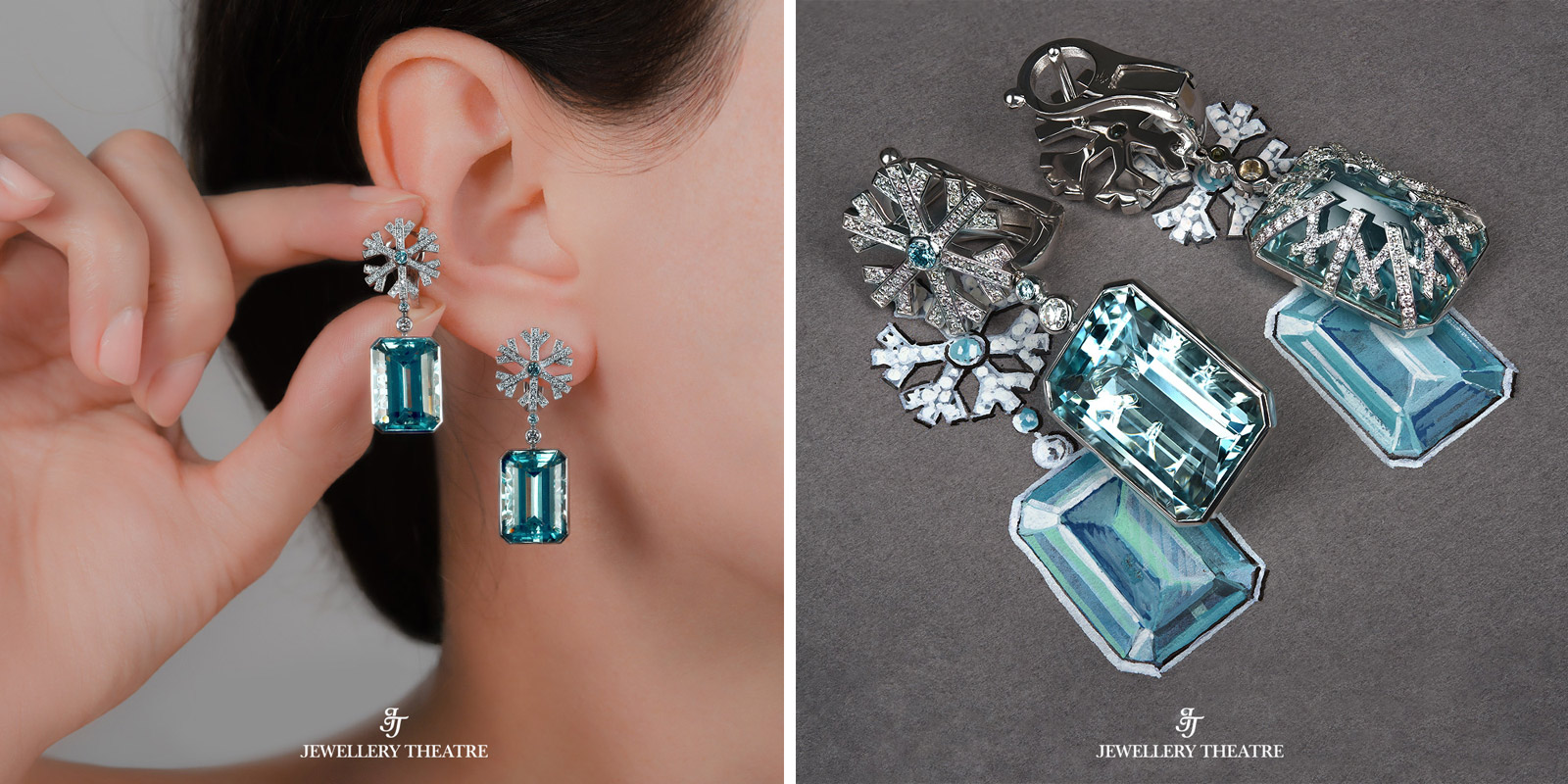 Nature has become an incredible source of inspiration for the jewellery designer Nadine Aysoy. In the Tsarina collection the frosty crystal becomes a symbol of the uniqueness and originality of every woman, since in nature there are no two identical snowflakes. At the base of the rings, pendants and earrings lies an ice star decorated in the centre either with a pink morganite, a deep blue topaz, a pink sapphire or some other gemstone framed with intricate diamond motifs.

And, most recently, the British designer Solange Azagury-Partridge release a new collection by the name of Supernature, which included a necklace, earrings and a ring in the form of streams of frozen water. The silhouette of white gold stalactites and specks of diamonds always ends with a teardrop-like colourless stone with a movable mount, strengthening the play of light in the piece as it moves.

The winter theme also drips through the works of the Russian enamel master Ilgiz Fazulzyanov, the jewelled watches decorated with snowflakes from the Swiss company Chopard, the works of French designer Lydia Courteille, and the famous American brand Tiffany&Co. And many, many others. Year after year, new jewelled interpretations of icy water and inhabitants of the North Pole make their appearance, so you can be sure: in 2018, the winter fairytale will continue.