I have already mentioned Julien a few times in my articles, which is hardly surprising given my affinity to his approach to jewellery design. Every collection by the young designer has embodied some kind of idea or hidden message shrouded in gold and diamonds. His work is very easy to wear, thanks to its ideally balanced decorative elements and their minimal number. I can say with confidence that concision and elegance are Julien's forté.
For as long as I have known him, I have never seen the designer use coloured precious stones to realise his jewellery concepts. His necklace and earrings made with emeralds and diamonds were something of an experiment and yet a total success! To strike a contrast with a glittering snow-white palette of colourless diamonds, Julien used three magnificent Colombian emeralds. Each of them are investment grade stones, particularly the 2 carat pear-cut emerald in the centre of the necklace. Its uniqueness lies not only in its possession of a flawless green colour, but also in its supreme natural beauty. This stone has not been subjected to any treatment whatsoever, not even a standard oiling to cover cracks because there are none, despite the fact that practically every natural emerald has an ample number of flaws on its surface.
When I tried on the earrings and necklace made of D-IF pear cut diamonds that had been conjoined into an elegant "thread", they appeared to me as sparkling drops of water rippling over my skin, skirting around my neck and trickling down from my earlobes. The frame of the white gold necklace was essentially weightless and very supple – it doesn't have a clasp. In nature, there is no such thing as ideal symmetry so Julien has made the earrings different lengths, removing two diamonds from the right-hand side.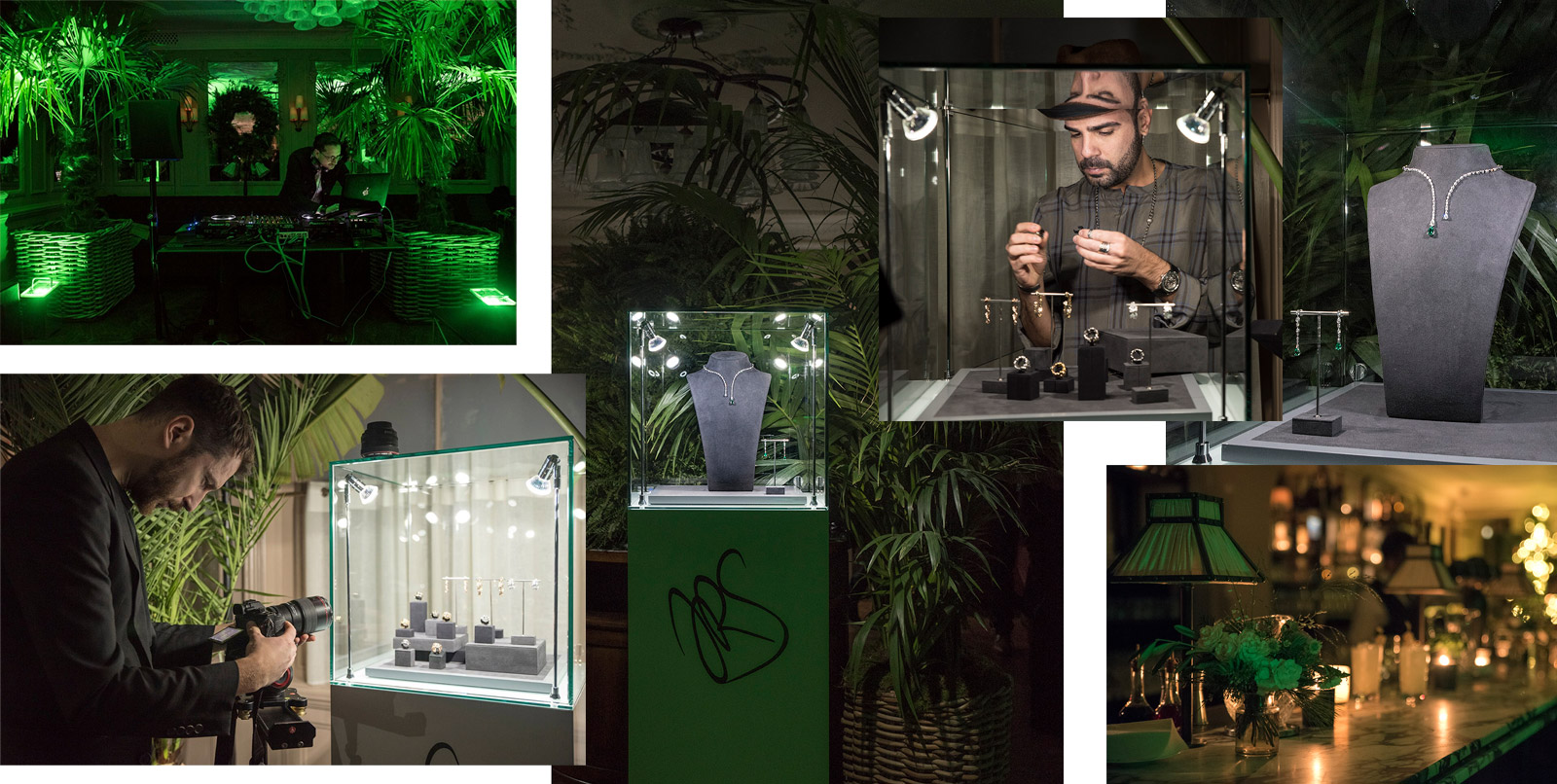 The necklace and earrings created the evening's whole atmosphere. The three adjacent rooms at Kettner's, where there was a bar and where the presentation of the jewellery was held, were illuminated by the emerald green colour and decorated with tropical plants to create a Colombian jungle. While the guests admired the jewels and drank champagne, the DJ played lounge music and dancers performed on podiums, stepping down to join the guests now and again. The atmosphere of a fashionable nightclub pervaded the entire event and that, once again, served as a testament to the fact that jewellery is not just for private dinner parties.
Some of those who had been invited had already seen Julien's debut collections, but the designer prepared several new pieces that even they hadn't seen. For example, he added ultra-delicate white and rose gold bracelets with textured finishes to his landmark Skin collection. These can be worn on the wrist either separately or together. He also created three new earring designs for his signature Star collection, two of them made in the shape of wide diamond hoops and the third – ear pendants.
Soon all of the brand new everyday pieces will be available to buy at the London showroom. Anyone wishing to order his high jewellery work needs to get in touch with Julien directly.