Nowadays Baselworld is an exhibition platform for a variety of brands from all over the world. People gather beneath the awnings of the many pavilions within the exhibition space to show off their new collections to everyone from potential buyers, press, collectors of jewellery and watches, to jewellery aficionados. Considering that 100,000 people visit the show, you can imagine the scale of it! This year, I am heading back to Basel to unearth some new discoveries from the world of jewellery. I am afraid it will take the whole of the allotted week to take in the work of display of just half of the participants. But, you know what they say: less is more. In this article, therefore, I have chosen some intriguing pieces which, in my opinion, are among the ones you just have to witness first-hand.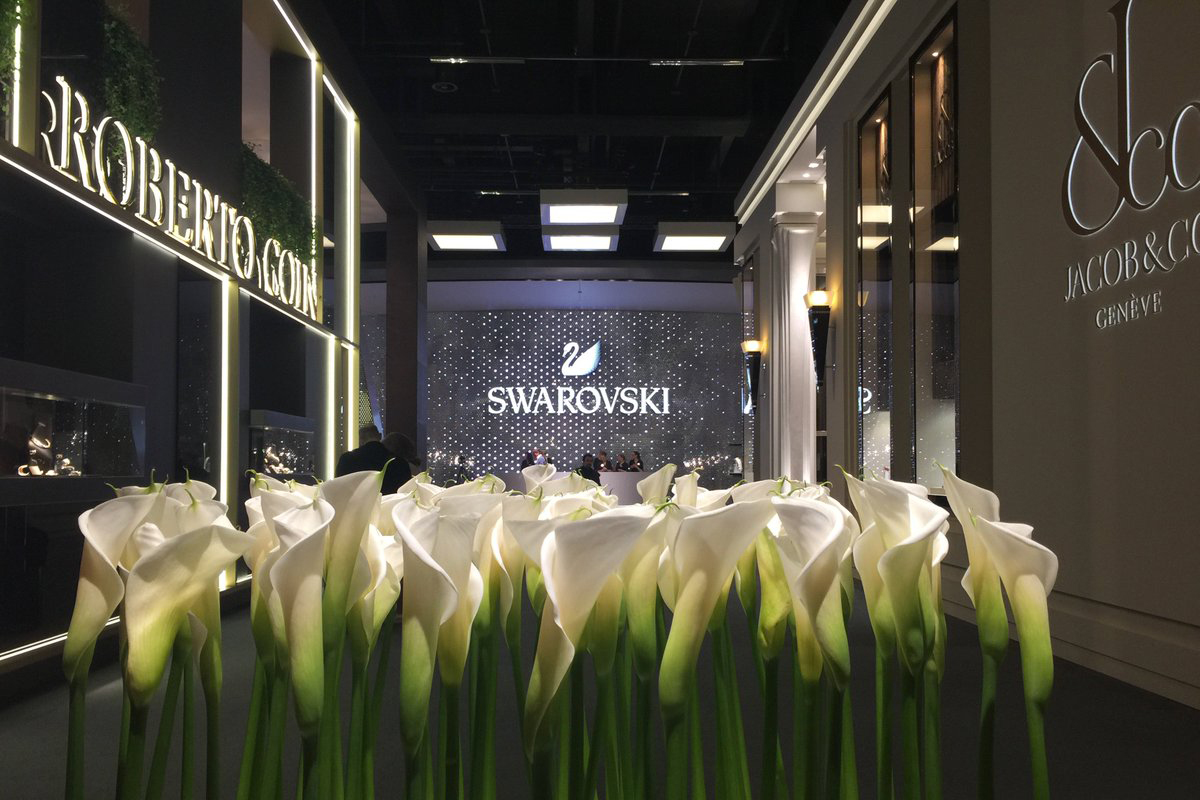 Ivy New York Hall 2.2 – G40
In 2013 Bayco unveiled a wonder-stone at the exhibition – an exquisite 206 cts Colombian emerald practically without any inclusions. This year the New York jewellery brand IVY is also going to present an exceptional Colombian emerald, albeit a little more modest: a 160 – carat cabochon stone gem.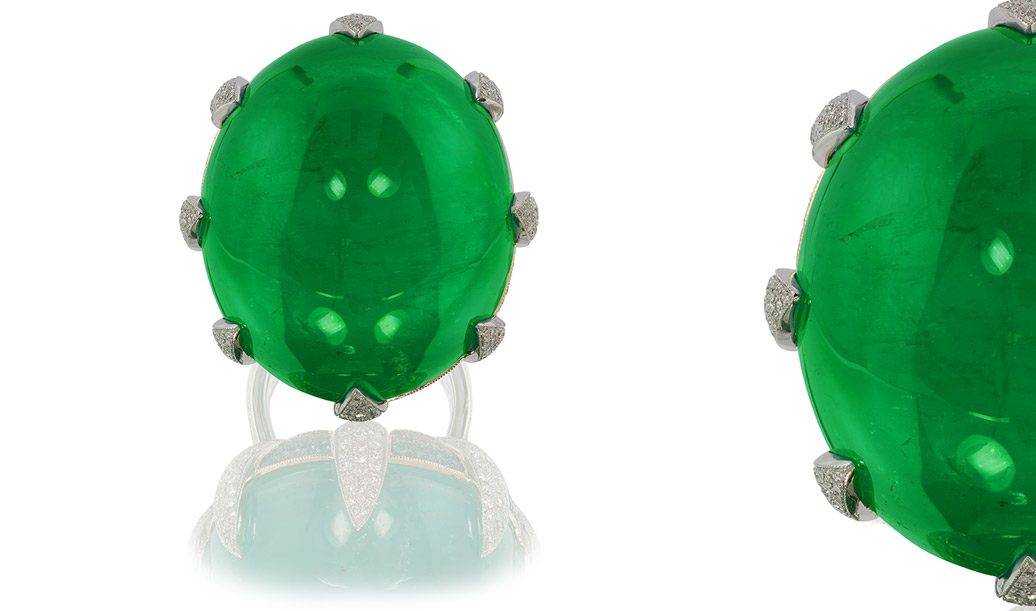 ---
Alessio Boschi Hall 2.2 – A53
You can also fall in love with the emeralds by Italian designer Alessio Boschi, who has produced an original set from Zambian and Colombian stones. Alessio's trademark when it comes to designing high-fashion jewellery are transformable pieces, which can be worn in any variation to equal effect. As the former art director of the brand AUTORE, which specialised in pearls, Alessio's love for these underwater treasures has only got stronger, and he often uses pearls in his pieces.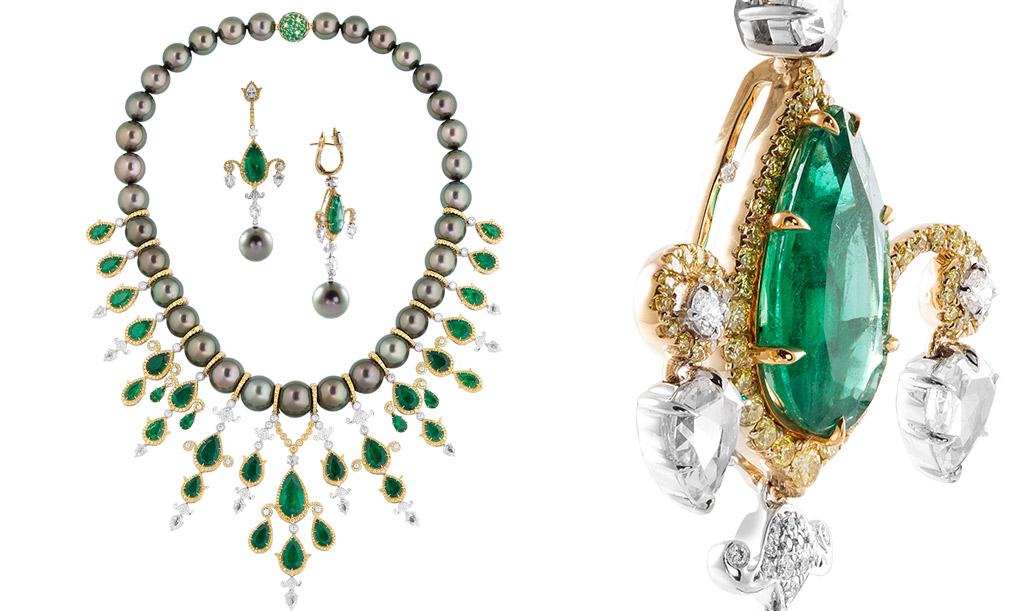 ---
Graff Hall 1.1 – D51
Another piece of transforming jewellery which I would like to focus on is a secret jewellery watch made by Graff. It can be worn either as a large brooch with two decorative elements which are linked by strings of diamond and sapphire threads, or as a brooch with one tassel or same brooch with no tassels at all. I think we can all agree that as soon as Graff began working outside the parameters of jewellery with diamonds, the design became instantly much more interesting.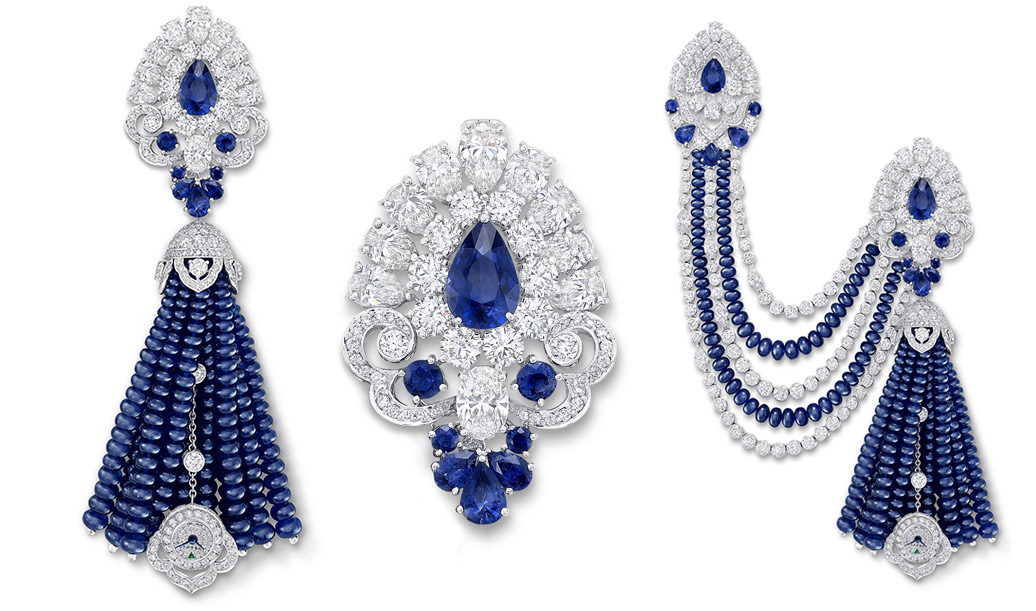 ---
Bayco Hall 1.1 – E09
If it is exclusively diamonds, sapphires, emeralds and rubies you want, then the New York brand Bayco are the ones who know their stuff. There is no walking past the Hadjibay family's salon without stopping at every window: light of the jewellery with flicker and sparkle at you from stones the like of which you have never seen before. If decide to go inside the salon, make sure you ask them to show you their necklace made with diamonds and a one-of-a-kind 55 – carat Burmese sapphire.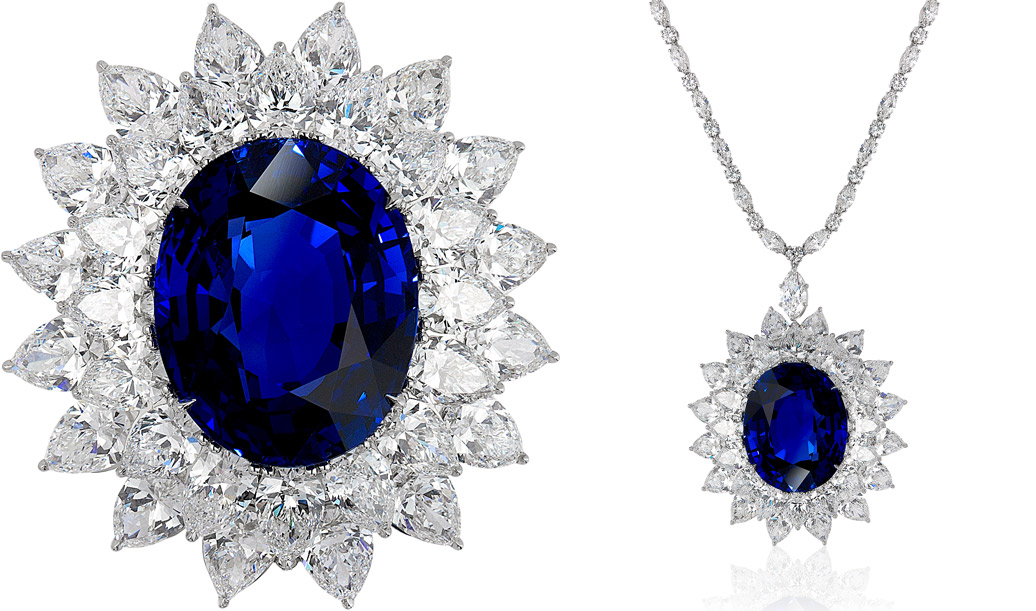 ---
Theodoros Hall 2.1 – M90
Anyone on the hunt for unusual design choices I would advise to head to Theodoros, the much loved jeweller from Greece, who is renowned for his unorthodox approach to working with gemstones. Theodoros will clearly set himself apart from many of the other exhibitors, mark my words. As an example of the work of this master, I would like to draw your attention to the long (and I mean long!) 'Bamboo' earrings with tourmalines. It is a pity that photograph cannot express how spectacular the earrings really are.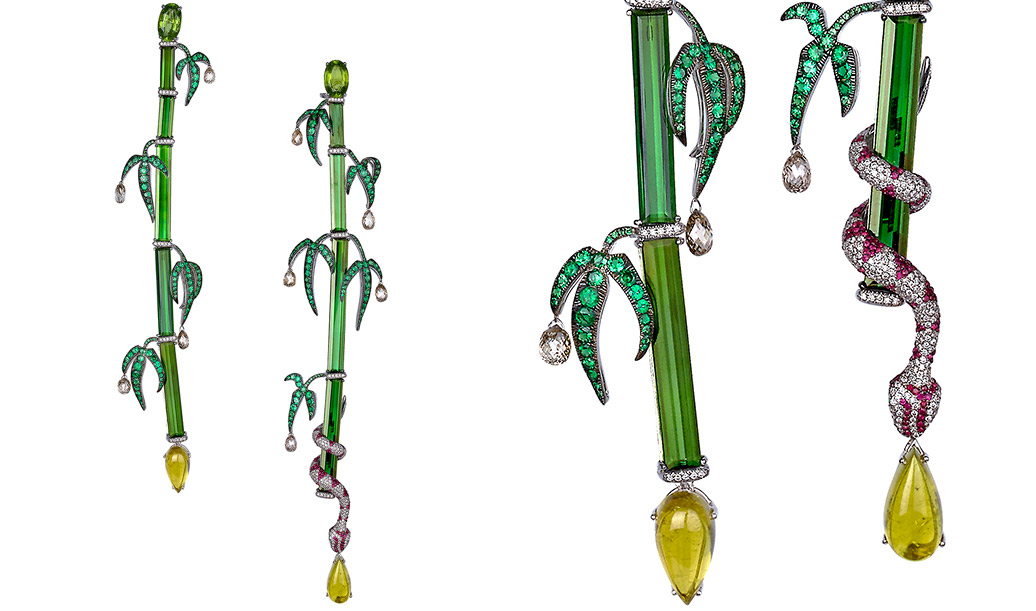 ---
Jewellery Theatre Hall 2.2 – F03
When people talk about fantasy design, one of the first names to come up is the Jewellery Theatre. At the JT they love working with brightly coloured stones and it seems they are not afraid of mixing different shades in unexpected ways. The result is always charming, such as this pendant, 'Kaleidoscope', made with multi-coloured diamonds, sapphires, rubies, spinels and tsavorites.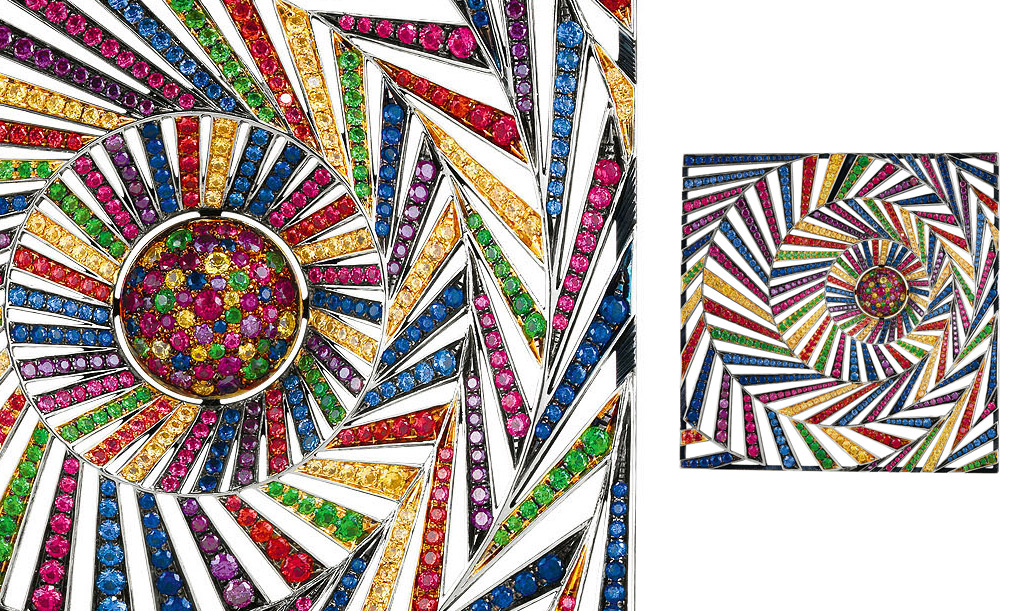 ---
Palmiero – Hall 2.2 – C05
What is the first thing that springs to mind when you hear the name Palmiero? Is it jewellery absolutely covered with precious stones by any chance? In order to vary their theme of brilliant, iridescent canvases, Palmiero have brought pieces to Basel which move in a different stylistic direction, for example, these new 'Peacock' earrings and ring with animals as the central motif.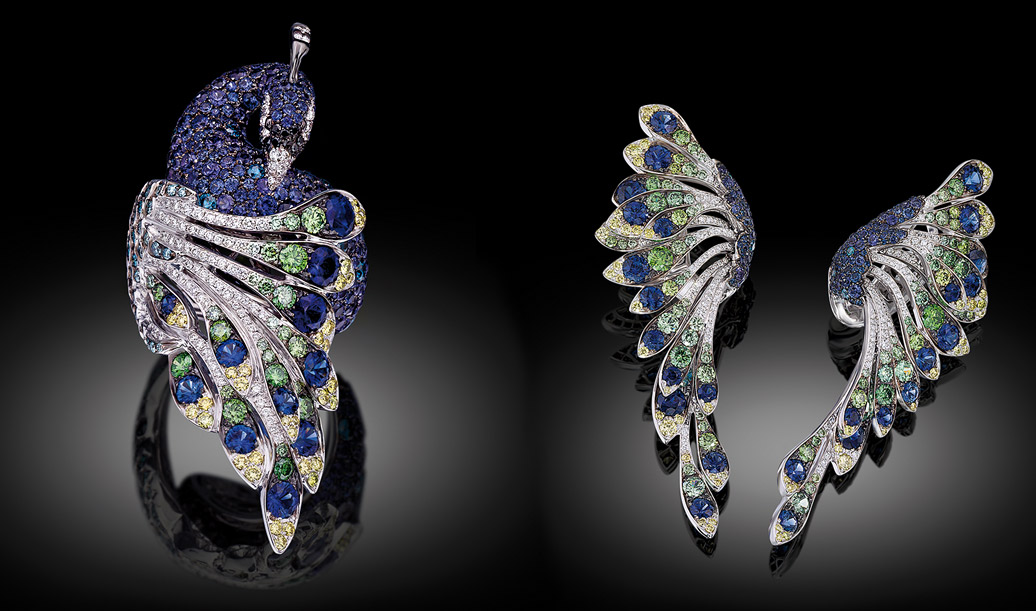 ---
Jacob&Co. – Hall 1.1. – B31
Both last year and the year before the work in the Jacob&Co Rare Touch collection has caused a furore at the exhibition. It resembles a piece of wardrobe rendered in jewellery: in 2013 it was gold gloves, and in 2014 they added a bolero vest. This year you will see an original collar: a grid of white gold and diamonds.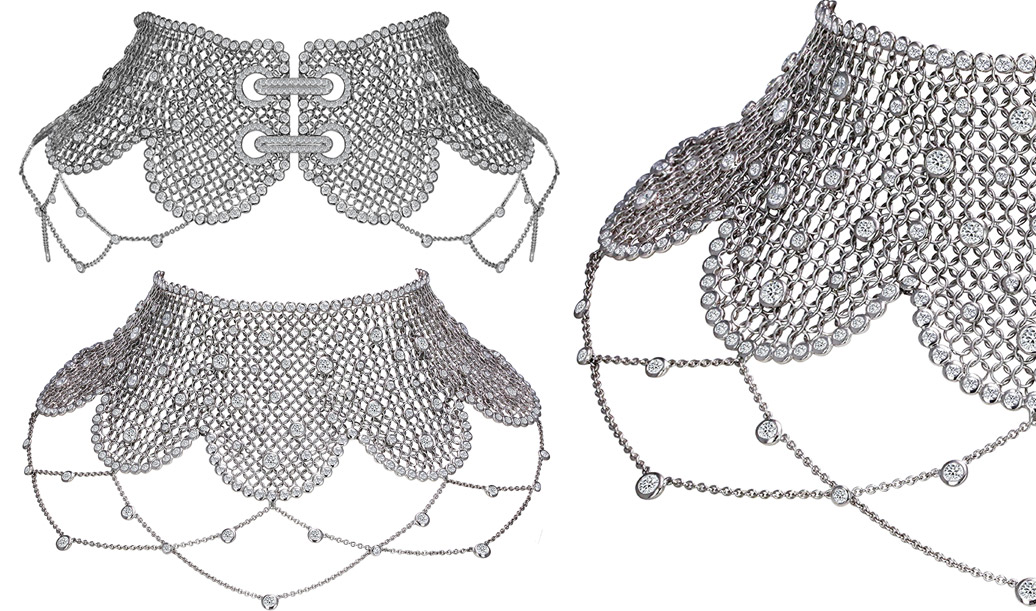 ---
All in all, I hope the jewellery I have included above will help fire your imagination a little bit ahead of the jewellery and watch exhibition of the year. See you in Basel!