Finding a 'secret' watch dial hidden behind a doorway of diamonds and gemstones never ceases to make me smile. There's something inspiring about the artistry of high jewellery watches, whether it's the miniaturisation of watch faces, the spectacular use of gems or the creativity associated with blending two concepts – time and decoration – into one cohesive design. As these pieces are often one-of-a-kind, they also demonstrate the core tenets of a brand's design ethos and often draw on its signature motifs, connecting the wearer to decades, if not centuries of a maison's experience. The high jewellery watches included here are so striking, I would probably spend every second, of every day, just staring at my wrist.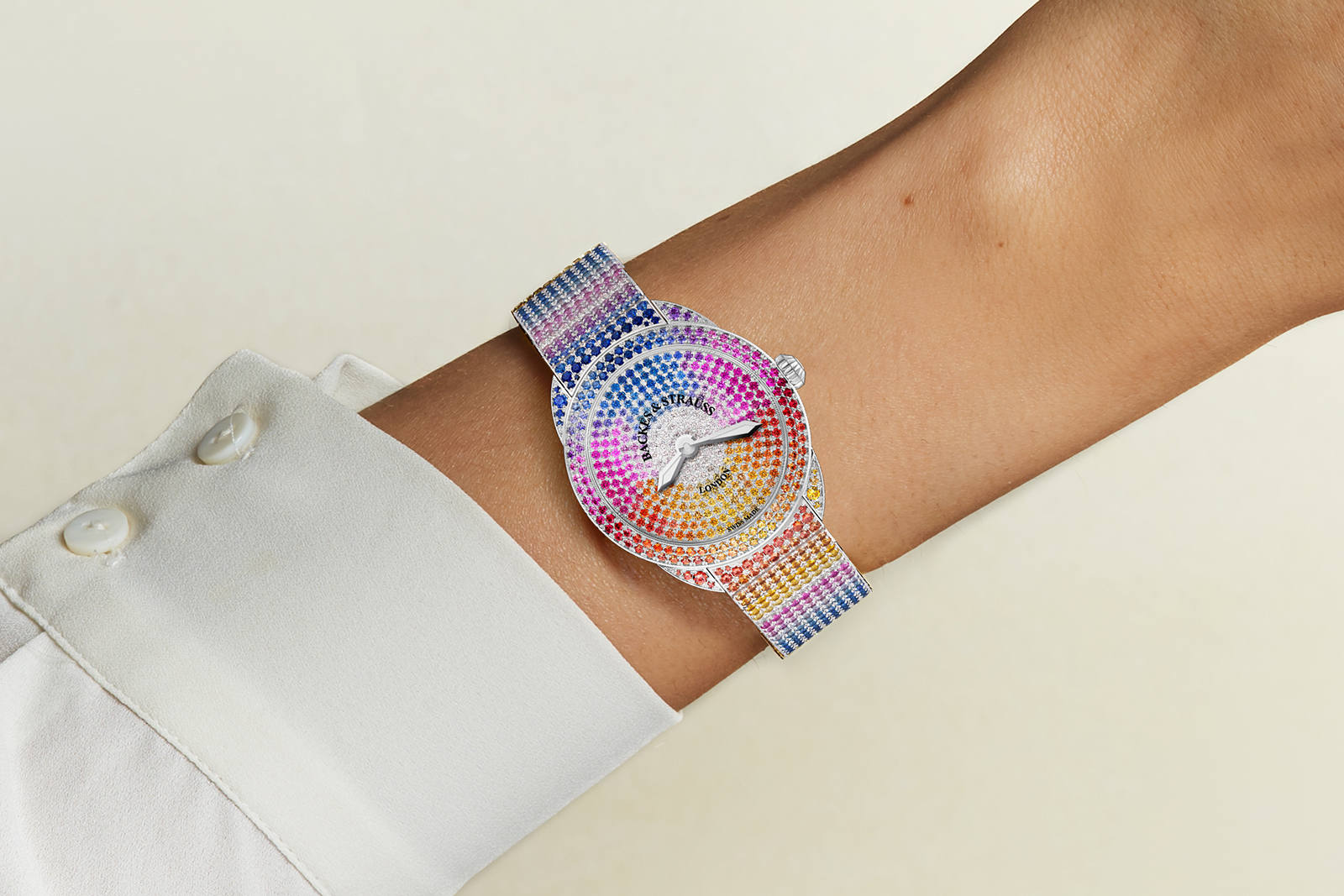 The belt buckle-inspired Ludo bracelet, first introduced in the 1930s, is something Van Cleef & Arpels connoisseurs will instantly recognise as a signature of the Maison. This year, the French Maison reinvented the style with a series of three secret high jewellery watches embellished with ornamental stones like coral, lapiz or chrysoprase. The Ludo watches are especially fascinating to me because of their construction: individual hexagonal 'links' are set with precious stones and combined together in a way that creates fluid movement. In keeping with the Maison's tradition of transformable pieces, these creations can be worn in a variety of ways: the motif with the dial can be replaced on the bracelet by a hexagonal mesh buckle set with precious stones, to create a new jewel. The rose can also be transformed into a clip or a pendant, threaded onto a long chain.
Continuing the story of the Perspectives de Chaumet High Jewellery collection, launched in July, is Ondulation: a new chapter filled with warm yellow gold, enamelling and coloured gemstones. This selection of pieces are inspired by architecture and as such are crafted with 'building blocks' of gold that appear to have been paved by hand and set with coloured gems. Of note is the Ondulation high jewellery timepiece – a yellow gold cuff bracelet with a miniature dial set with brilliant cut diamonds. One side of the bracelet is lined out with calibrated yellow sapphires that were hand cut one by one to perfectly fit the design. This watch is a real celebration of gold – one of the colours inevitably associated with Christmas.
You can certainly trust Graff to be indulgent with fancy colour diamonds. The design team received a rare collection of yellow gems and decided to channel their vibrancy into a new high jewellery watch. 14 cushion-cut yellow diamonds are set to surround a square, pavé yellow diamond set dial, which is overlayed with a transparent yellow material faceted to emulate the cut of the surrounding stones. All this colour is made to appear extra vivacious thanks to graduated rows of round white diamonds that in any other creation would be the star of the show.
The new Piaget Wings of Light Exquisite Moments secret watch represents the third and final chapter in the Wings of Light High Jewellery collection launched in 2020. It's designed to evoke a tropical paradise, with voluminous feathery wing-like shapes that wrap around the wrist and draw the eye to two fancy vivid yellow diamonds. The "Piaget Bird's plumage" is rendered in 87.23 carats of white diamonds – that's 491 marquise-cut diamonds in 69 different sizes to create a gradient, just like a bird's wing. The pavé diamond-set secret watch is hidden by one of the yellow diamonds; just slide it towards the centre of the wrist to reveal the timepiece beneath. According to Piaget, this timepiece required 800 hours of meticulous work by its master artisans.
Within the Piccadilly Renaissance Ballerina collection by Backes & Strauss is the Ballerina Jonquil – a high jewellery timepiece with a white-to-yellow colour gradient that flows like a wave up the bracelet to the dial. There are 1,301 diamonds with a total weight of 14.12 carats across the watch, which also features an open case back and a decorated mechanical movement. This is the timepiece of choice for those who like their high jewellery with a dose of horological expertise. Elsewhere in the same collection, there's the Piccadilly Renaissance Ballerina Rainbow with 233 white diamonds and 1,068 multi-colour sapphires totalling 18.95 carats.
A true original, Harry Winston's The Ultimate Kaleidoscope is a hybrid of a watch, fully-functioning kaleidoscope, art object and pendant that evokes the magic of childhood toys and continues the house's tradition of creating unique pieces, like its Broadway Glasses binoculars and New York Companion clutch. The Ultimate Kaleidoscope is a to-scale reproduction of an original piece in the Harry Winston archives, crafted in 18ct gold and decorated with 100 baguette-cut diamonds, white mother of pearl, blue and yellow sapphires, and Paraiba tourmalines. The timepiece is housed at the very top of the cylinder and is affixed with a handle that allows the piece to be worn around the neck. While far from being a traditional high jewellery timepiece, there's something wonderfully tactile about this that brings out my inner child!
The dream of owning a high jewellery timepiece is especially vivid in the winter months when we all need a precious pick-me-up to dazzle during family dinners and parties with friends. These fabulous examples are not the simplest way to tell the time, but they are the most luxurious for sure.