To approach a ring with a sculptor's eye is the specific talent of a handful of designers. The individuals I have selected here share the skill of creating streamlined rings with refined materials, often to elevate a hero gemstone, with the shapely proportions of a sculpture – a miniature work of art. This is not about maximalism in the traditional sense, with layers of coloured gemstones and an abundance of details, instead, it's scale and silhouette that looms large, just as a building would. Consider this delicate balance of minimalism and volume when browsing the pieces below.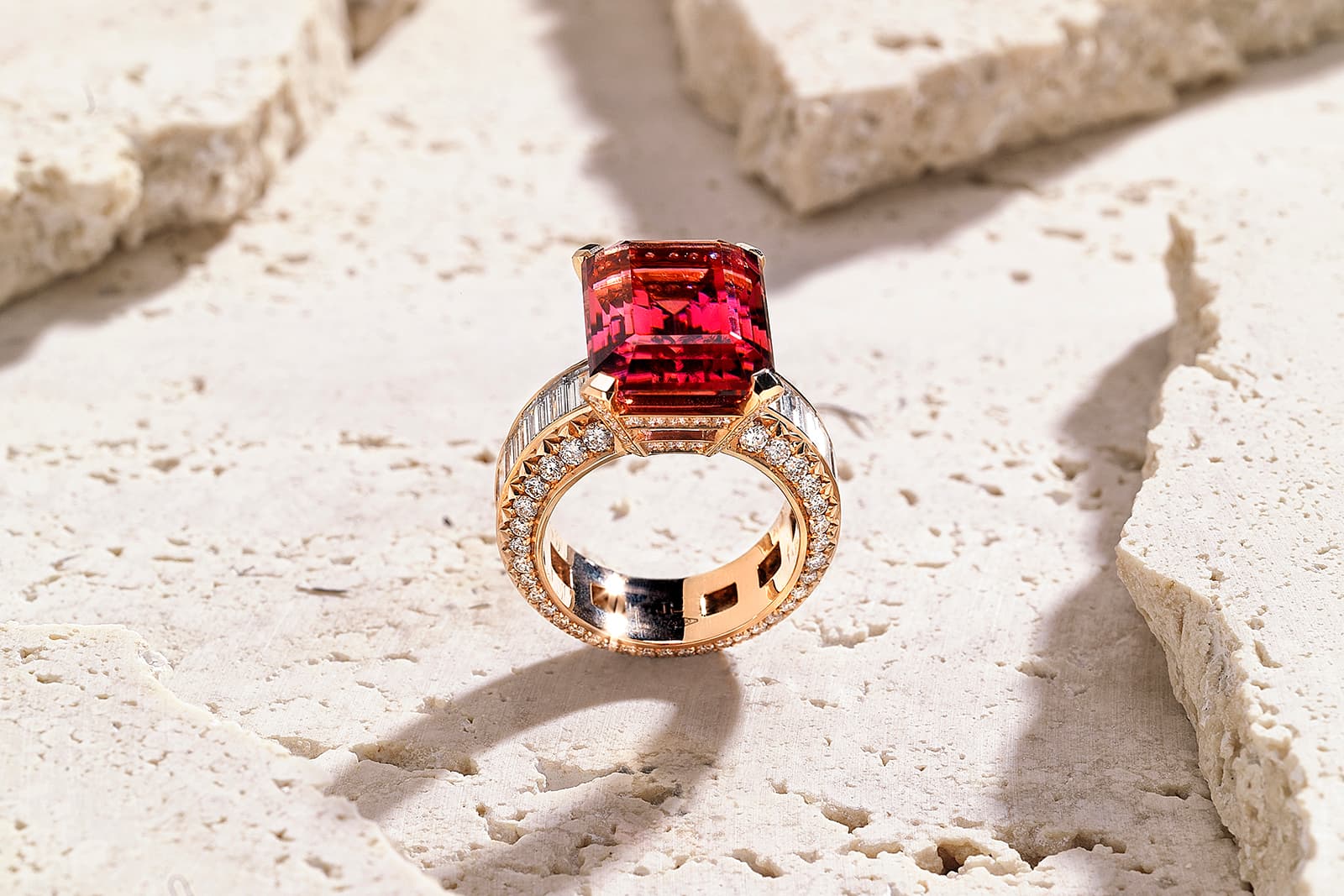 Parisian designer Amélie Viaene declares her sculptural sensibilities in her minimal Essentials collection, which demonstrates her design ideals in their purest form. Think shapely forms of gold – both organic and geometric in nature – with little else in the way of adornment or sparkle. The Ideal collection builds on this with the addition of coloured gemstones, some cabochons and others faceted, while the One Of A Kind and Celebration collections take this even further with diamonds and bold hunks of tourmaline, sapphire, dendritic opal, turquoise, and carnelian that are lifted high and given their moment in the spotlight. Amélie says she relies upon the "luxury of time" to complete each piece by-hand, something that is shared by the sculptors and architects who cannot be rushed in their pursuit of perfection.
The goal when setting gemstones is high jewellery is often focused on concealment, lest the designer reveals the magic behind the curtain. However, in the case of Belgian designer Jochen Leën, the setting is what creates the sculptural magic in his Quadripod rings, which have bright pops of coloured gemstones with four polished oval claws hovering above a thick band of gold. Then there's the Buggy and Space Eclipse rings, with smooth and shapely gold embedded with a coloured gemstone, and the Isalo ring that's almost mechanical in its construction, as if it's the missing part to a great, shiny machine.
"Initially I had a passion for sculpture, but over time this passion evolved into a love of architecture. Later, I felt drawn to fine plastics, which includes in my opinion, a combination of the two elements, both sculpture and architecture. This is how I came to making jewellery," says Georgy Sachakov of GERS Jewellery. The inspiration for his rings, which stand tall on the finger like a city skyline, comes from Michelangelo, Rodin, Antonio Gaudi, Frank Lloyd Wright, perhaps some of the greatest sculptors and architects of all time, as well as the shape of gemstones and what would give them the most opportune chance to shine. His works are crafted in gold, ebony wood and diamonds, with pearls, smooth cabochons, twisted and smooth shanks, each with a touch of 1920s flair.
French jeweller Philippe Guilhem uses a material that's long been the reserve of sculptors: bronze. Drawing inspiration from his great-great-grandmother, who was a sculptor in the late 19th century, Philippe pairs bronze with smooth layers of yellow and rose gold in his cocktail rings, each one topped with a statement gemstone or diamond with the most minimalistic of settings. The process that each of his pieces must go through to achieve the perfect finish is long and specialised, which makes the result deceptively simple in appearance. In some cases, his bronze rings are left to age with time, resulting in a natural patina or colour-speckled surface that is unique to the wearer and their lifestyle.
Also working with gold and bronze to great effect is Italian brand, Vhernier. I have always been especially drawn to its Tourbillion ring design, which appears as if a white gold ring has become permanently trapped within a rose gold ring and the two have fused together. Although the finished piece looks like a happy accident, it's clear a great deal of meticulous craftsmanship was required for its construction. Isabella Traglio, deputy general manager of Vhernier, says: "There is, in Vhernier jewellery, always this idea of creating 'the jewel that does not exist yet'. This reflects in our constant quest for the essence of the jewel: stripping back to reveal a profoundly noble natural design, instead of adding. And each time it is an exercise in balance, because cleaning does not mean trivializing: the design must by contrast excel, be memorable." Elsewhere, the brand applies its strikingly paired down aesthetic to rings with smooth jet inlays, bright turquoise, mother of pearl and rock crystal cabochons and a minimal smattering of diamonds, often set to follow the curves of gold that form the shanks. Traglio adds: "The ring is created around the stone, always with this idea in mind of pure lines, sophisticated volumes, and the luxury of understatement."
As is the case with so many art forms, here architecture, sculpture and jewellery design are perfectly intertwined. By pairing minimal embellishments with maximal sizes, volumes and proportions, these designers create rings that are miniature sculptures and, undoubtedly, fantastic conversation-starters.