Chunky yellow gold-hued jewellery has been spotted on catwalks for the last few seasons, and Spring/Summer 2020 is no exception. Though there are many methods of decorating gold itself - such as engraving, sandblasting and hammering - many jewellery brands celebrate gold in its simplest form, and use inventive design ideas to showcase this.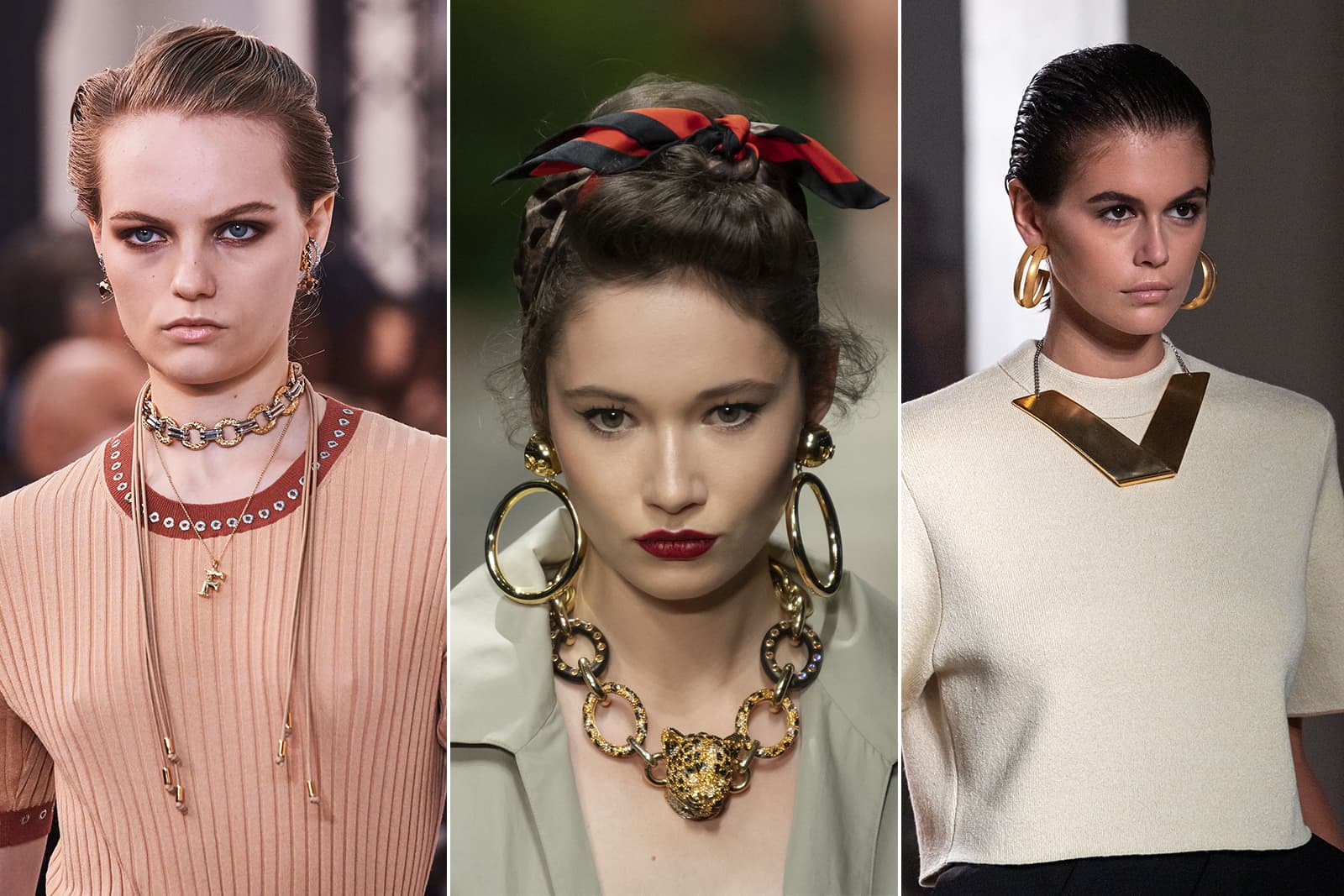 Tiffany & Co.'s City Hardwear collection showcases the beauty of gold through the use of industrial-looking chains that combine the subversive attitude inspired by New York City, and elegance of fine jewellery. Powerful, androgynous and unapologetically substantial, the collection is available in 18 karat yellow gold, as well as rose gold and sterling silver. Further inspiration for the collection came from a unisex bracelet in the company's archives from 1971.
For many, Italy is considered the epicentre of gold craftsmanship, and none are more well-known than Bulgari. The Italian maison's Tubogas line is one of its most iconic, with a timeless appeal which defies the ebb and flow of jewellery trends. Tubogas is a method of creating flexible bands without soldering that Bulgari has used since the 1940s, when it created its earliest Serpenti watch.
Having first opened in Piedmont, Italy in 1984 as a goldsmith's workshop, Vhernier has continued to specialise in contemporary, architectural gold designs. One of the brand's most famous jewels is the Sorpresa bracelet, which comes in a variety of sizes and styles but is essentially an articulated gold cuff, with gemstones hidden within the 'breaks' between panels of high-shine gold. The name of the bracelet translates to "surprise," and refers to the hidden pavé details that are not visible if these bracelets lie flat.
Another famous name in Italian gold jewellery is Pomellato, who have recently become a red carpet favourite with their unabashedly fun Tango collection. Though versions are available fully embellished in gemstones of all colours, the aesthetic which makes the Tango collection so recognisable is the classic gold oversized chain links. Founded in 1967, Maison Pomellato has come to represent profound goldsmith savoir-faire, and does so via its distinctive designs created in Pomellato's Milan atelier by over 100 artisans.
It's not only Italian brands who know how to create sensational gold-led jewellery designs. CADAR is the New-York based brand that made yellow gold the key feature of its designs and won the accolades 'Best in Gold' at COUTURE 2017, and 'Gold Design of the Year' in the inaugural Town & Country Magazine Jewelry Awards in 2018. One of CADAR's collections, Second Skin, was based on the idea that its founder Michal Kadar "wanted to have feathers that would feel real for me and fur that would look as though nature itself covered it in gold." With gold jewellery emulating python scales, tightly coiled strands of golden fur and delicate feathers, this collection proved the versatility of this precious material in fine jewellery.
Now, modern designers are forefronting this precious metal as an important material in its own right, many of whom appreciate the impact which voluminous gold jewellery can create, without need for any further embellishment.