Even a casual amount of Instagram stalking reveals the relationship between men and fine jewellery is changing. Famous male celebrities aren't just pictured on the red-carpet wearing rings by Cartier, brooches by Chopard or lapel pins by Chaumet. Instead, they're snapping pictures of themselves in relaxed jeans and t-shirts, adorned with layered pendants, bracelets, rings and earrings, and posting them to social media. I am most interested in this shift toward jewellery as a form of daily expression.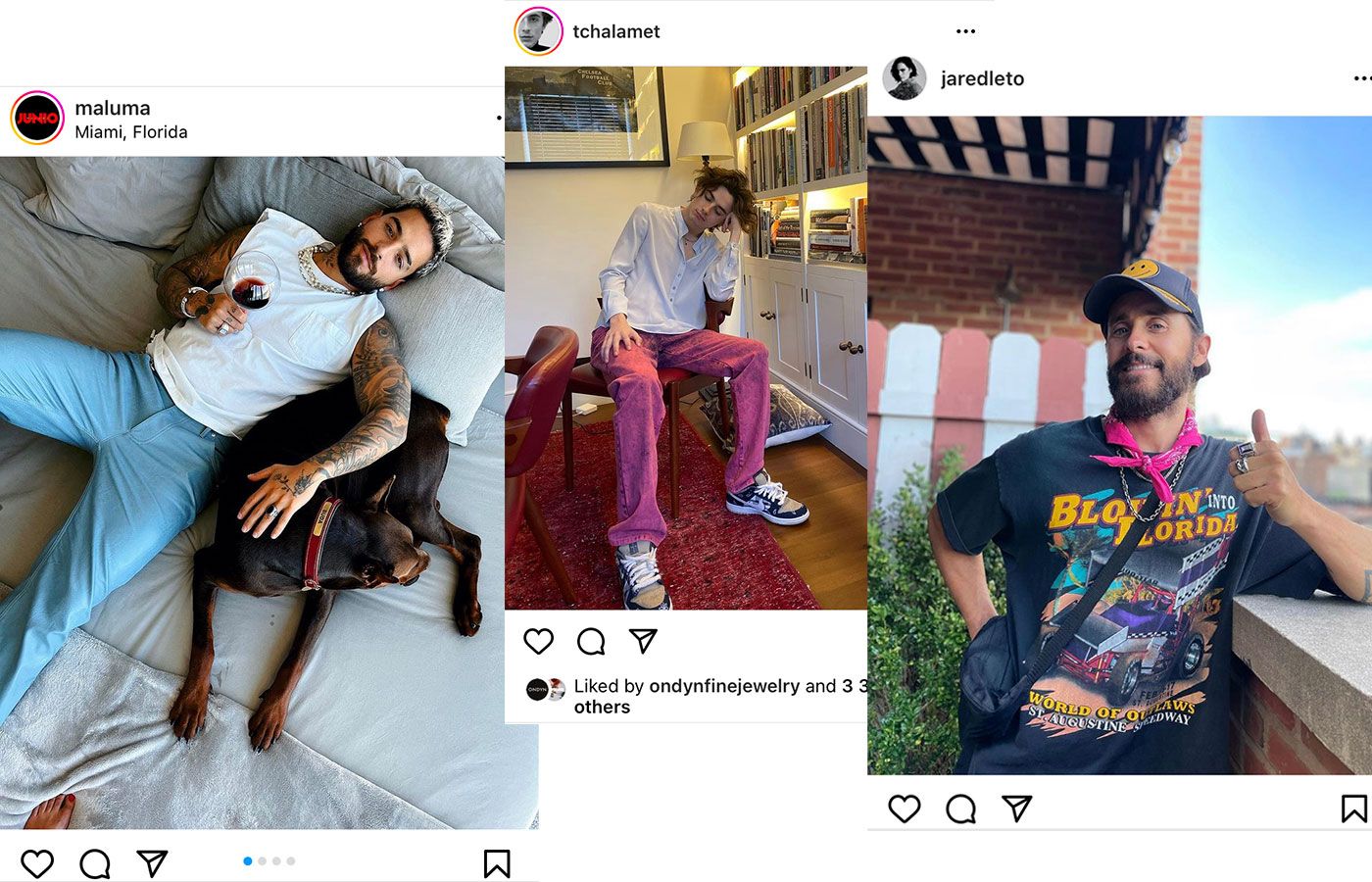 Women have appreciated for a long time that jewellery can be used to elevate every occasion, whether a black-tie event or a simple run to the coffee shop. It now appears that men are catching up! They're wearing jewellery in a way that feels effortless and relaxed, rather than staged and showy. Although I am sure there's the influence of a professional stylist somewhere in the mix, I doubt they are dressing their famous clients from morning 'till night. Male celebrities are choosing to finish their daily outfits with jewellery, which presents a new world of opportunities for brands, jewellery designers and commentators like myself.
If I had to pick an overarching trend for men's daily-wear jewellery, it would be power layering – a mismatched yet still harmonious array of pieces stacked together. There are parallels here with the 'neck mess' trend that has been so significant in women's jewellery and featured so prominently on men's catwalks. For example, look to the likes of Justin Bieber for combinations of feminine pearls and more masculine chains that sit tightly around the base of the neck, above the collarbones. Others, like Tasaki creative director Prabal Gurung, have worn necklaces more elegantly with sweeping layers of gold that cascade down the chest, often with an open shirt front or jacket.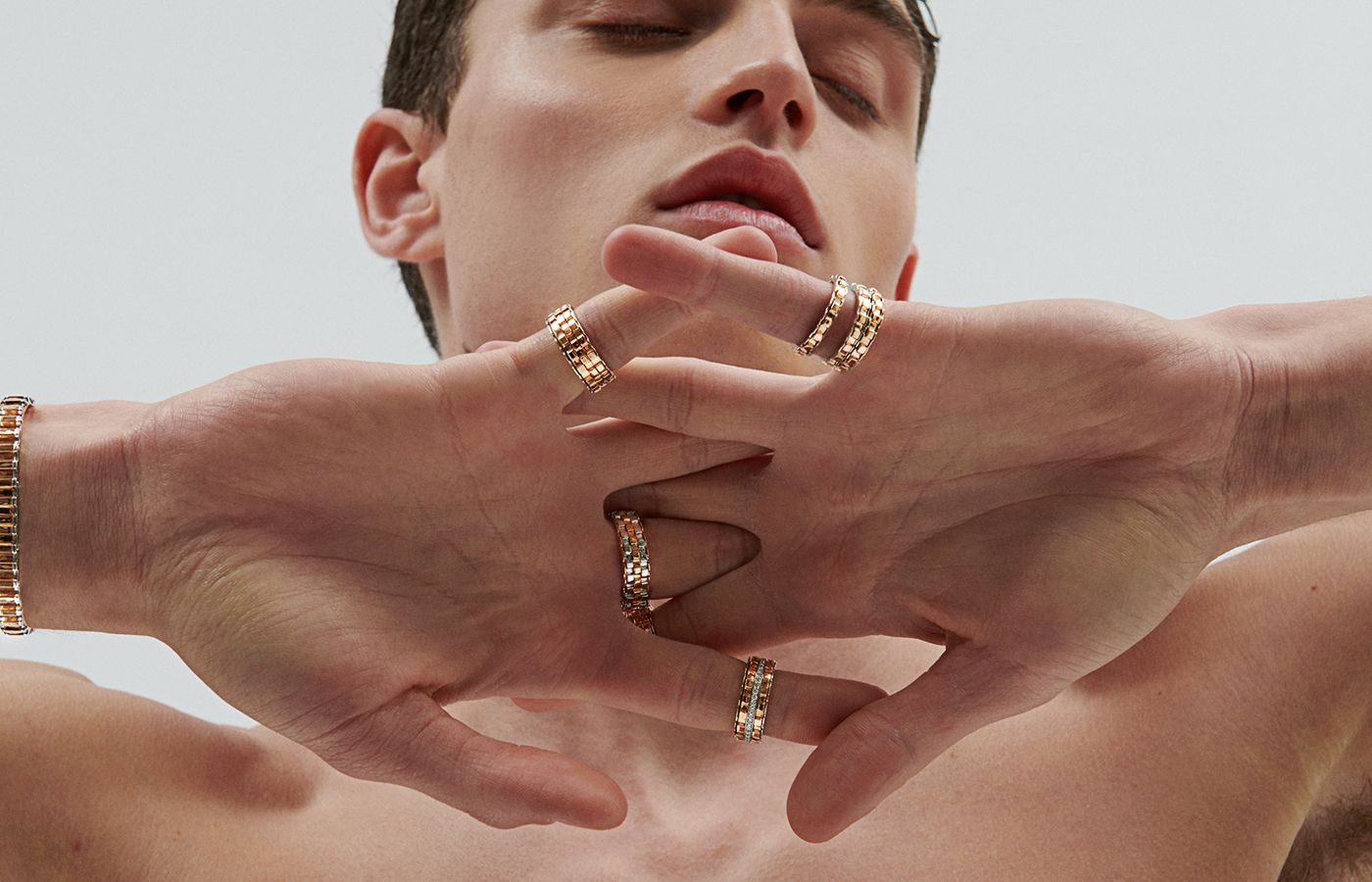 Some celebs have been synonymous with jewellery, especially actor Timothée Chalamet who is typically photographed wearing Cartier on the red carpet. However, in his 'real life' Instagram pictures, he's wearing stacks of beaded bracelets and pendant necklaces with comfortable confidence, almost as if he never takes them off. Perhaps that's the trick?! Stylish male celebrities are looking to make jewellery appear easy, effortless and ingrained as if pieces weren't plucked from a jewellery box but have been there all along; a part of them.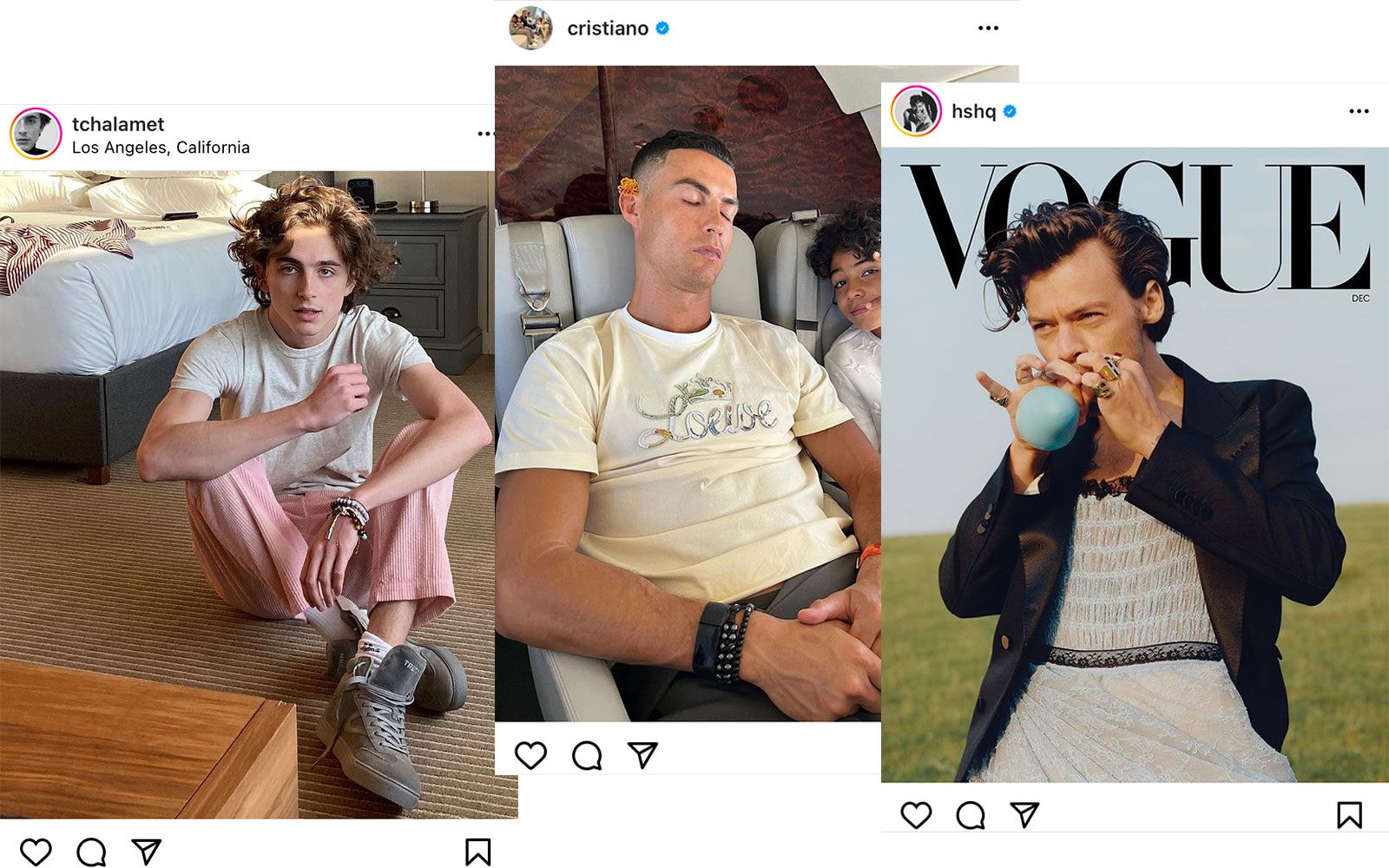 Despite having different aesthetics, singer Harry Styles and footballer Cristiano Ronaldo are great examples of this jewellery ease. Their stacked rings and darkly coloured jewellery, respectively, feel like a natural accompaniment to their personalities, professions, temperaments… it's a hard thing to define! The point is that it doesn't feel forced, and that would be my advice to anyone feeling inspired to update their style.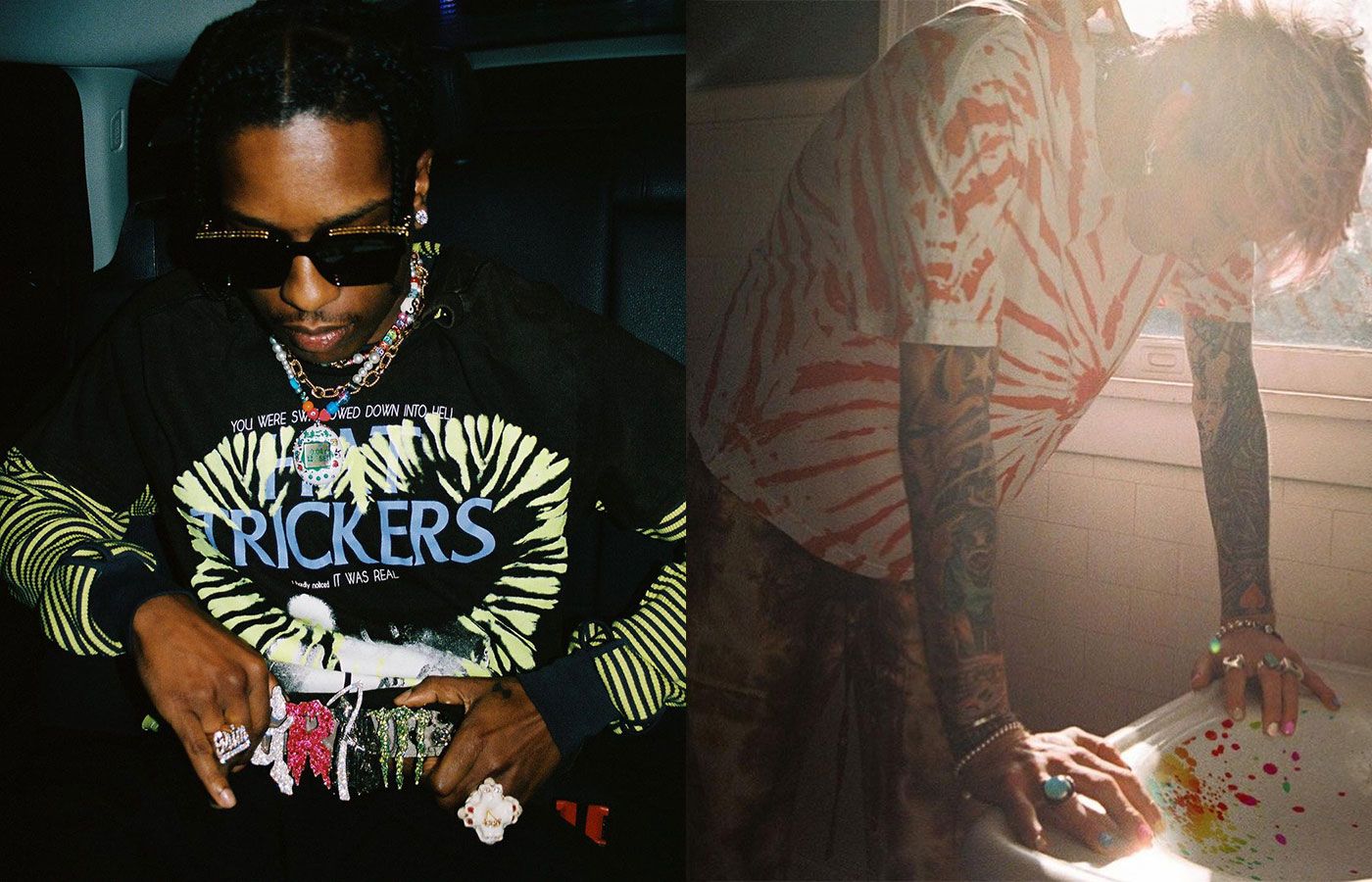 Others have a more avant-garde approach to jewellery that takes on an almost cartoonish quality. For example, rapper Machine Gun Kelly wears rings, necklaces and bracelets ostentatiously and with a rebellious attitude that turns heads. Similarly, A$AP Rocky makes a cacophony of colours, diamonds, gemstones, chains and beads work together in a way few others could manage.
You can start simply if you're ready to introduce more jewellery into your daily life. Brooklyn Peltz Beckham and Shawn Mendes demonstrate the power of a simple chain or pendant necklace layered over a white t-shirt or plain knit jumper on Instagram. The signet ring route will also get your fingers used to wearing a chunky adornment before you go full-Harry Styles and assign a ring to each finger!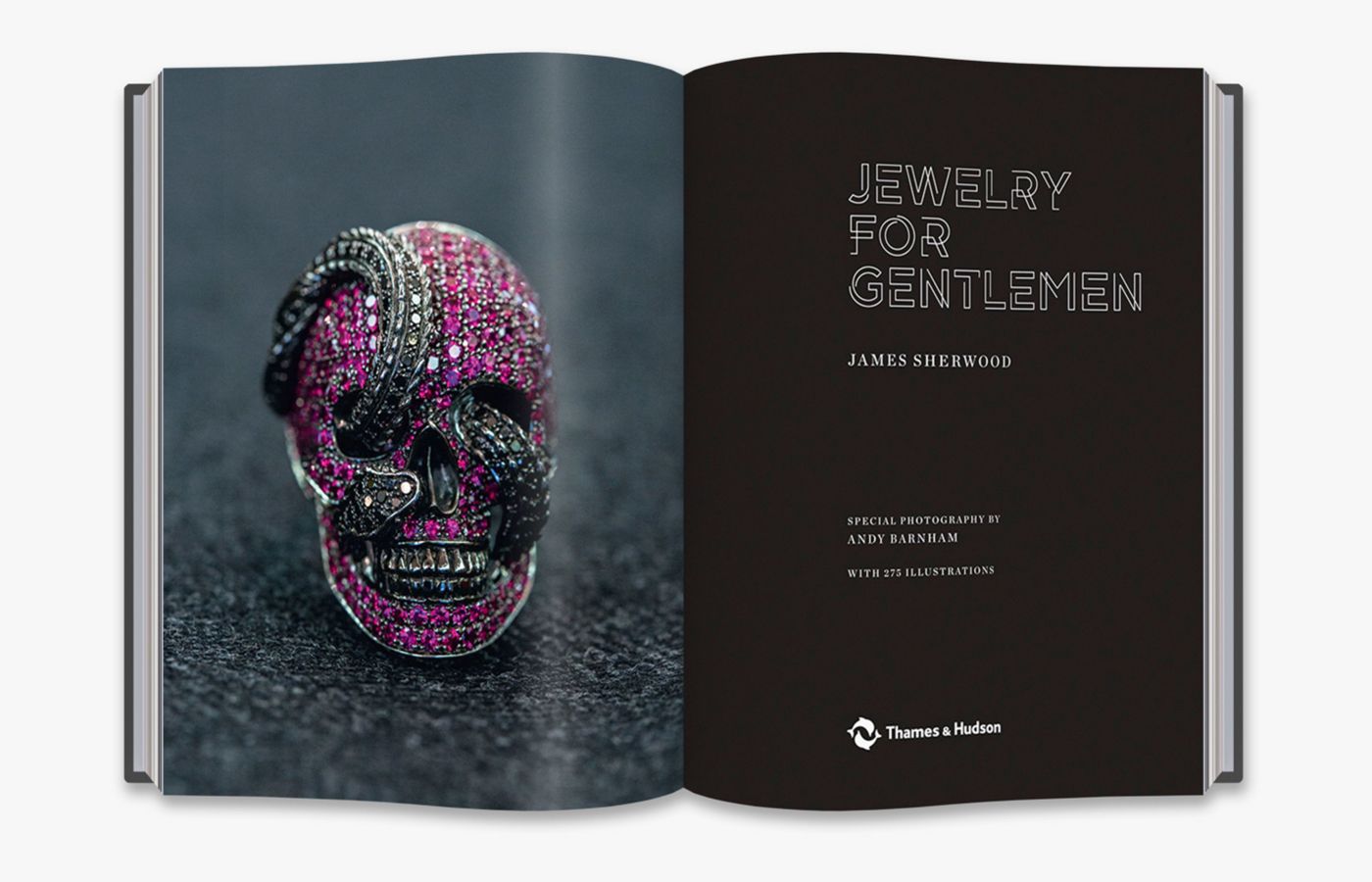 Context is key, too, so becoming more informed about men's fine jewellery is a worthwhile use of your time. I particularly like Jewelry for Gentlemen by James Sherwood, which explains the history of men's jewellery and shares some iconic designs that have shaped men's style.
If you're ready to kickstart a new collection, I advise starting your search with the likes of David Yurman, Baraka, Marco Dalmaso, Leo Wittwer, Fullord, Ferrat Paris, and Julien Riad Sahyoun. Internationally recognised jewellery houses are increasingly focused on men's jewellery too, such as De Beers and its new De Beers RVL collection. The range includes four 18k white gold and diamond pieces alongside three designs in black titanium and 18k rose gold. Shapes are striking and geometric, including an irregular octagon pendant, a bracelet with a white gold barrel threaded onto a black knotted cord, and a ring with a series of recessed black titanium grooves lined with golden channels.



"The beauty of this collection is that there is no prescription about who should wear these pieces or how they should be styled; it is entirely up to the wearer," says Céline Assimon, CEO De Beers Jewellers. "The designs recall striations visible in rocks, which reveal the story of the earth in which our diamonds were formed naturally."
So much of the red carpet is smoke and mirrors, so it's refreshing to see men embracing jewellery daily, not just on special occasions. I hope this inspires you to test the boundaries of your style and wear jewellery as a form of self-expression, whether you're going to work, embarking on a weekend country getaway, or just getting some petrol for your car.