Trends emerge from all corners of the globe, driven by social media and refined by runway shows in Milan, New York, London or Paris. In the case of the #neckmess trend, it appears to have spawned in its current iteration in the United States, both on the streets of New York and on the sun-soaked streets of Hollywood. Celebrities have helped to push the concept forward, including the Hadid sisters, Rihanna, Miley Cyrus, Hailey Bieber, the Kardashians and Chiara Ferragni to name a few. Perhaps it's the heat of the Californian sun that makes the 'neck mess' trend such a go-to aesthetic… after all, a scarf isn't required to stay warm.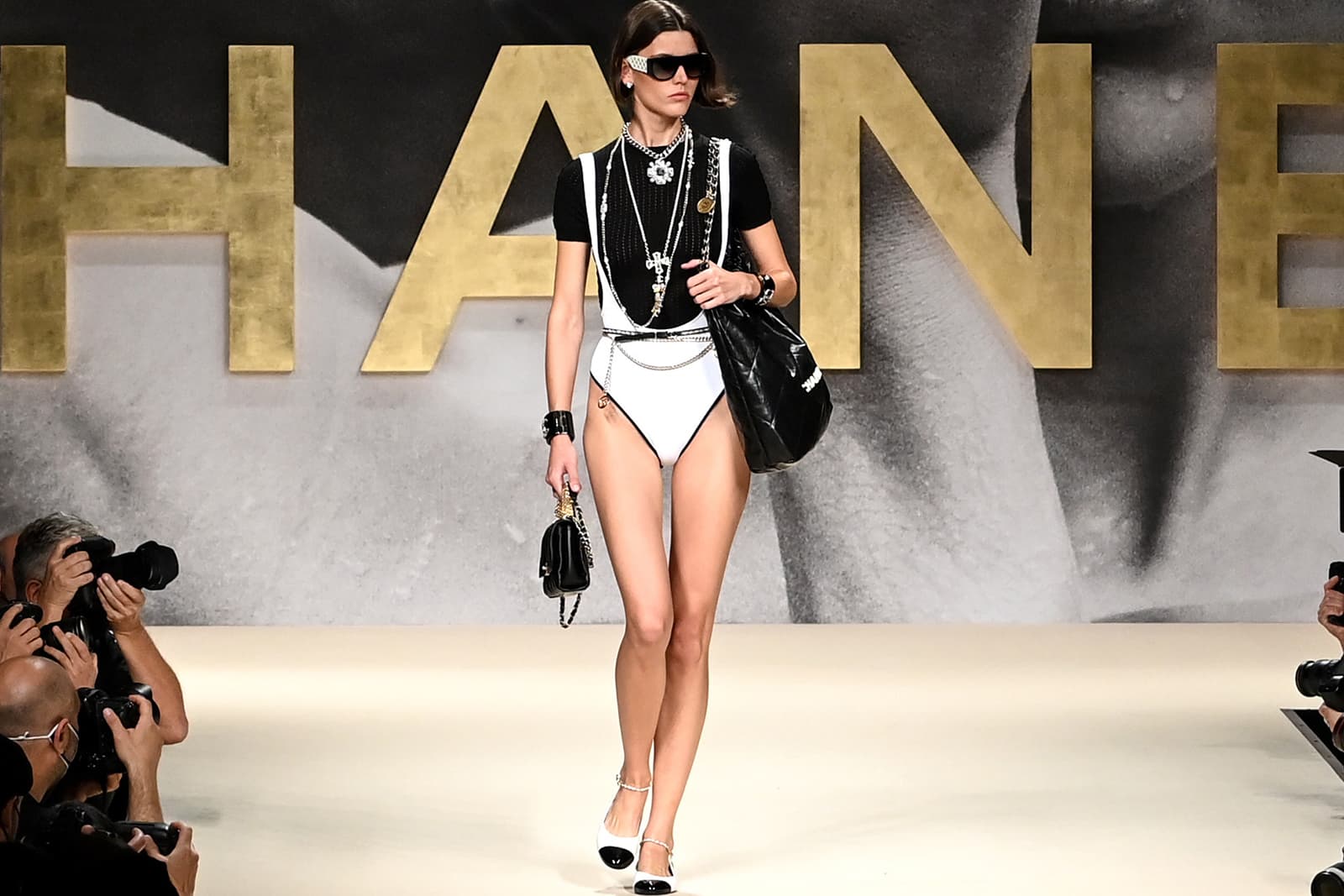 View from the Runway
My research into the Spring/Summer 2022 catwalks highlights just how significant this necklace party trend is going to be over the coming months. Layers of varying sizes, colours, and textures appeared at Isabel Marant, Moschino, Tom Ford, Marine Serre, Dries Van Noten and Schiaparelli, often using a statement choker as a starting point. Celebrities and Instagram style icons may have influenced this sartorial shift towards exaggerated neckwear, but now the world's biggest fashion brands will be pushing the style out to the masses with gusto. It's an exciting time to brush off any chains, long line necklaces and pendants that you may have to see how they can be styled together.
The Jeweller's View
Diana Schade, Jewellery Buyer at Saks 5th Avenue, says: "The 'neck mess' has definitely been a trend in the States over the past few years with widespread traction over the last 12-18 months. I'd really say it's a region-less and season-less trend! I think that most of the designer brands that helped propel the trend are NY based and it's still a very strong trend on the east coast, as well as Texas and California. I'm seeing it across the country, at least near bigger cities. It's fun to see how people style the trend differently and I think it's most interesting when people mix old and new jewellery. Many friends have pulled out their yellow gold chains from high school days or a vintage charm their grandparents gave them, and then mix it with new purchases and it all just works. You really can't go wrong when layering your personal neck mess."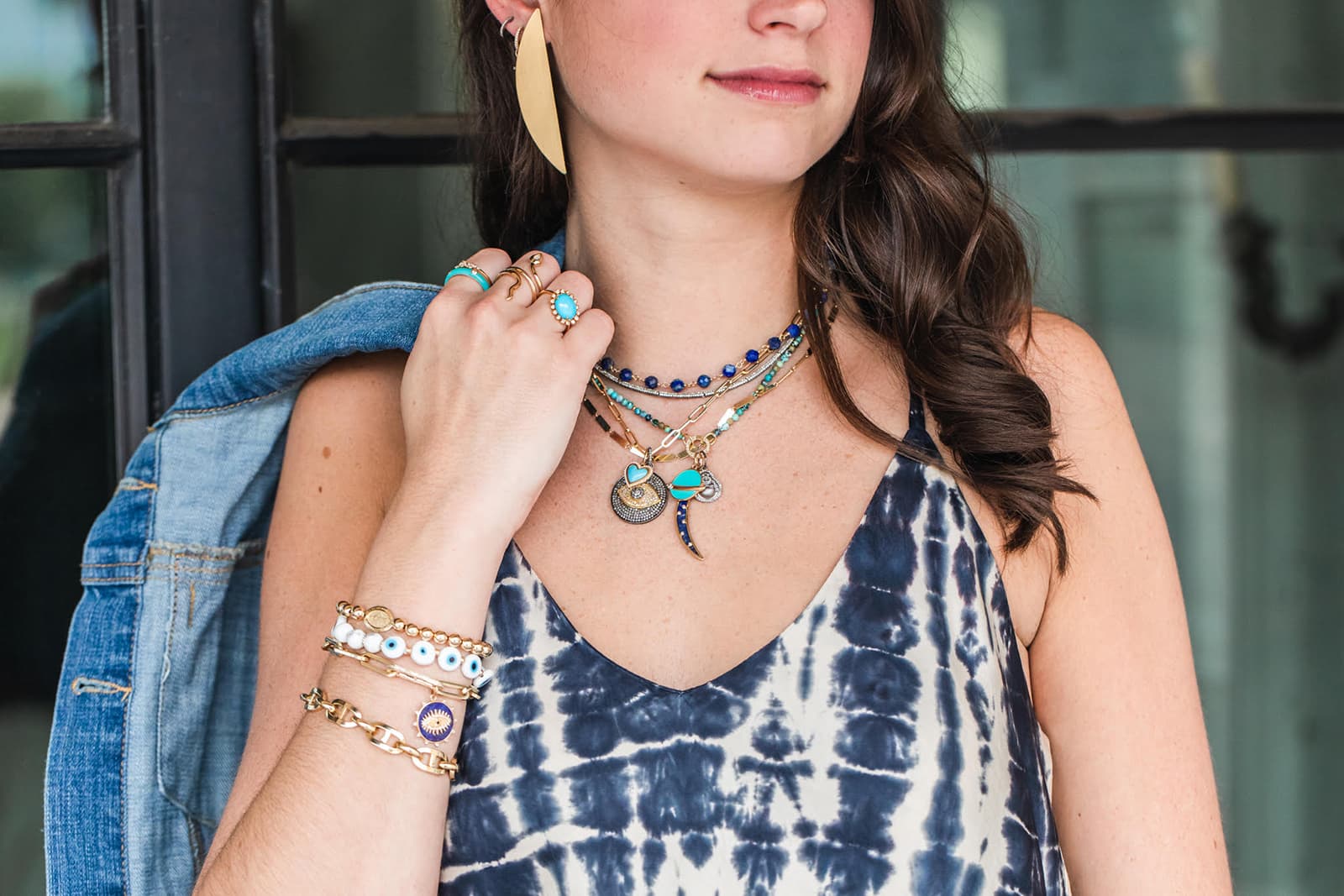 The roots of this trend are so strong that some jewellers in the United States are focusing on it specifically or have been for some time. Jewellery purposefully designed for layering can be found at Katmojo, including colourful strings of gemstone beads, chains, pendants that are shown as curated 'stacks' by its team of "jewellery mixologists". Next, there's J. Landa Jewelry in Houston, Texas, that welcomes customers to "start their J. Landa neckmess" with colourful gemstone layers and evil eye pendant styles. J. Landa President, Jay Landa, explains: "The #neckmess is all about telling your personal story through jewellery. We always suggest mixing different metals and adding gemstones for texture and brilliance. We truly believe in stones' healing powers and energy. It's the easiest way to change the vibe of your #neckmess without having to switch up your entire look. Charms are the best way to make your 'mess' meaningful and convey your mood of the moment. And a trick to avoid the tangle? Wear chains that are different styles and thicknesses. But if there is one takeaway? Don't take it too seriously. There are no rules really – wear what you love and have fun with it."
Styling Your #NeckMess
These businesses haven't popped up recently, though, so it's fair to say that #neckmess is an evolving style that's part of the zeitgeist right now. Is it here to stay? According to Sarah Abudawood, Founder and CEO of Yataghan Jewellery, the shift towards 'neck mess' is growing in the Middle East and is a "fresh and trendy look that is continuously on the rise". She continues: "It is a creative form of self-expression. Layering multiple chains along with sentimental pieces and heirlooms offers a fun and fashionable look that can be dressed up or down, making them extremely versatile, you always feel ready for any occasion."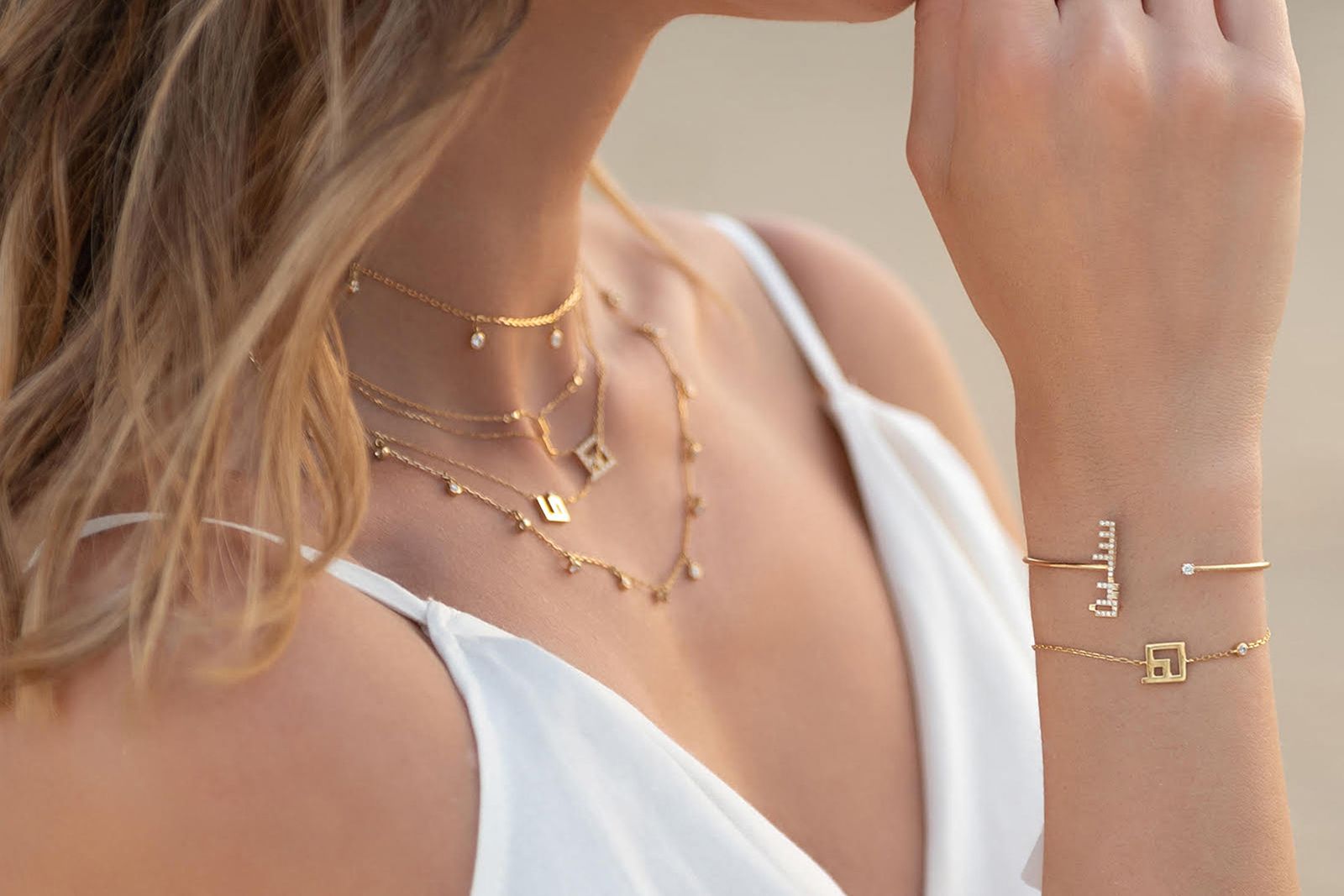 To get the styling spot on, Abudawood says that "choosing the right pieces is crucial". She continues: "We start by selecting different chain lengths. We advise the chunkier pieces to be the longest ones to avoid tangling, and this allows each piece to shine individually. As a finishing touch, we love to personalize the look by adding charms, initials, talismans, these personal elements always add character and make for great conversations pieces."
Personal Stacks
I also reached out to someone who has embraced #neckmess on Instagram to gather her views on making this trend work. Monique, who posts under the handle @moniquelvoes1968, uses her love of all things green (emeralds, tsavorites and malachite), diamonds and gold, to bring unique stacks to life. She tells me: "My neck mess has grown over the last few years. My husband got me a gold necklace that says 'sexy grandma' after our first grandchild was born in 2015 and I've been adding to that ever since then. The best tip I have for creating one is start with one special piece and then get pieces that compliment it. And don't be in a rush to get them all at once. My three favourites are yellow gold, emeralds and diamonds so all my pieces incorporate those Also different types of chains and lengths make great choices and help with those tangling issues."
The 'neck mess' trend isn't just destined for women either. Men's trends are also heading in this direction too, with Saint Laurent, Vivienne Westwood, Rick Owens and Gucci leading the charge. If I could recommend one trend to trial this spring, it would be a necklace stack full of personality, precious gems and chunky chains.