I was fortunate enough to be invited to interview the Co-President and Creative Director of Chopard, Caroline Scheufele about the maison's latest high jewellery chapter - Chopard Loves Cinema. I started on the rooftop terrace at the Hôtel Martinez admiring the panoramic backdrop of La Croisette, the bay of Cannes and the Palais des Festivals, before entering the presentation room full of resplendent jewels. Now, this is where the fun really began!
Around 100 guests, mostly from Asia who sadly couldn't attend Cannes in person, joined me and Ms Scheufele over Zoom to dissect the brand's novelties that pay homage to the cinematic world. Chopard Loves Cinema is composed of 75 high jewellery pieces (each year the number of jewels represents the 'age' of the Festival, next year there will be 76) that draw inspiration from Disney classics like Rapunzel and Cinderella, as well as science fiction and action blockbusters. This mixture of fairy-tale and fantastical films was brought to life through the imaginative designs dreamed up by Chopard.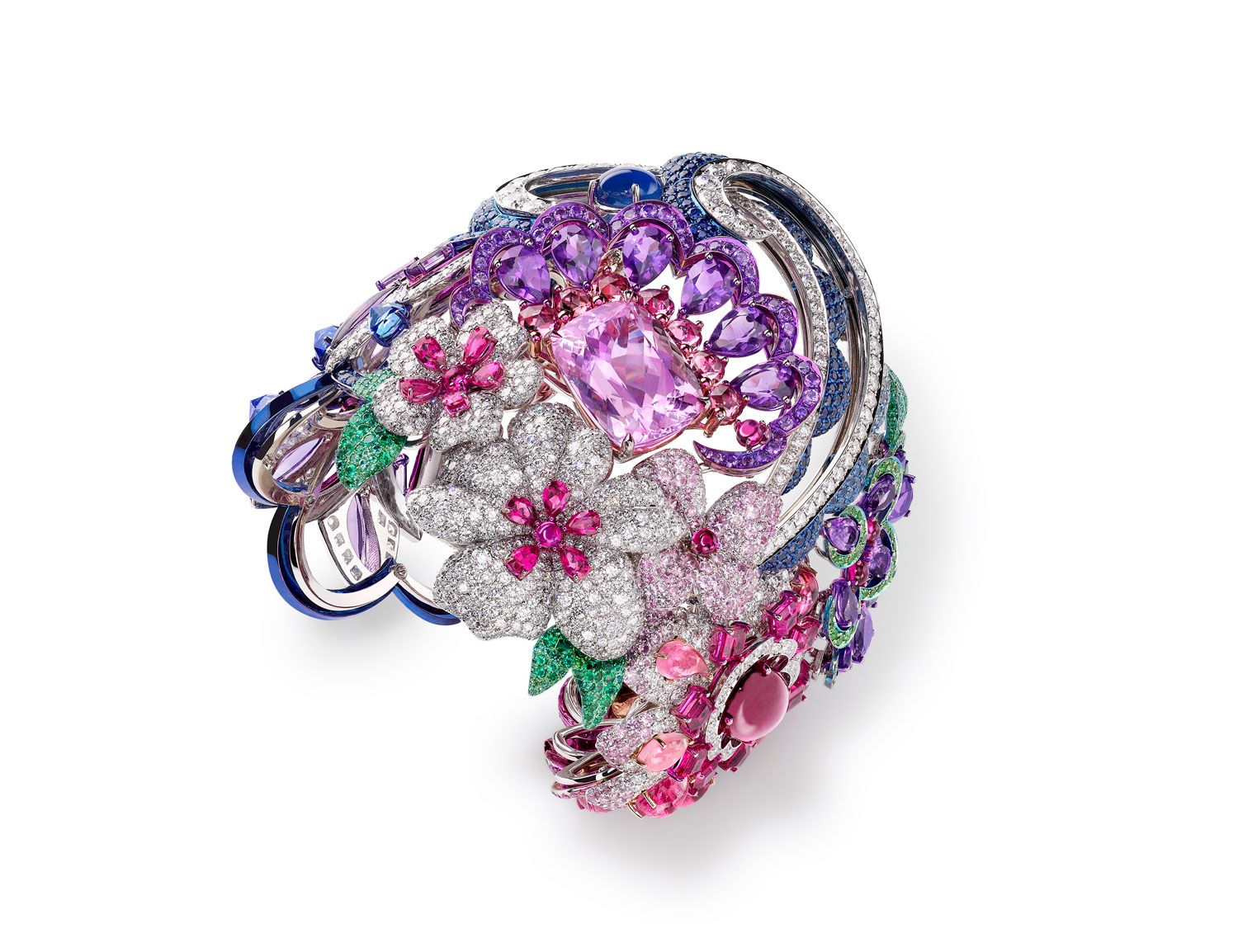 "To add to their uniqueness, each jewel is made in-house in our Swiss workshops by one chosen jeweller," Scheufele commented at the presentation. As she is a strong believer in individuality, she assigns one of her sketches to a specific person in her design team. This is not only to ensure continuity but also because she believes this approach adds a personal touch to each piece in the collection. By giving each jeweller the freedom to translate and express their creative vision, we can enjoy a more unique and dynamic collection.
Let's first look at some pieces that represent the level of craftsmanship, for example, a black and white diamond bracelet featuring a family of sapphire-blue-eyed dalmatians! Scheufele's love of man's best friend is no secret and this is not the first time one has appeared in a Chopard High Jewellery collection (and I very much doubt it will be the last). According to Scheufele, diamonds and dogs truly are a perfect pairing; even her trusty canine companion, Baron was present throughout the presentation. Upon closer inspection of the bracelet, you can see that each of the puppies featured is set with minute diamonds (there are only a handful of setters in the world who are able to work with the stones of this size) and then, once each gemstone is set, the complete dog figures are added one by one to the bracelet. Some of them are even articulated, making them even more lifelike!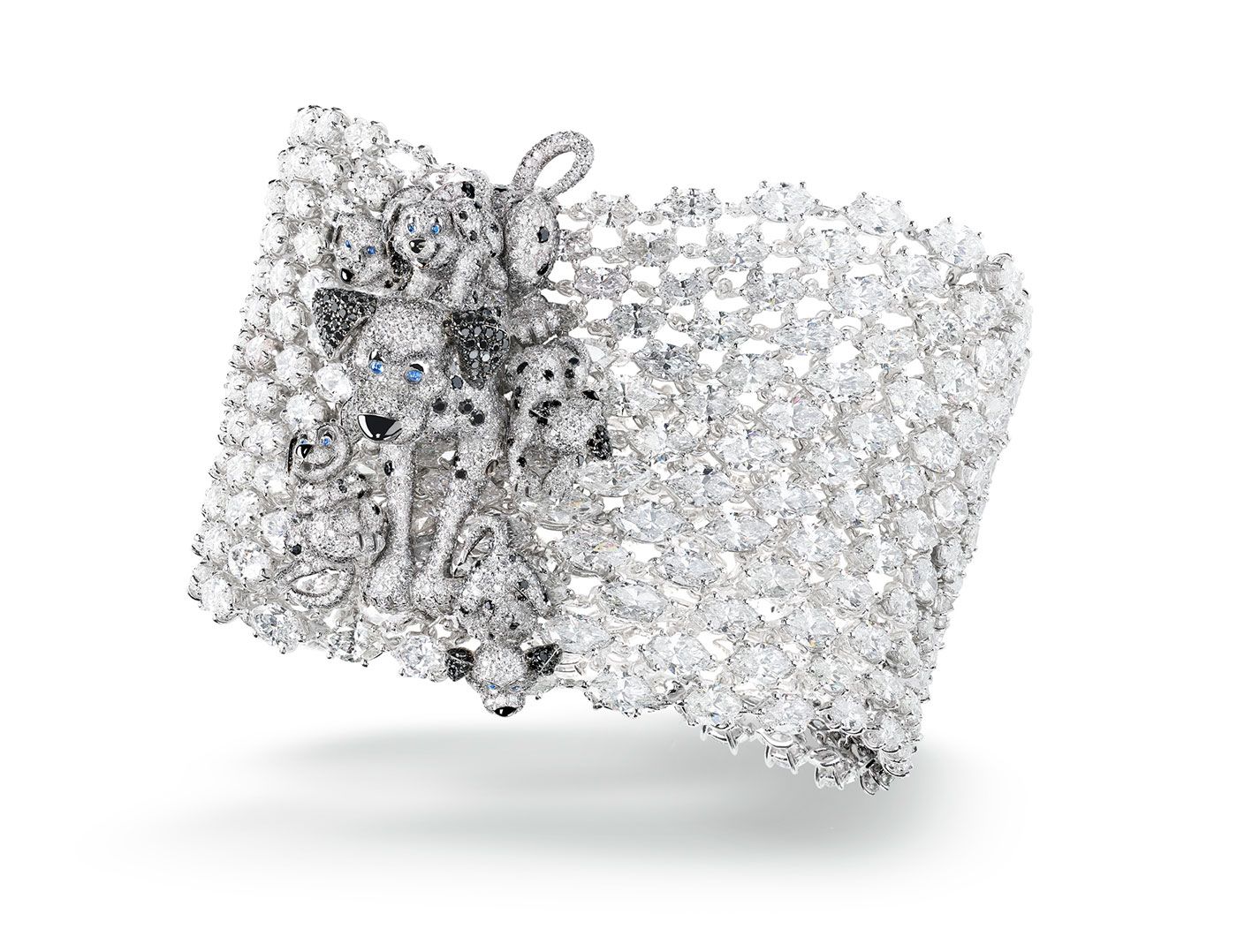 Next on my list of favourites is an Avatar inspired opal necklace. The lush green flora and supernatural blue fauna from this 2009 epic science fiction film inspired Scheufele to create a beaded sautoir for the collection. An impressive kaleidoscopic cabochon opal sits in a frame of Avatar-blue turquoise and Paraiba tourmalines, suspended on strands of emerald beads - a true work of art and feast for the eyes. Just holding the necklace in my hand transported me into protagonists Jake Sully and Neytiri's fantastical world.
The real stars of this collection are not individual jewellery pieces, but the one of a kind, larger than life gemstones they are set with. A juicy 38.88-carat emerald ring was the first to catch my eye. Complemented by half-moon diamonds, this step-cut gemstone shines at the epicentre of an impressive cocktail ring. Following this was a magnificent 60-carat blue sapphire. This heart-shaped whopper of a gem is set in a frame of diamond lace, as the pendant to a beautiful and intricate diamond necklace (are you thinking of Titanic already?). As far as finales go, an 80 carat, pear-shaped champagne diamond, also set into a diamond lace frame, is the epitome of Hollywood drama. Shapely, weighty, and bold in colour, I think this diamond truly deserves a red carpet of its own.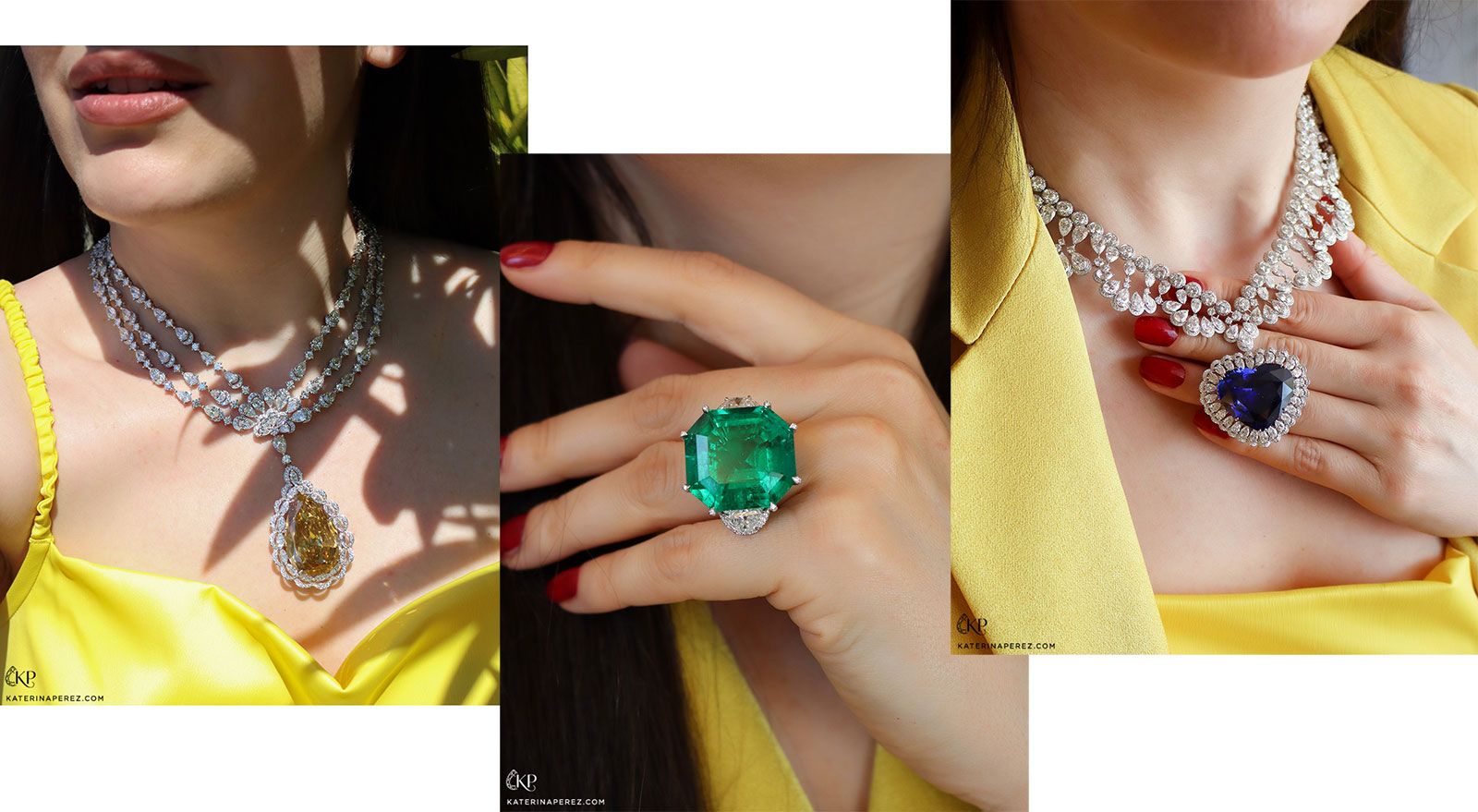 I was delighted to see that Scheufele had chosen to set these gemstones in the brand's signature lace diamond pattern. Reminiscent of the Chopard Precious Lace Collection, some jewels with sapphires, yellow and colourless diamonds, as well as a high jewellery emerald necklace were set with gems 'woven' into the design. Light, elegant and fabulous with frivolity, this collection highlights Maison's stylistic signatures while adding a contemporary twist.
Stepping aside from the jewels for the moment, one important thing to mention is the new look of the Cannes Film Festival Palme d'Or Trophy – this year it was made of rose quartz rather than rock crystal to commemorate 25 years of Chopard being the official partner to Cannes. Another nod to this important milestone in the brand's history is the 25 diamonds that embellish one petal of the Fairmined gold palm leaf, plus 75 additional diamonds in honour of the Festival's 75th anniversary.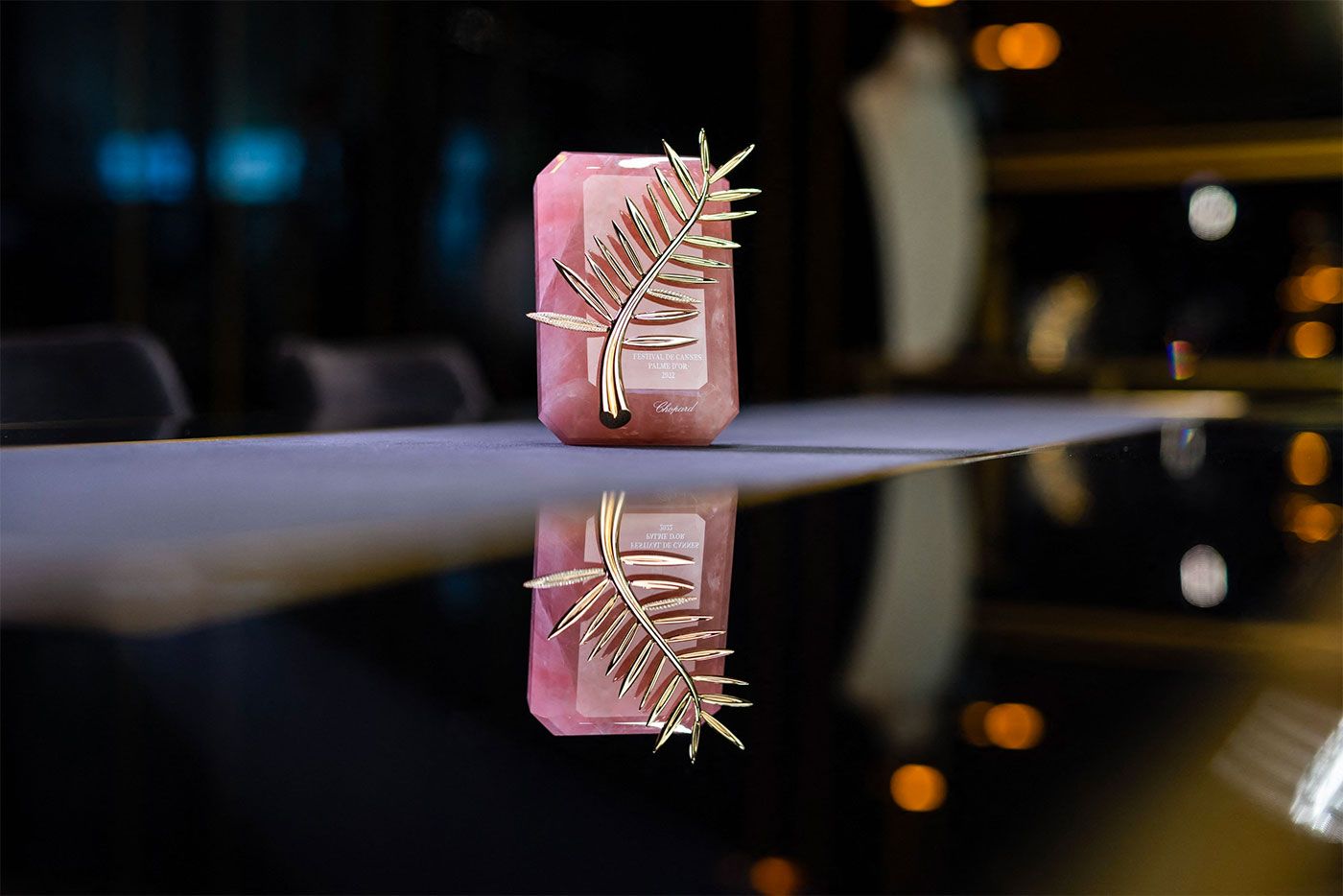 As you can see, it is hard for me to pick just one favourite piece! Each jewel in this collection is full of drama, colour and movement, three essential characteristics of any award-worthy motion picture, as well as any iconic high jewel. I look forward to seeing what new gemstone protagonists the 76th collection will bring.