The round brilliant-cut diamond is undoubtedly beautiful, but there's something experimental and unexpected about high jewellery creations with portrait-cut stones. These long, thin slices of neatly arranged carbon atoms aren't new. They are a modern interpretation of ancient Indian lasque diamonds, which are extremely shallow sheets of diamond that shine like a body of water. Contemporary portrait cuts are minimally faceted along their outer edges, similar to the steps of an emerald cut but far more reserved. The goal is to peer into a smooth, flat, and clear sheet of diamond that could be mistaken for a miniature pane of glass.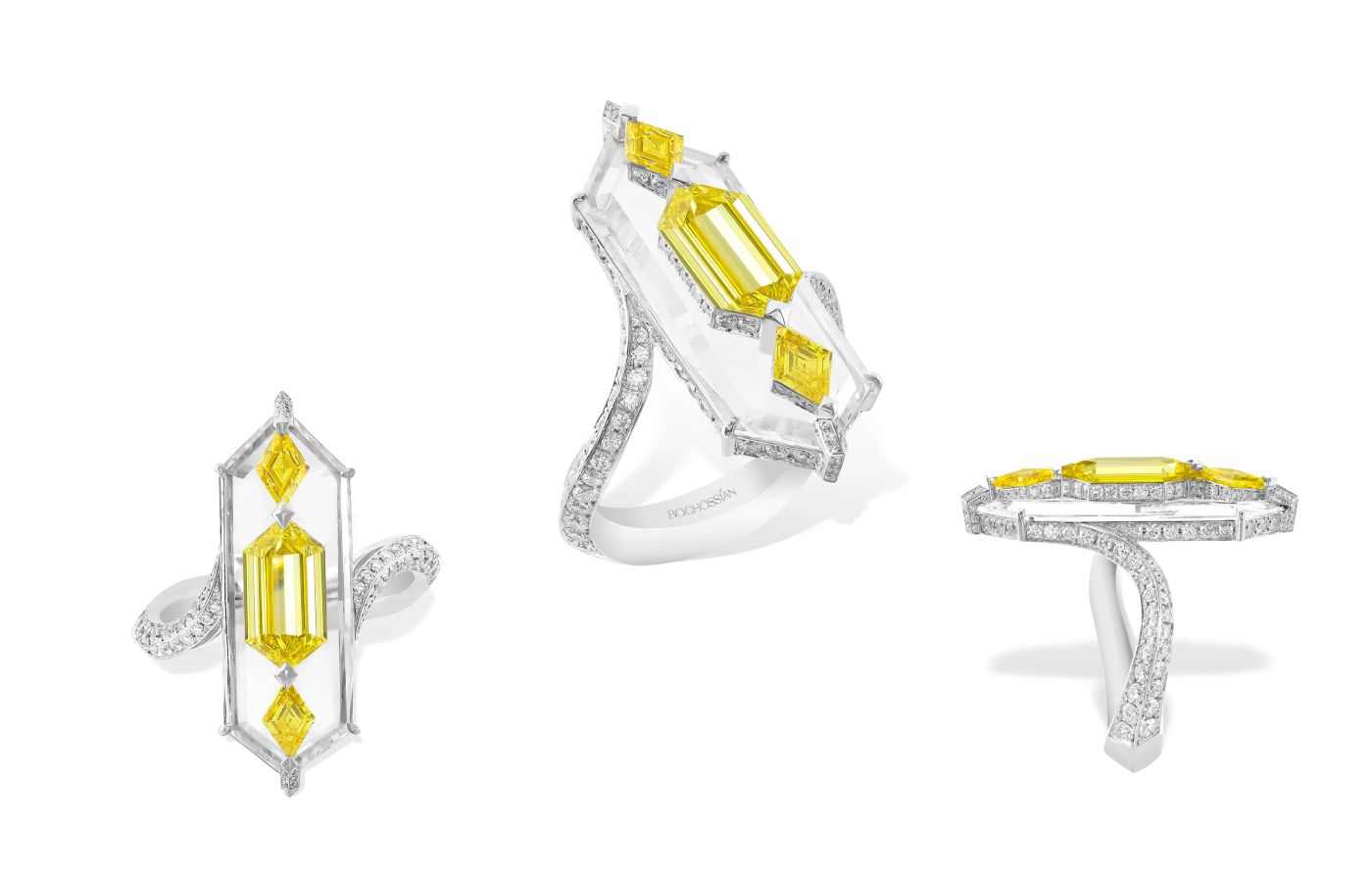 In the lasque tradition, these kinds of stones were used like the glass of a photo frame, to protect and preserve a portrait beneath. We see this in modern designs, too, like Kelty Pelechytik's Portrait Diamond collection, where hand-painted eyes peer from the centre of rings. We could even describe this as a precious version of a doublet, a term usually associated with layers of gems and sometimes glass to create a composite.
Writing this article made me remember the first time I discovered this unusual diamond cut – it was while I was working at Boghossian 10 years ago. The Swiss jeweller used this cut extensively in its signature Kissing collection. The 'Kissing' technique involves setting two precious gems in unison together so they "appear to embrace in a delicate dance, each one chosen to complement and enhance the other's colour and beauty," explains the brand's website. Since one gem is placed atop the other, it is instrumental that one of them has a flat surface to accommodate another gem above or below. This is where the portrait cut diamond comes into play.
Elsewhere, Lorenz Baumer takes advantage of the large flat surfaces of portrait cuts to engrave unique images, logos, letters, and shapes in his collection of "tattooed" diamonds. In these pieces, portrait-cut gems aren't an alternative to glass but are a literal glassy canvas upon which to create artwork, like a pair of boxing gloves or an anatomical heart. At VAK Jewelry, we see examples of portrait-cut diamonds in kite, hexagon, and triangular shapes. When paired with punchy coloured gemstones, these crystal-clear gems look almost alien and futuristic, as if transported from another jewelled landscape. Because they're so slimline, portrait cuts are lightweight and don't need weighty precious metal settings. We can see the benefits of this across the VAK Jewelry line, where stones often look like they're hovering or falling like water droplets from the ears and wrists.
This minimalism is a calling card for many designers that use portrait-cut diamonds extensively, like New York-based Eva Zuckerman of Eva Fehren. Her gems are set in feminine engagement rings with narrow diamond-set shoulders and delicate huggie-style earrings for 'barely there' glamour. For women whose personal style errs on the side of understated and crisply tailored, a portrait cut is likely a tempting choice. After all, a large portrait gem can look serene and sophisticated compared to an almost obnoxiously sparkly 10+ carat cushion or oval-cut stone. For example, actress Rooney Mara is known to have a portrait-cut diamond engagement ring, which matches her intensely private and discreet public profile perfectly.
But diamonds should never be written off as just one thing. Master high jeweller Alessio Boschi uses portrait-cut diamonds to evoke something ancient and treasure-like in his Medusa suite. A diamond and emerald cocktail ring is adorned with a 3.07-carat portrait-cut diamond lid that opens to reveal a micro-mosaic depicting the mythical gorgon Medusa. This piece and its matching necklace are a far cry from the overt futurism of other brands using portrait-cut gems… rather they're antique-inspired.
Similarly, rather than traversing the minimalist route, high jeweller Moussaieff went full maximalist with a pair of portrait-cut diamond chandelier earrings. Shimmering lines of white and pink briolette diamonds tumble from the ears and pass directly behind two pear-shaped brown portrait diamonds, creating an effect like a magnifying glass. These gems total 42.11 carats and are framed by an organically shaped frame of pavé white diamonds.
It is easy to get distracted by these designs and forget the essential qualities a diamond rough must possess to become a cut and polished portrait stone. Such a large, open table facet means there is nowhere for inclusions to hide! Even the slightest imperfection would be amplified with this cut compared to a more 'forgiving' round brilliant. Next, there's the fact that, at first glance, people may be forgiven for thinking they are looking at rock crystal or even glass! The portrait cut may not be for you if big diamond impact and recognition are high on your wish list.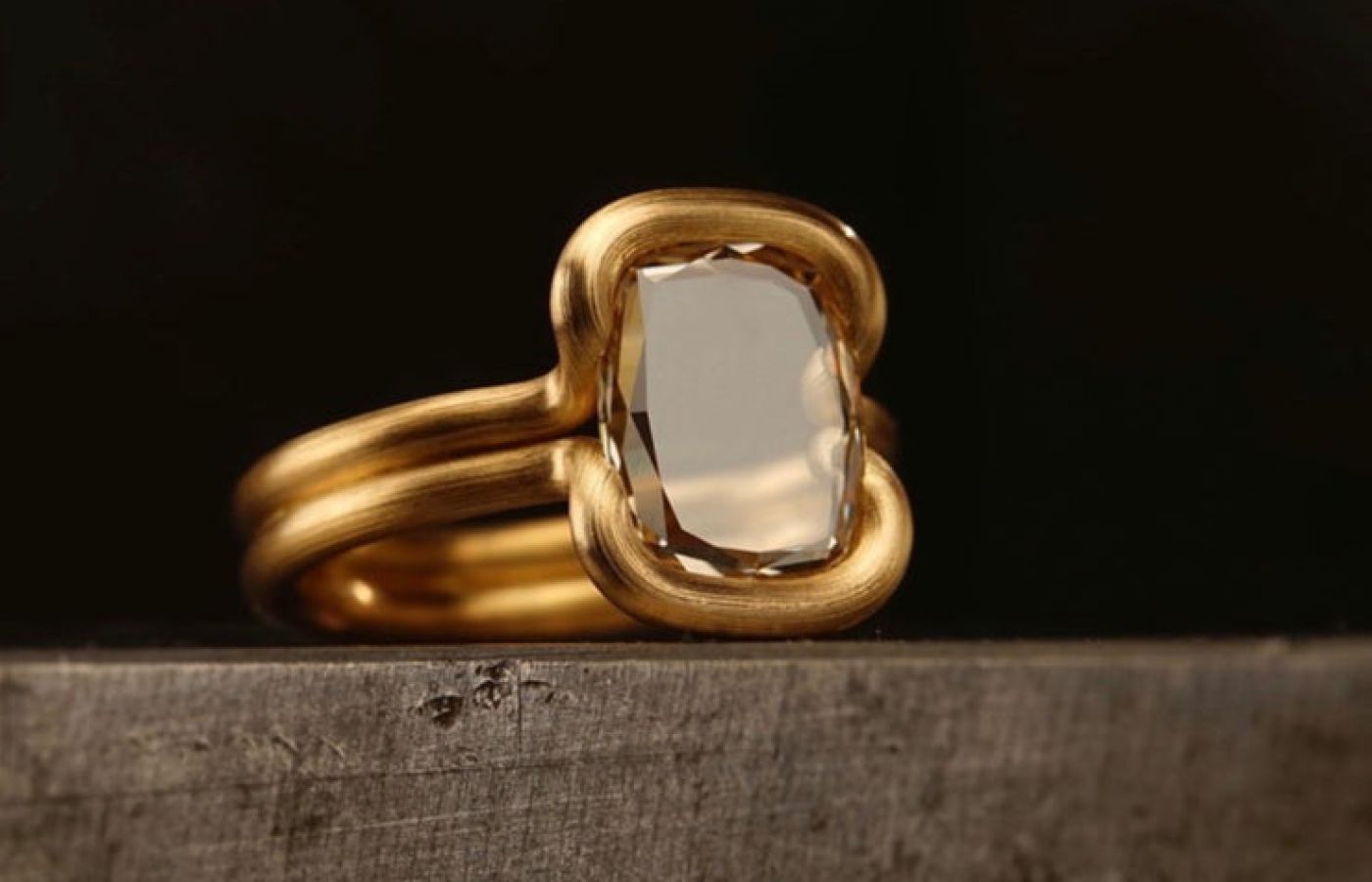 Regardless of your opinion, we can all agree that the portrait cut is another ingredient in the diamond recipe that gives designers and jewellery lovers more choices, inspiration and opportunities for beauty. Personally, I appreciate its rebelliousness. After all, despite its contemporary minimalism, it represents the antithesis of modern diamond cutting by sacrificing light-reflecting sparkle for something smooth and glossy. When you wear a portrait cut, you are defying convention and asserting that you won't follow the crowd. What's not to like about that?