'Tis the season for gifting and, for those with a specific vision in mind, the best option is often to commission a bespoke piece from a jeweller whose signature style aligns with your own (or your loved one's). The process of creating a jewel from imagination to finished product is different for each jeweller; it requires skill, patience and knowledge of your craft to take the sketches and ideas of a client and transform them into something wearable, adored and on budget. The six designer brands included below each have their own methods and the results are beautiful. If you are determined to see something unique blossom this festive season, may I suggest you reach out to them fast.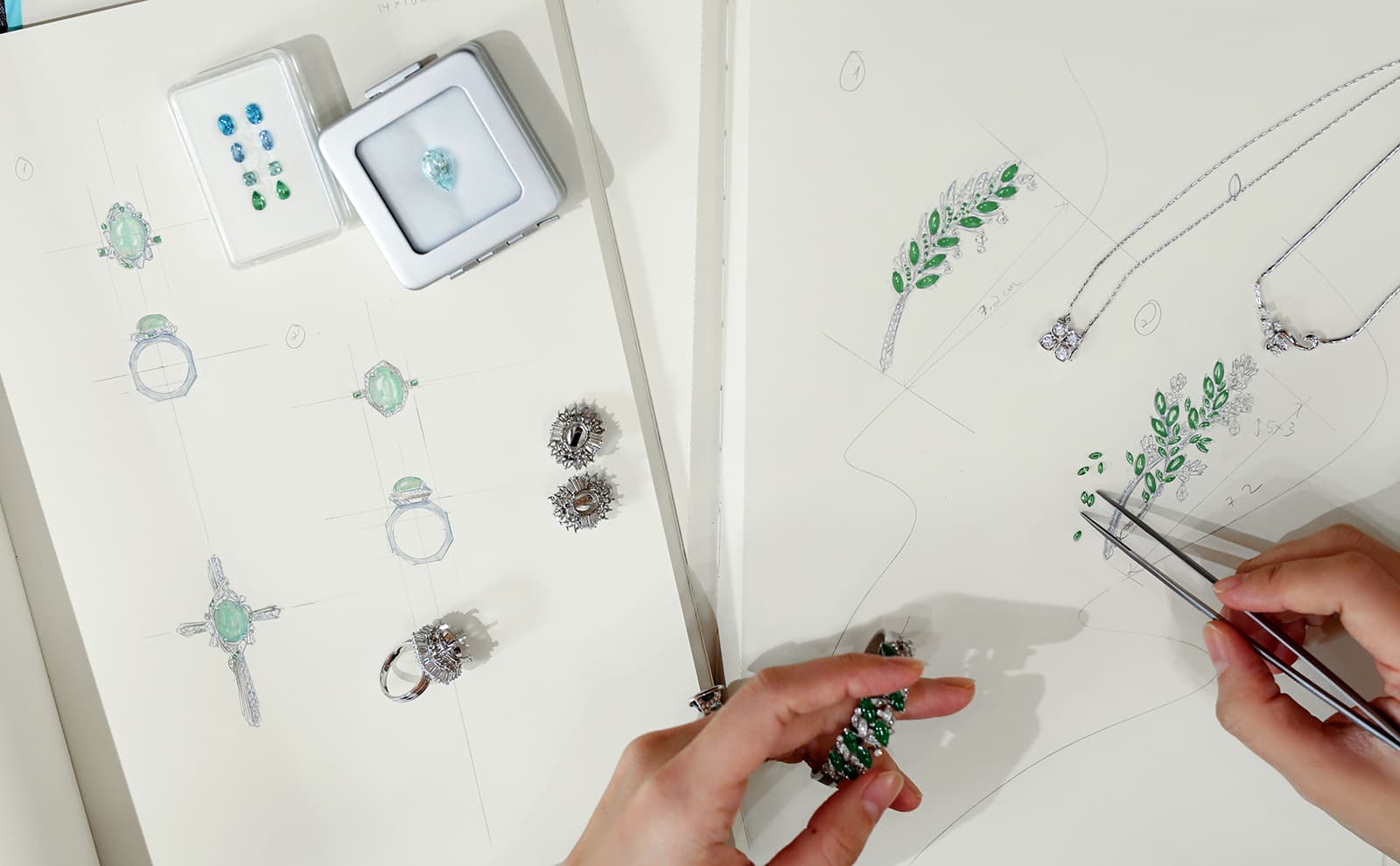 Based in the west of Ireland, Nigel O'Reilly started his career as an engineer before turning to the world of fine jewellery design. In 2009, he created his own studio to blend ancient and modern techniques in his own inimitable style, complete with vibrant and voracious quantities of coloured gemstones. His recognisable gold latticework is a signature of the brand, as are generous volumes and undulating shapes. Customers who enjoy these calling cards are those who return time and time again for bespoke pieces. He explains: "I find great satisfaction in the union between the piece and the person who wears it. This balances at a point of tension between innovative technology and nature's own creation. I believe when you are gifted something as rare as a gemstone it is your duty to realise its beauty with your client."
Saudi Arabian-born designer Nourah Al Faisal relies on her intuition and the 'energies' of gemstones to build her collections at Nuun Jewels. When it comes to bespoke pieces, she must combine these energies with the spirit of her clients to find the perfect blend of personality, style and materials. Certainly, no easy task! She says: "When a piece of jewellery is commissioned it's the beginning of an intimate conversation between the designer and the client, memories of personal events and hopes are shared and, from this dialogue, a jewel is created that captures a moment in time unique to that individual at that particular point in their lifetime. It creates a bond between both the designer and the client, and for me it is the most beautiful thing about what I do."
Led by Emily Tan from Singapore, Calla Lily is a fine jewellery brand that infuses all her personal experiences of bespoke shoemaking, costume jewellery, fashion and design gleaned in London, Milan and New York. Hers are classical, feminine and whimsical designs that utilise a colourful palette of gemstones in unusual and unexpected ways. As she says, "every handcrafted piece starts with a conversation" and "no idea is too outlandish, no detail too insignificant, and no occasion too small to mark". Emily continues: "People's ideas, people's stories, people's experiences, they all give us inspiration. What we're looking for is your heart's desire. A custom-made jewellery piece allows you to tell a personal story, whether it be a memorable event, special relationship, or milestone in your life, you can express this through a co-created piece with our designers."
Just like discovering treasure, Elizabeth Gage has been creating jewellery for 50 years in her own gloriously golden style. She combines different elements in her work, chosen for their individual beauty; exquisite stones, ancient bronzes, beautiful carvings, baroque pearls, anything where the shape and colour inspire her. Should you approach Elizabeth for a bespoke commission, you will encounter a team of goldsmiths, setters and enamellers ready to bring your vision to life. She tells me: "We dream of a jewel that is our own, one that will be unique. It is so much fun to sit down with a client and to find out what they really want, and to put it into a piece of jewellery that will be with them forever is very special."
Christina Brummet pulls from art, literature and architecture for her jewels, which are presented to the world under the Brummé name. Her bespoke pieces reflect the intellectual background of her clients – their passions, interests and obsessions – but also suit those who wish to create their own little 'stir' with jewellery that's non-conformist and striking. She says: ""From the beginning, I have had a preference for special gemstones. Finding them is often as difficult as searching for truffles. This can be a special mine, an unusual deposit or even the fact that's an unheated gemstone. Such unique beauties literally demand to be set in scene in a bespoke jewellery piece."
Those with a rebellious streak need look no further than London-based designer, Hannah Martin, whose brand is wrapped up in England's "counter-revolution" of the 1980s and 1990s. Her pieces evoke the "atmosphere in the room of live music venues," which is a sentiment I love, as well as "feelings of elation, excitement, pleasure, restraint, awe and revelation," which are all things we hope to gain from bespoke jewellery too! "Bespoke is so utterly personal, it has to reflect the person that will wear it - it has to be a part of them, even before they put it on," Hannah explains. "A bespoke piece is kind of the ultimate storytelling - with a real-life muse sitting right in front of me. It is honestly such a thrill every time."
We are heading towards Christmas and the holiday season right now, but bespoke jewellery has no restrictions! Your calendar can be bursting with jewelled uniqueness whether it's Valentine's Day, Mother's Day, summer, autumn, blue-skied or grey. We can enjoy the limitless beauty of jewellery all year round.