Arunashi is a name synonymous with artistic and exquisite jewellery that is created both to astonish and to satisfy the demands of its high-class clientele that resides in Beverly Hills, California where the jeweller is based.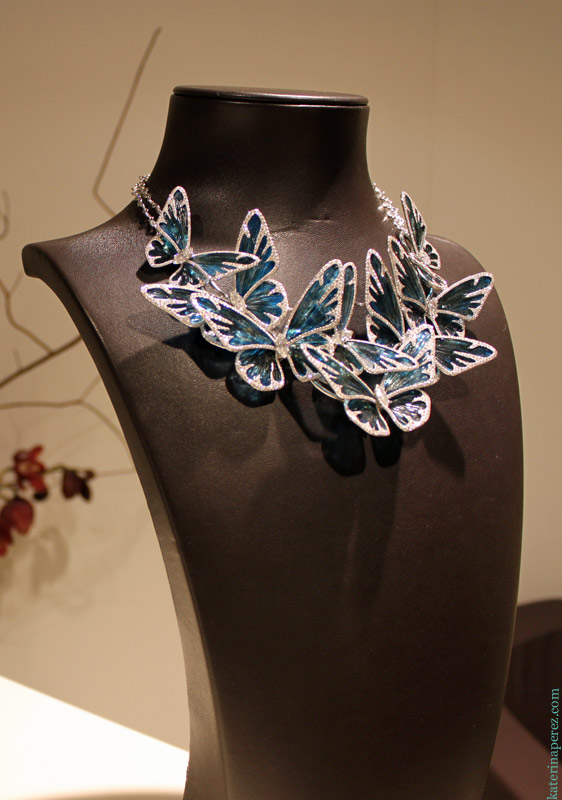 Having brought a wonderful selection of one-of-a-kind pieces to Baselworld, Mr Arun Bohra, the CEO and head designer of Arunashi, showed me creations of his which were all special in their own way.
I got particularly fascinated by this butterfly parure which I believe represents a fine example of a craftsman implementing non – traditional jewellery techniques and unconventional new materials to create an intriguing visual effect. In the case of this butterfly set, the lightness and the play of colours on the wings was beautifully executed by using some material I have never heard of before: rock basalt.
Basalt is actually a volcanic rock that is composed of quartz, feldspar and a few other minerals. It forms when lava, after rising to the surface, rapidly cools down hardening into grey or black rocks. In its natural form, the dull colour and the fine-grained mineral texture that is too soft makes basalt unsuitable to be used in jewellery. However, this did not stop Mr Bohra from making 'the ugly duckling' of a rock into a show-stopping jewel. The basalt minerals are decomposed, combined with a colouring agent and reformed at a designated temperature and pressure into a material that can be used for carving out shapes, in this instance butterfly wings.
Whilst holding these fascinating jewels in my hands and curiously inspecting the wings, I realised that their lightness reminded me of an ethereality that BOGH-ART achieved in their titanium fiber collection. The texture of the wings featured fine, almost parallel lines that ran from the centre across the whole surface, resembling striations on a beautiful tourmaline crystal.
Mr Arun Bohra's predecessors have been in the jewellery business for eight generations and after 170 years creating fantastic pieces it seems like a natural development for Arunashi to utilise new materials in order to break the boundaries of traditional jewellery making.
All images are courtesy of Yvonne Town from thegemstandard.com blog.