Before you dive into this article, I recommend first reading about the origins of The Alchemist of Light High Jewellery collection and its first two chapters, Atomique and Light Rays. The former is inspired by the carbon lattice chemical structure of diamonds, while the second focuses on illuminating stripes of light as they break through clouds. This selection of 16 jewels has now been upgraded with a further 45 pieces, each separated into one of five stories: Dusk Reflection, Ascending Shadows, Midnight Aura, Optical Wonder and Frozen Capture.
During my presentation with the CEO of De Beers Jewellery, Céline Assimon, which you can watch on Instagram, I asked her about the continuation of the 'Alchemist' story. She explained: "These 45 pieces allow us to explore light and the transformational power of light, whether through nature, architecture or art. We started with this concept in mind and brought in new materials and worked with bold shapes and colours. This is quite new [for De Beers] and was quite a big challenge for the team and for myself."
"The Alchemist of Light High Jewellery collection represents the most creatively and technically ambitious collection we have ever conceived and crafted," says Céline Assimon, CEO of De Beers Jewellers.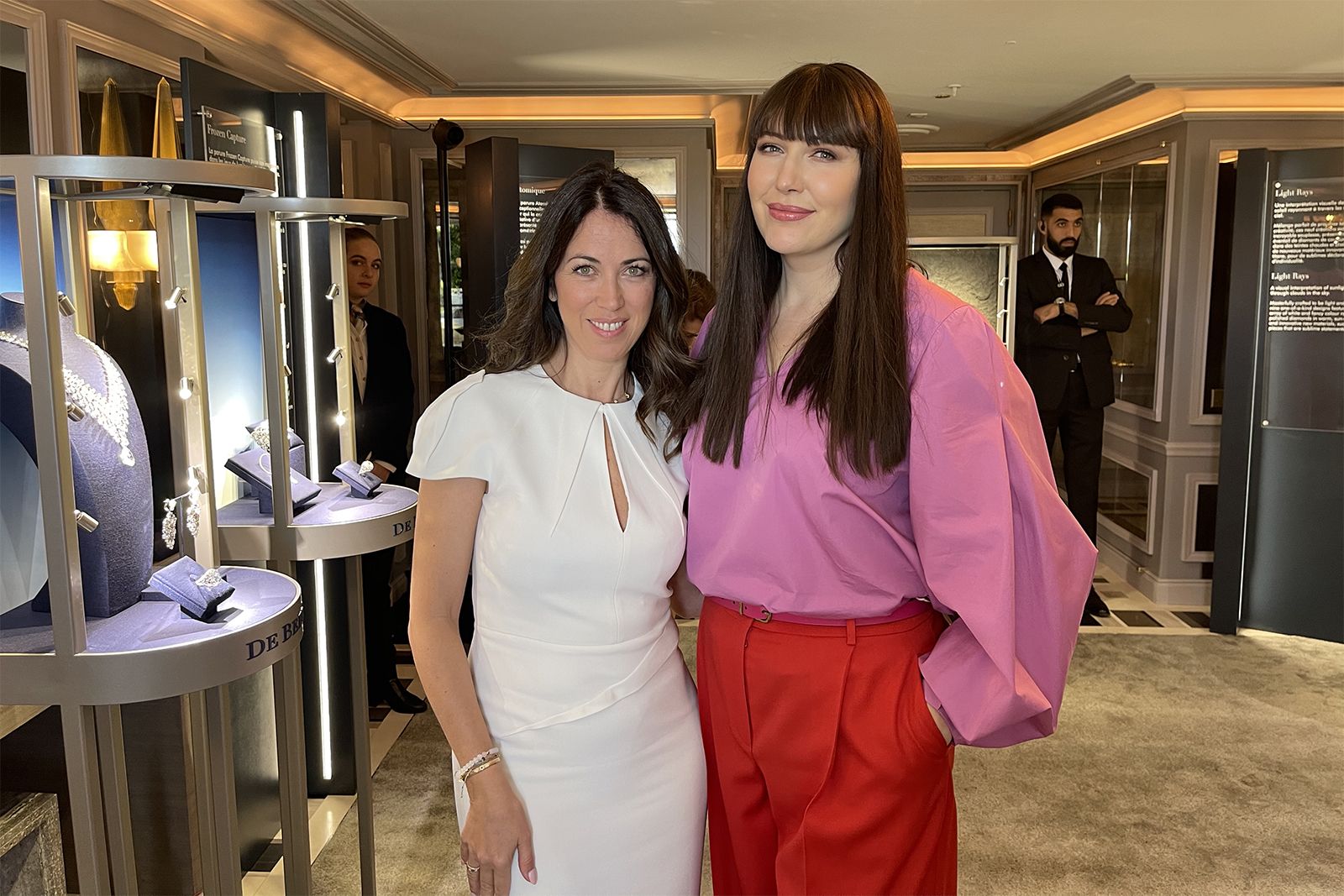 It's true that this latest iteration of The Alchemist of Light is a departure for De Beers, which has typically exclusively used colourless diamonds, fancy colour diamonds and rough diamonds in its High Jewellery. Here, however, we see colour in the form of anodised titanium, coated aluminium and even coloured gemstones. Many of the fancy-coloured diamonds used here are from the 'Natural Works of Art' collection – the group name for De Beers' supply of unusual and unique stones from its mines in Africa and Canada. And, finally, before we explore each chapter in turn, we must take a second to appreciate the use of materials. Aluminium and titanium, which are vibrantly coloured, can't be soldered in the same way as precious metals, so there is a remarkable amount of craftsmanship and construction behind these pieces. Let's explore the new chapters and divulge some of the most important stones and silhouettes within each.
Dusk Reflection
Crafted in shades of pink and white, the Dusk Reflection set contains four designs, each one inspired by a sunset radiating a soft glow over the horizon. The designs feature the brand's Enchanted Lotus motif, which is a recurring signature in De Beers collections, and have been described as "sensual and feminine" thanks to round brilliant-cut diamonds, rose gold and white gold. The highlight of this offering is a statement choker upon which hangs a 1.13 carat fancy-intense pink radiant-cut diamond from the De Beers Natural Works of Art collection. This stone can be detached and worn on a more demure chain, while the choker can also be split into two and worn as matching cuff bracelets. The rest of the set is made up of a pair of longline earrings that can also be worn as studs, a pendant necklace with a 1.02 carat round brilliant-cut white diamond, and a pair of quadrilateral earrings with brilliant-cut diamond centres.
Ascending Shadows
There's an architectural quality to this seven-piece set, which relies on stepped surfaces to evoke the play of light on a spiral staircase (a feature of the De Beers flagship store on Old Bond Street in London). At its heart is pink, blue and green anodised titanium and coated aluminium that provide the stages for pink, grey, green and brownish pink diamonds, both in rough and faceted forms. The hero piece is a necklace with graduating 'steps' of dark blue aluminium complemented with diamond-set titanium across 142 separate pieces, which all had to be hand-assembled. In fact, 10 jewellers and five setters all worked to create this extraordinary necklace. Edged in white marquise-shaped diamonds and green roughs, the focus is on a 3.41 carat fancy light grey pear-shaped diamond.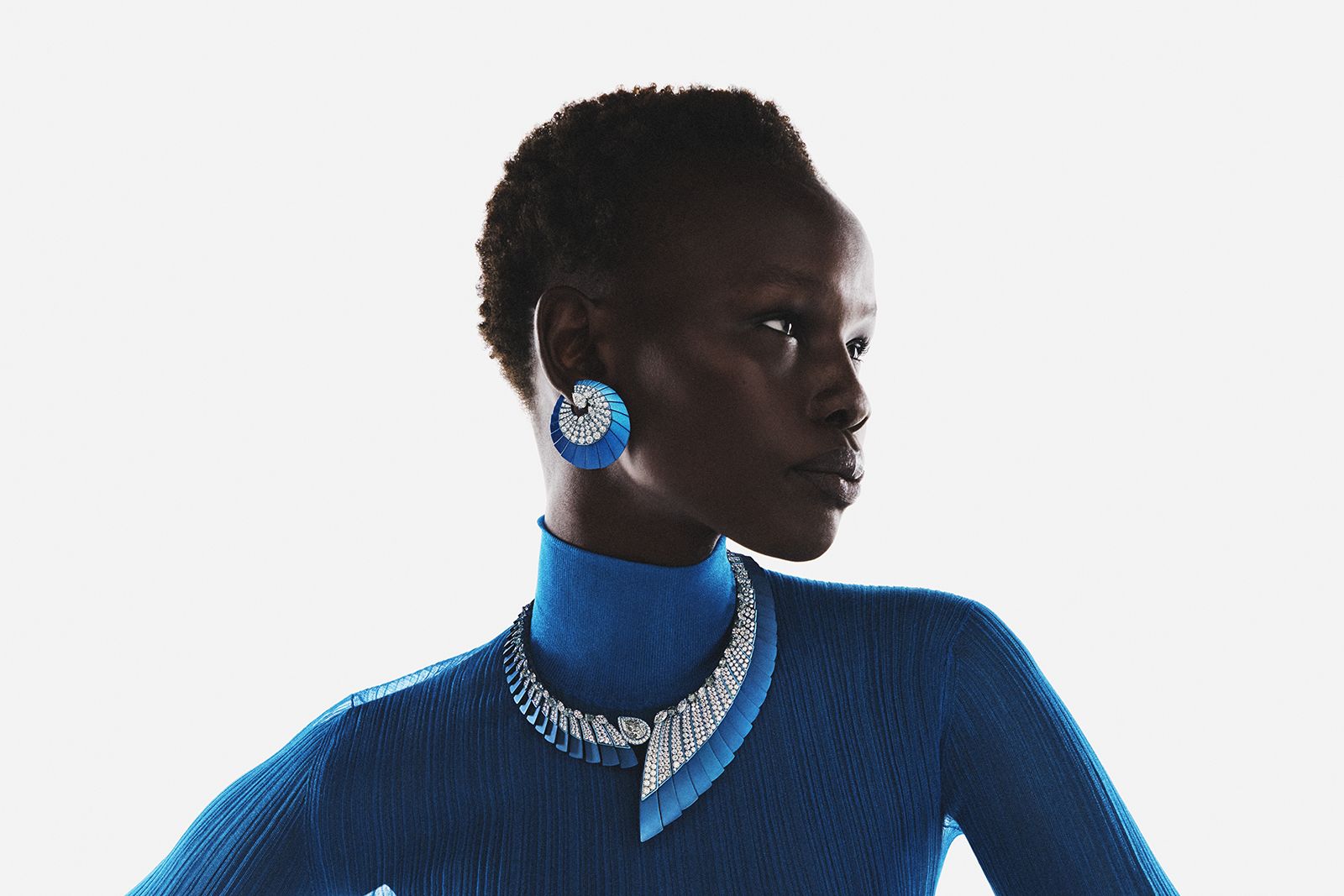 A pair of hoop earrings have the same spiral form with two 1.01 carat pear-shaped white diamonds, while a pair of drop earrings also boast more than two carats of fancy dark grey emerald-cut diamonds. Next, there is a smaller pair of earrings in rose-hued aluminium set with intense pink round brilliant-cut diamonds and white marquise-shaped diamonds, radiating outwards from central 1.02 carat pear-shaped diamonds. This set continues with two rings in rose and light green aluminium, this time with marquise-shaped colourless diamonds and pink round brilliant-cut diamonds set in light grey titanium. Both of these rings are set with rare fancy-coloured diamonds at their centres. To complete the set, a bijou de tete features a sweeping double fan on a headband, set with white marquise and green roughs and a central 2.70 carat fancy grey oval-shaped diamond. This can be detached from the headband to be worn as a brooch.
Midnight Aura
Green clouds of stardust are the inspiration for the Midnight Aura set with its five pieces. Black rhodium is used as the backdrop to white round-brilliant-cut and princess-cut diamonds, as well as cabochon-cut green chrysoprase from Africa. There's an articulated, fabric-like necklace with bezel-set diamonds and a 20.57 carat pear-shaped white diamond from the Natural Works of Art collection, which can be detached and worn in different ways. Next, there's a pair of ear climbers, chandelier earrings, and two rings: one with two chrysoprase cabochons and another with a 4.23 carat pear-shaped diamond and a princess-cut diamond, inlaid into chrysoprase.
Optical Wonder
This set draws inspiration from the Optical Art movement – otherwise known as Op Art – and one of its key proponents, Victor Vasarely. Seven pieces rely on the contrast between bold lines of pavé-set diamonds and coloured aluminium – almost like the stripes of a big top circus tent in High Jewellery form. Some pieces are monochrome, while others have splashes of yellow, pink and blue diamonds. Highlights include a necklace with black aluminium, rough yellow diamonds and polished diamonds, complete with a 3.02 carat fancy intense yellow radiant cut diamond and accompanied by a matching pair of earrings. A double open ring decorates the hand with a 1.70 carat emerald-cut white diamond, while the standout Optical Wonder bangle uses alternating bands of yellow round brilliant pavé-set diamonds and black aluminium to herald a 3.02 carat fancy deep greyish green oval-shaped diamond. Finally, there's a pair of drop earrings and two rings - one pink and one vibrant blue.
Frozen Capture
Finally, there's Frozen Capture – a homage to the aesthetic similarities between ice and diamonds. The six pieces use Brazilian rock crystal – a first for the house – to evoke the bouncing of light off frozen rivers. There's a necklace with round brilliant-cut diamonds and squares of crystal and polished white gold to give a mirror effect, which transition into a fringe of marquise-shaped diamonds, finishing in a 20.10 carat pear-shaped flawless diamond from De Beers Natural Works of Art collection. The remaining pieces span chandelier earrings, an ear cuff and asymmetric stud, a bracelet and two rings, one featuring an internally flawless oval- shaped 8.24 carat diamond, the other, a 10.31 carat round brilliant. The round ring is bombé cut from one single piece of crystal, engraved with squares to mirror the aesthetic achieved in the signature necklace.
I am sure you will agree that this is an incredible new pathway in the De Beers High Jewellery story. Now that the brand has stepped into this new era of light and colour, let's see how it continues in the coming seasons.