Since we love the shimmer of exquisite weaves and the sparkle of diamonds, we headed to Nehru Centre, London, to discover the treasure trove that had been crafted in India. The fabric exhibition, as we discovered, was envisioned to take viewers on a journey to Benaras and offer a vivid glimpse into the craftsmanship and rich heritage.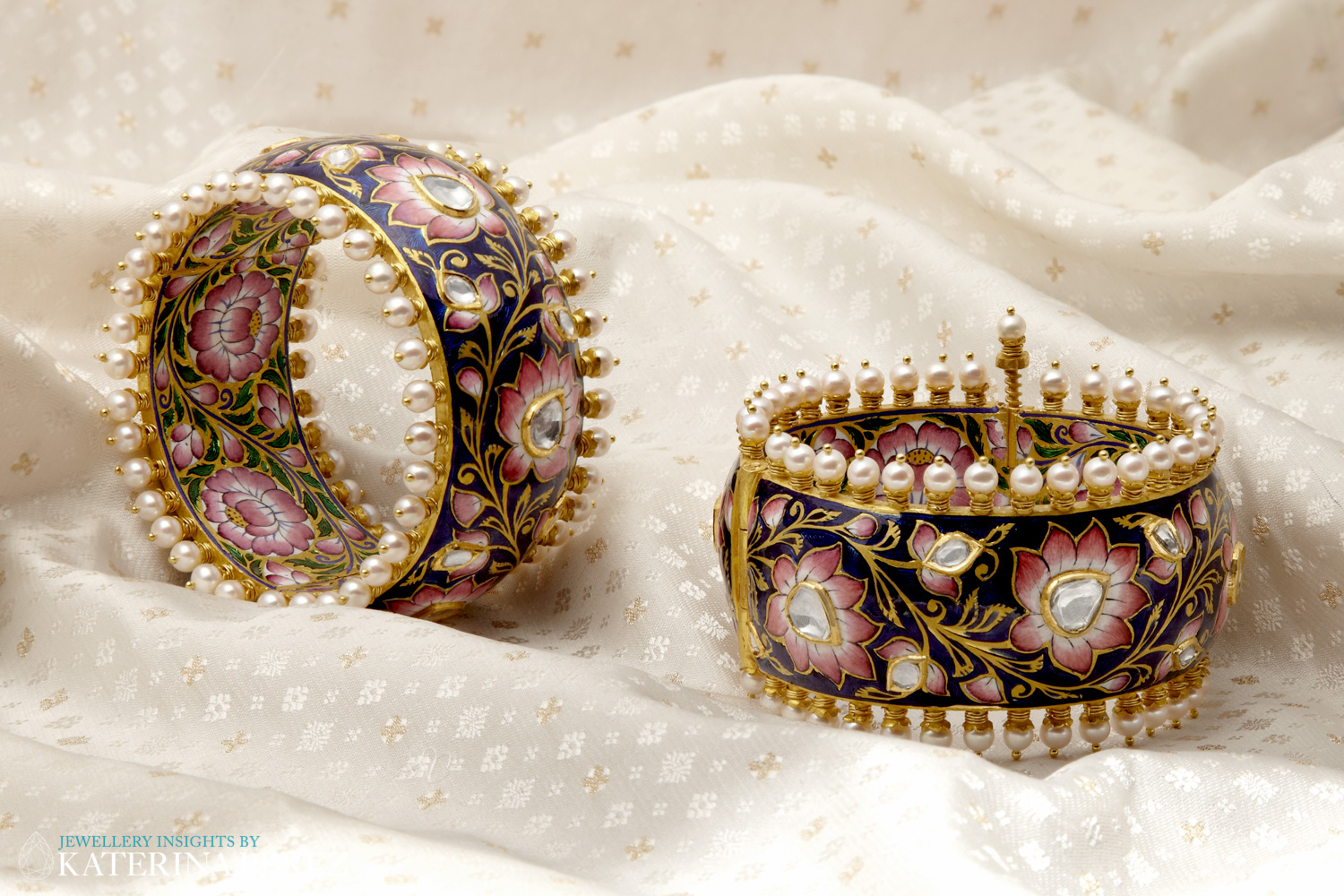 Specially composed music played on in the background with Sagrika enlightening us on the motifs, as we sifted through the weaves. Complementing their vibrant and pastel hues, Jaipur Gems shimmered in displays inviting us to try voluptuous earrings, necklaces and cuff bracelets on. With outposts across India and a firm presence in Dubai, this Indian jewellery brand – currently helmed by its sixth generation members – has been "constantly evolving" and "embracing changes." "Our signature styles are soaked in motifs and architecture of India, palaces, gardens and natural beauty – all elements that are timeless and eternal. We have a strong streak of traditionalism tweaked for today's contemporary style," says Siddarth Sacheti, CEO, Jaipur Gems.
A bright blue-enamelled torque and bangle (hasli and kada) caught our eye. Adorned with delightful floral motifs in meenakari (enamelling technique) and crafted in 22k yellow gold, the design spoke of strong Indian influences. Snugly ensconced on the torque and matching bangles, tiny pearls and uncut diamonds (polki) added to the jewel's beauty. Interestingly, the polki jewellery is one of the oldest techniques in India and was introduced by the Mughals many centuries ago. They are often combined with sapphires, rubies and emeralds that give them a touch of regal. After spending a good amount of time lusting after the fabrics and handcrafted fine jewels, we handpicked a few for our photo-shoot. Besides the torque, we were enamoured by the traditional jhumkas (dome-shaped chandelier earrings), both the enamel polki version and the ones crafted entirely in yellow gold.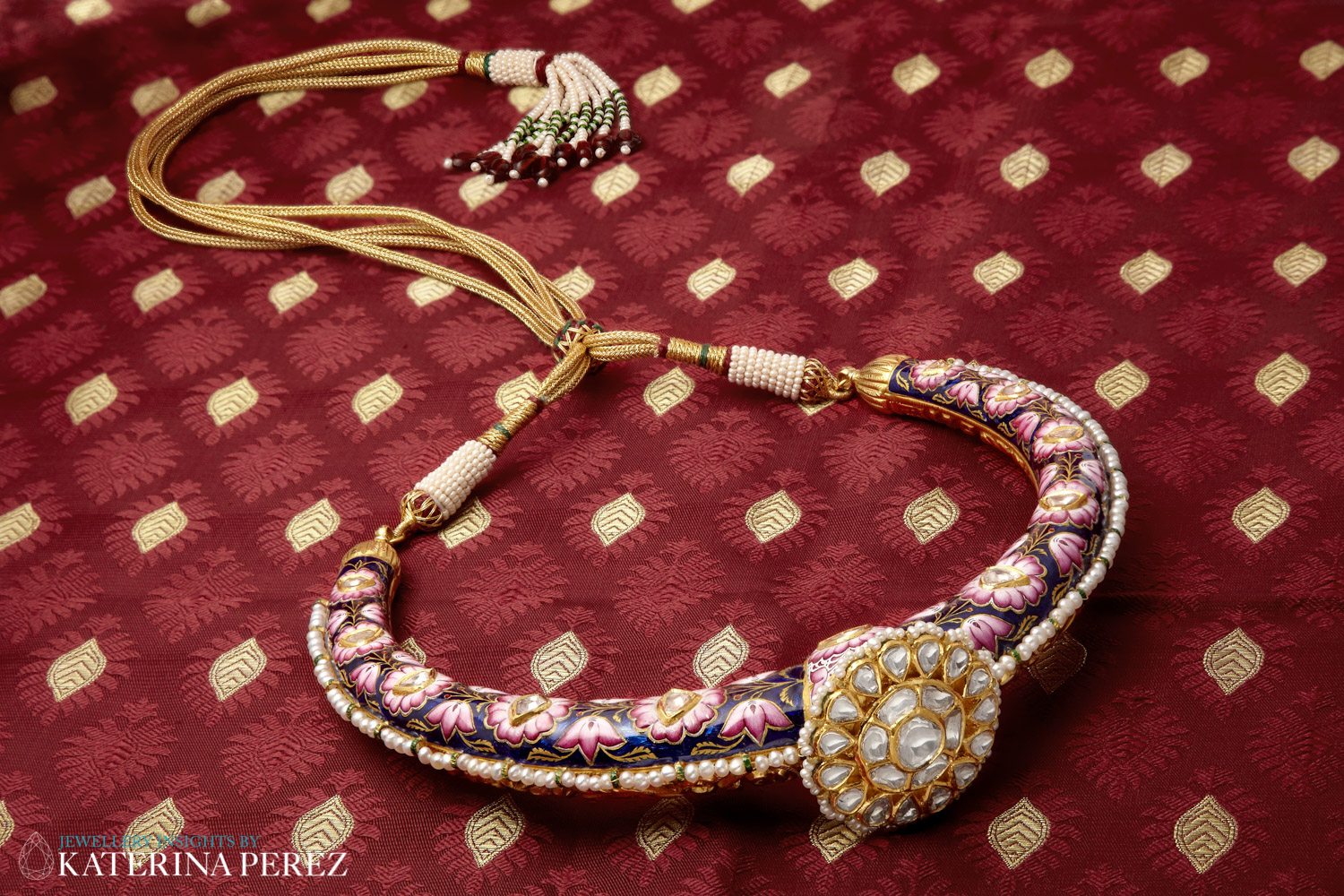 Another beauty that made its way to our 'fav-list' was a blue sapphire cuff. The tiny sapphire beads were embellished alongside diamond-polka and accented with blue enamel, bringing the cuff to life.
And the final pick? The utterly sensuous necklace crafted in 22k gold adorned with the finest of polkis. The blush pink enamel showed a serene sense of balance, as it subtly enhanced the beauty of the raw diamond cluster – the style was masterfully interpreted through romantic touches. As you see Jaipur Gems is extremely design-centric. "Our jadau polki jewellery isn't about big polkas, rather it is about style and intricate workmanship. We use arts of goldsmithing from across the country to make very interesting contemporary styled jadau-polki jewellery," explains Siddarth, whose state-of-the-art factory uses technology and handcrafting to add more precision and clean lines to the designs.
The creative freedom that blossomed here in a myriad ways, celebrating India's rich craftsmanship, offered us a fresh perspective on both design and jewellery.