Innovative - though hardly new - the 'en tremblant' setting was first conceived in 18th century France. It was especially popular in floral jewellery; providing realistic natural movement through the gems being set onto the extremities of coiled precious metal. Distinguished designers such as Alexandre Reza, Bvlgari and Grima have all created jewellery - either brooches or earrings that this technique is most suitable for - exemplifying the uniqueness of this technique.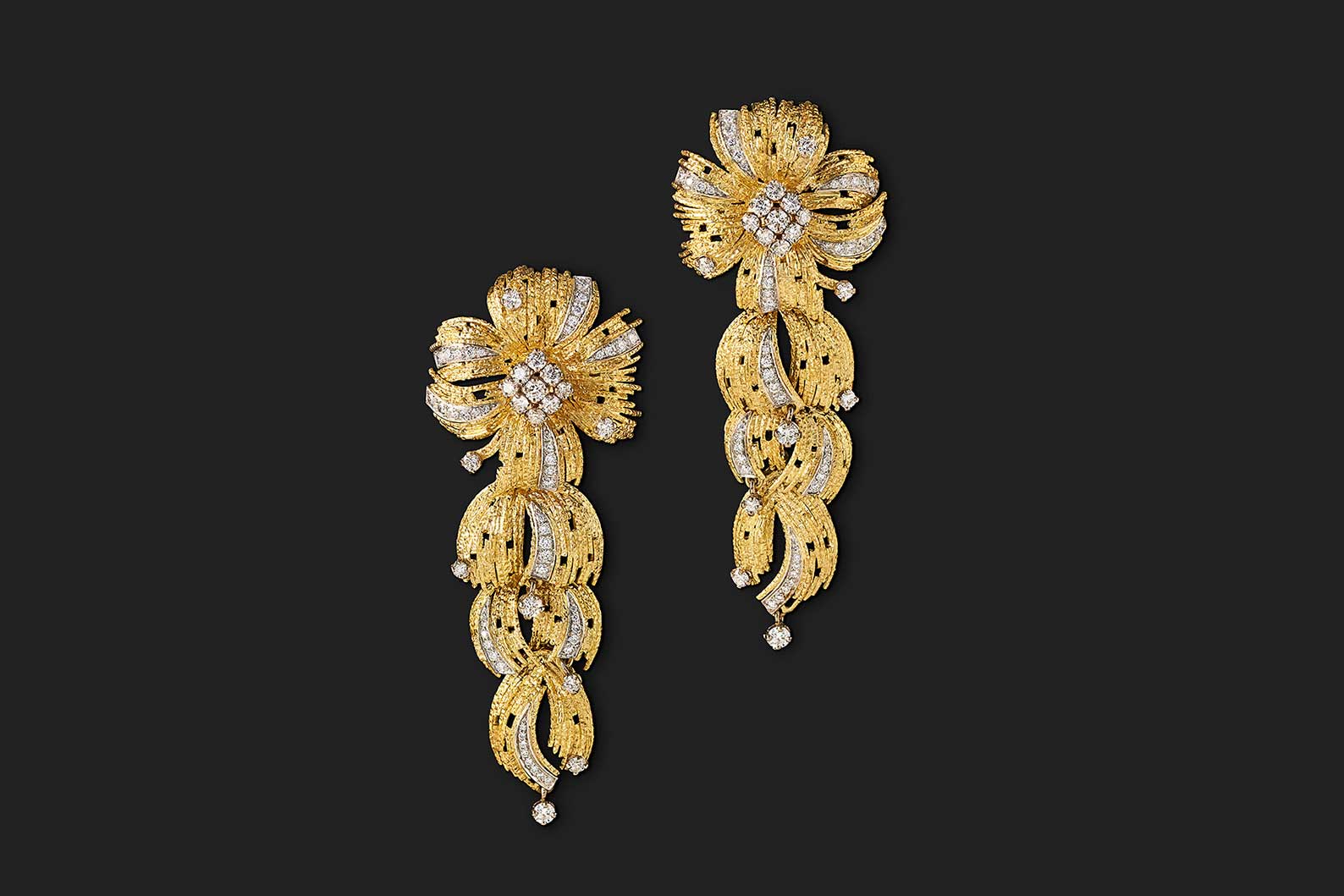 Van Cleef & Arpels have trademarked a very special gemstone setting technique, the 'Vitrail Mystery™' setting. Extremely precise gemstone cutting allows for gems to 'sit' facet to facet with no metal appearing on surface – and most significantly, no setting appearing on the reverse side either! Furthermore, due to the special buff-topped cut with rounded surface you can see the light passing through the gems creating an illusion of vitrage and illuminating them as brightly as possible. Both 'Mystery Set™' and 'Vitrail Mystery Set™' are trademarks of the house - the latter was patented by the Van Cleef & Arpels in 2014.
A modern innovation which is so unique that the brand owns the rights to it comes from the Russian brand Moiseikin. The Waltzing Brilliance® setting is a truly revolutionary gem setting technique - in every sense of the term – and is best described as a dynamic type of tension setting. The culet of the gems sits inside a minute loop, and is held in place by a single prong which rests on the table of the traditionally brilliant cut stone. The name 'Waltzing Brilliance' refers to the dance-like movement which the gemstones are afforded in this unique setting; spinning and sparkling unlike any other designer's jewels.
One of the most modern – and fittingly loosest - interpretations of jewellery setting comes from American designer Moritz Glik, whose signature is gems which are left to move freely between transparent sapphire glass 'windows'. Although these gems are not technically set, they are still presented by the jeweller in a design which allows them to be seen from all angles, and theoretically, the sapphire glass acts as a setting type in and of itself.
Wallace Chan is the master of turning precious materials into wearable bejewelled art objects. He is known for achieving incredible jewellery feats with gemstones and metals, and for his 2016 'My dreams' ring he devised a unique type of tension setting where no metal is used to hold the gemstones in position. The ring features a 11.56ct tourmaline and a 9.93ct aquamarine which sit fixed next to one another and locked together through Chan's signature - borderline magical - use of gemstone cuts. The stones are intertwined so that the facets lock one another in place. The ring resembles a surreal, cubist castle; the likes of which would be found in the dreams which the ring is named after. The ring is further decorated with lapis lazuli, diamonds, tsavorite garnets, and pink sapphires.
There is such a vast wealth of variation in all aspects of fine jewellery design, and gem setting is one which is often side-lined for precious materials and novelty. As seen in this article, the most intelligent jewellery houses celebrate this element of design with vigour!