Back in 2014, American fashion house Ralph Lauren sent models down the runway at its SS15 presentation wearing chokers and layered necklaces packed with coloured stones in rainbow combinations, as well as smoky nude palettes and autumnal jewel tones. What was most striking about this showing was its cacophony of colour and the way it was organised tonally to bring as many shades to the table – or should that be the neck – as possible. Since then, there has been a steady stream of multi-coloured gemstone necklaces launching onto the fine and high jewellery scene, including some that don't just use colour but celebrate it!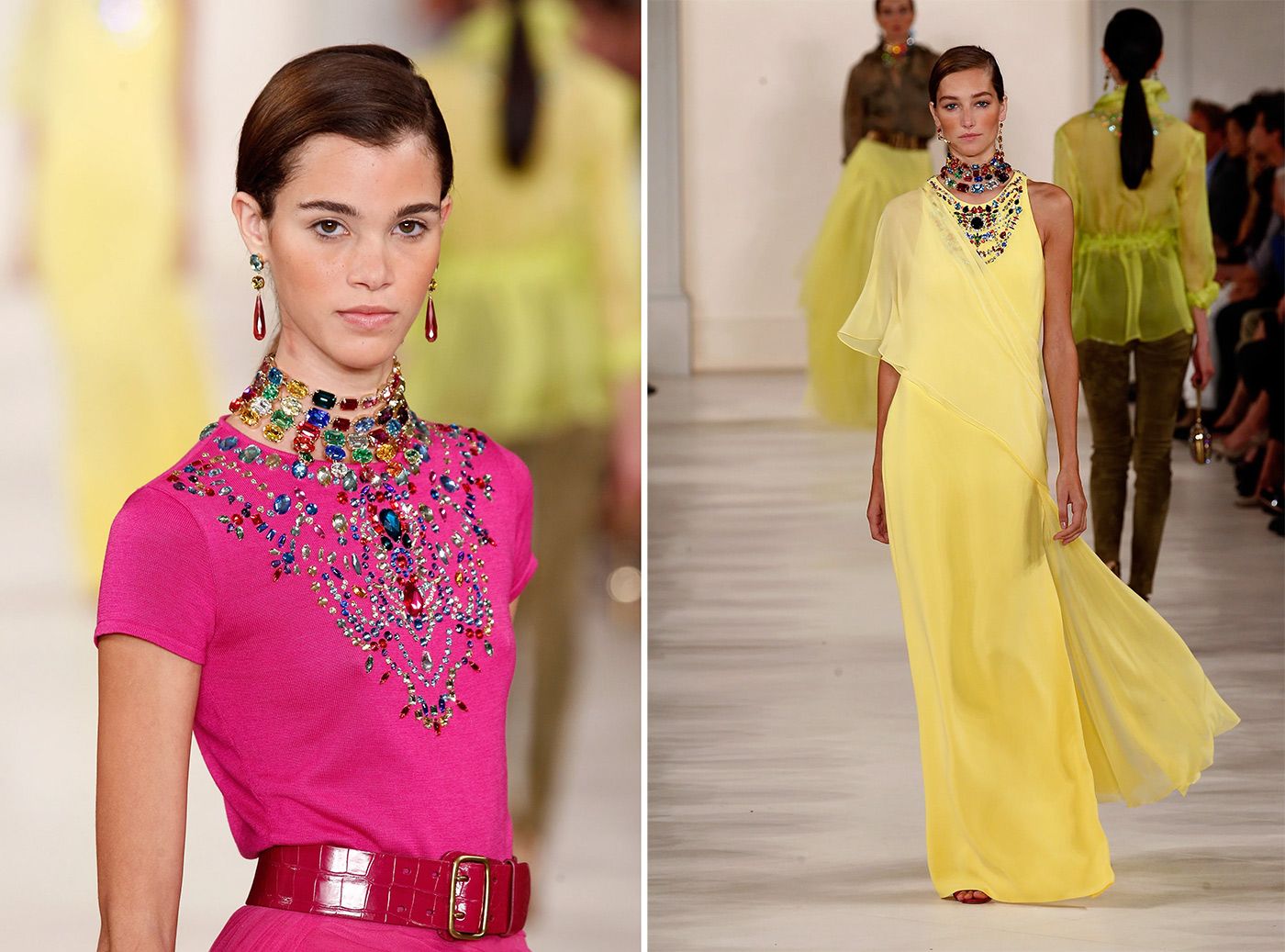 This slow-burning trend has one very particular celebrity ambassador… none other than Anna Wintour, the Global Editorial Director of Vogue magazine. She's been photographed numerous times wearing layered gemstone necklaces in shades of steel grey, pale blue, citrine yellow, baby pink and lilac, often with clashing cuts like ovals, rounds, emerald and cushion for added dimension. It could even be said that she's one of the earliest proponents of the current 'neck mess' trend we are seeing in 2022.
In the case of Anna Wintour, though, she's still mostly captured wearing individual necklaces, each with a single coloured stone, which are layered together. What about mixing all those stones into one piece? Back in 2016, actress Saoirse Ronan did just that with a beautiful Chopard High Jewellery necklace on the BAFTA red carpet. The piece contains 275 carats of fancy-coloured sapphires, 82 carats of fancy-coloured briolette-cut sapphires, 11 carats of round-shaped rose-cut diamonds, and five carats of pear-shaped rose-cut diamonds.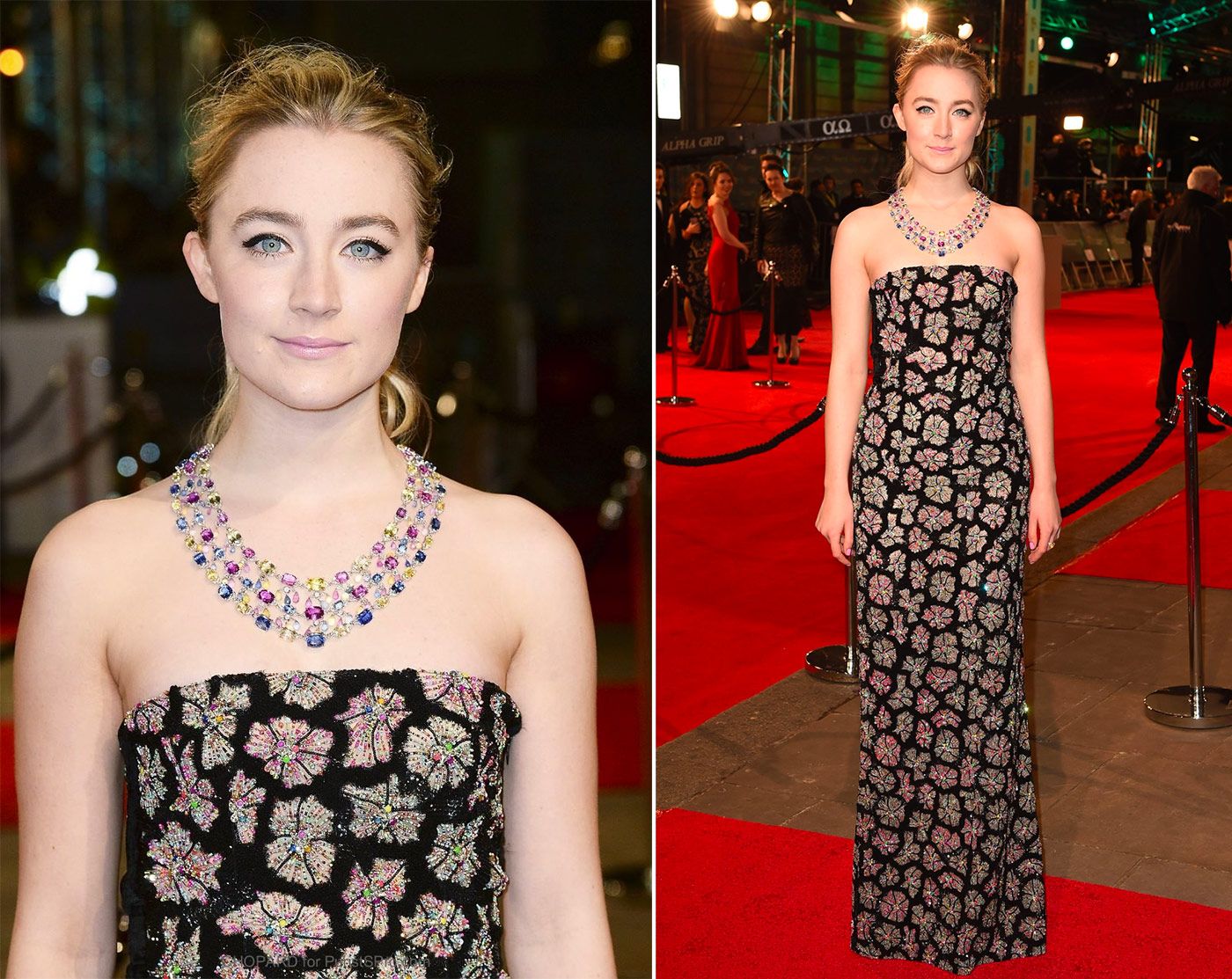 In my opinion, there are two jewels that have put this adoration for multi-coloured gemstone necklaces back on the map in recent years. The first is by Bulgari – the Prodigious Colour High Jewellery necklace – that contains five oval-shaped stones set in pink gold with 48 round brilliant-cut diamonds. The colours contained here are inspired by the artworks of Italian baroque painter Artemisia Gentileschi, and they are almost too saturated… as if they've been placed beneath an Instagram filter. Of course, these are natural gemstones, including a 67.80 carat rubellite, a 68.08 carat topaz, a 51.21 carat citrine, a 50.27 carat amethyst, and a 50.54 carat rose quartz, combined with 20 cabochon-cut fancy tourmalines of 61.55 carats and 124 buff-top amethysts for another 6.16 carats.
The second necklace is a Tiffany & Co. piece from the 2021 Blue Book Collection titled 'Colors of Nature'. The Earth necklace features a spectrum of gemstones, totalling 278 carats, including aquamarines, tanzanites, pink, orange and green tourmalines, a rubellite and a morganite, plus seven carats of diamonds. What's especially notable about this piece is the way each specific shade of gemstone has been combined. There are crisp greens, cerulean blues, golden oranges and ethereal pinks that are neither pastel nor acidic. Instead, they seem to exist in a bubble that would be remarkably hard to replicate.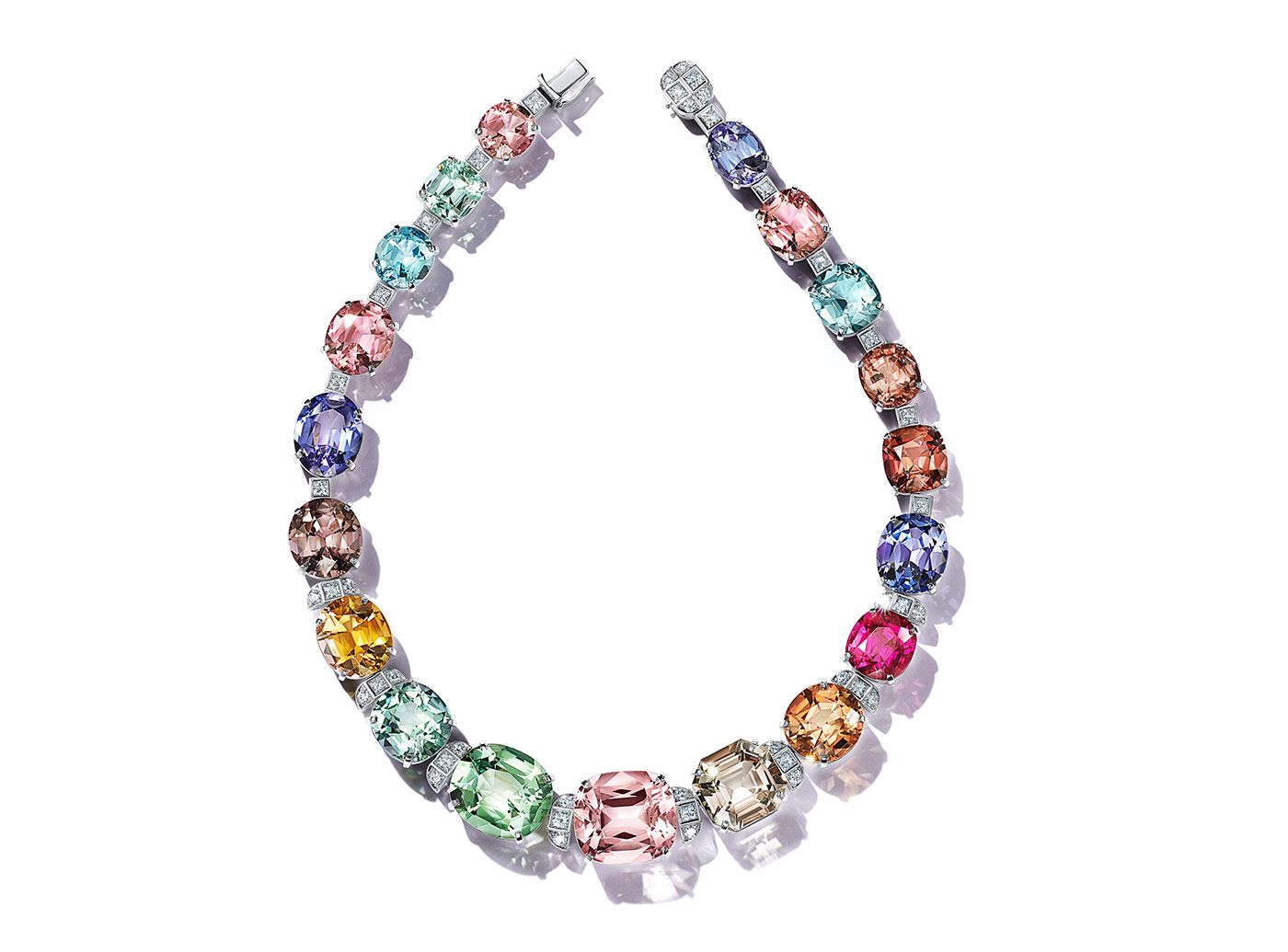 The similarities in these two pieces encouraged me to go 'back into the archives' to discover more multi-coloured gemstone creations. In 2015, Sotheby's sold a Tiffany & Co. necklace by Paloma Picasso that really cemented my obsession with this multi-hued trend! The piece, which sold for USD $479,000, is crafted in 18k yellow gold and platinum with various cuts of tanzanite, rubellite, peridot, tourmaline and topaz, set among 'X'-shaped motifs of diamonds weighing approximately 18.30 carats. Paloma Picasso started designing at Tiffany & Co. in the 1980s and her Graffiti designs, like this one, remain some of her most distinctive styles. Another notable Sotheby's sale is a piece by Michele della Valle that was auctioned in New York in 2013. It contains a fringe of coloured stones, including a mauve rubellite of 32.02 carats, plus blue, pink and yellow sapphires, emeralds, aquamarines, topazes, peridots, fire opals, further rubellites and diamonds for a total weight of 27.79 carats.
I would also be remiss not to spotlight the Canturi 'Lucinda' necklace, which means 'Lady of Light,' according to the brand. The piece has a geometric, almost pixelated quality, which was inspired by the artistic concept of Cubism. It contains pink tourmaline, citrine, amethyst, topaz, peridot, morganite and aquamarine gemstones that are either en cabochon, emerald-cut, cushion-cut, round-cut, princess-cut… it's safe to say the variety is enormous.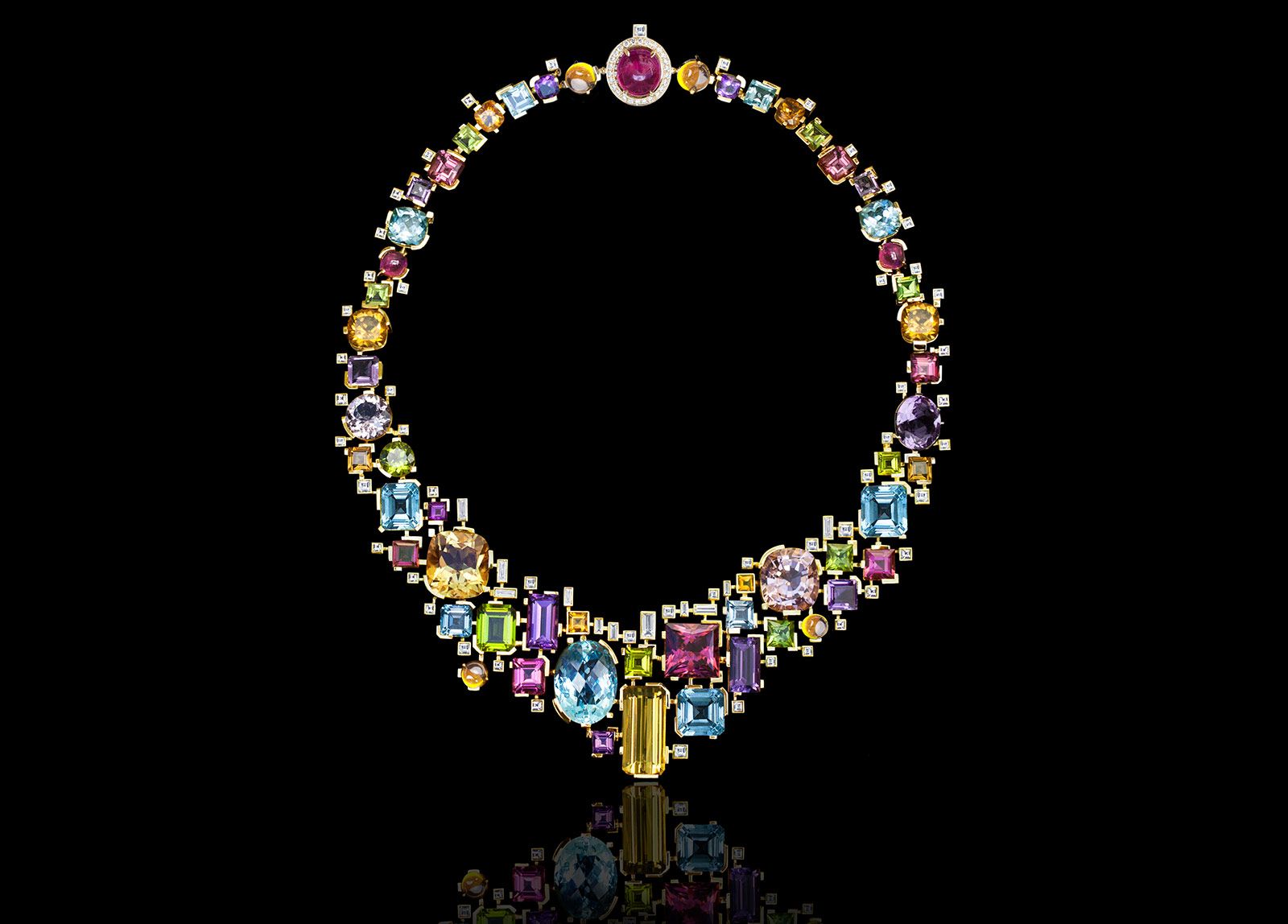 Some brands choose sharp brights, like Oscar Heyman and its cushion-shaped yellow, pink, orange and green sapphire necklace. In fact, this brand has long been a proponent of celebratory colour and its pieces are well received at auction. Other examples include this rectangular-cut tourmaline, aquamarine, morganite, heliodor, citrine and amethyst necklace sold by Christie's in 2016, and this bib necklace with circular, cushion and oval-cut peridot, ruby, amethyst, tsavorite, sapphire and spinels, sold in the same year.
Others have typically been drawn to a pastel palette, like Bayco and its necklace with 19 unheated rose-cut sapphires totalling 294 carats and 11 carats of diamonds. Then there are brands that fall somewhere in the middle like Hamilton Jewellers with its necklace containing flashes of olive green, bright orange, sunshine yellow and baby pink.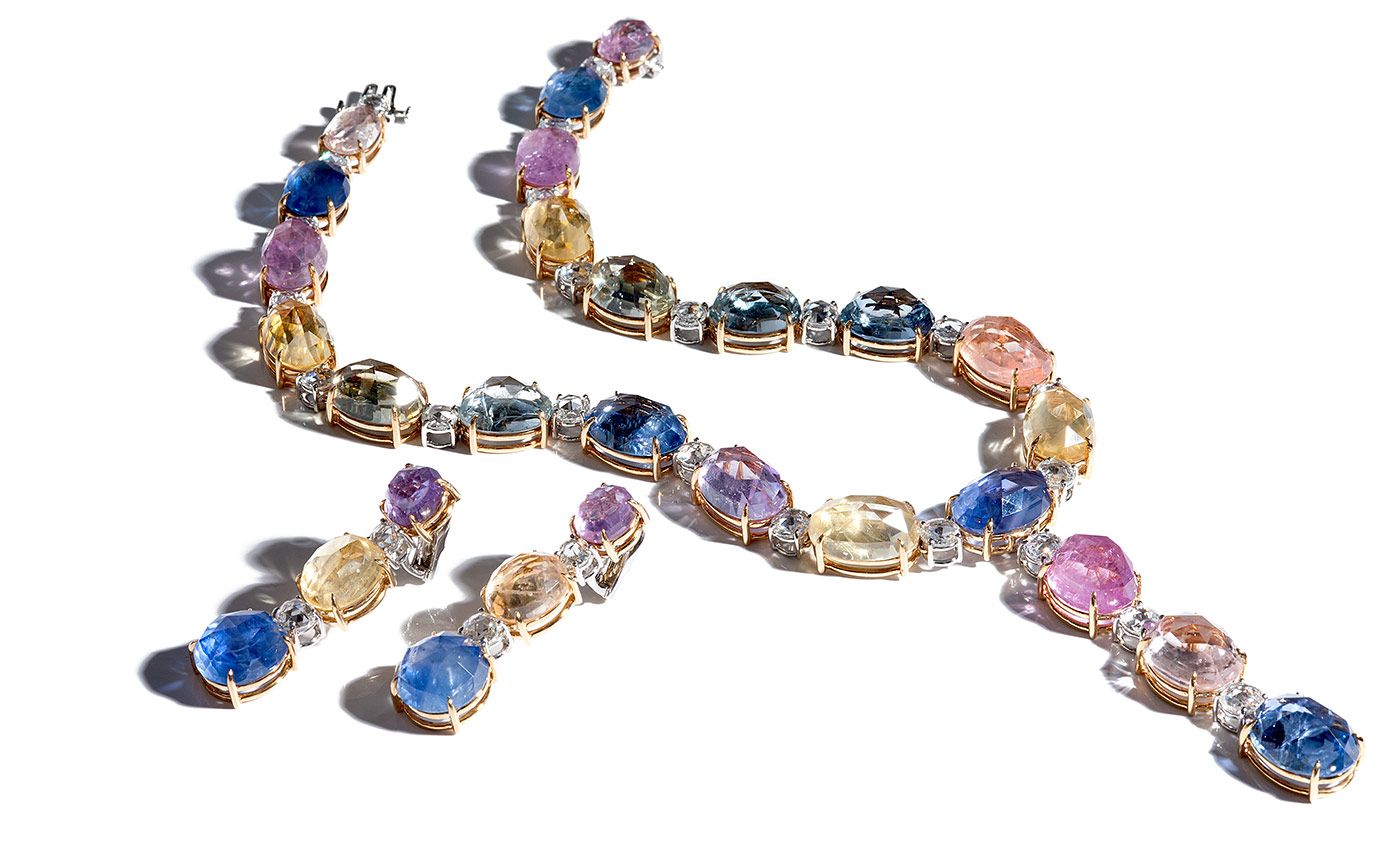 In 2020, when Pomellato launched its debut high jewellery collection, La Gioia di Pomellato, one of the stars was its Nudo Collier Plastron necklace with drapes of rose-gold chains set with domes of blue topaz, peridot, amethyst, lemon quartz, Mandarin garnet, rhodolite, and tourmaline, sprinkled with diamonds. And the list goes on!
Within the new Marco Bicego Alta collection, which is actually the first high jewellery collection of the Italian brand, there's the Murano necklace set with a loop of multi-coloured gemstones bordered by deep blue oval-shaped aquamarines in 18k yellow gold. It is adorned with a variety of stones from citrines and amethysts to London topazes bordering them.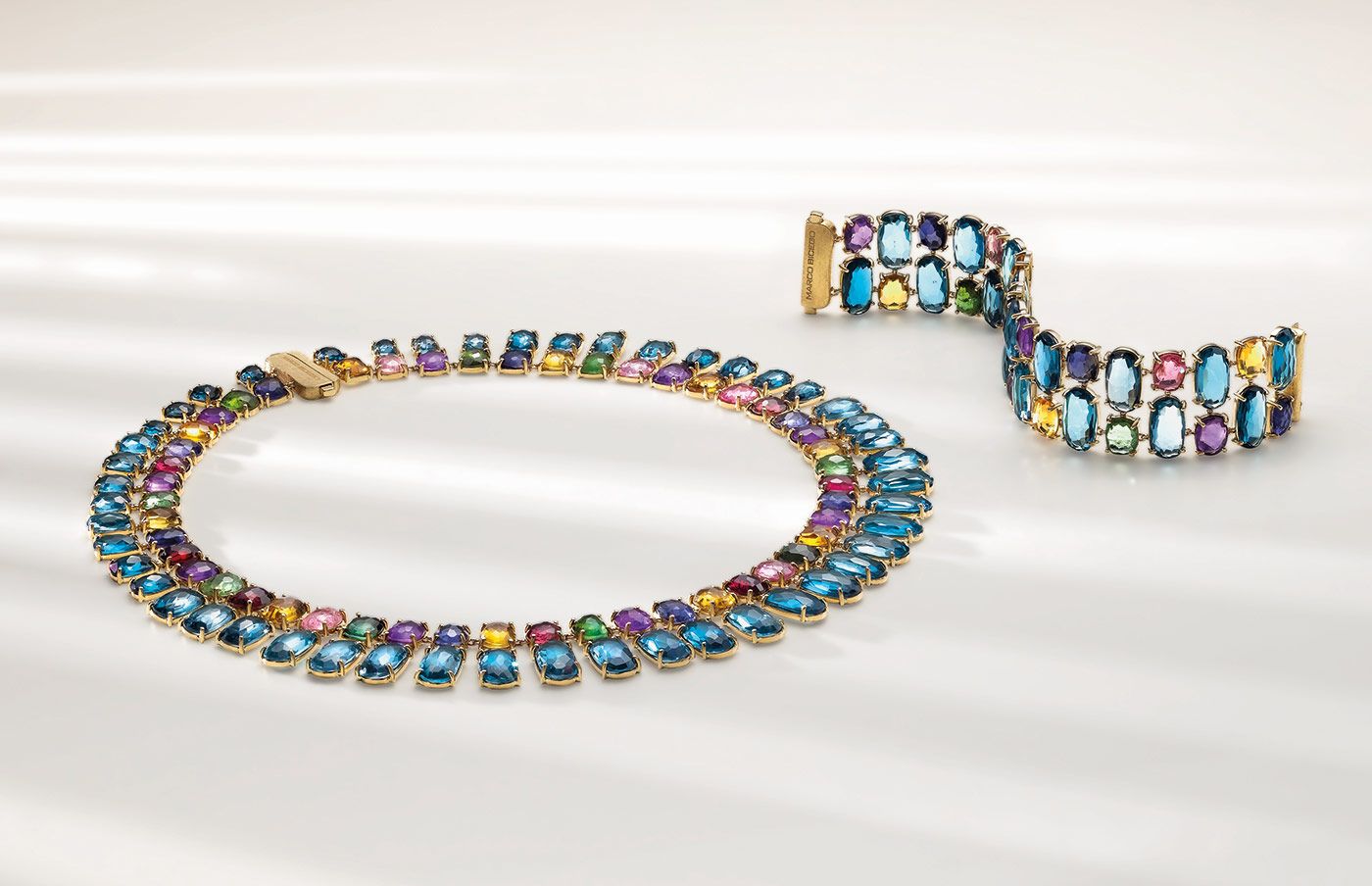 Verdura has also emboldened its 2022 Fulco collection with a series of necklaces that "recall the opulent aesthetic of the Eastern Roman Empire". There's a double-wrap sautoir with amethyst, aquamarine, peridot, prehnite, citrine, iolite, smoky quartz, rose quartz and white ceramic, as well as a Fulco 'Y' necklace with polished beads of amethyst, rubellite, aquamarine, peridot, rose quartz, citrine and blue topaz, plus a cabochon spinel, South Sea cultured pearls and diamonds.
Finally, there's the Louis Vuitton Bravery II High Jewellery collection and its statement-worthy Le Multipin necklace with a 42.42 carat green-blue tourmaline and an assortment of coloured stones, including tourmalines, citrines, peridots, amethysts, aquamarines, iolites, garnets, tanzanites for 100 carats and 1,011 brilliant-cut diamonds for 36.52 carats.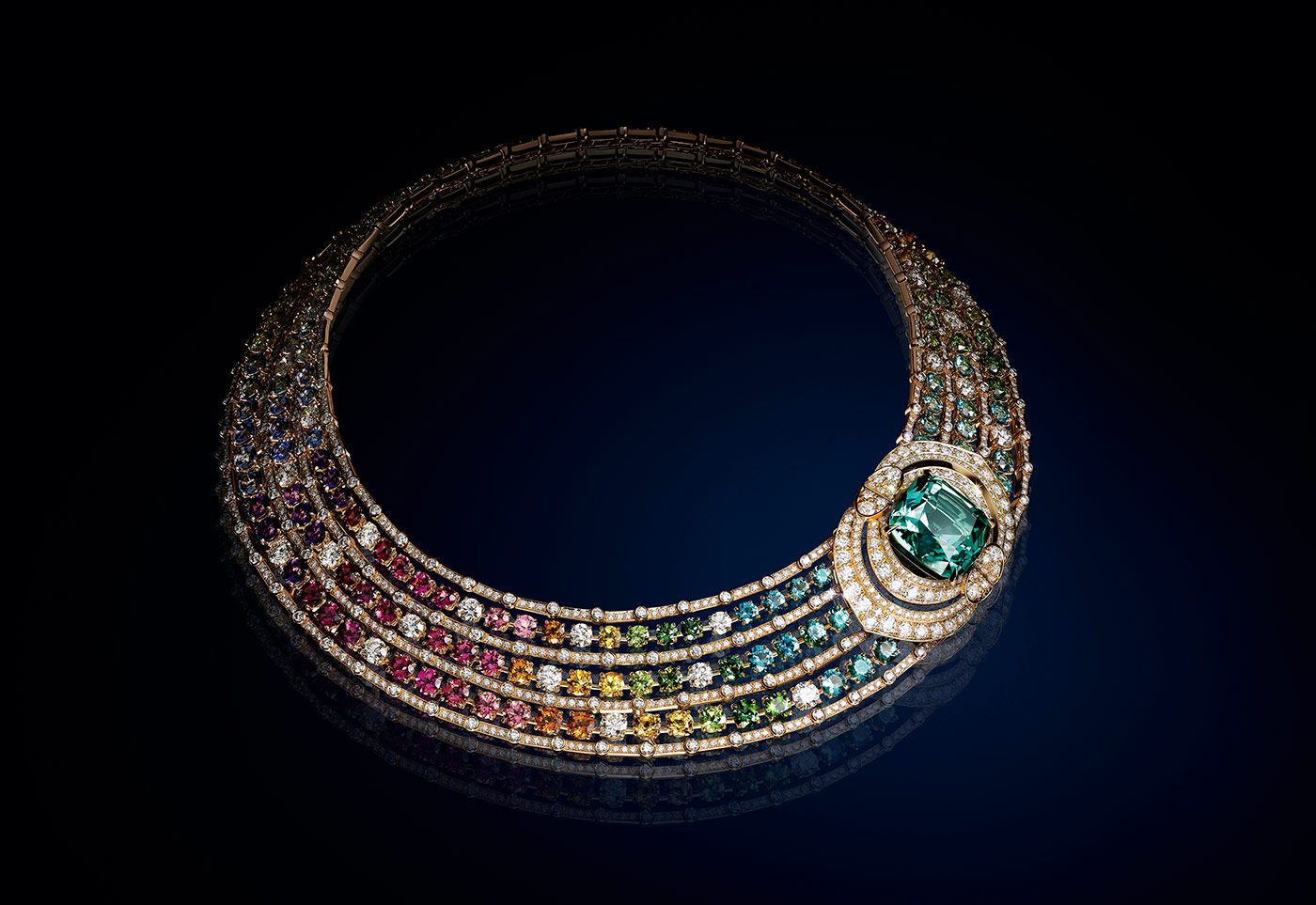 All these examples fuse colour cleverly and carefully in a way that makes each gemstone sing. I can only begin to imagine the time it takes to source such combinations of stones and, indeed, how long it takes to colour match and curate the arrays we see here. Once again, jewellery proves itself to be a feat of organisation and patience, not just creativity.