The brands who usually exhibit in Las Vegas showcase pieces that are mainly focused on original look and less so on large, investment grade gemstones. So apart from a selection of statement jewels, Bayco presented their new rings from the 'Lotus' collection, with key decorative elements made from a fairly bold modern material – ceramic. The centre of the rings was decorated with a single sapphire, ruby or emerald, none of which exceeded 3 carats to keep the pieces in the brackets of more affordable jewellery. I discovered impressive gemstones set in other Bayco jewels; and among them was a necklace with an incredible sapphire weighing over 60 carats.
The oval-cut stone was mined in Burma, where the particularly valuable blue corundums are 'born' – and it was purchased by the Hadjibay family directly from a local gemstone dealer. "We took the stone to New York and showed it to our cutter to see if he could improve the look of it; sometimes Burmese stones have a grey reflection in them, and if you remove this grey area, the blue tone becomes more vivid, rich and even. When improved by optimal cutting, some gemstones can appear to have completely changed colour," Marco Hadjibay tells me.
Next, Marco showed me a unique set of necklaces, rings and earrings decorated with engraved emeralds. The larger stone of the necklace and the emeralds in the earrings were all taken from estate Indian pieces. "To me, the most incredible thing about them is their wonderful transparency. Usually carved stones are heavily included, and the embellishment on the surface serves to disguise it," says Marco. "All of these gems are Zambian emeralds, and are all exceptionally well colour matched."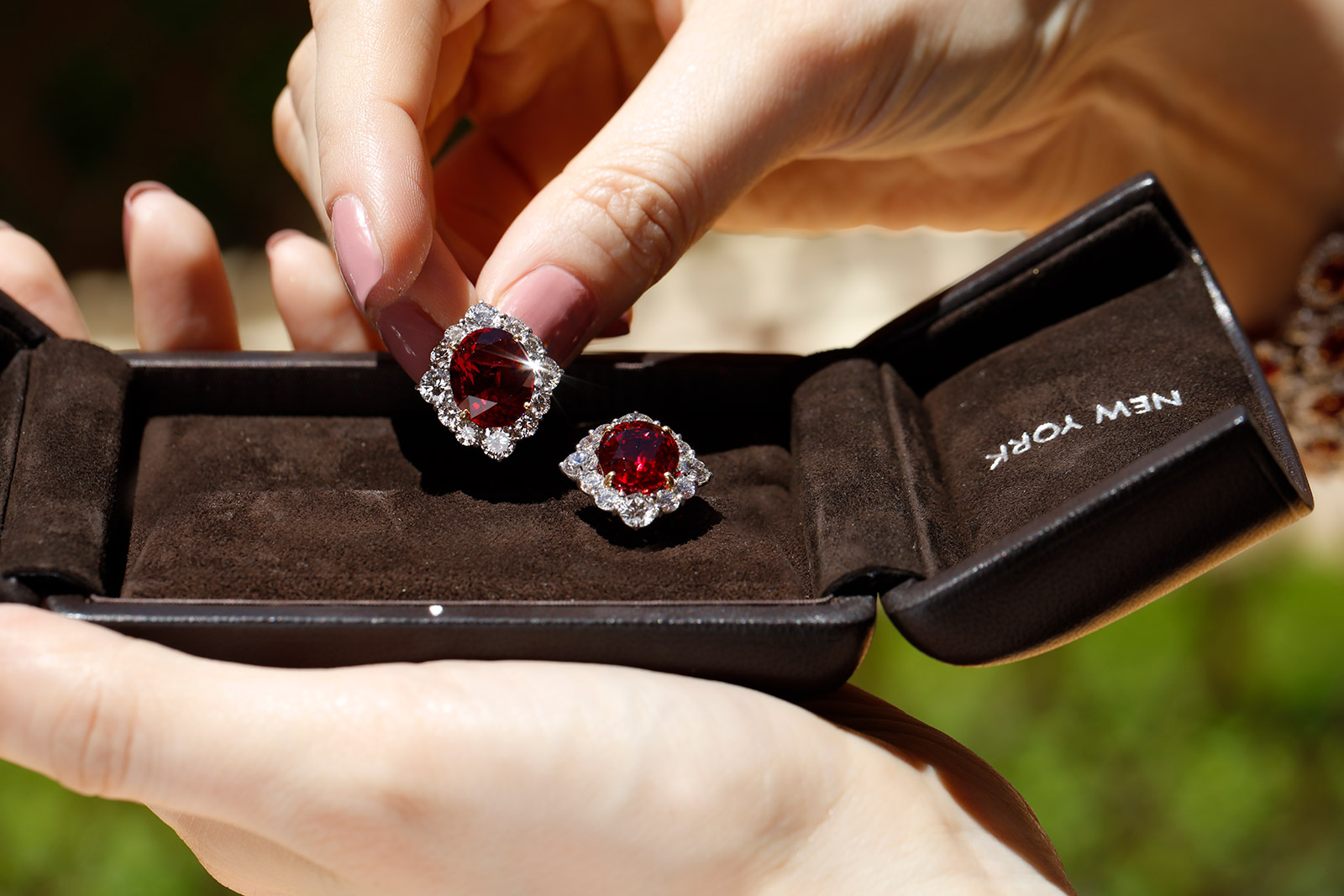 From sapphires and emeralds, my attention was diverted to Bayco's ruby earrings, because I could see the two 'burning coals' glowing from inside their box. Rubies that retain the brightness of their hue even in dimly lit places are very rare – I myself have only witnessed this a handful of times in the last 3 years – particularly considering that these examples are presented as a pair. "These ruby earrings feature one oval cut stone weighing 7 carats and another in 8 carats, both from Thailand. They have exceptional fire and clarity, making them appear velvety. As a rule, there are many more inclusions in natural rubies than in their heated counterparts," Marco explains to me, as I marvel over the unique pair.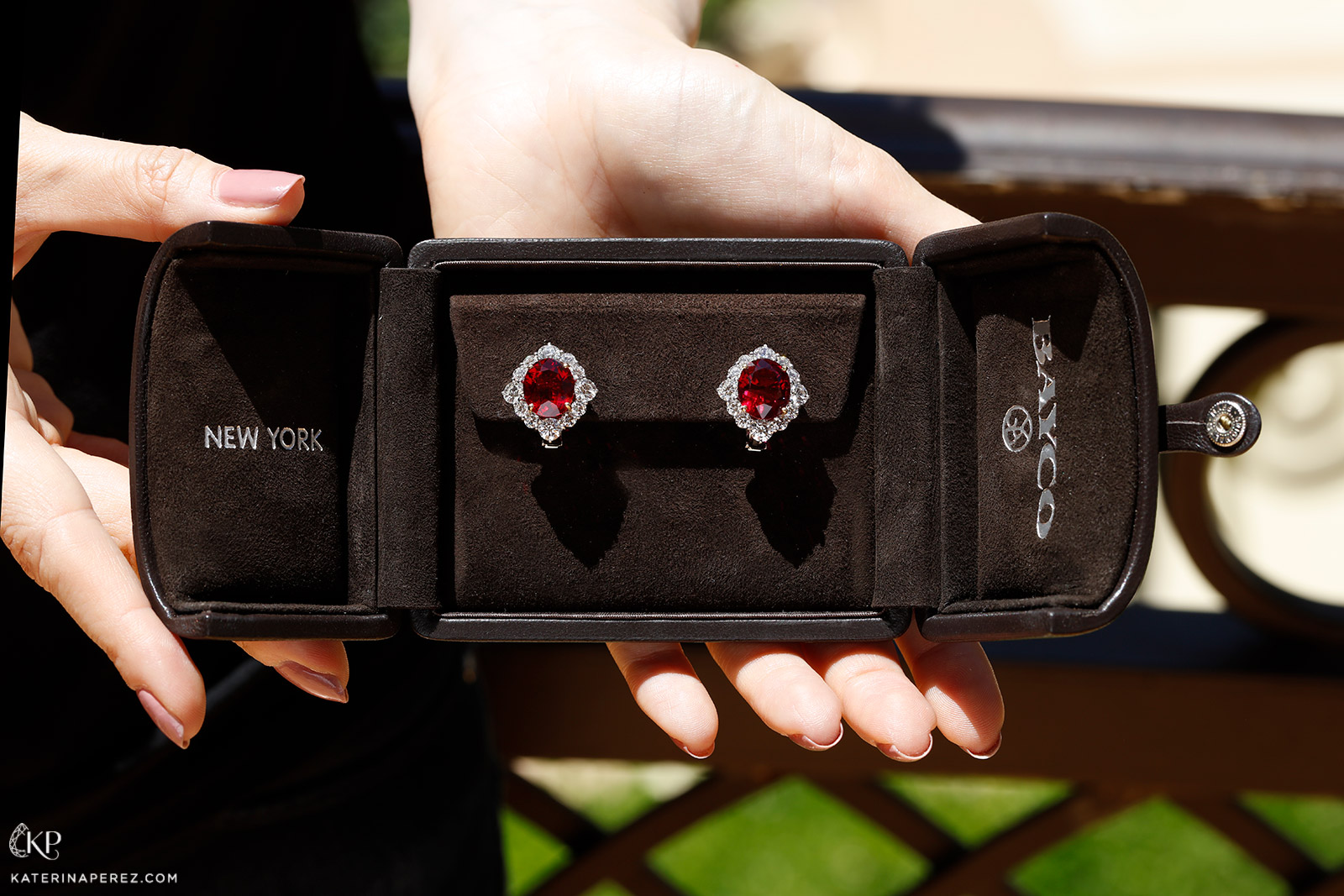 I then moved my focus onto a wide bracelet, again with rubies, surrounded by 550 colourless diamonds. 50 red oval-cut corundums perfectly matched in colour and size, some of which had to be recut to achieve the perfect proportions necessary for this piece. They were mined in Burma from a formerly rich deposit, which no longer reaps large quantities of gem quality stones. "A few years ago, we would have made 3 or 5 line bracelets, now, the high-quality gemstones we need to make something like that are not available, making the bracelet exceptional."
Bayco creates indisputably spectacular fine jewellery with investment grade gemstones. The most difficult decision is which gemstone is most valuable to you: an unusual carved emerald, a red as red-hot coal ruby, or a naturally rich sapphire. If you are looking to invest in high quality gemstone jewellery, you now know who to contact should you require any advice.