Text: Jaz Grewal, the Fashion Editor of V V magazine, for katerinaperez.com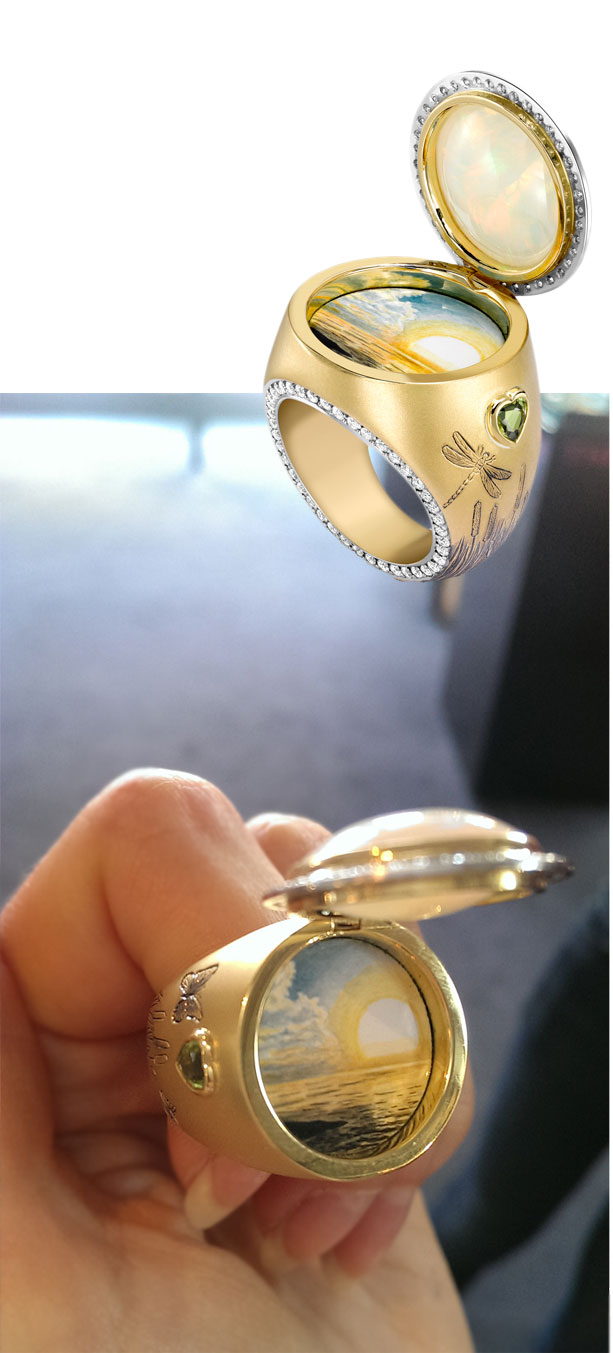 Theo Fennell's creations have become works of arts in their own right; his creative take on jewellery combined with master craftsmanship has established the London based jeweller as one of the finest in the world. Some of his most recognisable designs is the collection of opening rings, each of which conveys its own story based on his travels and experiences.
One of the finest examples is the Emerald City ring, beautifully presented in 18ct yellow gold, the ring is one of many of Theo's collaborations with Gemfields, the world's finest supplier of ethically sourced gemstones. Intricate engraving on the body of the ring reveal panels showing the yellow brick road and diamonds line the sides. Perhaps the most breath taking part of this ring is the beauty hidden beneath the 13.14ct emerald, a miniature Emerald City. Frank Baum's Wizard of OZ inspired the handcrafted masterwork and the ring is appropriately engraved with the famous phrase 'There's no place like home'.
Knowing that the rings are all made in house within Theo Fennell's flagship store is one of the most compelling appeals. The Fulham Road boutique runs over five floors and master craftsmen are all based in the workshops beneath the store. Each and every piece is created in the workshop and almost every aspect of the designs is done by hand. This attention to detail is apparent in the Breaking Dawn ring, set in 18ct yellow gold; a large opal is the centrepiece of this creation. The true art of this piece is the hand painted sunset scene beneath the opal, surrounded by a pave of diamonds, the sunset is painted on an enamel base. Dragons and butterflies are engraved on the sides adding to the ethereal charm of the ring.
Theo's rings all have the common concept of being inspired by his day to day life travels, whenever he travels, he keeps a sketchbook and these sketches create the depth of his artworks. The charm of his jewels makes them fun and feminine whilst remaining glamorous and elegant. The Empty Quarter ring is one of the most complex of his designs to date. Made in collaboration with sculptor Willard Wigan, MBE the pair set out to make a fantasy ring. The Empty Quarter, when opened appears to be an empty dessert with sandy dunes. However, the ring comes with a magnifying glass adorned with diamonds which is worn around the neck and when looked through shows three camels crossing the dessert.
These pieces along with his other masterworks were showcased at Masterpiece London last month. There is already a waiting list for the upcoming opening rings and in the coming months a few specially commissioned pieces are to be made.
Professional photos are courtesy of Theo Fennell, non-professional is made by Katerina Perez.