You may remember, for example, the work of the Turkish master Arman Suciyan, who decorated a canvas by the painter Yigit Dundar with pieces of his jewellery, and the result was a completely original piece of artwork. I have not come across any other examples of this type of work since, but when I explored the designs and collections of other brands I noticed that many of them take inspiration from the paintings of famous artists. So I thought we would take a look at a few.
I want to start with the Italian brand, Palmiero, whose jewellery is known all over the world for the technical precision when it comes to encrusting jewellery with gemstones. Carlo Palmiero, the brand's founder and chief innovator, is a passionate ambassador of fine art. After studying the canvases of well-known masters like Kandinsky, Van Gogh, Gaugin, Picasso and Mondrian, he dedicated separate lines of jewellery, watches and even stationary to each of them. Some of the new pieces from the existing Art Collection were exhibited this year at Basel.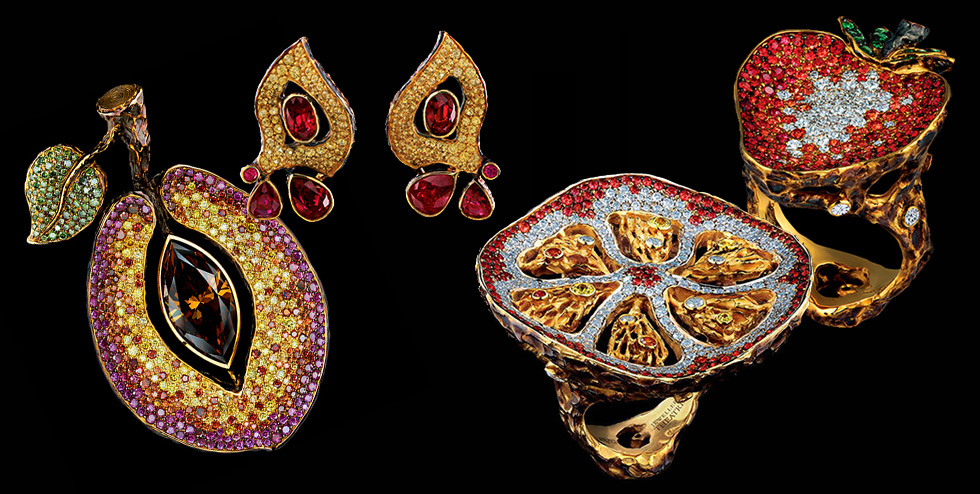 Caravaggio, the revolutionary 17th Century Italian artist, considered the founder of Realism, was the inspiration for the designers of Jewellery Theatre when they created their jewellery collection of the same name. The Caravaggio collection features bright multi-coloured rings, necklaces, earrings, bracelets and brooches featuring different types of fruit, a common motif in the artist's work. Caravaggio is known for his use of contrasts – his paintings cleverly mix highlights and shadow, and light colours with dark. The same effect of contrasting shades can be seen in Jewellery Theatre's designs, making them bold and striking.
While we are on the subject of Italian painters, Giuseppe Arcimboldo was a 16th Century artist celebrated for his series of portraits, The Seasons, which were utterly unique in their composition: they consisted of people's faces made out of vegetables and flowers. This unusual approach to painting was recreated in jewellery form by the Italian brand Mattioli, who, under the direction of chief designer, Licia Mattioli, released Arcimboldo Four Seasons rings featuring faces composed of miniature gemstones.
Much of the jewellery inspired by painting pays homage to specific works of art or artistic techniques by featuring or using them in the jewellery itself. So, for example, the team of designers at Russia's Cellini brand created an original gold and enamel ring which incorporates a fragment of Klimt's The Kiss, while the master of enamel, Ilgiz Fazulzyanov, has designed a series of unique rings inspired by Monet's water lilies. Fazulzyanov trained as a painter, hence his perfect understanding of colour and skill at combining different shades in his work.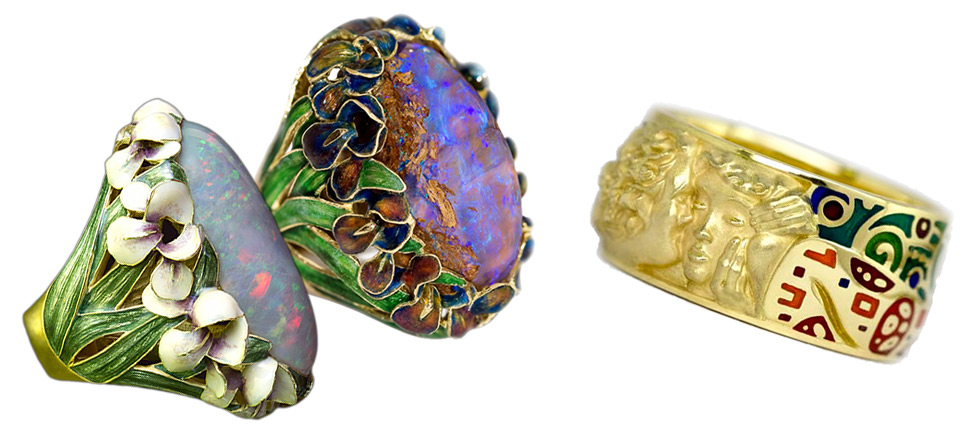 Monet, or, more specifically his painting, Gardens of Giverny, is brought to life in a bracelet by Star Diamond, a private brand whose showroom can be found off Bond Street in London. The Giverny bracelet is made up of 259 multi-coloured diamonds weighing around 125 carats; it took two years to prepare and cut the stones and another year to construct the bracelet in a studio in Paris. When you are dealing with a masterpiece, time no longer matters.
Finally, lets us take a look at what America has to offer. The new Buccellati boutique in New York has released a series inspired by the paintings of Monet, Pierre Bonnard, Winslow Homer, Mikhail Larionov and Odilon Redon, but I have already written about this collection so I will not repeat myself. Similarly, I have also talked about the incredible Tiffany&Co Seurat bracelet named in honour of the impressionist Georges Seurat and the art movement pointillism. Then there is the American designer Alex Soldier, who identified Van Gogh as a source of inspiration for his work and came up with a sunflower ring made from gold, black diamonds and tsavorite, replicating the central motif of his famous sunflower paintings.
So there you have it. Jewellers look for inspiration in the work of the great painters, just as artists sometimes try their hand at jewellery design (if you remember my article about the jewellery of Kandinsky). Personally, I believe that no matter what form art may take, artists will never stop pushing the boundaries of creativity.