Even though you can find this stone in pretty much every brand's jewellery, there are only a few companies in the world who can boast truly top quality sapphires. Bayco is one such brand, and you are now able to see the whole of their incredible sapphire collection at Baselworld.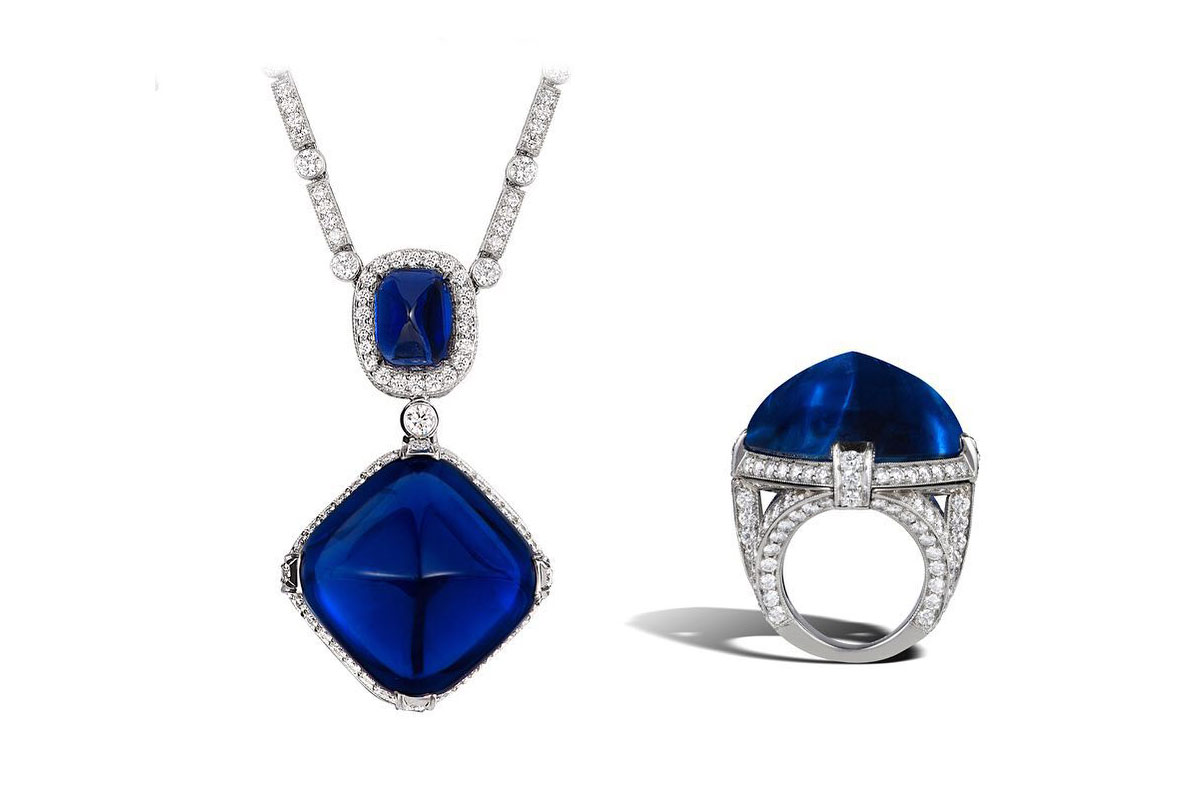 Every year I visit the Hadjibay family's salon at the Swiss exhibition and I am always surprised by just how many never-before-seen miracle sapphires they have in their collection. One year, Marco Hadhjibay, part of the third generation of the jewellery family, presents an arsenal including a tennis bracelet composed of same unusual colour green corundums, another year an impressive ring with a blue-grey stone that changes colour in different light or very rare large sapphire almost other-worldly in beauty. It seems like it is hardly an exaggeration to call Bayco the Kings of Sapphires.
Giacomo and Moris, part of the second generation, seem more like collectors of precious stones than owners of a jeweller business. Their unending love for gems and their expert knowledge of diamonds, rubies, sapphires and emeralds has led to them constantly discovering new stones, each one rarer and of better quality than the ones they already own. I imagine they would keep all these new bejewelled finds for themselves if they didn't have to sell what they already have in their inventory to pay for their new acquisitions. With their steadily growing selection of new sapphires, Giacomo and Moris, along with Moris's sons, Marco and Manuel, who help to run the business, have continued to amaze their clients with spectacular new treasures.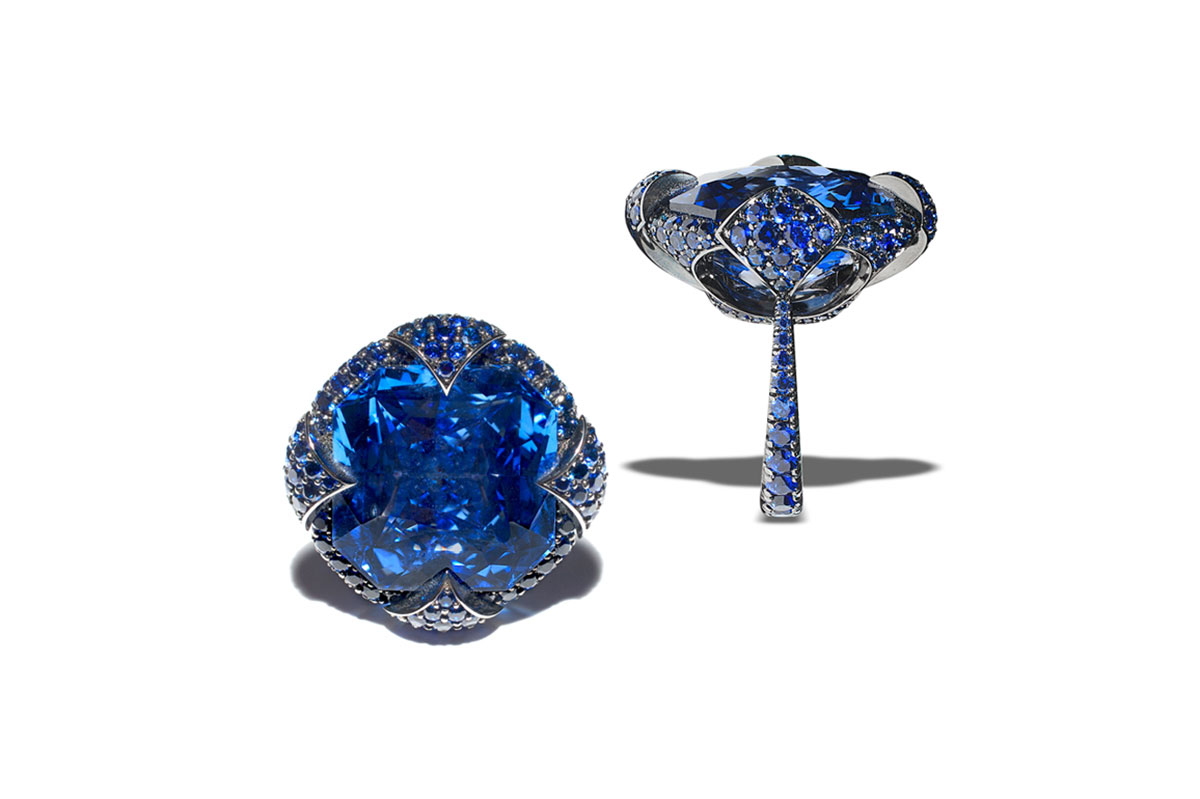 At Baselworld last year, for example, they unveiled an inimitable diamond necklace with a 55cts oval Burmese sapphire in the centre, a stone which, with its size and the depth and uniformity of its colour, was truly one in a million. Bayco previously had a necklace with an even bigger oval sapphire, 66 cts, but since that was sold it has proven impossible to find anything of this size again; sapphires of superior quality upwards of 30 cts are an increasingly endangered species.
This year Bayco once again have something truly intriguing to present to us at Basel: sapphire jewels (among other stones of course) in a new artistic vein. Eschewing the classic approach, the Hadjibay family have created something more modern and elaborate; for example, a Clover ring with a natural, 8cts cushion-cut Ceylon sapphire and 5 cts of diamonds. The central stone in this ring is nestled above 11 cts of blue sapphires paving precious metal.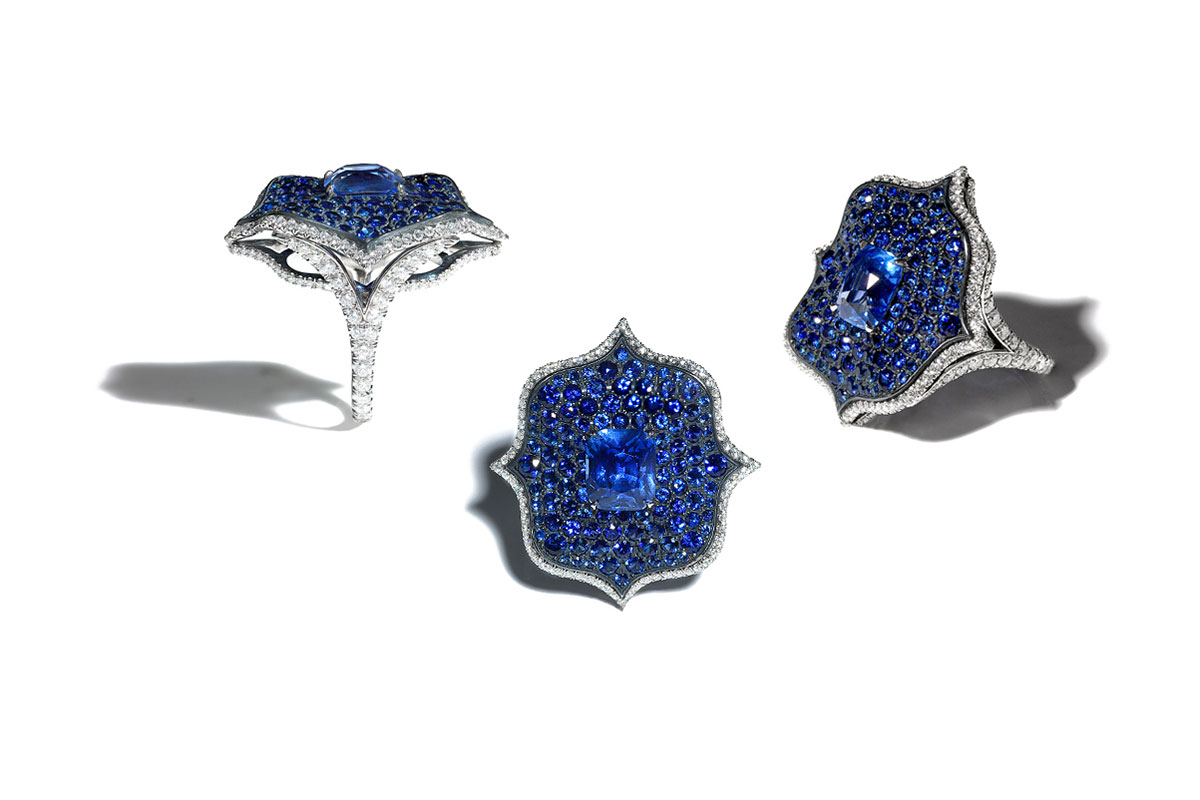 Another design new to Bayco is a ring with a monochrome pattern of 14 cts Ceylon sapphire, whose central stone is fixed to the fine shank by four claws studded with royal blue corundum, the effect of which is to make the keynote sapphire look even larger. Exploring new design directions does not mean that Bayco have completely forgotten about timeless classics, however. Clients whose tastes are more traditional will be awed by the beauty of a platinum ring with a natural, unheated, 15 cts Ceylon sapphire whose charming deep blue hue is emphasised by the snow-white sparkle of two rows of pear and marquise-cut diamonds.
That is the last piece I am going to tell you about – we don't want to reveal all our cards. Instead, I recommend you come see Bayco's new jewels for yourself at Baselworld.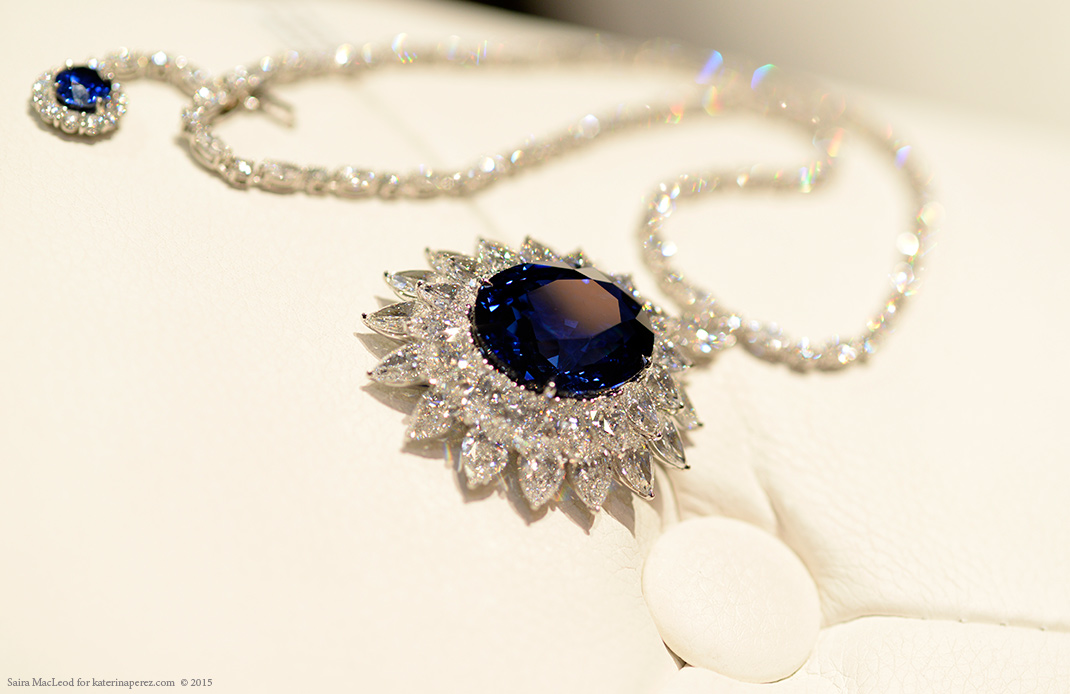 Photos are courtesy of Bayco. The one below is by Saira McLeod for katerinaperez.com