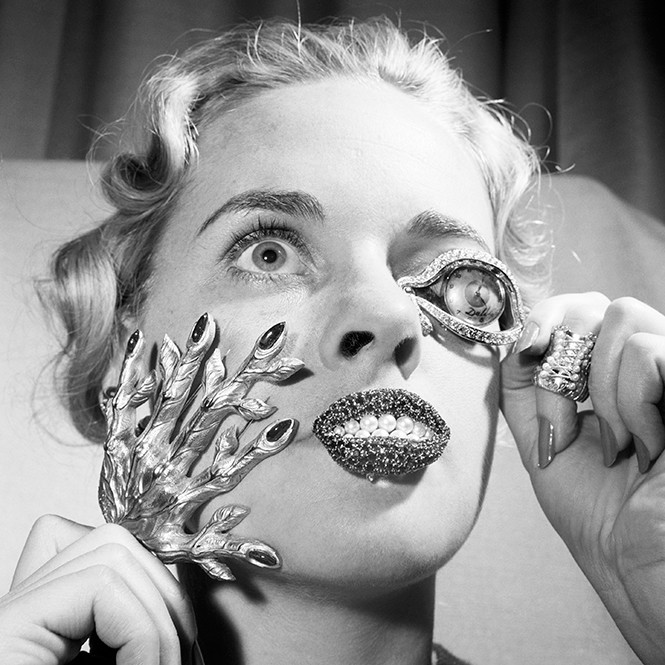 I am not sure about you, readers - but for me - the first thing that comes to my mind at the mention of lips composed of precious stones is the now legendary brooch of my beloved surrealist artist Salvador Dali. Anyone who is even vaguely familiar with the work of the Spanish master, has found themselves repeatedly and inexorably confronted with the fact that he worked unrestrained, passionately, sometimes on the verge of insanity – but always brilliantly. In a collaboration with the jeweller Carlos Alemani, a collection of 37 pieces of jewellery were created during Dali's lifetime, and two more after his death. Is this really enough to consider Dali a great jeweller? Given that some of these designs became the inspiration for entire jewellery trends, I would call Dali's contribution to the world of jewellery significant.
One of the pieces of jewellery Dali created was the brooch entitled 'Lips' (1949), which consisted of 13 snow-white pearls and a smattering of scarlet rubies. The piece was dedicated to the American actress Polett Godard. This jewellery – inspired by a pair of female lips – became one of the incarnations of Dali's artwork. Despite the fact that the process of making the 'Lips' brooch - like all of Dali's other jewellery - was actually made a reality by virtue of the efforts of Carlos Alemani, though Dali's contribution was not limited to sketches. He also took an active part in the 'materialisation' of his creations, personally selecting stones for every piece.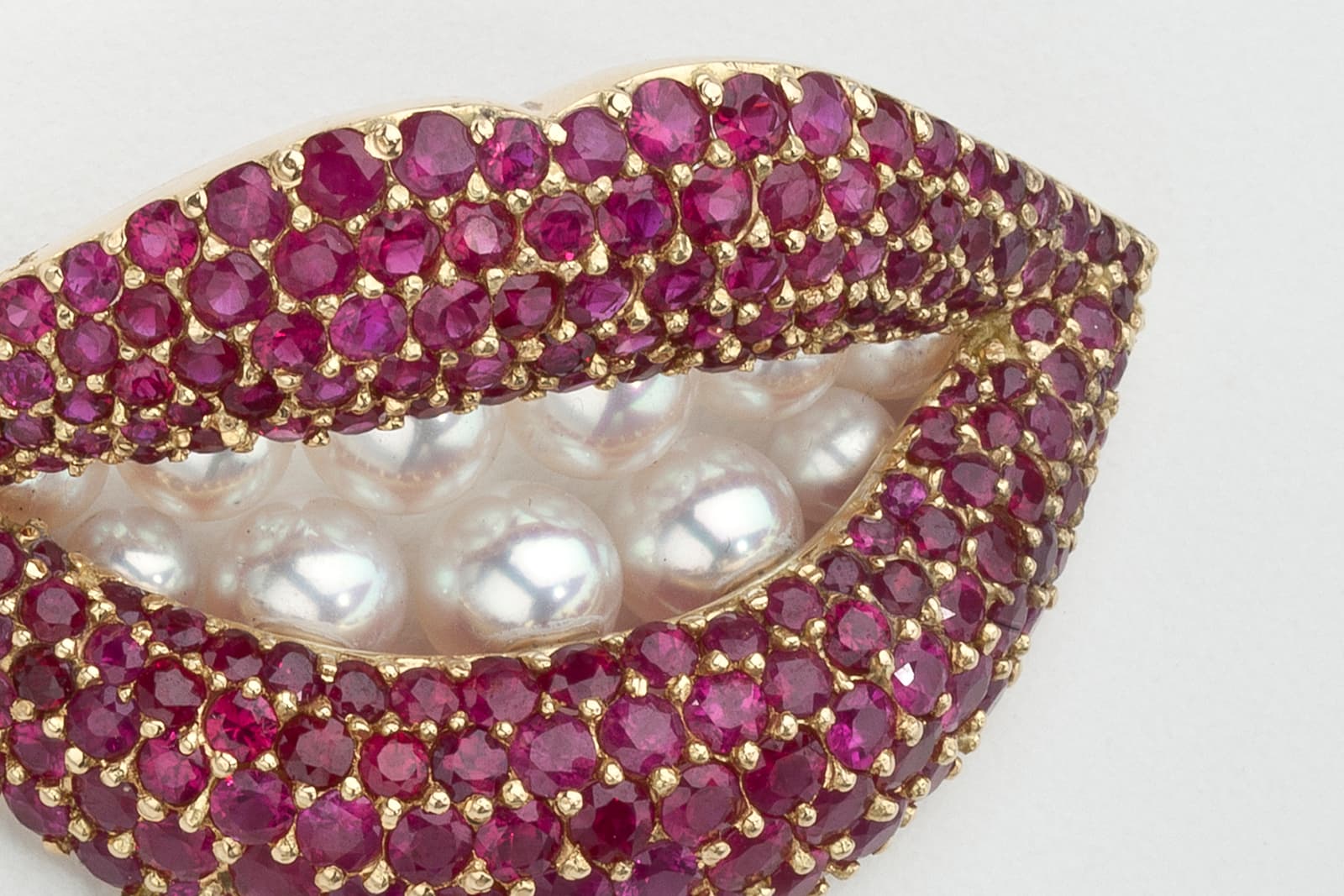 Sensuality, eroticism, mystery, temptation, femininity and beauty are perhaps the most common associations with the imagery of lips. Surely at some point you have sent or received a message imprinted with lipstick? But Dali's works have always been more complex and more ambiguous, so he imbued the 'Lips' brooch a secret meaning – the breath of life. Dali's bold experiment in jewellery is one of those ideas that crosses everyone's mind, but is seldom spoken aloud. Having elucidated his secret meaning, the great genius opened the way for other jewellers to develop the imagery of lips in their own work.
British designer Solange Azagury-Partridge has made the 'Hot Lips' rings her trademark. She has created a great variety of work based around this same theme: classic colours, shiny, neon, and those with patterns and flags – in her work, one can find rings of all colours and shades! The brand launched its first collection, 'Lips', back in 1995, and now the range is back with a bang. In 2019, the 'Hot Lips' collection was revived with a range of new pieces. The design of the rings has remained unchanged: the silver base is covered with a varnish coating that encompasses the entire perimeter – the cult design will surely appeal to those who love jewellery that carries meaning, those who seek sentiment in the designs they wear.
The work of the French jeweller, Lydia Courteille, is widely known for a variety of different idiosyncrasies: deep meaning, provocativeness, courage, a vibrant colour palette and an incomparable sense of humour. Therefore, it is not at all surprising that Lydia, in search of inspiration, regularly finds herself returning to the imagery of lips. She has recreated Dali's 'Lips' brooch in the form of a ring in white gold with rubies and pearls, replacing one of the snow-white pearl with a diamond 'tooth'. On top of this, she has also developed the topic of lips further in several other works. One more modest interpretation takes the form of a ring, and is found in the latest 'La vie en Rose' collection. It is composed of rose gold with baguette-shaped morganites, while the 'Erotic' series of rings is a daring and seductive experiment: open lips embrace a sparkling diamond or a juicy amethyst apple.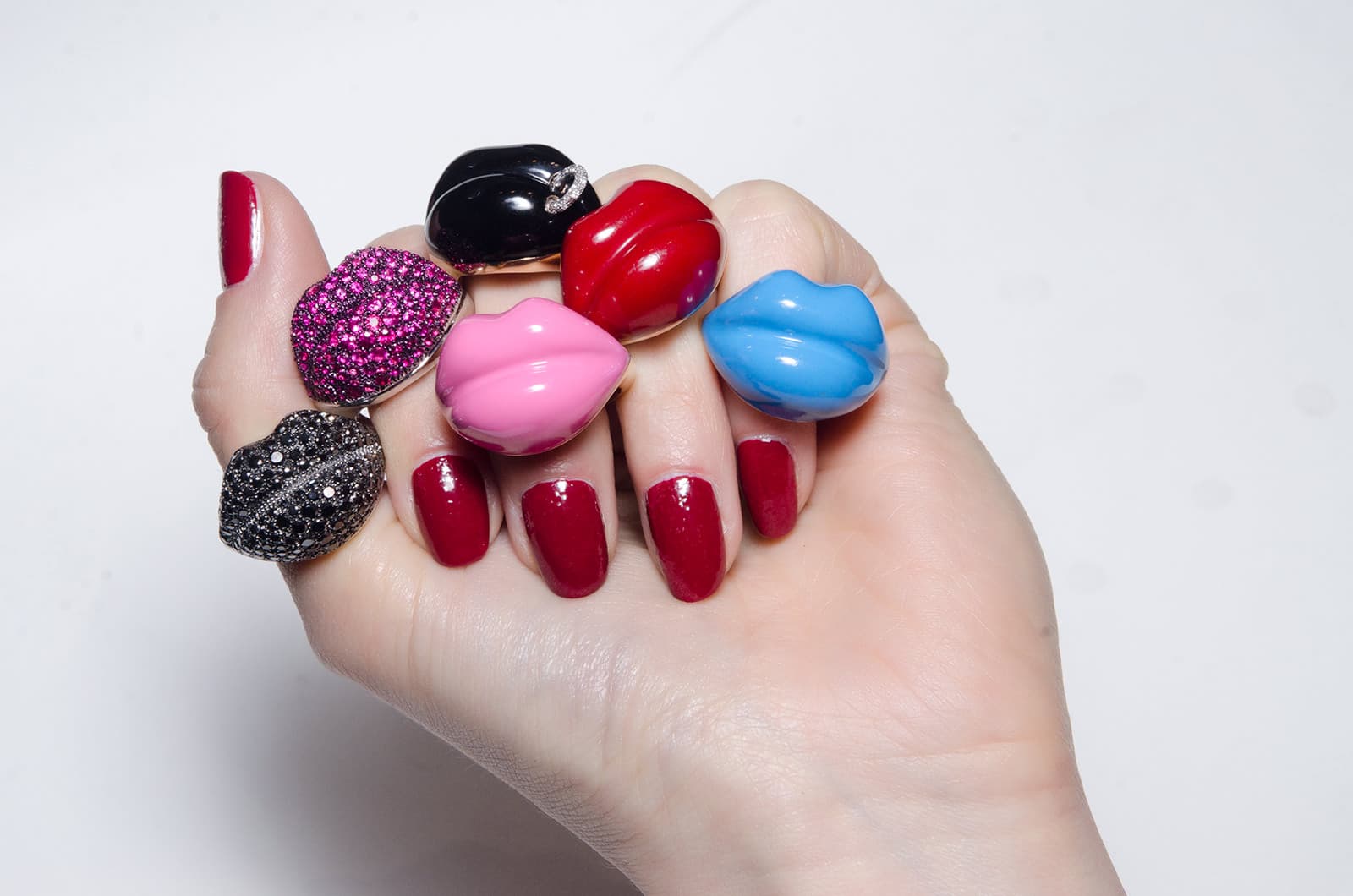 The Italian brand Mattioli exclusively creates avant-garde jewellery: portraits of vegetables, gold sculptures and, of course, jewellery in the shape of lips! It is the latter that the 'Arte' collection is dedicated to – perhaps the most extensive collection that riffs on this theme. Rings, pendants, bracelets, earrings and necklaces in gold all with with lip-shaped elements – decorated not only with precious stones, but also with coloured enamel – these are perfect for creating an everyday look that can seldom go unnoticed.
There are a number of other designers who have focused on this theme as of late: Anthony Lent, Aisha Baker, Delfina Delettrez, Roger Dubuis, Holly Dуment, Alison Lou and Sydney Evan. Their versions turned out to be so different: from swollen sensual lips, to the narrow or comedic – even those baring teeth, or lips that appear as if in the midst of a fit of hysterical laughter. Nevertheless, lips are so fruitful of a topic that I think that as a subject they remain unexhausted. I fully intend to continue to admire all subsequent jewelled incarnations of this sensual part of the human anatomy.