Fine jewellery and luxury houses such as De Beers, Chanel, Boucheron, Dior and Tasaki have all embraced recent fashion trends as well as original ways of wearing jewellery. Their designers obviously keep in mind the style and taste of the millennials who have become viable jewellery consumers over the course of the last few years. Having their own original taste, this new generation of clients have created a noticeable shift in the types of jewellery that the most famous maisons create.
De Beers remain one of the most important diamantaires in the world, and so when their jewellery design is seen to be adapting to recent trends, the entire industry is sure to take note. As a part of their 'Diamond Legends' collection they introduced the 'Cupid' ear climbers that can be worn together or with one statement ear diamond stud, and the earring is also transformable, since the 1.80ct pear cut diamond drops can be detached! Both of these design elements have been some of the most popular trends in contemporary jewellery – in fashion jewellery and high jewellery - of recent years.
One brand who has embraced several jewellery design trends this season is Dior. Victoire de Castellane created a collection which comprised of broad double finger rings, chokers, palm bracelets, asymmetrical earrings - and most interestingly – a connected bracelet and ring 'hand jewellery' piece. While chokers are a simple nod to recent trends across the entire jewellery industry and asymmetrical earrings were presented by several houses, this design is completely unique among the Paris Haute Couture showcases.
To celebrate their 160-year anniversary, Boucheron decided to create new interpretations of the theme of nature in their 'Naturaliste' collection that featured their signature leaf motif 'Lierre de Paris' and 'Cigale des Neiges' lines. Featuring double finger rings and asymmetrical earrings, this simple adaptation of traditional jewellery styles displays the maison's ability to move with the times, nodding to classic jewellery whilst still alluding to current trends.
Chanel's unusual 'Évocation florale' cocktail ring offsets the expected ring design by shifting the feature gemstone – in this case a beautiful and rare 12.05 carat mint green tsavorite garnet – to one side. This asymmetrical design style has become common in open ended rings, where frequently gems sit between the fingers rather than sitting flush in the centre of them.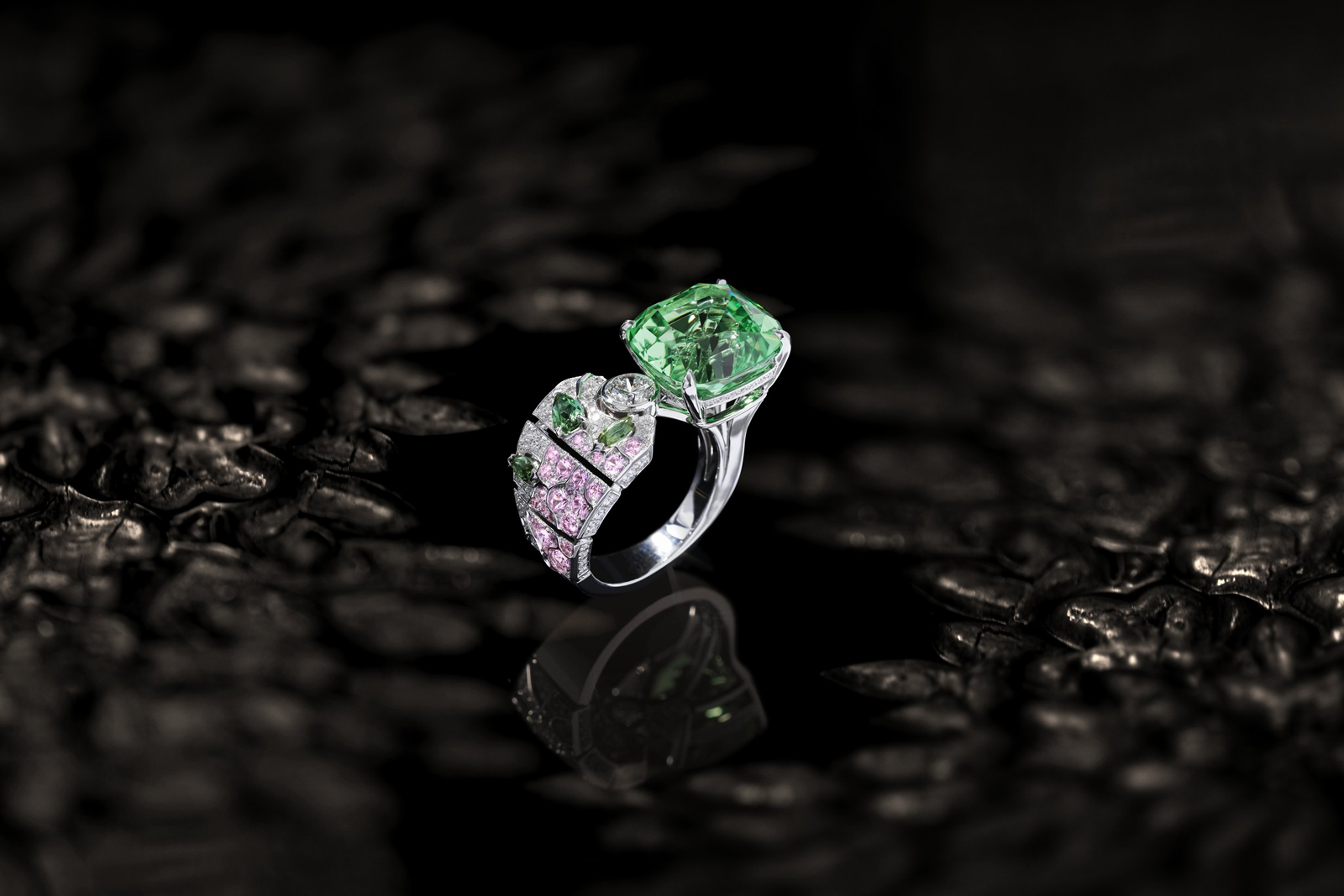 Taking on one of the most innovative design ideas which I witnessed at Paris Haute Couture week; Tasaki created a pearl and gold double sided earring in their Nacreos an Moulin collections. Both designs clamber into the ear, while the earring curves forward and over the earlobe.
Paris Haute Couture week is a showcase which the industry looks to for inspiration, leading the way in trends and approaches to presenting fine jewellery. It is undeniably exciting to see these famous luxury houses take note of trends in the broader jewellery world.