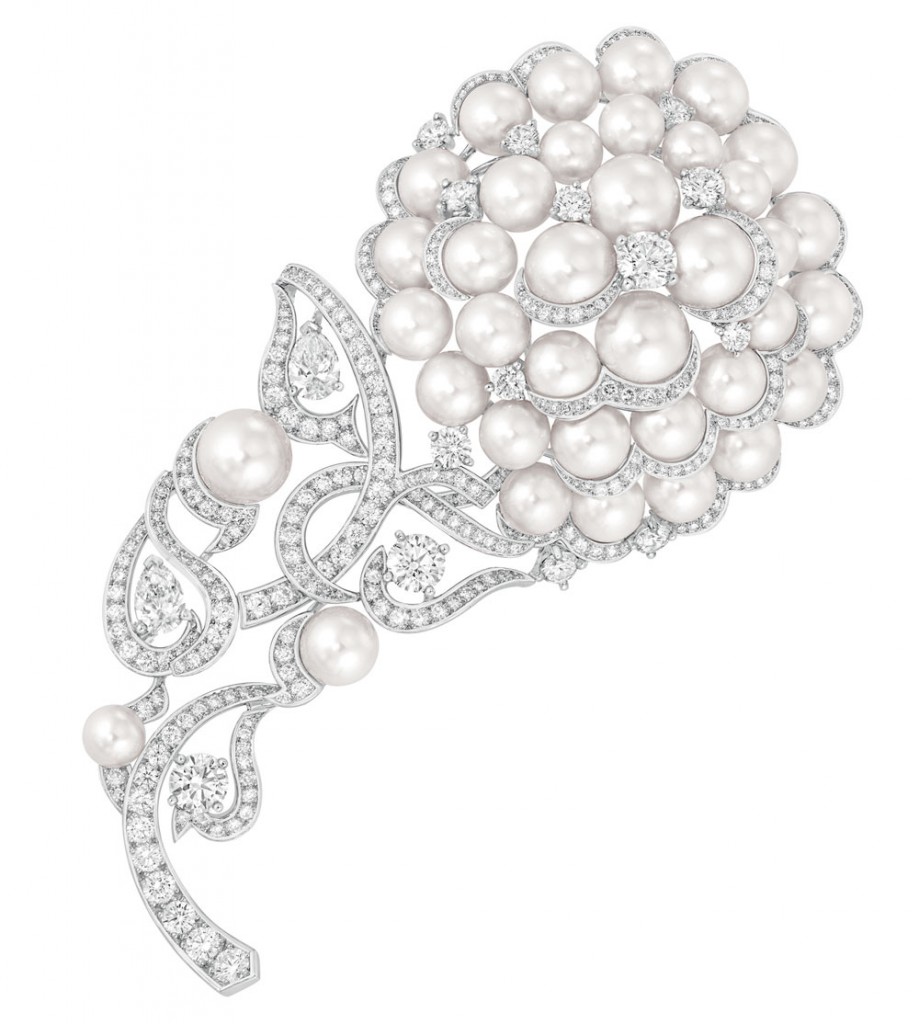 Camélia Perlé brooch in 18-karat white gold set with 345 brilliant-cut diamonds for a total weight of 9.9 carats, 2 pear-cut diamonds for a total weight of 1.4 carat and 37 Japanese cultured pearls of 6 to 9.5 mm diameter
Pearls, lions, camellias, feathers and a monochrome palette – these are the distinctive markers of Chanel. They are also the DNA of the brand's new collection of jewellery and watches that has been called 'Perles de Chanel' (Chanel Pearls), decorated with what was Coco's favourite precious stone: the pearl. Mademoiselle Chanel considered it to be her talisman; she never left the house without wearing a pair of pearl earrings, or a pearl necklace or bracelet. 
The Chanel pearl collection was presented for the first time as part of Paris Haute Couture Fashion Week. Despite the collection's variety, it was clear from the name that all the pieces would have one common denominator: the noble pearl. Its pink, grey, gold and classic snow white hues were diluted by translucent diamonds, yellow sapphires, blue-green aquamarines, tourmalines and violet amethysts.
So as not to get lost in a myriad of different creations, this wide-scale collection, comprising 87 pieces, can be divided into four thematic sub-collections: the elegant, feminine Mademoiselle, the glamorous evening-oriented "1932", the blooming Camelia and the colourful Baroque.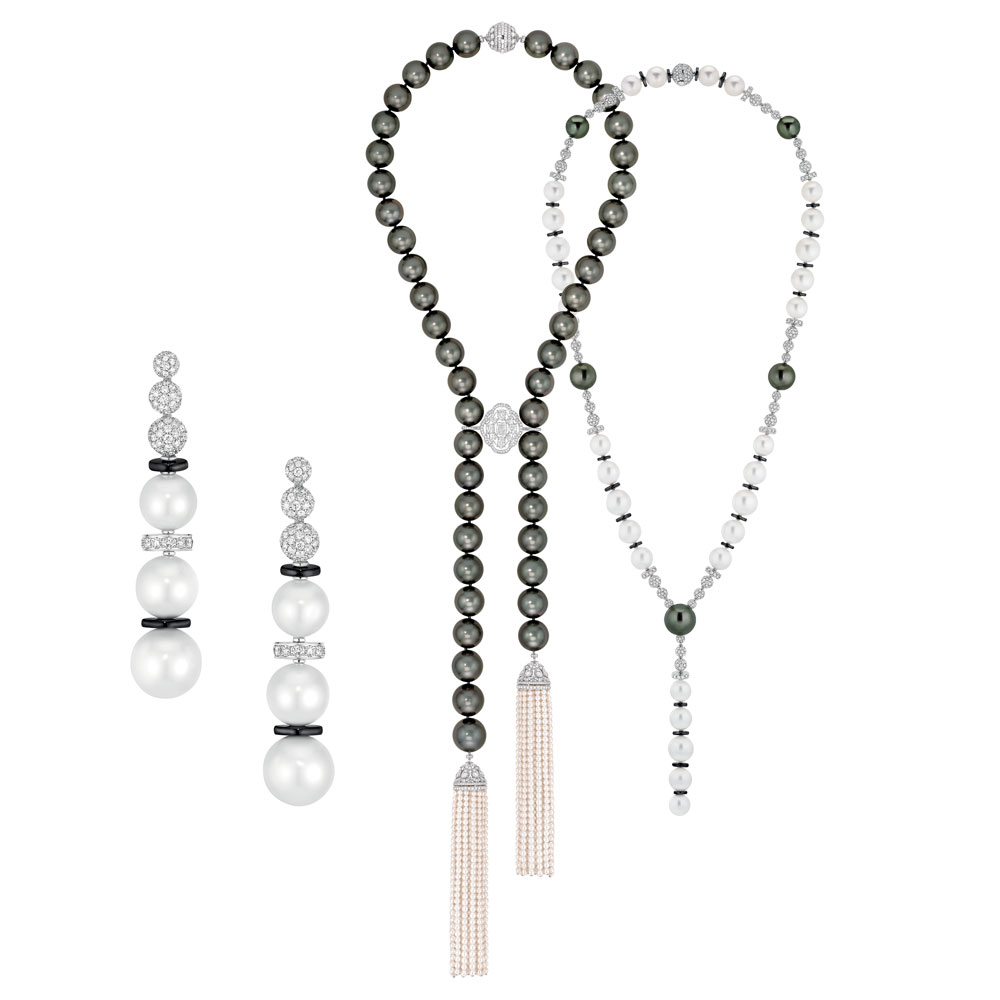 Aubazine earrings and necklace set and a Perles de Nuit necklace with 47 Tahitian cultured pearls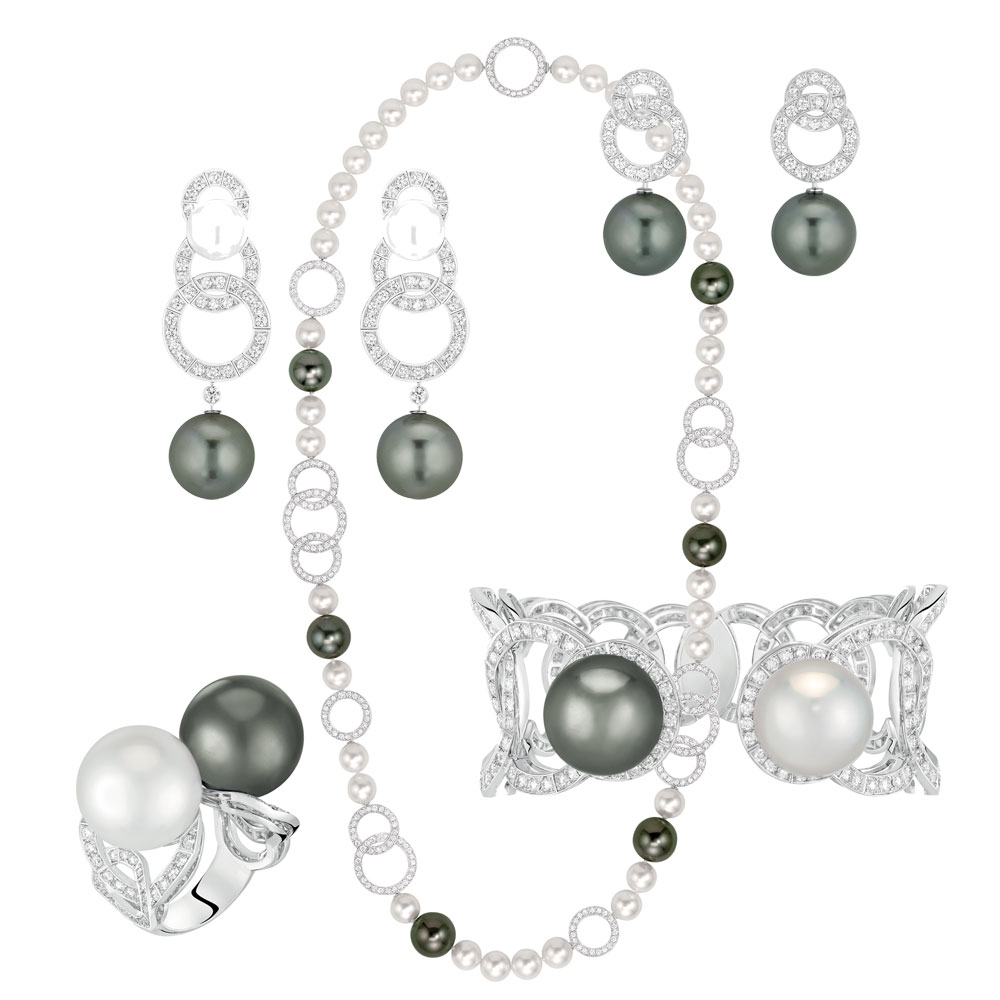 Entrelacs collection
Celeste sautoir, earrings and a watch with cultured pearls and diamonds set in white gold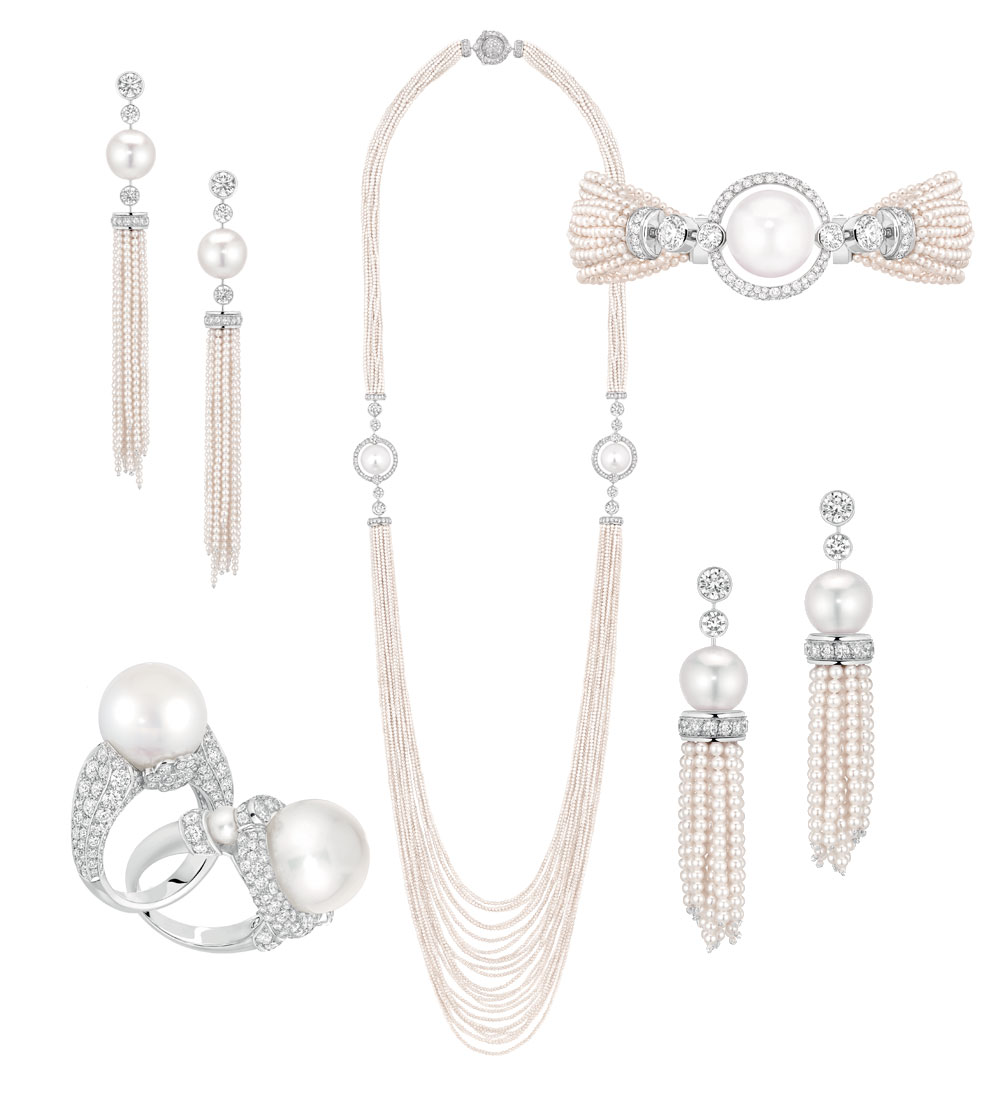 Magnificent "Cascade de Perles"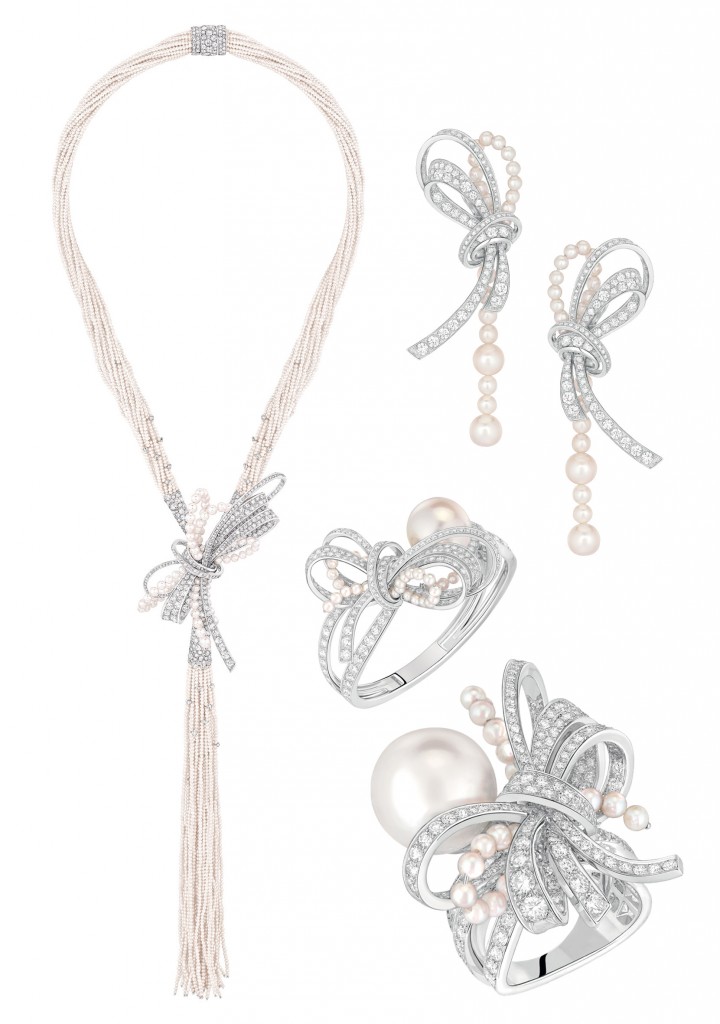 Perles de Couture set with Japanese and South Sea cultures pearls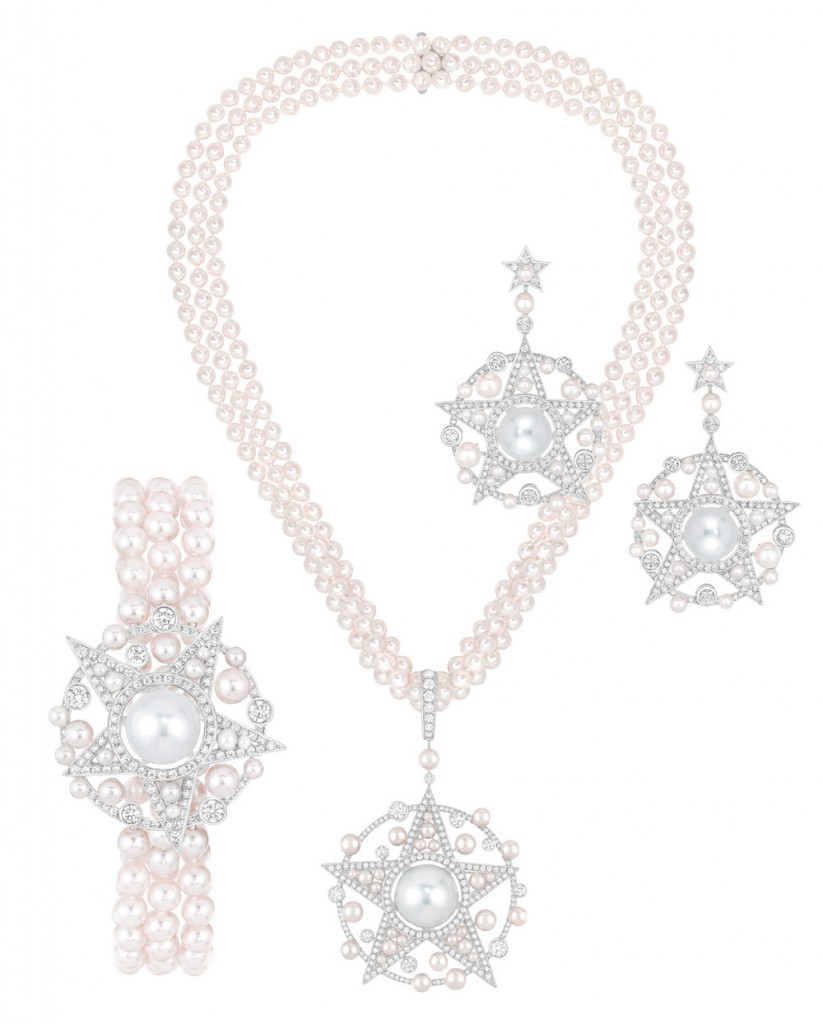 Comete Perlee set with Japanese and South Sea cultured pearls
Plume Perlee de Chanel (Chanel Pearls Feathers) with Japanese and South Sea cultured pearls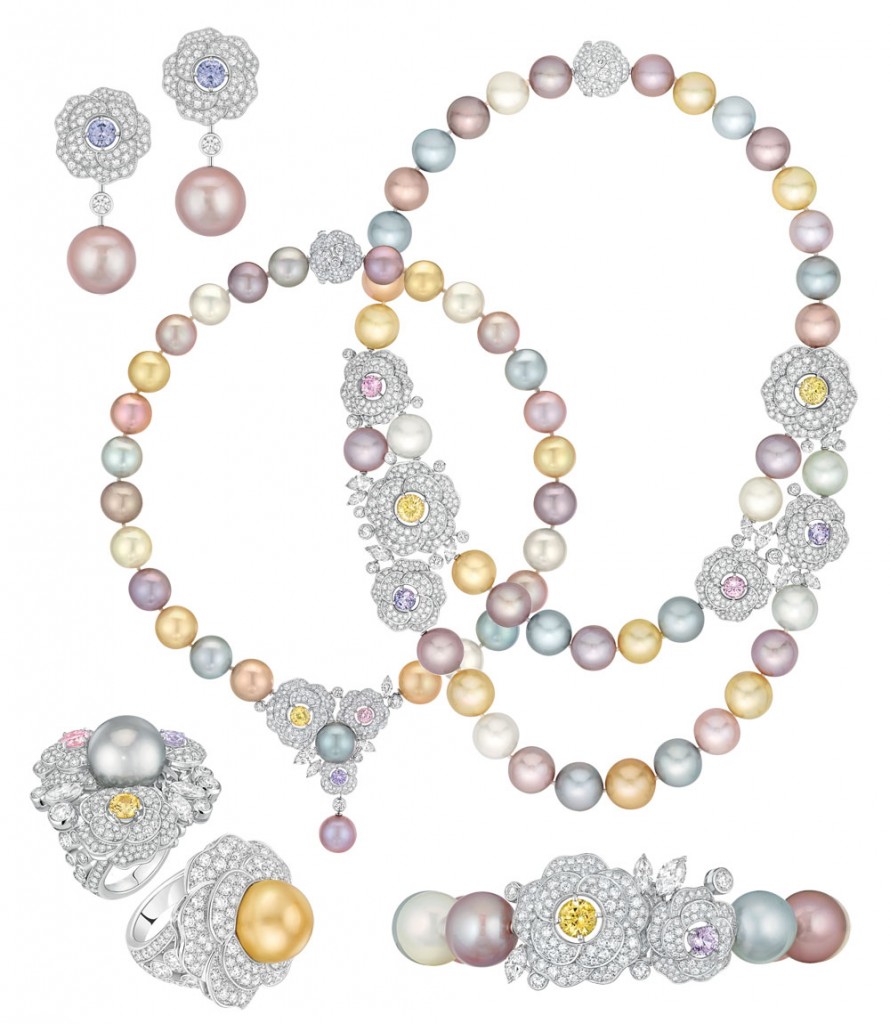 Chanel-Printemps-de-Camelia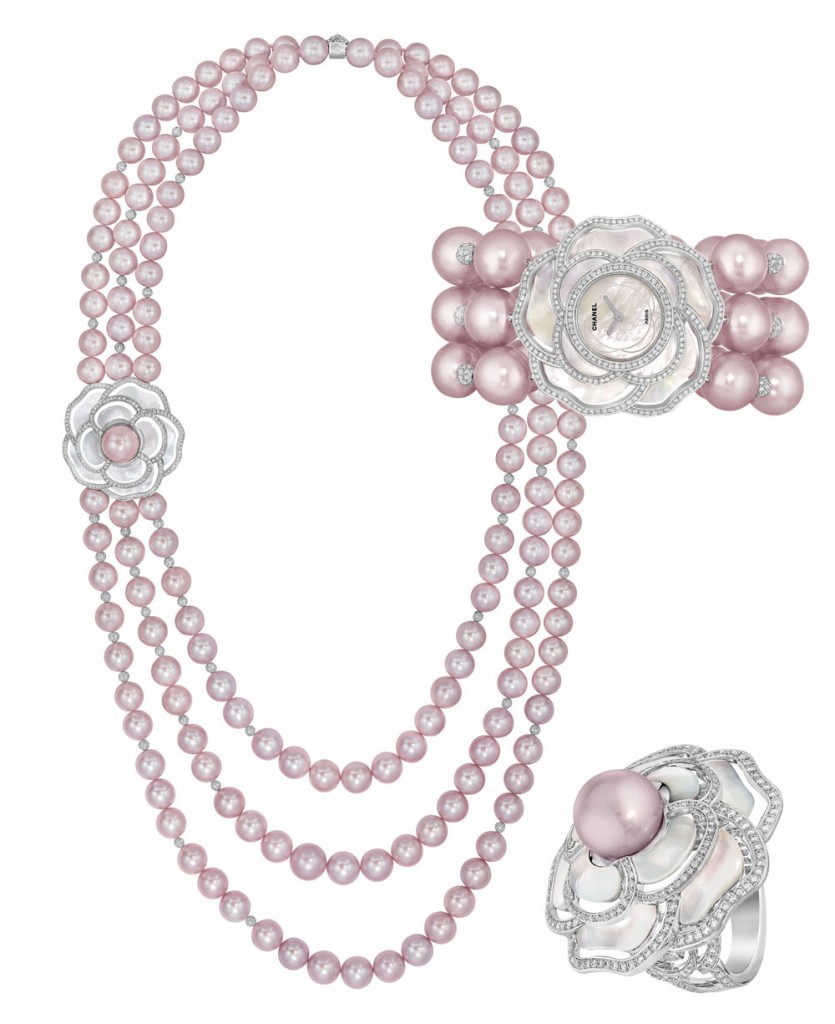 Chanel Camelia Nacre set with carved mother of pearl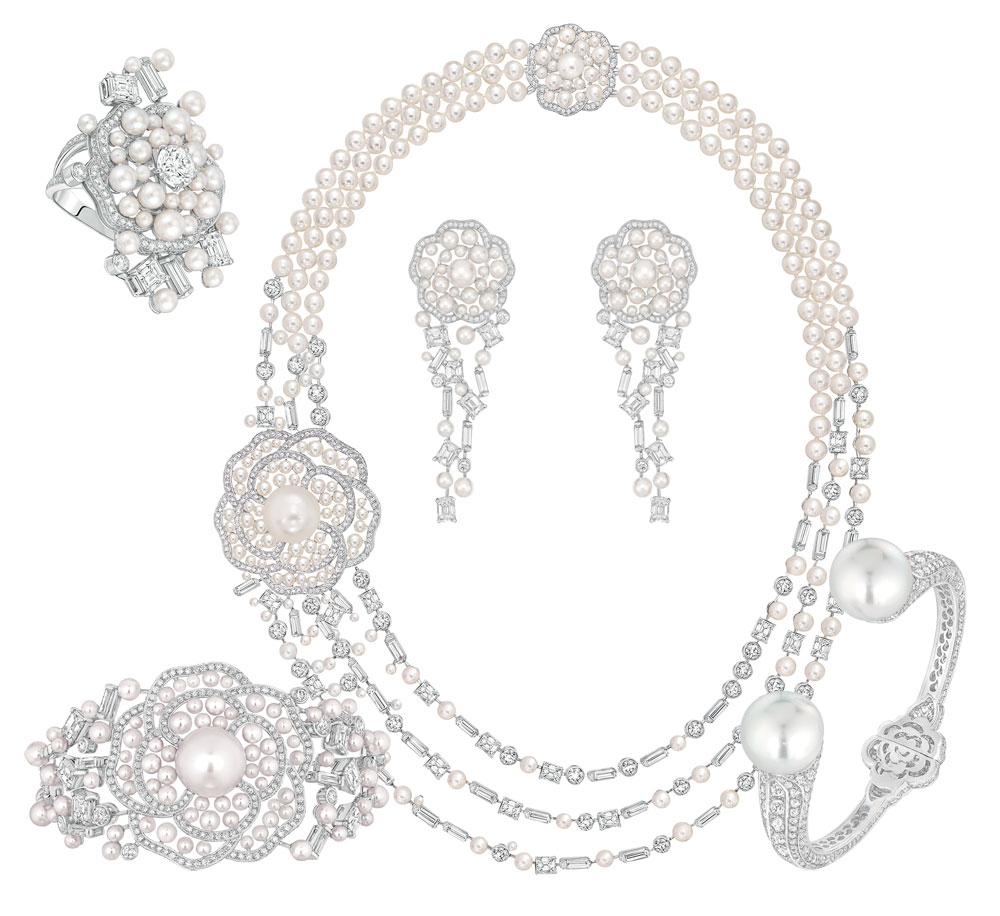 Chanel Pluie de Camelia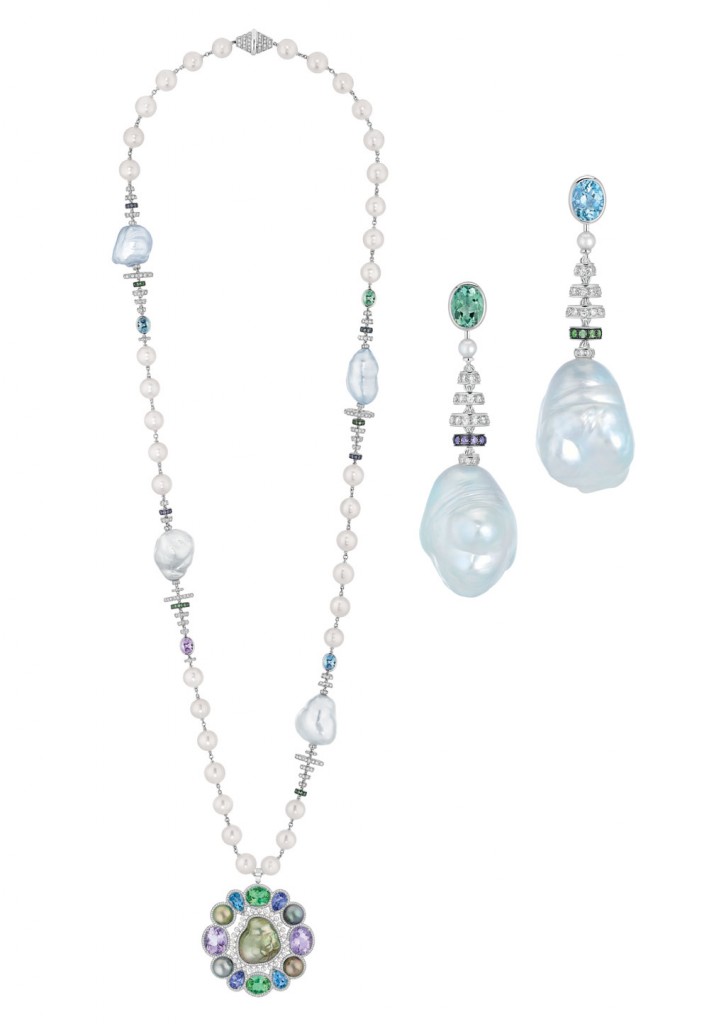 Perles Baroques necklace in 18K white gold set with 950 brilliant-cut diamonds, 50 brilliant-cut blue and purple sapphires, 3 oval-cut amethysts, 3 oval-cut blue-green and green tourmalines, 4 aquamarines, 2 pear-cut blue tanzanites, 5 Australian baroque cultured pearls, 35 South Sea cultured pearls, 4 Tahitian cultured pearls and 28 Japanese cultured pearls. Removable pendant, can be worn as a brooch.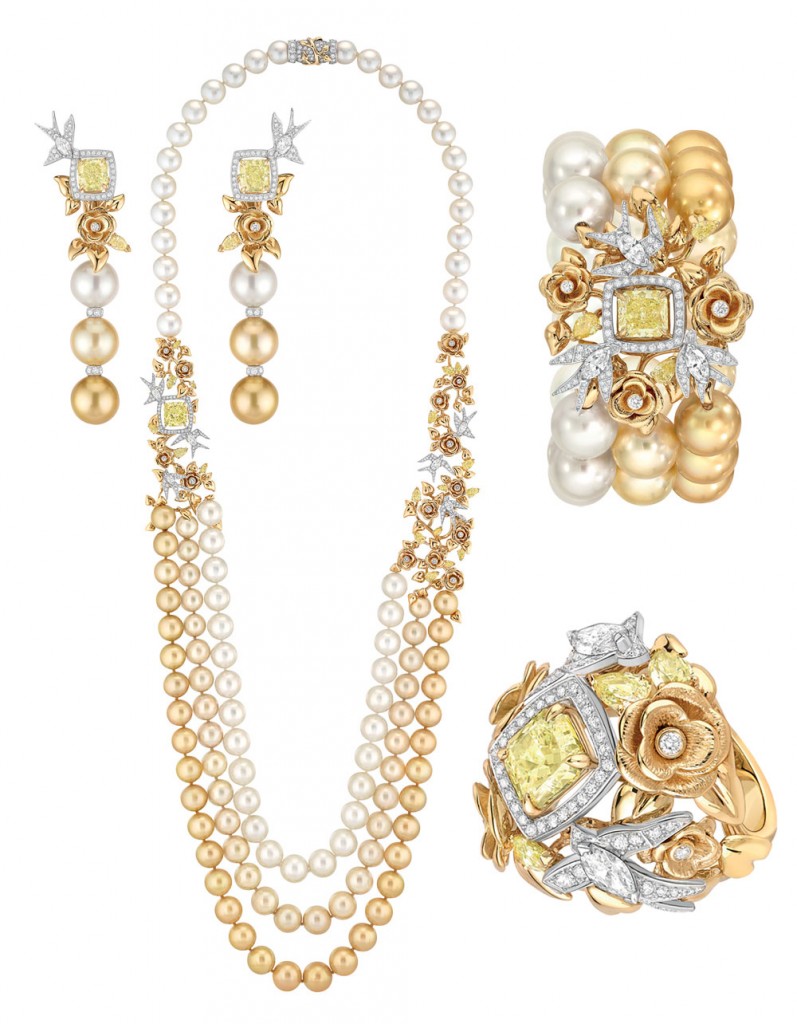 Envolee Solaire set with south sea cultured pearls, yellow and white diamonds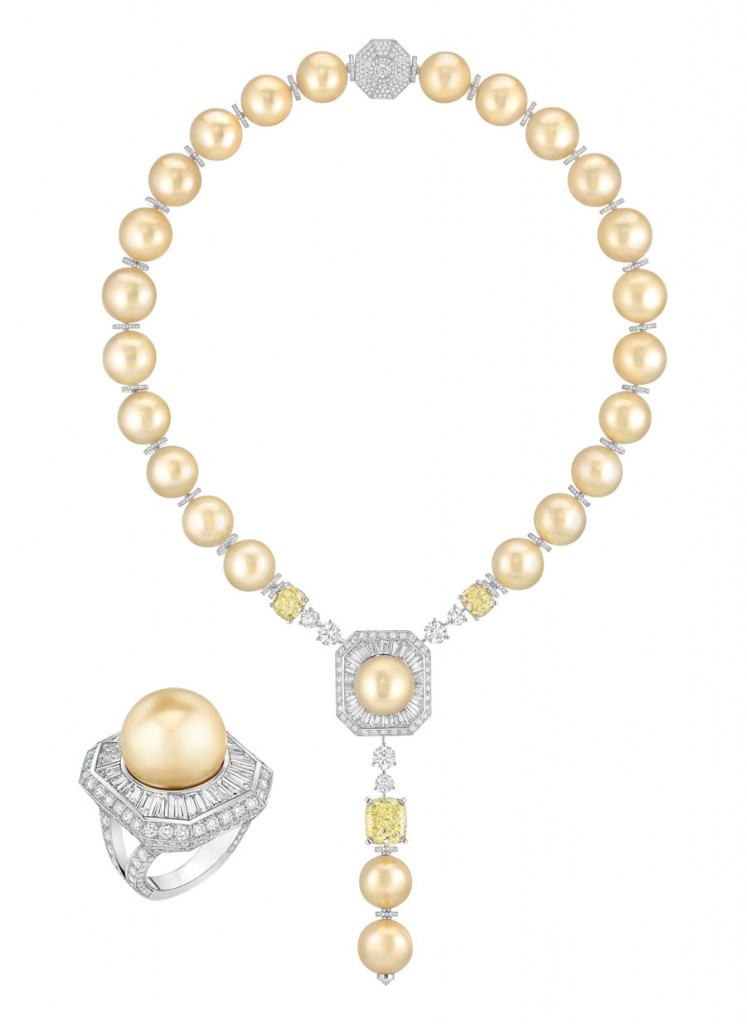 Perles Royales ring and necklace in white gold and platinum set with 3 cushion-cut yellow diamonds of 3.4, 3.6 and 10 carats, 1025 brilliant-cut diamonds for a total weight of 11.2 carats, 24 baguette-cut diamonds for a total weight of 4.8 carats and 25 South Sea cultured pearls of 14 to 16.2 mm diameter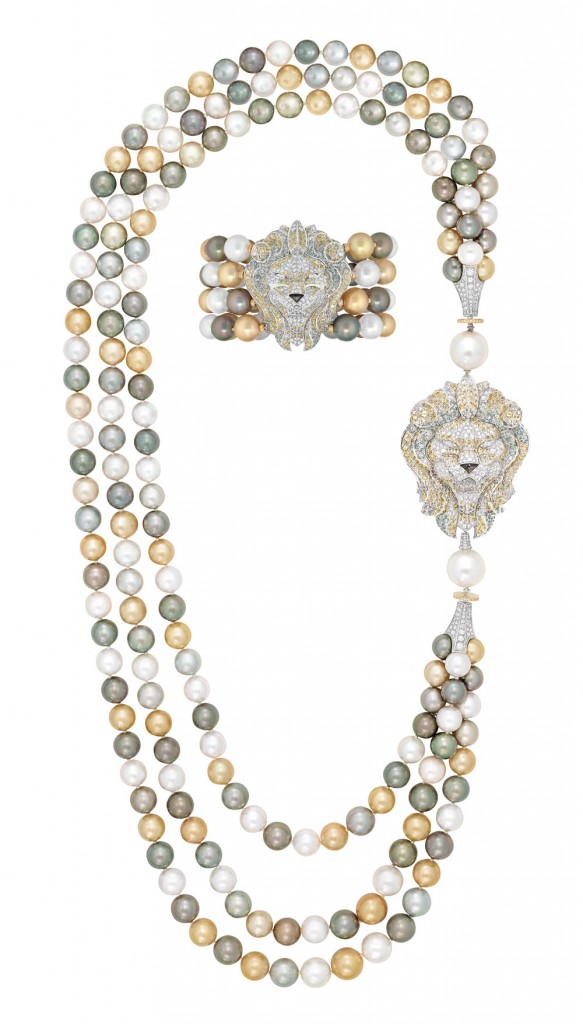 Chanel Lion set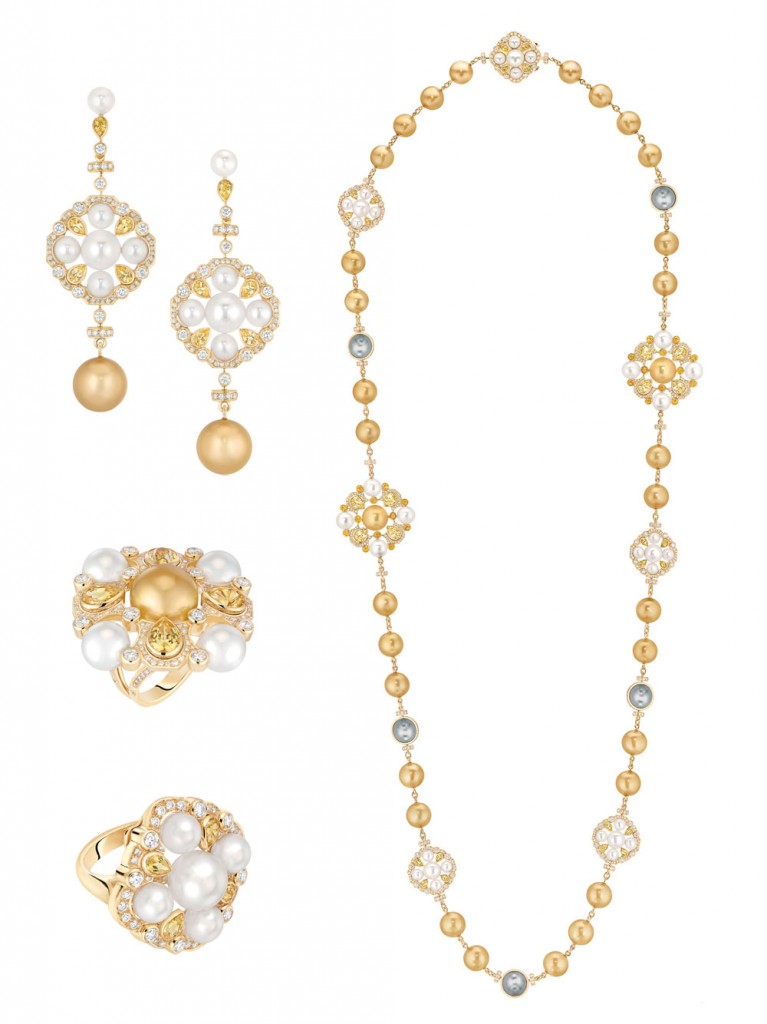 San Marco set