For help with this article I consulted Gemfields, a company dealing in highest quality Zambian emeralds, along with Bayco, David Morris, Boghossian and Adler, all brands whose collections feature plenty of top of the range stones. I have narrowed it down to six key factors which you must bear in mind when choosing your emerald: colour, clarity, place of origin, degree to which it has been refined or enhanced, size and certificate.
Colour
Emeralds are one of the four most sought after precious stones, along with rubies, sapphires and diamonds. According to a Gemfields representative, what makes the emerald so desirable is its colour. "A good emerald has a naturally green colour, vivid green preferably, with much depth. The colour should be neither too dark nor too pale, and evenly distributed throughout the gemstone. Traditionally, emerald green should be the perfect balance of blue and yellow – a pure green hue."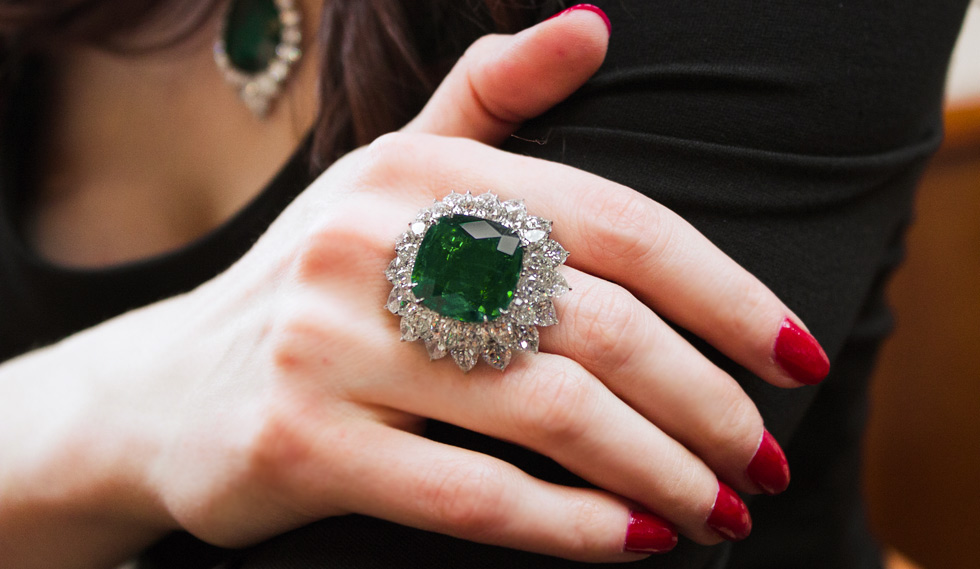 Clarity
It is not just the colour which determines the price of a stone; its clarity is also absolutely crucial when it comes to purchasing a piece of emerald jewellery. The experts of Gemfields advise that "the fewer, smaller and less conspicuous inclusions, the better. When you have this alluring colour with good clarity, the light rolls around the gem and comes out in a light sparkle which makes the emerald utterly mesmerising."
However, if your stone has a lot of inclusions, whether they are minute minerals or gas bubbles, this will not necessarily devalue the gem altogether. "Inclusions in a gemstone affect the price considerably; however provenance, colour, lustre and quality of the emerald material are also very important in ascertaining value. A fine colour and top provenance maintain a high value and make an emerald a valuable gemstone." So says Jeremy Morris of British brand David Morris.
Place of origin
The third factor determining the value of a piece of jewellery is where the emerald came from. Stones from Columbia are and remain the gold standard, but Zambian emeralds, known for their remarkable purity, are fast catching up. "Today, in terms of value, the Colombian emeralds are the most expensive ones because of their fine bluish-green colour. Traditionally, the Muzo mine was, and still is, the only mine which provided the finest and largest emeralds of the world. However, there are emeralds from Brazil, Afghanistan or Africa too, with some African emeralds practically the same quality as Colombian ones," says Franklin Adler from the Swiss brand Adler. It is worth remembering that Colombian emeralds have been considered the best that money can buy for decades, and it will take a lot to change this. However, according to Gemfields the place of origin is increasingly a secondary consideration when it comes to emeralds' value.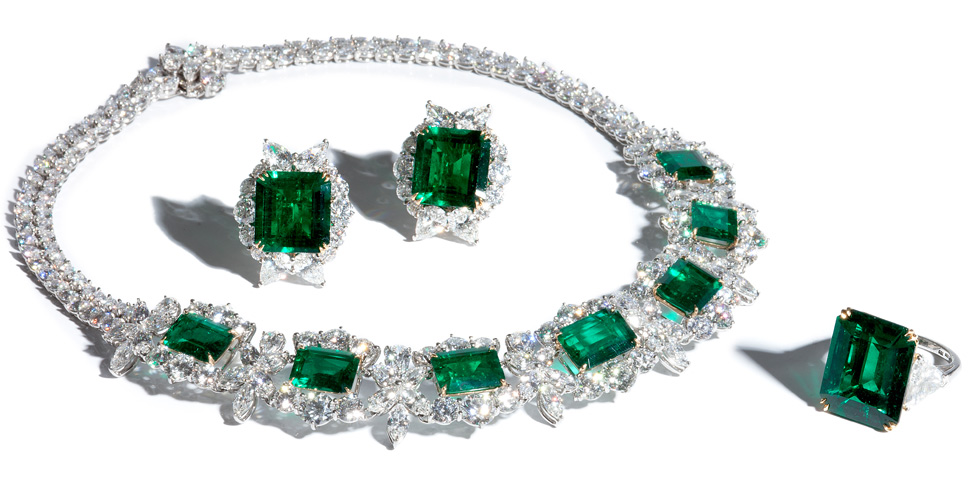 Carat weight
Large stones will never lose their value, and size remains the most important influence on the value after quality. Bearing in mind that it is very rare indeed to find an emerald of more than 5 carats, such a stone would be vastly more expensive than a 3 carat specimen. If you have the choice between buying a larger, lesser quality emerald or a smaller stone with superior colour and purity, the latter would be a significantly better investment. Roberto Boghossian, of the eponymous jewellery house Boghossian, sums it up nicely: "I would always advise to buy a smaller emerald of a better quality, as this prevails over the size. The ideal is to buy a large emerald of great balance between colour, crystal and clarity."
Enhancements
The emerald is a capricious stone, the most delicate of the top four precious stones. "They are a little brittle, not soft as many people believe. If the emerald is heavy with inclusions this would be make the stone more vulnerable to damage but often emeralds are 'oiled' to fill up the cavities in the material and thus more resistant to any damage through wear," explains Jeremy Morris, who is personally responsible for selecting the emeralds used by David Morris. It goes without saying, however, that the more improvements have to be made to an emerald, the lower the price.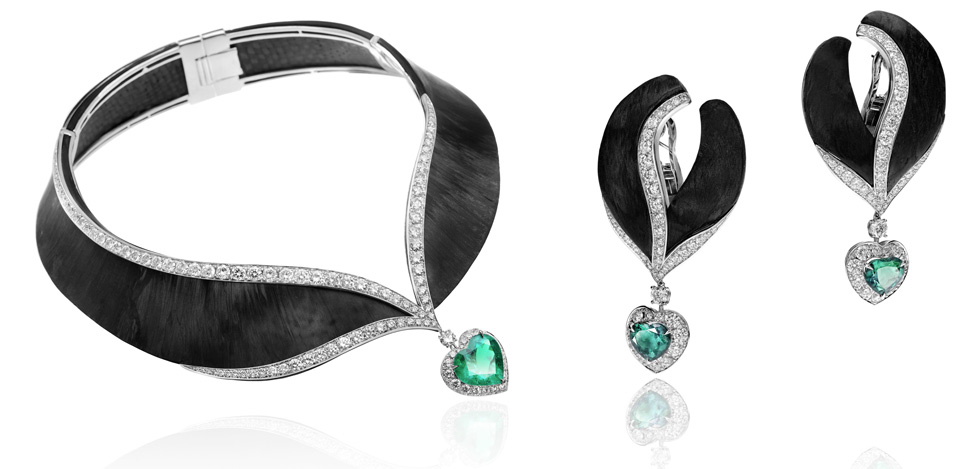 Certificate
"When buying emerald jewellery it is very important to ask for a certificate. Even Colombian emeralds must have one to prove they have suffered no enhancements or at maximum minor enhancements. Since the origin can greatly affect the price of an emerald it has to be stated in a certificate where the gem was mined. A fine Colombian emerald with the certificate stating "Colombian" and no enhancement will always have a higher price than an African or Brazilian emerald of the same quality," explains Franklin Adler.
So which gemmologists should you trust? When buying stones for his business, Roberto Boghossian rates two Swiss gemmology labs the highest: the SSEF Institute and the Gubelin Laboratory, who specialise in testing precious stones.
Where to buy
"The most important thing to consider when purchasing emerald jewellery is to go to a reputable source. In addition to that the stone must always be accompanied by a laboratory certificate so that everything is clear-cut. The price varies depending on how beautiful and fine an emerald is, the larger and more beautiful the stone, the more expensive it will be. One thing is for sure, a truly fine emerald of excellent colour, clarity, and brilliance is a true rarity of nature and therefore not easy to find." So says Marco Hadjibay from American brand Bayco, who two years ago acquired the world's largest emerald, weighing 206 carats.
When it comes to deciding between emeralds, reading this article is just the first step. I would recommend visiting at least five or six different boutiques, checking out their selection and trying on a few pieces. This will help you to feel the difference between them, so that you can have a think and see which jewels is the right fit for you personally.
Photos of jewellery and gemstones are courtesy of brands. Top photo with Ivy New York ring is by Saira Macleod, the middle one with Bayco ring is by Lordale Benosa.