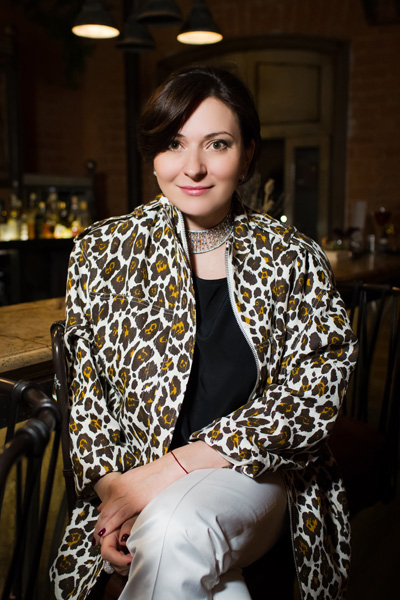 WHY NOT SKY is a Russian Atelier of High Jewellery run by a talented designer (although she prefers to call herself Creative Director) Elena Vayevskaya who has strong passion for creating one-of-a-kind exquisite jewels.
Elena believes that a woman of the 21st century no longer wants to wait for a man to present her with something fine and sparkly. A true lady would rather have a tête-à-tête with someone like Elena to come up with a design of truly unique and beautiful piece of jewellery that will be owned by just one woman – the client.
K.P.: What is WHY NOT SKY?
E.V.: We are an atelier that works to create bespoke jewellery pieces, unique to the personal preferences of each of our clients. We strive to make jewellery that is beautiful, fashionable, and modern.
K.P.: What, in your opinion, distinguishes you from all the other jewellery ateliers?
E.V.: What makes us stand out is that we have several of the world's top jewellery designers working with us. These might be winners of international competitions or those who have received commissions, especially from De Beers, or a commission from the Sultan of Brunei. We look for those names that appear, make themselves known, and become well-established. We collaborate with them and produce their designs using the skills of the best European jewellers in Geneva, Italy, France, and Germany.
K.P.: Is it you, Elena, who actually generate the creative ideas or the designers?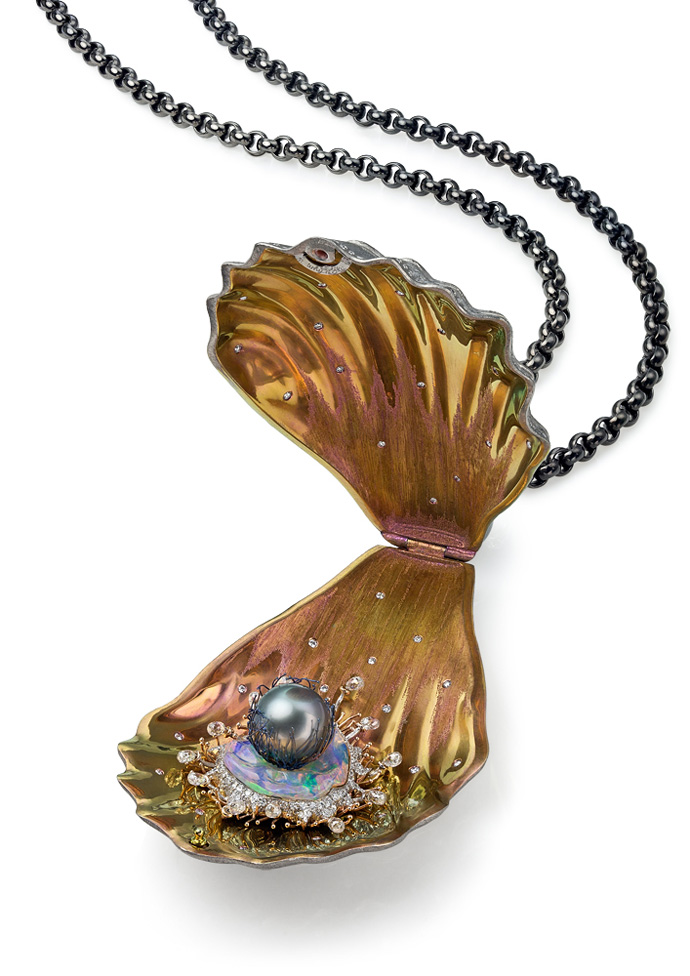 E.V.: It depends. It differs depending on the situation. Sometimes I get an idea and I can realise it myself, like a designer. I graduated from the School of Design in Milan and took courses in gemmology at Moscow State University, so I know what I am doing even when it comes to working with the stones proper. Basically I see myself as the creative director of the company. I'm probably best described as the filter between the client and the designer.
K.P.: Why did you want to work in the jewellery industry in the first place?
E.V.: It's something I have always loved thanks to my mother's influence but I have always preferred looking at it rather than wearing it. Jewellery did not just interest me; I found it aesthetically pleasing as well. So I started designing pieces for myself, then for my friends, and before I knew it a friend was asking me, "Why don't we start our own business?".
K.P.: Where does inspiration from to create unique pieces that you do?
E.V.: From everywhere. Usually from the person in question. If we are making a piece to order and I'm writing a detailed brief for the designer, I usually write something about 8 pages long, describing what the woman does, what attracts her, what she does in her spare time, what paintings she likes, what car she drives, how she laughs, how she smiles. I include pictures and photos. This is what guides the designer, how he understands his subject and starts to put together a design that would suit her.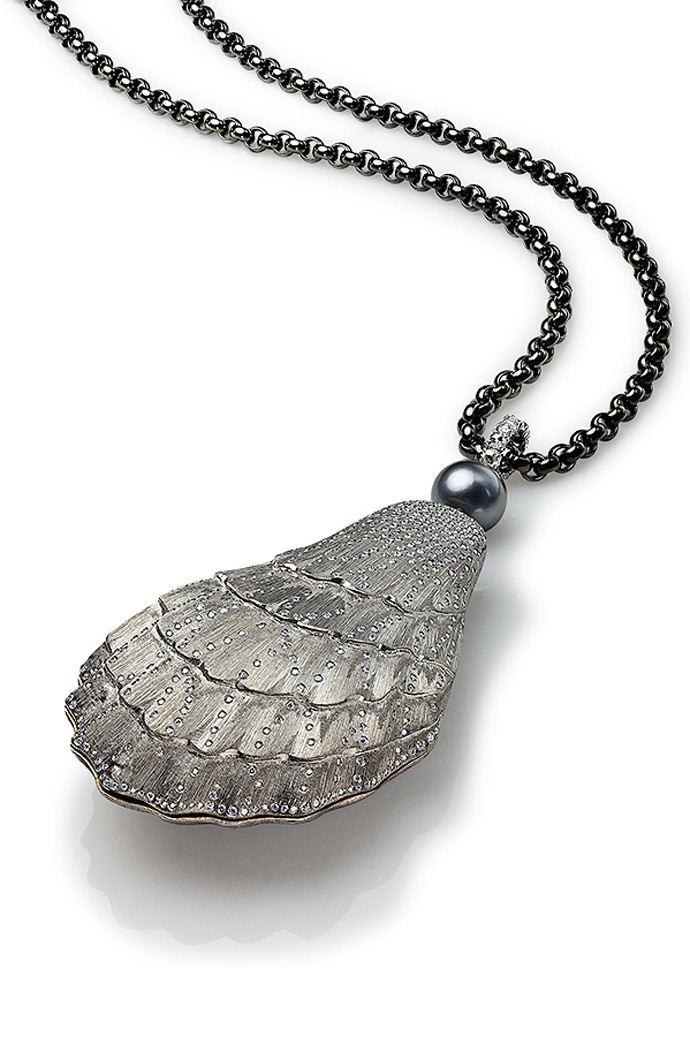 K.P.: So every single thing you produce has its own style?
E.V.: Our aim is to avoid having a readily identifiable style, otherwise it would pigeon hole our business. We are not looking to create collections. We have, however, considered making limited edition items for fashionistas who want something for a more reasonable price given how expensive our jewellery usually is. It is expensive because only one copy of any item is ever made so it's never going to be cheap.
K.P.: You must have to put so much work into every piece…
E.V.: And all of it is done by hand. What's more, there's a difference between what a student and a professor can do, and our standards are those of a professor.
K.P.: But how quickly can you gauge a client's style and taste?
E.V.: There was one instance when a client came to us and said she wanted a pink butterfly. Even though she'd already marked out the dimensions of the wings for us, because she was looking for a very particular design, it could be a butterfly made of pink titanium, or one with pink enamel or pink sapphires or some kind of pink stone or a combination. But I could see what she wanted straight away and where to go from there.
K.P.: Have you ever been faced with a client and realised that you cannot create what they're looking for?
E.V.: Only once in my entire life have I experienced that. I simply knew that it was not going to work with this one client. Her ideas were completely at odds with my vision and I did not want the design she had dreamed of to be made according to my brand, as it were.
K.P.: You make pieces for customers from all over the world. Does the taste of your Russian clients significantly differ from all the others?
E.V.: You know, if you just take Russia on its own, Moscow and St. Petersburg differ enormously, so of course there is a huge variety of tastes. The young IT-girls in Moscow have a thing or two to teach their English contemporaries, for instance. Magazines throughout the world are now writing about Russian IT-girls.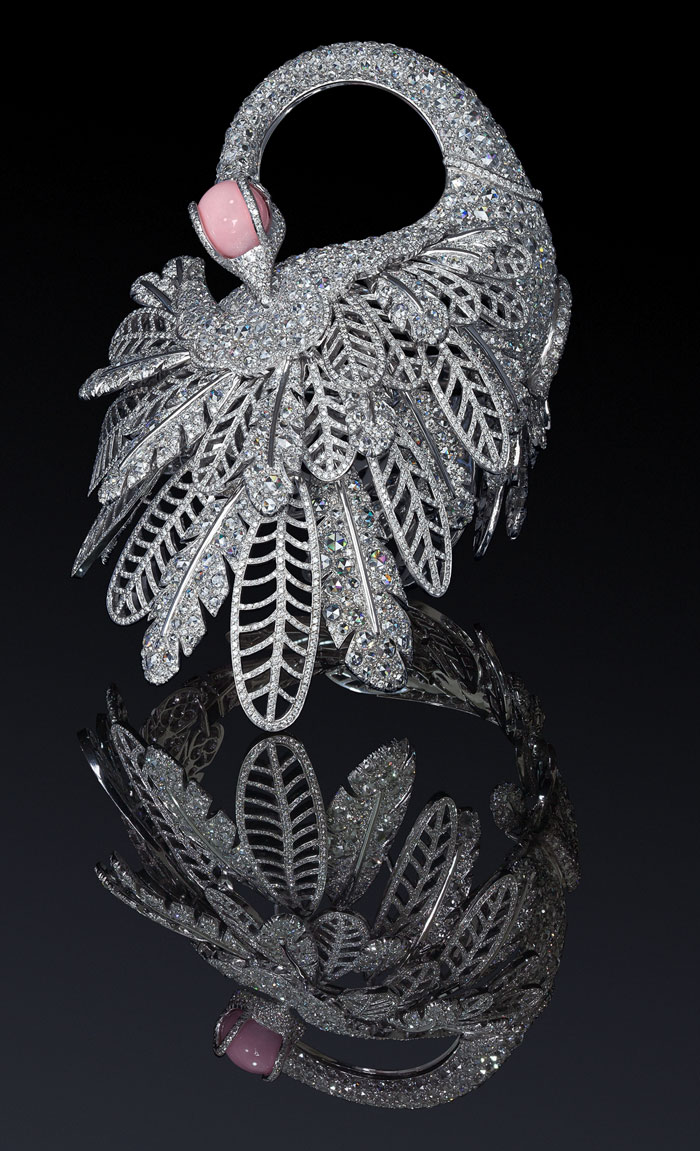 K.P.: Tell me about an item which was especially wonderful for you to work on.
E.V.: Well, you know, I always tell everyone that my favourite was my spherical Masonic locket, but that was not actually made for a client. I was terribly cautious about making it, but the idea alone was so stunning and we had someone purchase it almost immediately. I even said, "you have just bought my best work", to which she replied, "You know, if you were someone else, I might not have bought it". When you approach a task with that kind of attitude and affection, you instill it with a little bit of yourself. That's where a piece gets its soul from.
K.P.: Where did you get the idea to make a sphere?
E.V.: I got the idea after finding a Masonic voting sphere in a shop in Milan. We then decided to make something which conjured up a journey to find Masonic treasures concealed under layers of secrets. Only those who had been initiated had access to the secrets which revealed where they lay. So we created a Masonic sphere, decorated with diamonds, which served as a little casket.
K.P.: An interesting piece…
E.V.: The sphere itself is opened by lifting up the onyx ring, revealing its contents. The sphere is made of titanium and can be worn separately. Inside there is a shell made of titanium with different coloured diamonds, giving it a vintage look. It has a purely decorative function, so you would not wear this part separately. It also holds its own secret with two of the diamonds placed in their own settings which are not easy to distinguish from amongst the others. Inside this shell is another casket wherein lies the Masonic sphere. The casket also opens out to replicate a Masonic crucifix. We even had a Mason draw his own secret symbols on the prototype for this cross. It seems that Masons use these symbols to understand who has voted for what.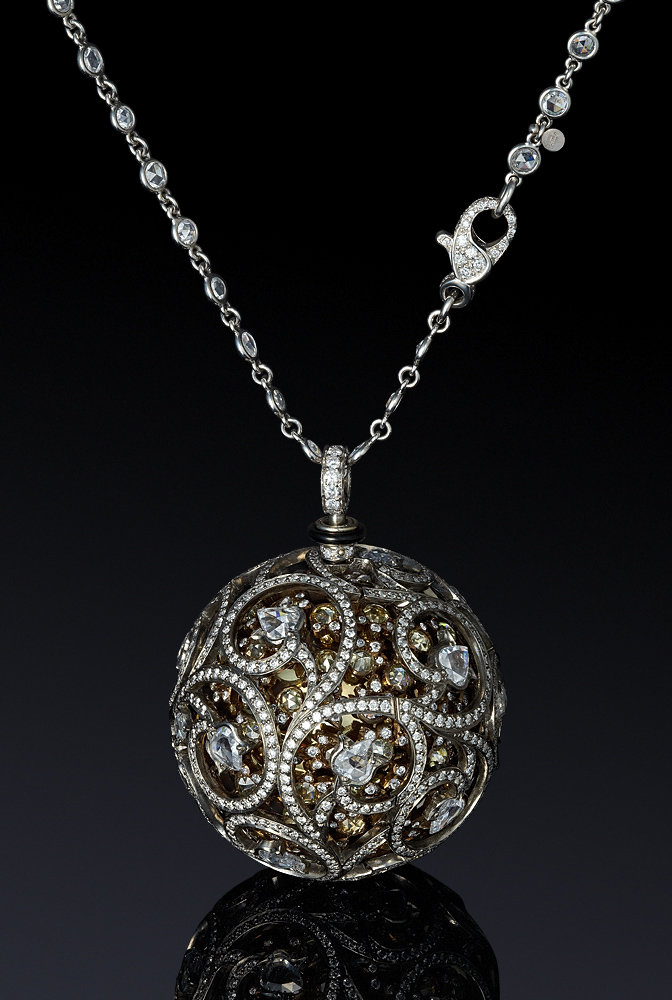 E.V.: Half a year was spent on it. It was made by a wonderful Sicilian jeweller who became absolutely obsessed with it. It was a real pleasure for him to make it.
K.P. Who is your jewellery idol?
E.V.: That would have to be JAR – Joel Arthur Rosenthal. It was based on his model that I first created my own atelier. Of course I'm not JAR, nothing like him. He's No. 1 in the world. There's also Wallace Chan, who is of course an amazing person. I had the privilege of being at the same event as him when I was at a showroom in Hong Kong. We were even introduced.
K.P.: Which celebrity would you most like to create a piece for?
E.V.: Meryl Streep. She is such a wonderful woman and has been a great source of inspiration for me. But it would be very difficult to make something for her because she almost never wears jewellery. I have read, however, that she feels it would be worth wearing a piece of jewellery which was her absolute favourite. I would be overjoyed to make that for her.