The 'Portraits of Nature' collection is split into five sections, each dedicated to one or another inhabitant of the fauna world. Here you will find a graceful flamingo - 'Greater Flamingo', a fluttering butterfly - 'Monarch Butterfly', a colour-changing chameleon - 'Knysna Chameleon', a sprightly fish - 'Electric Cichlid', and an African zebra - 'Chapman's Zebra'.
If you have already started to imagine what the animals listed above look like in miniature, I would hasten to stop you because the De Beers pieces are not realisations of the creatures themselves, but of how light is reflected on their wings, their scales, their feathers or their striped skin - highlighting certain components of the animals' features. For example, pink and colourless diamonds in the 'Greater Flamingo' set are arranged in a pattern of gemstone cuts, from brilliant to marquise, pear, and baguette, clearly alluding to the bird's plumage. By comparison, uncut yellow diamonds on two necklaces, a bracelet, a pair of earrings and an 'Electric Cichlid' ring immediately conjure up images of fish scales that sparkle in the water, reflecting the light.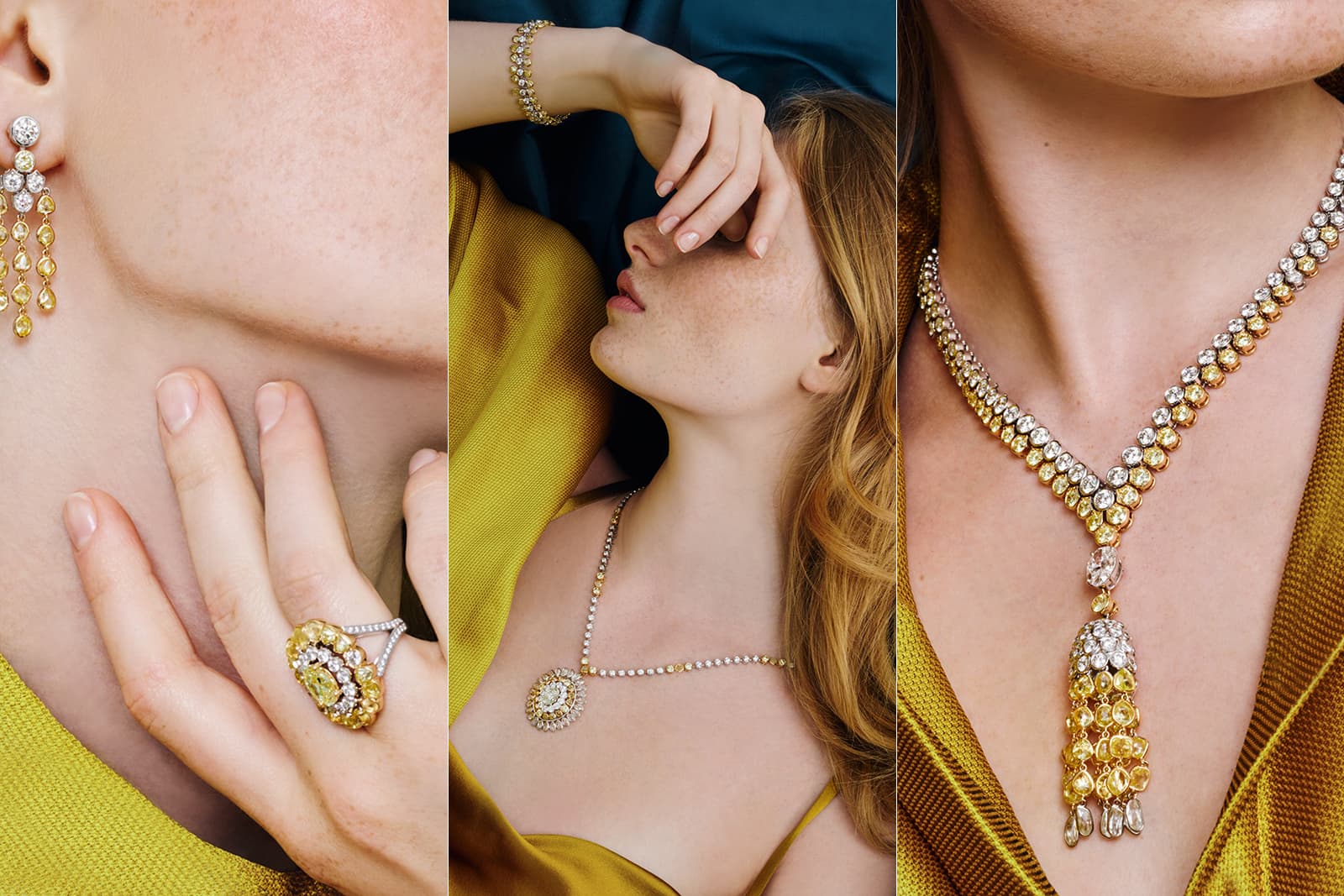 Being a member of the horse family, the zebra is different from the others because of its unique black and white colouring. The 'Chapman's Zebra' set emphasises tha,t and is made in monochrome colours: the princess, brilliant and baguette cut diamonds are interspersed with rectangular inlays of dark grey mother of pearl, making the colourless stones gleam against their dark background even more intensely. I especially remember the necklace with a gemstone fringe wrapped around the base of the neck; it looked equally impressive from the front as it did from the back, serving as further confirmation that jewels with tassels or a fringe are back in fashion.
As a lover of chameleons and their unique ability to change colour, I was of course impressed by the most enchanting necklace: the 'Knysna Chameleon'. It was adorned with a cocktail of yellow, olive, pink and blue-green diamonds, arranged in two rows, which can be removed if desired. The multi-coloured stones highlighted the v-shape created by horizontal baguette diamonds, descending down from the neck to a teardrop diamond weighing 5 carats. Such a considered composition of shades and shapes has turned out to be quite an accurate (and at the same time abstract) embodiment of a chameleon's scaly skin. The 'Knysna Chameleon' set also includes a medallion necklace, two cocktail rings and a pair of hoop earrings.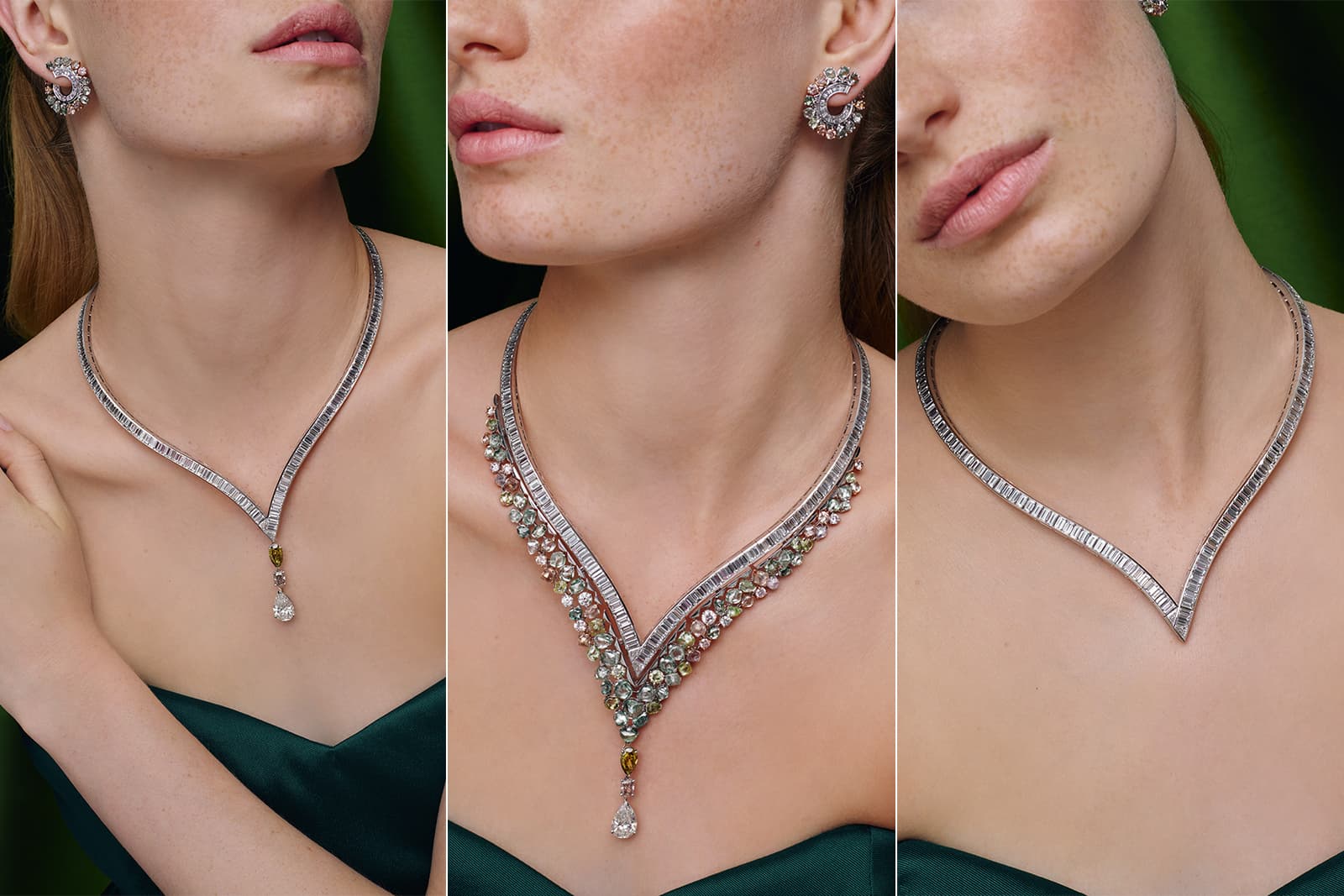 At the 'Portraits of Nature' exhibit at Paris Haute Couture week, I noted that each set included a medallion style sautoir necklace; this has become something of a signature jewellery form for De Beers. The most attractive round pendant was, perhaps, the 'Monarch Butterfly' medallion, designed in the shape of butterfly wings as if seen through a kaleidoscope. The resulting repetitive pattern of colourless, orange and pink diamonds converges at a single point: a wonderful brown-yellow cushion cut stone weighing 4 carats.
CEO of De Beers François Delage confirmed that this new collection of high jewellery art has become De Beers' most extensive collection of both faceted and uncut fancy coloured diamonds. One cannot deny that it is an incredibly well executed presentation of the animal kingdom and the world of precious minerals coming together as one.