This collaboration strategy is a boon to any renowned brand - potentially multiplying their fan base, and capitalising on the young, fashion forward following of emerging artists. Emmanuel Tarpin is one such jeweller, who was recently named as the inaugural 'Artist in Residence' for the Genevan house of de Grisogono - as part of de Grisogono's new Creativity in Residence program. So far, the collaboration has resulted in a six-piece collection of necklaces, a ring, and earrings with in the form of intertwined ribbons and ropes of colourless and black diamonds, titled 'Prologue.' This is not a one-off venture - two more collaborative high jewellery collections due to be released in 2020.
Emmanuel Tarpin comments: "I like the Maison's notion of volume as well as its exuberance, which makes each of its pieces so interesting […] I find there is a similarity between the contrast of shapes, colours and textures in de GRISOGONO's creations as well as in mine. We also share a common notion of innovation and design and a love of delighting with surprise."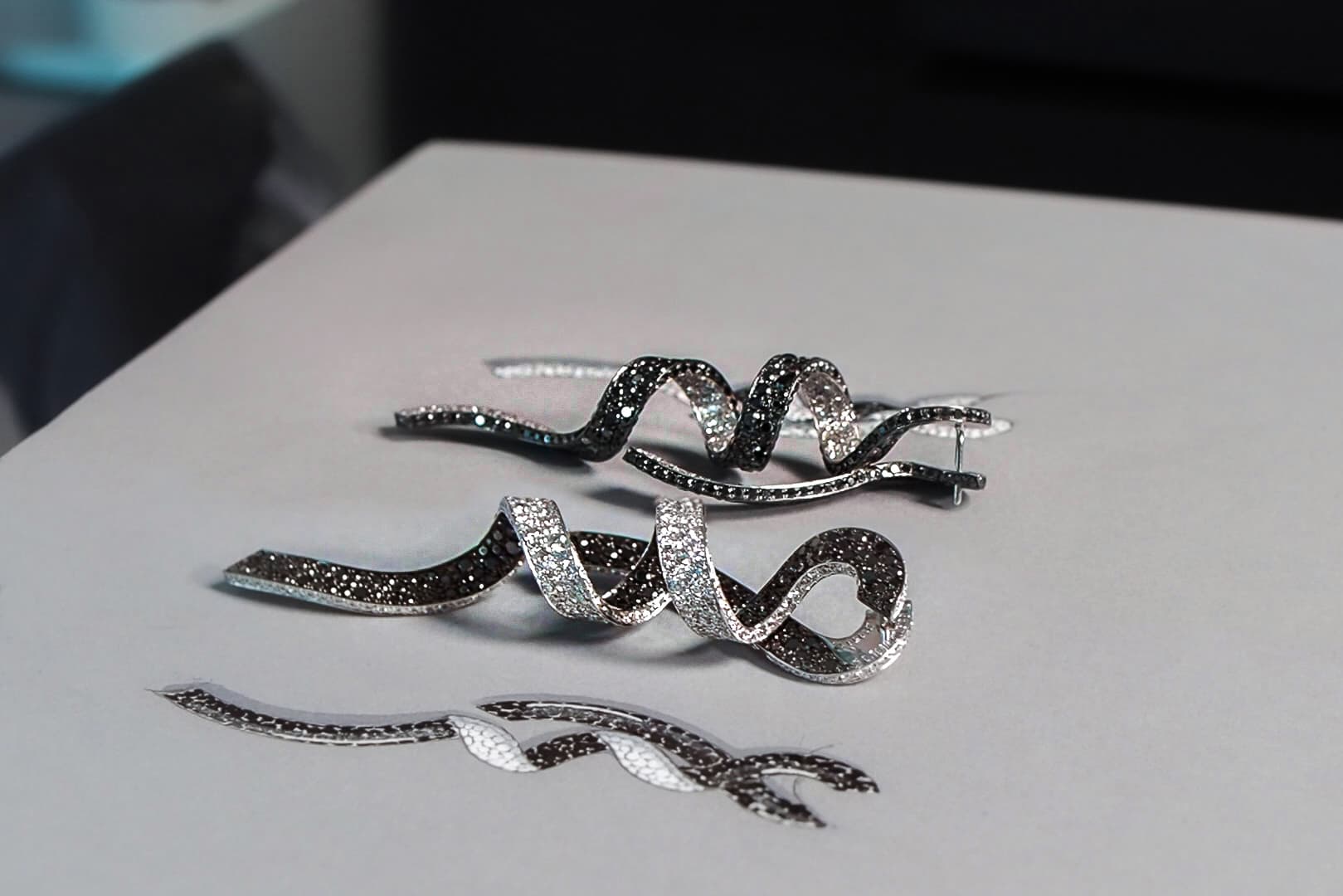 The Italian Maison Bvlgari has long been creating wearable works of art in its high jewellery collections, and in 2019, the brand's Jewellery Director Lucia Silvestri collaborated with the Italian artist Francesco Vezzoli on the creation of a precious sculpture. While he designed the animal, Lucia provided the gemstone embellishment: amethysts, cabochon cut rubellite, peridot, citrine, and topaz - a total of 43 gemstones of approximately 1,500 carats - finished with nine ancient Greek silver coins. Inspired by the novel 'À rebours' by Joris-Karl Huysmans, the bejewelled artwork is titled 'Tortue de Soirée.' The precious objet d'art will be on display in the 'Huysmans, de Degas à Grünewald sous le regard de Francesco Vezzoli' exhibition at Musée d'Orsay between 26th November and 1st March 2020.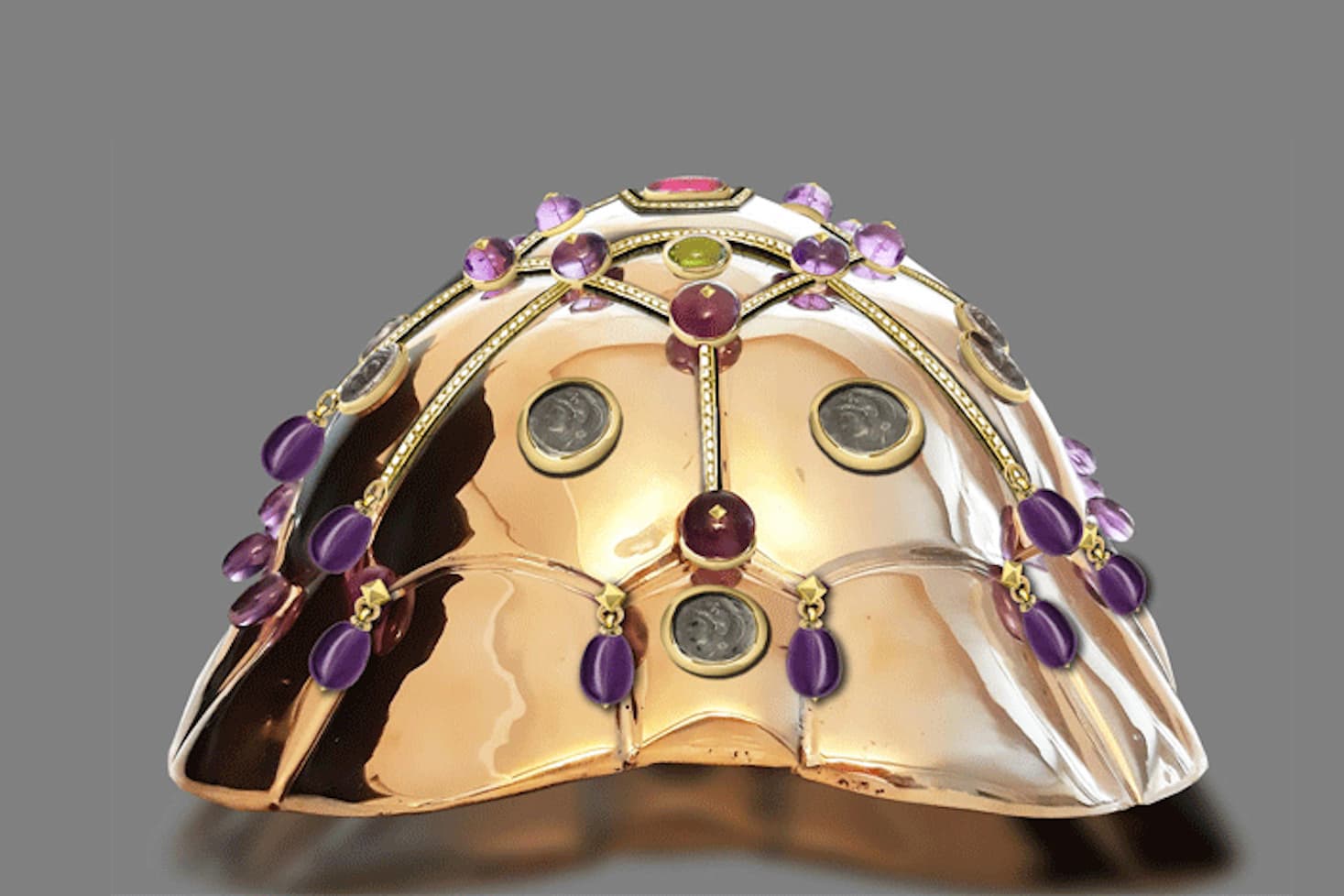 Another new collaborative collection is 'Unique,' from jeweller Mathon and artist Émeline Piot. Piot's work is inspired by nature, and here, manifests in an intricate and feminine artwork which Maison Mathon have interpreted in fine jewellery. The collection merges floral motifs with mythological figures, resulting in designs that are incredibly rich, complex and brightly embellished.
DAWN is a Hong Kong-based brand, specialising in jewellery made with jade by young designers and craftsmen. Part of their company ethos is to acknowledge the work of talented jewellery artists, and promote their work through the brand. "We seek out people with the same core values as we have at DAWN; we look for a certain energy and an appreciation of art in them, and in turn we share our knowledge and expertise. [...] The Dragon necklace is a perfect example. It is the result of collaborative effort: to bring it to life I gathered together a young jade carving artist, LI Kai Yuan; our in-house designer, Red YEUNG; an enamellist, YI Shui Han; and a rope artist, XU Min," DAWN's Director Yve Chan tells me.
In all forms of artistic expression, the zeitgeist has shifted to democratic ethics - where creators and artists of multiple disciplines are embellishing fine jewellery, and brands are benefitting from the artistic expertise of new perspectives.