Unlike their colourless counterparts, yellow diamonds add a layer of complexity that high jewellery designers must contend with to create the perfect jewel. Yellow gold can add warmth and substance to the ideal shade of fancy vivid canary yellow but can just as quickly knock the spark out of a fancy light yellow diamond. Similarly, there's a balance to be struck between solitaires and pavé surfaces – should yellow diamonds be used singularly for impact or en masse for sunshine-fuelled jewellery decadence? Fortunately, we needn't answer this question because some of the world's most famous Maisons have provided beautiful examples in all iterations – small, large, statement, understated, feminine, outlandish, and so on. Here are ten sensational creations that got the KaterinaPerez.com team talking after the July 2023 haute couture presentations… but you'll notice we've added a few extra pieces for good measure!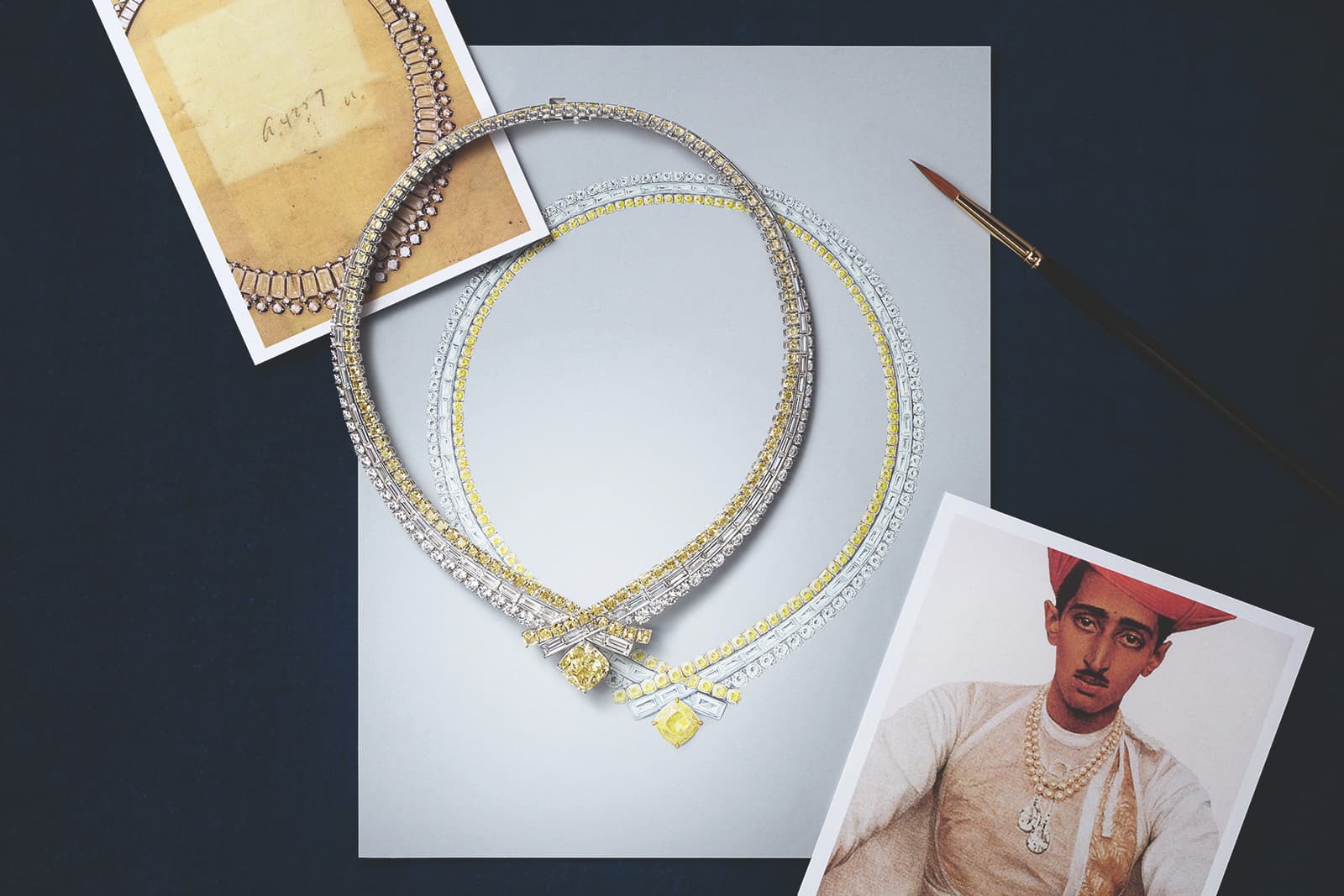 The Harry Winston Marquess High Jewellery Necklace
Hailing from the new Royal Adornments High Jewellery collection, the Harry Winston Marquess necklace draws inspiration from the Indore Pears diamond necklace, once owned by an Indian Maharajah. It was purchased by Harry Winston (yes, THE Harry Winston) in 1946 to showcase in his 'Court of Jewels' travelling exhibition. This contemporary iteration is crafted like an elegant ribbon, featuring two lines of colourless baguette- and round brilliant-cut diamonds and a third loop containing 123 cushion-, oval- and round brilliant-cut yellow stones for 34.20 carats. All three strands lead the eye to a cushion-cut fancy intense yellow diamond centre stone of 15.32 carats.
The Messika Midnight Sun High Jewellery Collection
Okay, so technically, this isn't a single piece but an entire collection! I am sure you will agree it's difficult to single out just one yellow diamond whopper in this collection, which is bursting with sunny XXL diamonds. The Ultimate Party set kicks the festivities off with a 1970s-inspired mirror-polished collar studded with a 20.04-carat pear-cut yellow diamond and a 9.07-carat cushion-cut colourless diamond. Next, there's the Glitter Fever necklace with 15 cushion-cut yellow diamonds ranging from two to 15 carats, coupled with a matching ring (another 2.73-carat yellow diamond solitaire) and a pair of complimentary earrings for a further 12.62-carats of diamonds. Finally, I must mention the Ultimate Party necklace with a sizeable cushion-cut yellow diamond suspended from a diamond necklace for a total weight of 37.34 carats and a toi et moi ring with a 16.18-carat yellow diamond and a 7.06-carat heart-shaped diamond. Big, bold and characterful!
The Bulgari Tribute to Venice High Jewellery Necklace
One of my favourite pieces in the Bulgari Mediterranea High Jewellery collection is the Tribute to Venice necklace, featuring scalloped peaks of colourless diamonds punctuated with pear-shaped yellow diamond drops. At the heart of the creation is a significantly proportioned pear-shaped yellow diamond solitaire of 15.38 carats in a perfect, slightly acidic shade of yellow to complement the white precious metal and white diamonds. The motif used here reflects the inspirations of the East Meets West set, from which this necklace hails, notably the pathway of the ancient Silk Road from Asia across Europe, with a pitstop in Venice.
The Graff Sunrise High Jewellery Collection
Again, I've snuck an entire collection in this round-up of the best yellow diamonds, but considering Graff's latest offering is an ode to nitrogen-rich stones, it feels fitting! Sunrise: A Celebration of Graff Yellow Diamonds was a collection and exhibit hosted by Graff at its Paris flagship this summer, incorporating a never-before-seen 30-carat fancy intense yellow pear-shaped diamond, accompanied by a further 138 carats of yellow and white diamonds in a unique pendant-necklace. Although this is undoubtedly the 'hero' piece, there are plenty of other yellow diamond creations of note, all with Graff's signature fancy intense colour palette.
The Buccellati Mosaico High Jewellery Collection
We've narrowed it down to a trio of pieces in the Buccellati Mosaico collection, which includes 50 pieces that exemplify the Milanese house and the style of its original creator, Mario Buccellati. Byzantine-era mosaics are given a contemporary makeover in the form of a Pagoda-like ring, topped with a navette-shaped and bezel-set yellow diamond ring in a honeycomb cradle of yellow gold. Rows of white and yellow diamonds orbit the fancy yellow centre in structural channels or contoured metal shapes to create depth and dimension. Next is a sublime matching necklace and earrings duo, both set with bezel-set pear-shaped yellow diamonds, blue sapphires, and diamonds in yellow and white gold. The necklace has 20 yellow gems totalling 19.48 carats, while the earrings have a pair of yellow stones for 2.32 carats.
The Dior Joaillerie Mini Milly Soleil Céleste Set
Undoubtedly, one of the highlights of the Dior Joaillerie Les Jardins de la Couture High Jewellery collection is a suite of yellow diamond-set jewels, including a collar necklace, a pair of earring jackets and a two-finger ring. All three boast emerald-cut yellow diamonds, set adjacent to pavé-set surfaces of yellow and white diamonds and 'sequined' lacquer – specially developed by the house - to capture the energy and intensity of the sun's rays. The necklace's hero gemstone weighs 3.88 carats, combined with 295 brilliant-cut white diamonds for a total weight of 14.81 carats.
The De Beers Metamorphosis Summer High Jewellery Set
The Summer suite of jewels in the new De Beers Metamorphosis High Jewellery collection is full of sensational yellow diamonds, notably in a choker necklace with a 9.06-carat cushion-cut fancy intense yellow stunner surrounded by angular colourless princess-cuts. Within this set are a trio of rings worthy of special attention, including a piece with a 1.70 fancy intense yellow diamond, a second 'Masterpiece' diamond ring and a matching jacket with a 7.61-carat fancy vivid yellow diamond from De Beers' Natural Works of Art stone collection, and the Butterfly ring with polished white and rough yellow diamonds for textural contrast. Elsewhere in this collection, there's also the Prelude set featuring a necklace set with a 10.05 fancy light yellow pear-shaped diamond (that can also be worn as a brooch) and a ring with a 10.28-carat cushion-cut fancy vivid orange-yellow diamond, again from the De Beers Natural Works of Art collection.
The Chopard 2023 Red Carpet Collection
For the 76th annual Cannes Film Festival earlier this year, Chopard's co-president and artistic director Caroline Scheufele designed 76 high jewellery creations to update its ever-evolving Red Carpet collection. A trio of my personal favourites came in the form of a yellow diamond suite, including a necklace, ring and a pair of earrings with pear-shaped and brilliant-cut yellow stones with a classical design aesthetic. Carat weights are eye-popping, including 101.86 carats of sunshine diamonds in the necklace (with a further 2.26 carats of round brilliant yellows and more than 150 carats of colourless gems) and a 7.99-carat pear-shaped fancy yellow diamond in the ring. Should you wish to complete the set, the earrings have a total of 11.83 carats of yellow diamonds, plus further fancy light yellow stones and colourless marquise-cut diamonds for another 1.40 carats. Suffice to say these are not diminutive jewels! At the other end of the spectrum was an intriguingly modern necklace, with an interior row of cushion-cut yellow diamonds of 78.67 carats, a secondary swag of brilliant-cut diamonds for 27.86 carats, and a 36.94-carat emerald-cut yellow diamond drop.
The Chaumet Le Jardin de Chaumet Flowers Parure
The first chapter is this whimsical and romantic high jewellery collection – Wood & Undergrowth – contains the Bark and Poplar set of four pieces, including some striking opal designs and a bracelet, set with an emerald-cut yellow diamond amongst textured white and yellow gold, dotted with colourless stones. However, I'd like to focus on chapter three – Flowers – which includes pansies, tulips, irises, and arums immortalized through precious gems and metal forms. The 12 pieces in this parure include pavé surfaces of blue, pink and Padparadscha sapphires unfurling to reveal fancy vivid yellow diamonds that sit on the fingers, the ears, or on a tiara. Highlights include a series of Pensée rings in white gold, including one set with a cushion-cut VVS2 yellow diamond of 1.56 carats and a second radiating with a cushion-cut VS2 yellow diamond of 1.13 carats.
The Chanel Tweed de Chanel Soleil Set
This Tweed Icône ring in yellow gold from the Tweed de Chanel High Jewellery collection really stood out thanks to its 5.50-carat emerald-cut yellow diamond centre stone. It features a criss-cross pattern of emerald- and round brilliant-cut colourless and yellow gems inspired by the textural patterns of traditional tweed fabric, which have been interpreted in myriad ways for this offering. This ring is the shining light of the wider Soleil chapter, which also includes warm Imperial topazes and yellow beryls for a complete palette of sunrise hues. If you are a fan of rock crystal used in inventive ways, I would recommend a closer look at the collection, which we featured in depth here.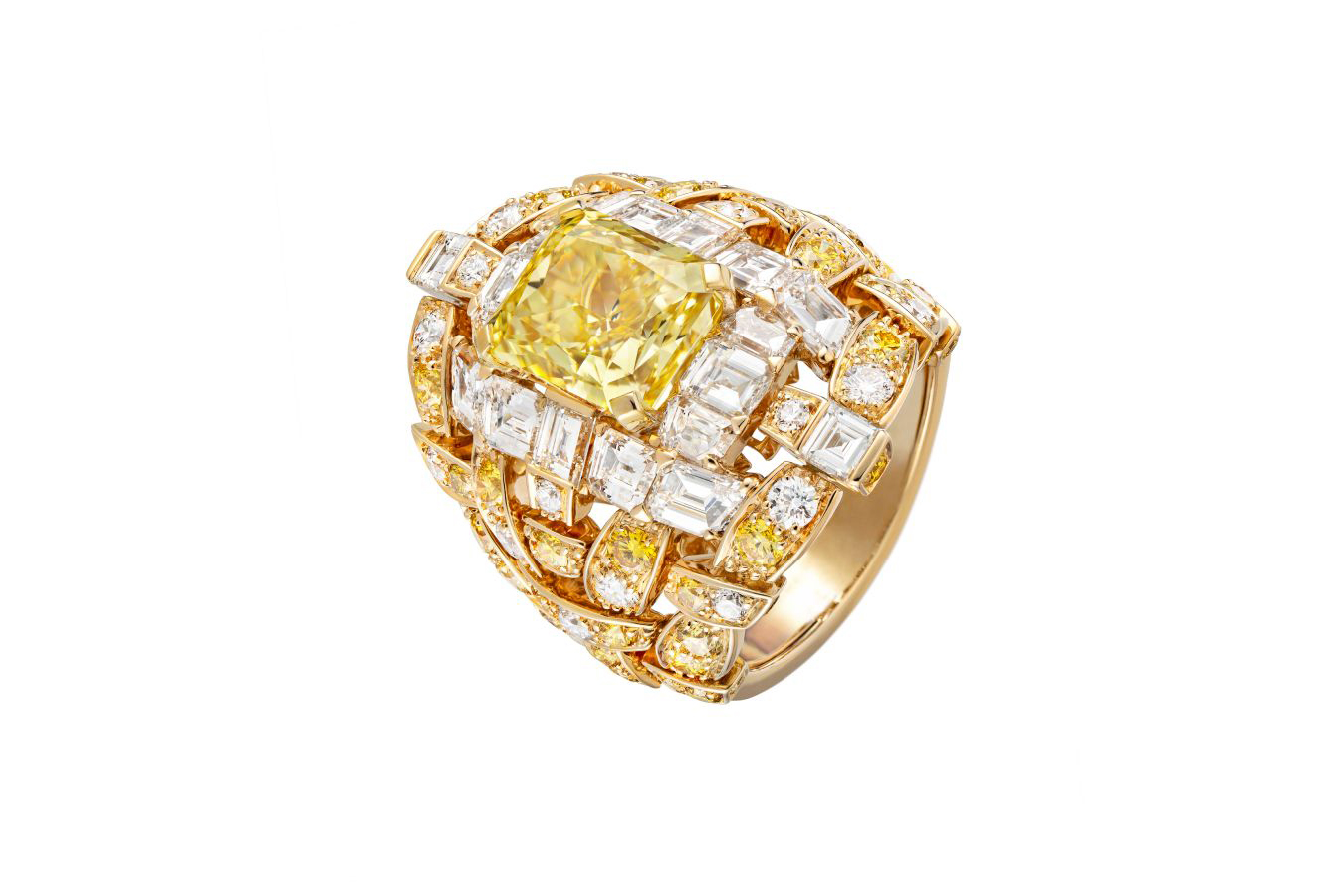 If you are a number one fan of yellow diamonds, then I am sure you have found something to covet in this 2023 high jewellery round-up. From whole collections built around vibrant hues to floral ditties with pops of yellow, it's amazing to think that the humble presence of nitrogen – one of the most common earthly elements – could result in such sensational and valuable beauty.